Friends & Family sailing BVI in May 2017
We had high expectations but you have exceeded all of them. The food was absolutely fantastic, as were the cocktails and the table decorations. The crew were faultless and always on hand to help us out. We got to do all the activities we wanted to, and had a great time doing them. Every little detail was thought out so well and we couldn't have asked for a more perfect week!
Guests in BVI in February 2017
Thank you Captain Oswaldo, Chef Briar, Andy and Amanda so much for making this such an amazing week for all of us! Akasha is such a stunning boat and with all of the amazing activities and delicious food and beverages we so appreciate your efforts at making our birthday celebrations very special! We will miss all of you and hope to sail again soon!
Guest in British & USVI in January 2017
Although only with you a short while, thank you for making our stay so special. Amanda thanks for the cocktails upon arrival, Andy for the snorkeling, Briar for the best Pavlova ever and Captain Oswaldo we would definitely sail with you again.

Wonderful voyage, mucho fun food and sun. All our needs catered for!
Guest in BVI in January 2017
What a wonderful experience! The many places that you took us to and the many things we were able to see and do will be a splendid memory for years to come. By far, the best feature was the fabulous food. Day after day Briar knocked it out of the park. Fresh bread, vegetables and main courses added inches to my waistline. Amanda took meticulous care of our habitability comfort, our mixology needs and our massage indulgences. Andy was patient and always our eager accomplice when it came to goofing around. Are all surfer dudes from the UK like that? Last but not least was the Akasha master, Capt Oswaldo Cruz, we benefited from his peerless familiarity of the BVIs and his superior ship handling skills. Despite countless close quarters passages he remained unflappable. He kept us on schedule and maximized our exposure to new circumstances. The crew was cohesive and singularly focused on our comfort and satisfaction. They do it right on Akasha. I would welcome an opportunity to sail with this group again.

I just wanted to thank you for such an awesome week. The crew was amazing and was focused on our comfort and having fun. Andy took us out for water sports which was a blast. Amanda made the best drinks. Briar made the best meals and thats coming from a picky eater. Oswaldo made sure that we knew the plan and would ask for our input daily. This was my first time on a boat and to be honest I probably won't have as much fun the next time! Thank you.

Thank you for a wonderful vacation! Everywhere we traveled was stunning and you treated us to the best food drinks and experiences around. I appreciated how friendly and welcoming you all were from the start and how you embraced and became a part of our crazy family. Were not always the easiest crowd, but you managed to meet all of our needs and exceed our expectations! Well done. This experience was truly a dresam. A big thanks to you all for being such a special part of this unforgettable trip.
Guest in BVI in December 2016
Thank you so much for such an amazing week!! We all have made unforgettable memories. Briar, thanks for the delicious meals. Truly some of the best food Ive ever had. Pasta, burgers and egg hasbrown were my top 3. Also, the bread was amazing! We all agreed you should open your own shop Briars Bread. It has a nice ring to it. If you do open up your own shop one day will you mail me some onion cheese bread please? Oswaldo, thanks for being a great knowledgeable, humorous captain! I loved your star wars yoda hat! I eavesdropped on your scuba lessons and learned more about my lungs than any bio/anatomy class. Amanda and Andy, thanks for going above and beyond to make sure we all had what we needed. Also the drinks were bomb! We all enjoyed chatting with you all and spending Christmas dinner with you guys.
Guest in Grenada in October 2016
I had the most amazing time again! I loved the swimming, knee boarding, snorkeling and relaxing (good choice for Amanda she makes the best drinks!) I absolutely loved the fishing, we almost caught a sailfish or a marlin and I pulled in a barracuda! Thank you so much for everything you did. Ps I will kill to be here again and again! I love you Akasha

What a fantastic trip! Thank you so much for everything youve done for us, its been totally unforgettable. As a self confessed land mammal this trip has been my first experience of sailing, snorkeling, water sports, and much much more, which youve made so enjoyable, especially when followed by Amandas sunset cocktails! Fantastic food also from Briar. Lots of highly memorable meals with family and friends. Thank you for such an amazing holiday!

Had the most amazing time, thank you so much for everything. The food was absolutely stunning, the sailing was really fun, but the highlight had to be the tubing/waterskiing surrounded by beautiful scenery. Will miss being able to go diving so easily and seeing awesome underwater world. Thanks again and hope to see you again soon!
Guest in the Grenadines in August 2016
One, thank you for being an outstanding crew, and another for making our trip so magical. This vacation will be one in which we will always remember and reminisce forever. From your attention to detail to making the kids happy and active was just perfect. On behalf of the family thank you, to the best trip ever!

Thank you for making this trip one I wont forget. Filling our days with great food, fun, activities, great drinks and amazing views and beaches. Being able to go in the water all the time and jumping off the top was a blast. It was so fun to being on board of AKASHA. I am sooooooo sad to leave and hope to come again.

This trip wasnt just a trip it was the most fun I have ever had. I will never forget how good the food was (peanut butter and Jelly). The tubing it was so fun. The drinks were amazing and Oswaldo being a super nice and funny captain. This was the best trip ever.
Guest in BVI in July 2016
Truly a vacation of a lifetime. A wonderful crew who was so kind, friendly and truly great with the kids. So willing to prepare any activity requested and to tube with the kids endlessly. I will always remember these five days as the most luxurious, relaxing and delicious (thanks Briar) of my life. This vacation was truly perfect.

Thank you for taking me tubing, thank you for the smoothies, thank you for letting us jump off the top and thank you for the good food. I loved being on the boat. 9 year old cruiser
Guest in BVI in July 2016
Best crew thank you for taking such good care of us. The meals were sooo good Im afraid I am spoiled forever.

Thank you for an unforgettable week. The memories will sustain me until the next visit, until then I wish you fair winds and a following sea.
Guest in BVI in May 2016
Kindness, service, passion all simple concepts that are sometimes not so easy to execute except for the crew of Akasha. Simply superb.

Guest in BVI in May 2016
Thank you so much for an amazing unforgettable trip. We couldnt have asked for a more fun attentive crew. Every last minute was perfect, and we hope to see you again one day!

We had an absolute blast this week! It was so much fun, and definitely the best weve ever eaten. The service was outstanding, you really spoiled us. Hopefully we can stay in touch!

What a wonderful beautiful trip you helped all of us to have. The BVI are beautiful and we have truly enjoyed every minute! Our fondest memories though will be of the personal time we got to spend with our fantastic crew! Best wishes to all of you. We hope to see you again.
Guest in USVI in April 2016
To our beloved crew, This group of crazy Texans absolutely loved our trip. You made our time aboard an experience to remember! You will always be family to us and hope you can enjoy our hospitality some day soon! Love you all!
Guest in BVI in February 2016
Certainly, this was a week to remember! All of us had the best time. Loved the boat, so roomy and comfortable - but it was the outstanding crew that made all the difference!

Oswaldo and Briar your example sets the tone on board. So cheerful and accommodating - and the food was outstanding! Jos and Julia, you took such great care of us all! Many thanks for all the details youve helped us with. For me, this week was a dream come true. Having our two sons, and their brides to be all together for a beautiful week of laughter, sunshine and memory making was the greatest gift. I am so grateful! With the hope of returning for a future visit - I leave you today happy and content! Wishing you all the best, Kim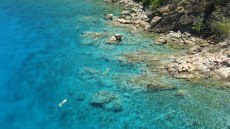 Guest aboard AKASHA in January 2016
What a magnificent vacation! Seven of us, ranging from 40-ish to 70-ish. Various ones of us have spent many trips in the Caribbean but if we added the best of all the past trips together it would not even come close to this trip.
Akasha is a great boat and very well cared for, the crew are incredible. Oswaldo, Briar Julia and Jos were great both collectively and individually. They worked together as a well co-ordinated team without any evident effort. They all figured out all of us so as to know just how to teach and encourage us in all our attempts at new skills in the watersports. With all of us going in different directions on the water they still knew exactly where we were and the tender was on scene immediately for a capsized sailboat or just obvious tired paddlers. We all felt comfortable pushing our limits under their watchful eyes and instruction.
Briars meals were outstanding. We all broke our pledges to not gain weight on the first day aboard! Oswaldo was always everywhere and knew what we were all doing, in addition to doing the captain thing as if he had been doing it for decades. Jos and Julia were always right there, anticipating every need, even the ones we didnt know about! We would follow this crew to any boat.
Thank again,
The Archibalds, Mocklers and Rossettos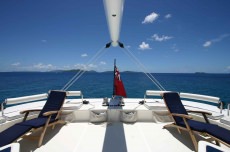 Guests aboard AKASHA New Year 2016
Sailing around paradise on a beautiful boat with our family was the best way to ring in the New Year! Having never done anything like this before, I had no idea what to expect, in the way of comfort, safety, activities, food .I was AMAZED on every font.

Julia, The perpetual cocktail hour was lovely, as was all of your attentive service.

Jos, Thank you for your tireless indulgence of all of our recreation whims.

Briar, We have never been so spectacularly well fed. We will surely remember you fondly every time we sit down to a meal without fresh bread or fresh muffins..

Oswaldo, You make captaining an enormous luxury catamaran look like a breeze. You run a fabulous show!

Thank you all for your gracious, patient, expert, charming service. You all made this week a trip well never forget.

Cheers to you in 2016! The Fromm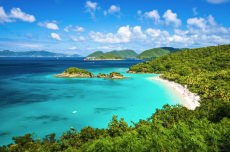 Family in the BVI, Christmas 2015
THANK YOU Oswaldo, Briar, Julia and Jos.
I can not think of one more thing you could have done to ensure a fabulous vacation for ALL of our family. And pleasing 3 generations - not easy! In fact you thought of things we could not have thought of. Thank you for the wonderful Christmas gifts and for sharing your Christmas with us. I wish the all of you all the best and hope I can sail with you again.
Love Kathy

Akasha Crew,
Xmas cruise through the BVI. Thank you for taking such great care of our family. Your every expectation was exceeded and we couldnt have asked for better, more personalized service. The food was the bomb - we all head home a bit more satisfied in our stomach area, LOL.
Cheers and Au Revoir, Happy New Year,
Don


Family in U.S.V.I. and B.V.I
Dear Akasha crew,

Thank you for a fabulous 8 days! Everything was over the top from the cuisine and making us feel like one big family. Julia, you are so sweet and always the bringer of our favorite beverage with a smile. Jos, your willingness to always be there to help with the watersports, fishing, snorkeling and diving. And always ready with a dry towel. Briar, your menus were so well chosen and your talents in the kitchen are deserving of awards. Oswaldo you are the best captain, able to put us in the best places for scenery and super snorkeling. Your handling of the Akasha is impressive. We love you all, Papa (Bob)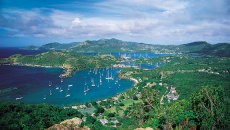 From guests aboard the 76 ft catamaran AKASHA in mid February 2015
The Oswaldo Team,
I cant think of a better way to celebrate our 25th with our 4 kids and spouses. It was the trip of a life time. Watching Purdy beat IU at Foxys was icing on the cake. The Akasha is an engineering masterpiece. How do they do it? The team work and leadership of the entire crew was unbelievable. In my 50 years of travelling you are the best crew of all time.
Bob

What a wonderful time we had on the Akasha! The crew was so accommodating and friendly. The food was amazing Briar.
Brian and Stacy
Awesome trip all around. We love you all and wish we could take you all home. Hope to see you all again on another voyage.
Doug and Julie
The perfect trip here on Akasha. Team (Oswaldo) Cruz doesnt have one detail to change. Oswaldo has a gift of patience and leadership exemplified when he teaches/refreshes scuba divers and leads his crew. Briars gift in the kitchen is nothing short of remarkable. We already miss you all!
Until next time!
Kris and Doug