7-13 August, 2017 - Great Experience!
We had a wonderful time this week! Truly a great experience with Vanessa and Roland and Amazing Lady!
13 - 20 June, 2017 ~ Beyond Expectations!
We were completely happy – beyond expectations – with Roland and Vanessa Schaeffer and it was a great vacation.

I have to say that Roland and Vanessa Schaeffer of Amazing Lady were absolutely fantastic hosts and exceeded our expectations in every way. Specifically, Roland was a very capable captain, extremely knowledgeable of the local area and a friendly and gracious host. Vanessa was equally delightful and an excellent chef as well. Our whole family including 4 teenagers feels the same way.

We would definitely charter with them again and in fact are already considering a trip with them for next year if they are available.

I can recommend them to other charterers as highly as possible.

Please feel free to use these comments as a recommendation to future clients on behalf of this particular crew.

Upon arrival the boat was clean: Yes
The boat was tastefully presented and decorated: Yes
The boat was ready to board at the agreed time: Yes
Upon arrival the boat was immaculate: Yes
Was the boat kept clean during the charter? Yes
Was all advertised equipment on board? Yes
Was the equipment in good condition? Yes
Comments-was the boat comfortable: yes it was great.
The captain was outgoing: Yes
The captain was professional: Yes
The captain was friendly: Yes
Comments-captain: Great interaction with the captain; we would definitely travel with him again
Did you feel free to choose each day's activities? Yes
Comments-regarding any requested drinks: presented great and great quality and variety
Did the meals reflect your requested preferences? Yes
The cook was outgoing: Yes
The cook was professional: Yes
The cook was friendly: Yes
The cook was eager to please: Yes

Comments-were our descriptions accurate? The boat was as good as expected. The crew was better than expected and were truly excellent hosts.

8-15 April, 2017 BVI Easter Week
Roland & Vanessa,
We thank you for everything, such an enjoyable family adventure for us.
G Family

Thanks so much for a wonderful week. The boys so appreciated the endless tubing and all the other fun and games. We had a great time, thrilled to visit so many special places!
K Family

18-24 March, 2017 - Fantastic!!
Thank you Roland and Vanessa for a fantastic vacation! Having you as our hosts has made our trip fun and memorable. We loved the food, the sites, each day was a wonderful new adventure. We hope to return sooner than later. We will be talking about this trip for years to come.
Thanks again! And come visit us in Virginia or the Delaware beaches!

Best,
R Family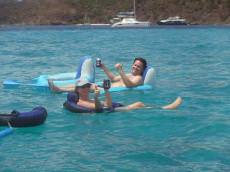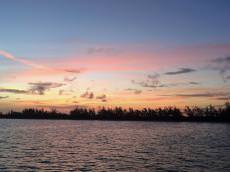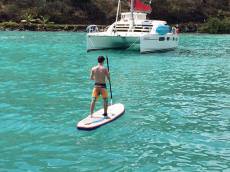 March 9-16, 2017 ~ A \"Dream Vacation\"!!!
Roland & Vanessa,

Thank you so much for another amazing BVI adventure. We love this vacation and this boat and especially the two of you. This scenery is spectacular and you know all the places to go. We have had a fantastic time and hope to join you again in the future. Please visit us in Florida! Thanks again for the view, the conversation, especially the food, and all the other little things that make this trip special.

Gregg & Darc

March 16, 2017

My first trip to the BVI and having Roland & Vanessa has made all the difference! What a true blessing they have been in making this a absolute dream vacation!! Thank you both for your kindness, caring and professionalism. I will recommend that anyone wanting to charter a trip to the BVI look you both up and be sure that you are their crew!
Many blessings to you both! Thanks again for an awesome trip.and for the new friendships!

Cory & Roberta

March 2, 2017 - A GREAT week!
What a GREAT week sailing around the BVI's with Roland and Vanessa on the Amazing Lady- and she is an AMAZING boat. Wonderful hospitality, food and the best snorkeling spots. This was our third BVI charter and we were so happy to experience several things for the first time. Roland is the best captain and knew exactly where and when to take us to our requested destinations to make our week exactly what we wanted- thanks again!! We would charter with you both again anytime!
February 27, 2017 ~Trip of a Lifetime!
Roland & Vanessa,
What an Amazing week on the Amazing Lady! The food was spectacular, and the company even better. This was a trip of a lifetime, and we hope to set sail with you both again very soon!
Lisa & Joey

Dear Vanessa & Roland,
You have taken us to a heightened boating experience. Thank you for taking such good care of us! Everything was spectacular; The food amazing; All of the education about the islands so informative. We will see you soon.
Lindy & Norman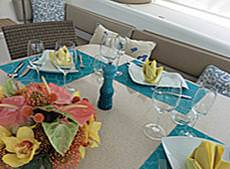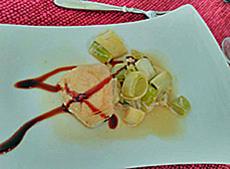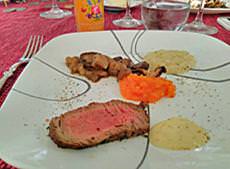 20-27 February, 2017 ~ Broker Comments
Our folks had an amazing time!
Lindy raved about Vanessa's creative food for every meal. Definitely they are considering a charter in the Grenadines in Sept 2017!!

Way to go Dearest crew❣️

I wish every Captain would communicate with their brokers like Roland!!!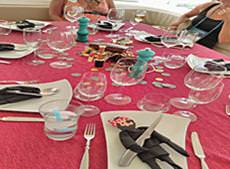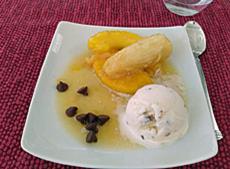 February 17, 2017 ~ The Best!!
What an amazing vacation! The boat was amazing, the captain & crew was amazing. Thank you Roland & Vanessa. Weve been to the BVI several times and I think this one was the best. My favorite event of the trip was the sail back from Anagonda! Amazing! And every meal we had was better than the last.

S Family, K Family & L Family

P.S. Great snorkeling! Thank you!!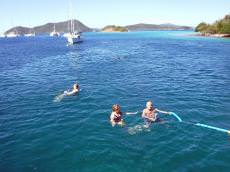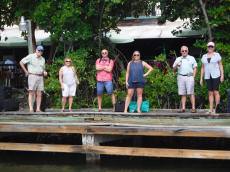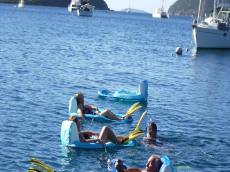 December 1, 2016 - WOW!
Sailing the BVI's has been a dream for me for years. We feel so blessed to have chartered Amazing Lady. She is new and so gorgeous and the photos do not give justice to the space and comfort on board. Then the crew!!! Wow!! Two thumbs up to Roland and Vanessa for taking such good care of us!! They understood our needs and wants and made everything happen that we had wished for. Nothing was left out. They are attentive, helpful and experts at what they do. Thanks guys for helping make this dream come true in such a fantastic way!! Best wishes and lots of love from us! John, Nina and boys
November 22, 2016 ~ Absolutely Perfect!
Roland & Vanessa;

On behalf of all of us, thank you so much for a wonderful day at Looper Island. Everyone agreed it was not only the highlight of the trip, but of a lifetime! You were both great hosts, lunch was fabulous, and the drinks hit the spot! Everything was absolutely perfect, and we cant thank you enough.

Hopefully we see you again! Make sure to call me if youre ever in New Jersey so we can show you the states finest coast & beaches from the comfort of an 18 foot Scout.
Thanks again!

D Family, G Family, K Family & M Family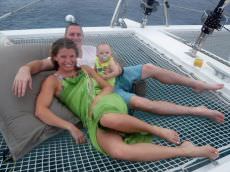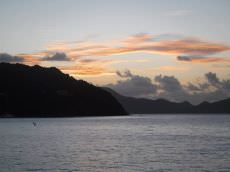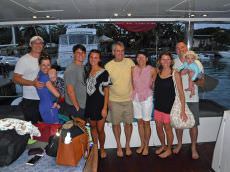 November 16-20, 2016 ~ Want to return next year!
Our daughter decided long time ago that she wanted to something special for her 40th birthday. She loves to travel so it had to be something that would take her somewhere. Several things was suggested. She wanted to bring her family and a few close friends on this adventure. The decision fell on a boat trip in the Caribbean. After a lot of research she decided on the " Amazing Lady". And so she was.
Ten of us boarded this beautiful yacht on Wednesday November 16. We met Roland and Vanessa for the first time and we fell in love with them immediately. With only 4 nights on the yacht it was important to utilize that time to its maximum. Roland and Vanessa had it all planned and we loved it. It was perfect for us. It was something for everybody.

The food onboard was excellent. We felt we were dining at the finest restaurant every day. Roland and Vanessa showed a professionalism far beyond what we have expected.

Watching their teamwork in everything onboard was a pleasure. They were always there for us assisting when it was needed or informing us about interesting matters.

We could not have gotten a better crew than those two.
Thanks again Roland and Vanessa for given us an adventure that we never forget.

Regards,
R & SV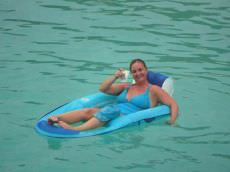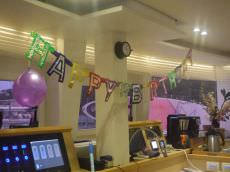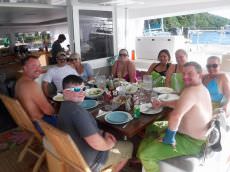 July 21- July 28, 2016 - Grenadines ~ Great Experience!
Note from the broker: They had a fantastic time! He asked me to specially thank you for your work. He really liked the yacht, the activities, itinerary and good predisposition from you and Vanessa. Anyway, overall his experience was great and he was very happy.

Thank you for taking care of our clients!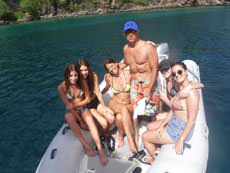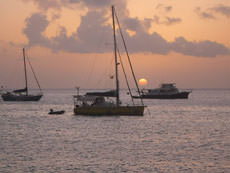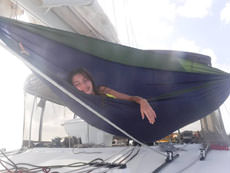 June 1-8 BVI - Treated Like Royalty
Dear Vanessa and Roland,
This past week has been filled with magical moments. We have been treated like royalty from start to finish! We cant begin to thank you enough for your hospitality, kindness, incredible food, excursions and the list goes on! However, the icing on the cake is our new friendship with the two of you! Thank you from the deepest parts of our heart for such a memorable trip! Cant wait for our paths to cross once again! Gratefully, Valerie, Jay, Patton, Anna, Joe and Patrick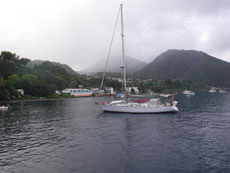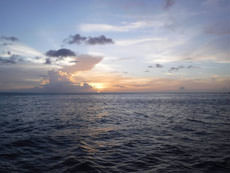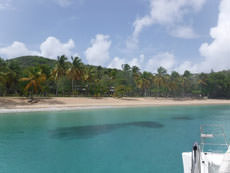 May 24-29 2016 BVI ~ Amazing Time
Roland and Vanessa,
What an amazing vacation for our bunch! This was our first time experiencing the BVI and what an introduction! The beauty of the islands, waters, marine life and local people; all spectacular!!
All our excursions, including the water sports, snorkeling, the island hopping were so enjoyable. Loved the history of the islands and the majestic baths! Our meals were beautifully prepared and certainly scrumptious. We are returning home heavier and spoiled!
You truly have offered us the most amazing time, we are so grateful and thankful for your sincere hospitality and friendship. We will return again adding, a few more days.
Sharon, Frank, Patrick, Lindsey, Marc, Chelsea, Josie and Garrett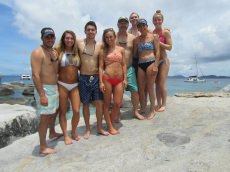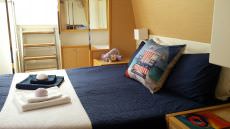 16-22 May 2016 - Family Dive charter in BVI
Having a great time. Thank You Again for Taking care of my Family!!!!!

The best of the best!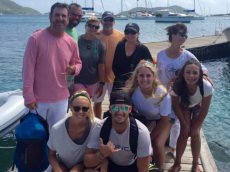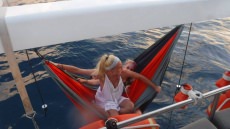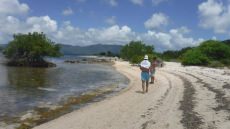 May 10, 2016, The best of the best!
We had an incredible time with Roland and Vanessa on the Amazing Lady. The food was fantastic and Roland and Vanessa could not have been more accommodating. It was one of the best travel adventures we have ever had. We would do it again in a heartbeat!
May 9, 2016
This was a trip of a lifetime! The Amazing Lady is just that...Amazing! The boat, service, views, food and hospitality by Roland and Vanessa were outstanding. Can't wait to do this trip again!
April 23-30, 2016 Unforgettable Experience
Dear Roland & Vanessa
Thank you so much for our amazing week of adventure! It has been an unforgettable experience. Thank you for being so warm and accommodating. The food was so amazing! You are both such lovely people. Let me know when you are coming to Colorado and I can return the hospitality. Thank you so much!
Anna

Vanessa & Roland,
Thank you for a wonderful trip! You have been professional and friendly throughout the whole week particularly with a large group of women which can be challenging. Take care, Emily

Vanessa & Roland,
Thank you for an amazing trip and for putting up with all of our shenanigans. I know we are a lot to handle and you guys were such troopers! These girls trips have become incredibly special for me a time to laugh, to let loose, to bond, to love and be loved and you both were so wonderful at facilitating that atmosphere. Thank you from the bottom of my heart & I truly hope our paths cross again.
Simone

To Vanessa & Roland,
Thank you for such a wonderful trip. We really appreciated your tolerance for our group and I know we enjoyed having you guys around. We definitely lucked out on our captain and chef. And the food was great! Thanks again for everything and maybe well have another trip soon.
C.

Dear Vanessa & Roland,
You have anticipated every need and given us an amazing trip on the Amazing Lady. The views were beautiful and food amazing. My favorite part was the caves. Your hospitality made everything easy.
Cali

Vanessa & Roland,
Thank yall for everything! There are no words to explain how much fun this trip was! Yall are so sweet! Please stop in Louisiana!
Tiffany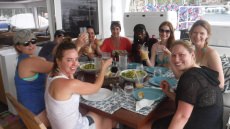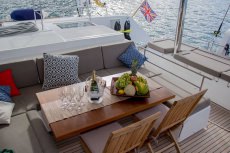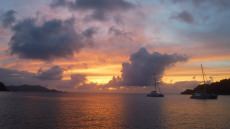 April 9-16, 2016 - Everything Was Absolutely Perfect
Dear Roland & Vanessa,
This trip was the best. It was educational and fun and we got to do so many fun things like the sling shot! THANK YOU. M.

I think you guys were amazing 1 crew! I was so excited to do the slingshot, tubing and everything else. The stories were crazy but apparently true. Everything was the best, the food, desserts, room and watersports and anything I missed. I will never forget the experience you guys gave us, and I definitely wont forget you! I love you guys so much! Jax

Roland and Vanessa, Thank you so much for everything it was an amazing trip and everything was absolutely perfect! You guys are the best, so much fun, the food, the knowledge and especially the laughs made this such a special trip. We will miss you so much! You both had such a positive impact on the kids. They will treasure this experience forever. Jenny

Dear Roland & Vanessa,
What can we say? You both made this week so amazing in every way your hospitality, the food, showing us sights we had never seen before & many, many laughs! We will treasure these memories forever and we are so grateful for the chance to meet you two. Please come visit us in Connecticut! Hope to see you again soon. Love, Malia & Dave

Roland and Vanessa,
Thank you so much for making this trip so amazing and unforgettable! As our 4th time in the BVIs, I dont think it could have been better!! Thank you for all the hard work you did to make this more enjoyable for us! The food was amazing and I loved the water sports. We cant say thank you enough. Both you and this trip will be missed.
Taylor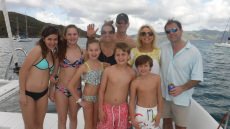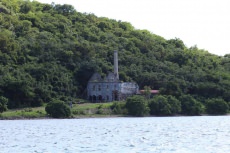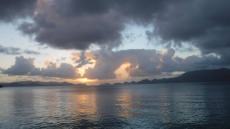 March 26-April 2 2016 - So Special
Thank you Roland & Vanessa for a wonderful week aboard the Amazing Lady! You made it so special. Vanessas food and fun and kind nature were so appreciated. We felt completely at ease in Captain Rolands hands and truly enjoyed all the fun excursions and activities. Thank you also for being so kind and attentive to our daughter. Your humor and inclusion of her was appreciated. Love, the N. Family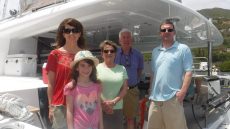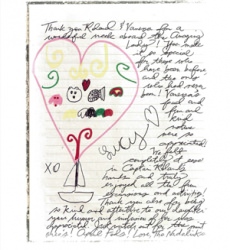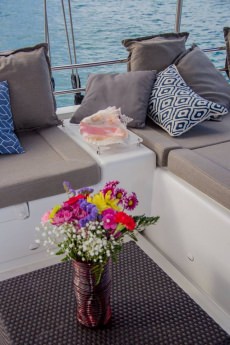 17-24 Feb 2016 - Quite Simply the Best
Steve and I had a great sailing trip on the Amazing Lady. Roland and Vanessa are quite simply "the best". They are very knowledgeable, hardworking and fun. They work extremely well together and each bring exceptional and complimentary skills to the table. It is clear that their top priority is their guests' safety and enjoyment. Their knowledge of the BVIs is vast and each were always willing to share as much information as one would want to know. Roland and Vanessa are very attentive and sensitive to the needs of their guests. They are fun to hang with but very low key and only joined in when invited. Roland and Vanessa are both extremely patient and have easy going dispositions. Roland is an exceptional sailor, teacher, diver and drink mixer. Vanessa is an exceptional chef. The food was delicious, creative, healthy and plentiful. She was always willing to share recipes and ingredients.

This was truly the trip of a lifetime for all four couples and each of us want to return to the BVIs and the Amazing Lady sometime in the future. And, we all want Roland and Vanessa to come and stay with us if they are ever in Northern California!
P.S.: The Amazing Lady is a very apt name for a boat that could not have been better designed for comfort and style. She sailed smoothly and held her own one day under very windy and rough sea conditions!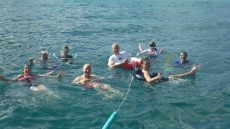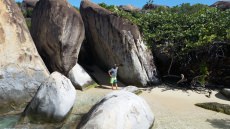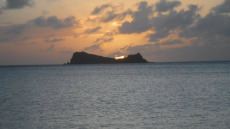 From Roland and Vanessa\'s previous charter boat - guest comments:
The guest comments below are from Roland and Vanessa's previous charter boat.
Dec. BVI Charter
We knew from the start you were an exceptional couple. You graciously waited on us, encouraged us, fed us and all around cared for us in such a wonderful way. Your knowledge of the sea, history, fish, sailing and geography was amazing. It was only superseded by your sunny personalities and sense of humor. You have been a gift to us and our dear friends. We especially enjoyed the way you interacted with each other with such respect and politeness. Until we meet again!

Kathy and Art P. Maryland, USA
These two are amazing!!! We could not be happier! We are already planning out next charter! I'm serious!!!! Exceeds all expectations!! Thank you, thank you, thank you!!!!
Samantha

Vanessa and Roland were great. Roland was probably one of the best captains we have ever had. He is extremely funny and thoughtful. They took the time to get to know us and we really enjoyed their company. Greg H.

Roland and Vanessa were fabulous. We could not have asked for a more accommodating or friendlier crew! Vanessa's food was amazing and the presentation was stunning!! We had a wonderful time. Roland and Vanessa made it very special and I must say it is now a top 2 vacation. They went out of their way to make sure we had a fabulous time and catered to our every need. They were so personable and I now consider them to be our friends. We will definitely be taking this vacation again and I hope we are able to book Roland and Vanessa again.
Mimi T. BVI March 2014

2/27/14
Beautiful scenery. (understatement), beautiful friends, beautiful boat, fabulous captain and first mate. Thank you. Merci. Grazzi.

2/21/14
Vanessa & Roland, than you for an unforgettable vacation. Dan and I will always remember your thoughtfulness and care. Hoping we can sail with you again.
Dan & Elise

Vanessa & Roland, Wow! This trip was amazing adventures. Loved the food and your special attentiveness to us all. May you enjoy your sails as much as we did.
Felicia & John

Roland & Vanessa, Thanks for a fabulous trip! Everything was amazing.
Mary

Vanessa & Roland, Our 5th & favorite charter. We loved the itinerary, food, laughter, morning briefings, cocktails, I could go on and on. The best of everything by far. If you ever find yourself in Texas, Oregon or anywhere in the US we would welcome the chance to laugh with you both again. Thank you. Safe sails!
Ginger & Kendall

Trip was amazing. Great food, fun and sailing. Thank you. Loved that you joined in our fun!
Donna & Stan

2/8/14
V & R, Thank you for a wonderful trip which we will always remember fondly. We appreciate your good nature, patience and willingness to meet everyones needs.
Gary, Lisa and the clan

Dear V & R, our heartfelt thanks to you both for all your care and attention. I take my hat to both of you for making our time here brilliant. You are lovely and I would tell all my friends this experience has been a 10. A lovely experience for all.
Gary and Lisa

1/19/14
We have had a wonderful trip and hope to come back again. Roland & Vanessa are the best crew and sweetest couple.
Craig & Anna

Thanks for a wonderful time! You guys are the best! We hope to do this again with you!!!
Debbie & Tim

Thanks for sharing how awesome it is cruising in the BVIs! We had a fantastic time and loved it!


July 9-13, Montenegro, Broker Comment
The client really loved the boat: "The boat was great, crew was great."
Montenegro, July 2015
Thank you again for a wonderful week. Everything was spectacular
All the best to all
Gisela