25 March 01 April 2017 ~ A Wonderful Fun-Filled Trip!
Again, another wonderful fun-filled trip with the three of you! You all make this vacation one of its own! We love your company and your concern for us. Thank you from the bottom of our hearts! Your passion, energy and zest for life is contagious! The adventures we had and the days filled with smiles and belly laughs, will be something we will never forget. Weve had many wonderful travels, but this is our favourite! It is not just the location, but, because you all were here too! Thank you for sharing your stories and caring for us so well. We adore you!

J family (Wisconsin, Sanibel - USA)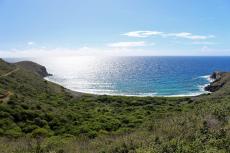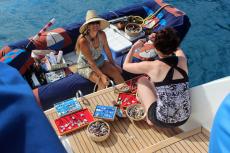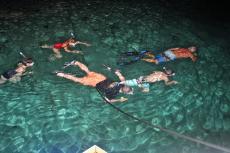 11-18 March 2017 ~ Great Memories!
Thank you so much for all the great times, amazing food and unsurpassed service, even today, as we are packing up to leave! Some memories: Audreys food the best in the Caribbean, hands down, delicious at every turn. Donalds seemingly endless amount of talents: magic, diving, sailing, boat driving, local and global knowledge, humour and life experience. So impressive! Thank you for deciding to move here and start your nautical adventure! We are so appreciative of your time, talents and care! Richard, thank you for everything! You are also so impressive young, with such a bright future, yet, mature and so attuned to everything around you. You will go far! Thank you everyone and Bamarandi what a beautiful catamaran! Perfection!

L family (New York USA)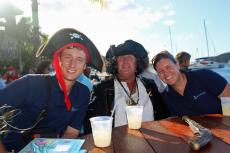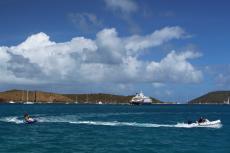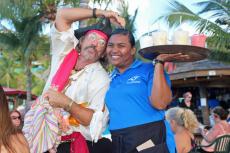 26 February 05 March 2017 ~ A Wonderful Birthday Week!
When we boarded, we were clients. When we left, we were friends. Audrey, you cooked up a storm in the kitchen, all the while chatting away I enjoyed our girlie talks! You all shared so much of yourselves with us, generous in spirit and kindness. Donald with his stories, so varied and interesting, some tall ones that Audrey corrected. So much knowledge you have as a couple, well balanced and a terrific team. Never once did we watch TV or even read a book! Richard, you are just at the beginning of your career, but already we can see that you are a rising star. A gentle soul, dont change and a good dancer too! Not once did we feel you were working for us, even though the service was outstanding just show what a good job you did. We loved teasing you at dinner, Audrey, singing: We love you, Audrey, oh yes, we do!

We were here with friends we truly love and adore, to celebrate a 60th birthday. You helped us create memories we will re-live and re-tell and re-call for many, many years to come. You have woven yourselves into the fabric of our minds, forever. We treasure the time we spend with our friends as we stay in different countries. At no time did we feel that you encroached on our precious moments. Thank you for a wonderful week, all our love!

F group (England, Scotland, Spain)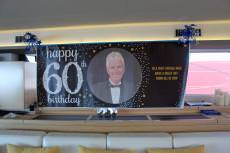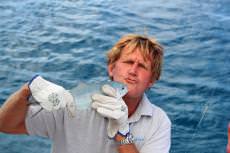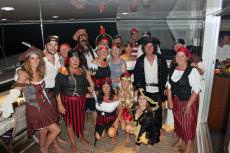 18-24 February 2017 ~ Surpassed any Expectations!
What a wonderful time away we all had. It far surpassed any expectations we may have had, and will be the topic of choice when discussing our best memories for years to come.

From the first time we stepped on deck, we were welcomed with open hearts. Donald and Audrey worked tirelessly to ensure we were always comfortable, entertained, and extremely well cared for and well-fed! We were so impressed with their level of professionalism and competence. They were always mindful of our children, whether it was looking out for their safety while playing with all the amazing toys, instructing and leading them in scuba diving, or just spending time entertaining them with Caribbean stories, history and card tricks! Of course, the kids enjoyed their time with Richard as well, who made our stay so comfortable, they were wishing he would come home with us!! The boat itself is lovely and modern. It was meticulously kept and very comfortable for our large family of 7. Theres just something so relaxing about being gently rocked to sleep each night! We cant say enough about our vacation on board the Bamarandi. Our only warning to future guests would be to take care, because once you sail with them, you may never want to go anywhere else ever again!

J family (New Jersey USA)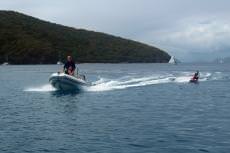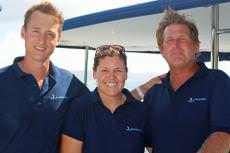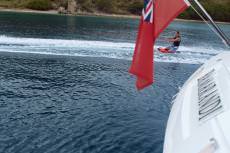 December 27, 2016 -January 3, 2017 ~ BVI New Year!
What a wonderful "Bamarandi welcome" for the New Year charter!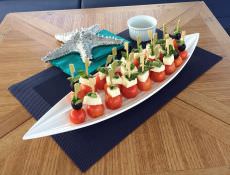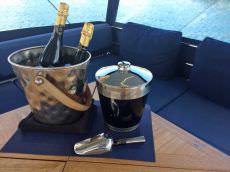 July 14 - 21, 2016 - JS Charter in the Grenadines
Dear Donald, Audrey and Caitlin

What can we say?? This is our 4th charter with The Harpers, and every time the experience is better and more enjoyable than the charter before. You are not just crew; you are our second family, our Caribbean Soul Mates! The highlights for us are: the succulent food, the indescribably beautiful views, water colors and anchorages, the spectacular Bamarandi (crystal wine glasses huge master bedroom all the comforts of home. Simply a regal vessel!), the stories, conversations and many laughs! This is undoubtedly our favorite type of vacation, and we hope to share many charters with you in the future. See you next year! Love,

S Family (Ohio - USA)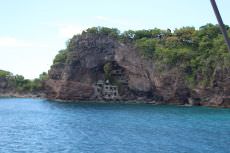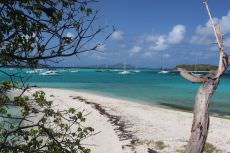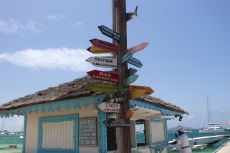 June 25 - July 2, 2016 - Virgin Islands ~ Ship of Dreams!
The D family:

Donald, Audrey and Caitlin

Thank you so much for allowing us to share your beautiful ship of dreams! We also enjoyed your unbelievable hospitality, the exquisite cuisine and the kindness you showed us every single day. You made our vacation not only interesting but fun! I am grateful that the time we spend with our good friends was also spend here with you - our new friends on the Bamarandi. Please visit us if you ever have need to visit Pittsburg or Long Island! Again - it was all a lovely dream - thank you. The D family

The D young adults:

Thank you so much for making our trip so enjoyable! You were all so kind and were sure to check that we were having the best time ever in the BVI. I now know that Donald has the best stories and is an amazing hiker, Audrey is an amazing cook and Caitlin is so good at Celebrity. I really enjoyed being on the boat and thank you again. Keep me in the loop!

Thank you so much for sharing magic tricks all hours of the day, serving 5 star meals, making a mean cocktail, and for waking me up when I fell asleep tanning! Most importantly, thank you for being an amazing family!

The R family:

Dear Donald, Audrey and Caitlin

Thank you all so much for making this holiday aboard Bamarandi so special. A perfect birthday gift, surpassing all our expectations. Donald - thank you for planning such great activities for all of us. And for keeping us entertained with your stories and jokes. Audrey - thank you for the most delicious meals and exquisite presentation. You have inspired me! (please send recipes) Caitlin - thank you for looking after us so incredibly well. Always around to assist us and thinking ahead of our every need. You totally spoiled us. Thank you for being a fantastic team. Together you kept us safe, entertained and relaxed. So, so many great memories for us to share with our friends. Please come and visit; London, Aspen, Saint Andrews, LA. We will never forget the special holiday with you. Safe sailing down south. Thank you and we wish you all the very best.

Well, I havent had this much fun since I met Enema Sanchez A Gogo (The Conquerer) some years ago. Every moment was magical and I will always remember this trip as the best one ever. All of you are so competent, so much fun and so good natured that even Enema could find nothing to fault had she been able to join us :-) Who knows, we might come do this again. All the best and safe sailing.

The R young adults:

What a special trip, so many beautiful places. Outrageous fun to be had. Donalds like a big kid, always willing to have fun and make the best of every situation. BVI will be in memory for ever. Beating my twin brother on a wakeboard, doing a 180 degree board slide. Way to make my Dads 60th a meaningful one. Awesome crew with great personalities. Hopefully we can come back in the future to have some more shenanigans. Safe travels.

Thank you so much for providing all the essentials for us to have an amazing trip! The food was delicious, the service was speedy, the activities were so much fun and the jokes/stories were fascinating! I am so glad we got to share these memories with you all! I hope we can all meet again!!

Wow! What a trip! You guys are truly unbelievable. Caitlins charm and hard work, Donalds hilarious stories and lastly Audreys incredible food. Because of you all this has to have been the best vacation of my life. So thank you guys and I hope to come back soon, thanks for the fun times.

D family Pennsylvania, USA
R family Colorado, USA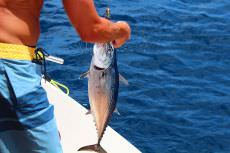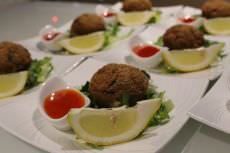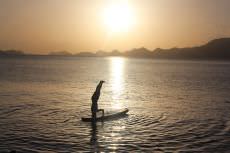 June 13-20, 2016 Virgin Islands ~ We loved it!!
Dear Donald, Audrey and Caitlin

From the minute you greeted us on the dock we knew we were going to have a wonderful vacation. The warm welcome, gor11geous boat and delightful hospitality exceeded our expectations and only got better and better each day. Thank you for giving us an amazing week for our family and friends to truly relax and create such beautiful memories together. The Caribbean is a very beautiful place to explore and enjoy but what made our vacation so special was the happy and joyful feeling we all felt in your company. We hope to plan another vacation with you again in the future and really hope that if you ever make it to California, you will stop in to visit us. Thank you again for treating us to such a wonderful vacation, one that we will always remember!

We have had a host of superlatives on this trip from the spectacular boat, pristine environment, perfect weather, fun, excitement, activities, meals and it goes on. But, the best of the best was you three! You kept us safe, entertained with Donalds great stories and Audreys truth serum for Donald. The food was perfect; Caitlins service was exquisite and her sweet voice unforgettable. Most of all, your stories and lives taught our children and us the value of being virtuous and following your dream. I thank you for everything and mostly for that. I hope we meet again.

R Family (California USA)

Donald, Audrey and Caitlin

What a wonderful week! Thank you for giving us such a fabulous holiday! We enjoyed every minute of it. You spoiled us rotten and it is going to be so hard to go home to normal life. The food was amazing, activities were so fun, the boat was perfect, and we love that we made three new friends. We would love to have you come visit us in California! Looking forward to another boat trip in our future. God bless.

Difficult to express how much we enjoyed the week. You are a very special family. More than just our hosts providing an excellent boating week, you brought us into your lives with extraordinary wit, wisdom and good humor. Youre also so generous and patient. Thanks for a special, memorable week.

F Family (California USA)

Some of the young adults:

All of you made this trip as amazing as it was! I loved everything from your five star service and amazing food to Donalds super cool stories. This truly was my favourite vacation, all thanks to you. Thank you so much.

Thank you for going above and beyond to make this vacation an unforgettable one! I am definitely going to miss the delicious food, hilarious stories, and super fun adventures. It is admirable and inspiring that you were able to leave your home and do something that truly makes you happy. Hopefully we will go on another boat trip together soon! Sincerely.

It has been my dream for a while to explore the Caribbean. Thank you so much for making this experience exceed all my expectations (which werent low to begin with). You guys have truly made this vacation one I will never forget! Donald was talking about how life is just an accumulation of all your experiences. This experience was truly a special one and the best week of my life so far. One of my favourite parts of the trip was listening to all your guys crazy, exciting and funny experiences. I wish all of you the best and hopefully this isnt the last time we see each other. Thanks again.

Thank you for such an unbelievably amazing week. I have been fortunate to have had a few really amazing vacations and trips, but I can absolutely say that the quality of service you three provided is the finest I have ever experienced. Your combination of friendly, welcoming, and beautifully humble personalities really set you apart from other hosts. You guys made us feel so welcome, so comfortable, and we were delighted to spend our week with you. We will miss you and the beautiful sailboat so much! Best Regards.

R and F Families from California (USA)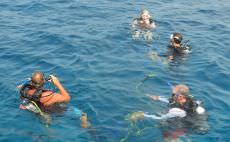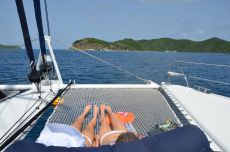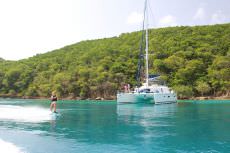 June 4-11, 2016 BVI
Dear Donald, Audrey and Caitlin,

What can we say? We loved our experience so much the first time we had to come back! Thank you for everything. We are hoping to see yall in the near future. Love to all of you!

We had a wonderful trip! Thank you (again) for making it so memorable! Also, thank you for making it so great for the children!

Thank you for the wonderful experience. Every aspect was enjoyable and stress free. Yall made the week fly by. The tours were fun, food was awesome and the service was delightful. We had a blast and enjoyed seeing yall again!

Our first time on a boat and you set the bar very high!! Thank you all so much for a wonderful experience. Hope to see you in Texas in the future. We will get the smoker fired up and cork some wine!

L Family (Texas - USA)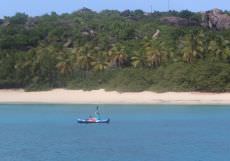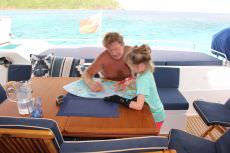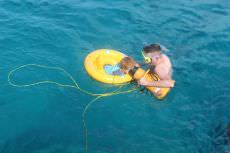 May 24-31, 2016 BVI
Donald, Audrey and Caitlin. Thank you so much for the amazing kindness and impeccable service. We have so many great memories. We laughed so hard our cheeks will hurt for weeks. Looking forward to seeing you all next year, or sooner if you can come and visit us all in Boston! R and S

Dearest Crew! You have given us the memories of a lifetime! Thanks for renewing our spirit of adventure and helping us to rediscover our youth. Happy sailing until we meet again Fondly, E and J

Dear Donald, Audrey and Caitlin. Thank you for such an amazing week. The food, the laughs and the dancing! Its going to be tough to go home. You spoiled us too much! Hope we can come sailing again with our new friends. Cheers, J and D

Bamarandi Crew Thank you for sharing your paradise with us this week! The food was amazing, the laughs abundant and the adventures fun-filled. Hope to sail again someday soon! Cheers! J and T

M Friends (Boston USA)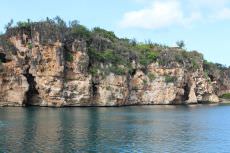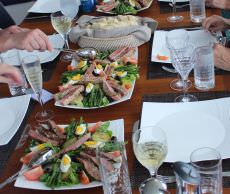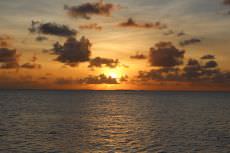 May 10-16 2016 ~ BVI ~ Amazing Vacation!
Dear Donald, Audrey and Caitlin, you guys were amazing. I had a great time, thank you for everything, it is going to be hard going back to reality, you were the best!!! :-) The food was delicious, the pampering was incredible. F and A

Dear all, this has been an amazing vacation. Your warmth, professionalism, attentiveness to detail and funny stories have been very much appreciated. I hope we will meet again!! You are the best!! Thanks for everything -
I and L

Thanks Donald, Audrey and Caitlin for a wonderful vacation! The trip, scuba, snorkel and beaches were amazing, and so was the food, the drinks and company. All the best, D and J

Dear all, you were all wonderful! You really made a great difference in making this a fantastic trip. Everything was perfect, the food, the scuba, the places we visited; everything! This trip would not have been as wonderful if it werent for your great personalities. Thank you so much for everything! C and F

S Friends (Lima - Peru)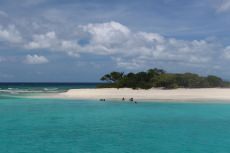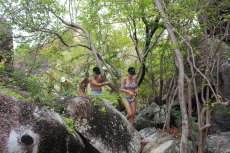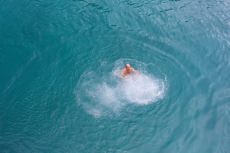 April 23-30, 2016 Best Week of our Lives
Words cannot describe the week you provided. The crew made the trip fun, exciting and comfortable. The level of food, knowledge and service was extraordinary! Gill and I had a fantastic time! We feel like you are part of our family now. We hope to stay in touch and sail with you again someday! Love, B&G

Dear Bamarandi Crew, the last week of April 2016 is going down in the books as the best week of our lives. Donald, we will miss your morning stories most of all. Thank you for making us laugh and showing us the best beaches that FWI have to offer. Caitlin, your 80s and 90s playlist made our hearts smile. You were terrific and we are going to miss that smile and certainly that shot paddle you kept on refilling for us on the last afternoon. Audrey, you have the secret to keeping passengers happy. Thanks to your Michelin star cooking we did not have a mutiny. Thank you for your kindness, and for making sure this gem stays as in tact as possible (the Caribbean water and all its creatures, especially turtles). We will miss you all and cannot wait to see you someday for a new adventure. With gratitude, I&A

It was a vacation for the record books. Donald, the raconteur extraordinaire; Audrey, the culinary queen; and Caitlin the stewardess supreme. I never had my needs and wants so (seemingly) effortlessly anticipated and met and surpassed. I caught a fish, rode a turtle, jumped off a cliff, had the most romantic date-night in history, and drank myself into a sublime stupor. Thank you for your kindness, professionalism, and all around wonderfulness. Cheers, R

Caitlin, Audrey and Don; what an amazing week with all of you. This will always be remembered as the week on the boat. All of you are complete professionals and you made it very easy to relax and take it all in. I have the five extra pounds to prove it! We will be back. Love A

Don, Audrey and Caitlin, thanks to all of you for taking our eight trouble makers on a great St Barts, St Martin and Anguilla tour. Amazing service; great knowledge of the area and some of the best food we have had! Caitlin was lightning fast at helping us. This was our first trip on a cat and it was an incredible vessel! Lets do BVI or Galapagos next. Best, S&R

W Friends (Washington DC USA)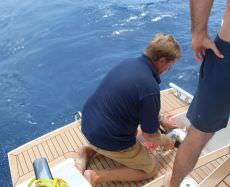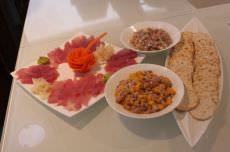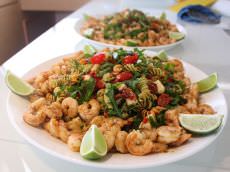 9-16 April, 2016 Amazing Week with Best Crew Ever
What an amazing week! I didnt think we could top our last trip with you but we have! It really felt like a reunion. The week went way too fast. You all take such good care of us. We could want for nothing. But best of all I feel we have gained new life long friends! We wish you the very best as you finish up your season and really hope to see you when you are on holiday. We will miss you and remember you often as we tell all our friends the experiences and memories we have made with you. Love, C&C

Donald, Audrey and Caitlin, another amazing week with the best crew ever! I never imagined I would be writing in this book again, but I already have dreams of a third time! The adventure was filled with excellent food, superior service and a familiar kindness. You are a treasure. May your travels always be safe! Until next time. S&J

We had such an amazing time the first time we were here with you! We never would have thought that if we came back it could be better, but it was! You all truly feel like family! Till next time, Harpers! N&T

What an amazing week! We have had so much fun. You are all such wonderful hosts. Like I said on the way down it felt like we were going visiting friends and it was just that. Thank you for the food, fun, laughs and memories and most of all friendships! Until next time! Love, R& D

Friends (Montana; Minnesota USA)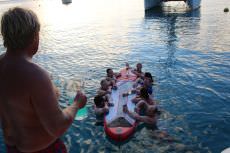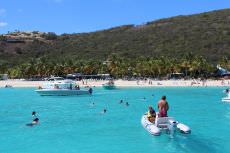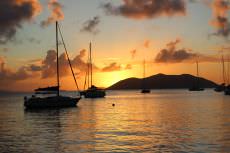 March 20-27, 2016 ~ Magical Journey
Dearest Donald, Audrey and Caitlin
We shared a few pictures of our trip with some close friends back home and their comment was I wouldnt want to come back home. So guess what: We do not want to come back home! The pictures are beautiful indeed, but what they do not capture is the magic you three create in your own very special ways. Lets start with your lovely South African accent we always personally loved. Your smiles at all times that indicate you love what you do and how you do it is untouchable. The days are long and yet it is continually filled with laughter, kindness, attention and supreme service. You all make it look effortless yet we all know it is anything but! Your talents and skills are unmatched, yet your hearts define it all. Donald, your humor, knowledge and caring presence were an ultimate treat for us. Audrey, you continue to turn up delicious meals day after day in a 3 by 6 kitchen! Now that is talent! Caitlin, the hard working girl that isnt afraid to roll up her sleeves under any and all circumstances. You do it with pride, heart and incredible charm. We will forever remember you and our magical journey. Dreams are seldom surpassed by reality but you three did just that! All our love!
M Family (California USA)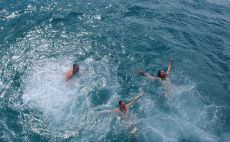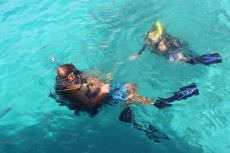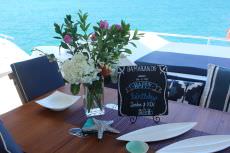 Treasured Memory for a Lifetime - March 5-12/16
Donald, Audrey and Caitlin
Thank you so much for giving us a vacation that will be a treasured memory for a lifetime. You went above and beyond in serving us and meeting every need or want we had. Thank you for sharing your incredible talents of cooking, table setting, diving, finding pirate treasure, singing, decorating and making us feel at home! Thank you so much for your hospitality, your kindness towards all of our kiddos and for loving our family so well! We have waited for 20 years for this family holiday and you all made it truly worth the wait!
N Family (Colorado USA)

Couldn't be better!!!! Just heaven.
Isabelle

Both Crew and boat beyond my highest expectations!!!
John
Jan 6-13, 1016 ~ Floating 5-Star Hotel !
Thank you Donald, Audrey and Caitlin, for a truly unforgettable time on the boat, water and shore. Your crews passion, enthusiasm and joy for the boat and your guests create a fantastic atmosphere onboard with the perfect blend of excitement, laughter and relaxation. Donald, your experience and people skills are invaluable and make the trip into what it was. Audrey, your cooking made every meal a feast and something to look forward to. Caitlin, your helpful and very friendly attitude made us feel like we were in the worlds tiniest, floating 5-star hotel. You guys make an incredible crew and set the bar for holidays on water incredibly high. Thank you all and we wish you all the best for your future trips. We would love to join you once again!
B Family - Switzerland/England/Canada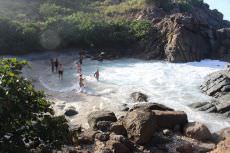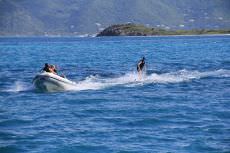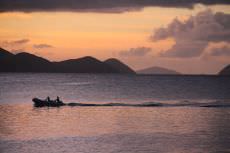 Dec 27-Jan 3, 2016 ~ Trip of a Lifetime!!
Dear Donald, Audrey and Caitlin Thank you for doing such an amazing job of showing our family your little piece of paradise. We knew this would be a trip of a lifetime, but we had no idea how the three of you could make an unforgettable trip even more amazing. The adventures, the food, the service, the great stories and laughter and most of all the kindness that you so effortlessly provided were above and beyond. Thank you for everything! We truly hope our paths cross again sometime.
J Family Wisconsin / Florida, USA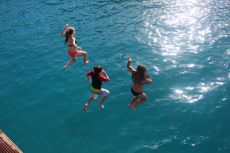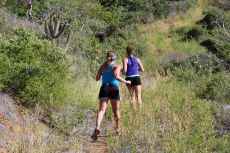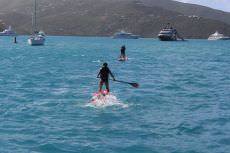 December 19-26, 2015 ~ Amazing Holiday Week
Dear Donald Audrey and Caitlin Thank you for the most amazing week with our family and yours! We feel very lucky to have spent the holidays with another family who values family and friends as much as we do. Your hospitality was so genuine and lovely which is the perfect counter balance to Donalds complete naughtiness. We hope our paths will cross again! Lots of love
G Family Tennessee, USA

Summer 2015 - Best Ever
Our holiday on Bamarandi in the summer of 2015 was one of the best we've ever had. The boat is so well proportioned and fitted out to an excellent standard with two different outside dining areas plus one inside and plenty of space to sunbathe and relax - it's the biggest advantage of a cat of this size, indeed boats of twice the length might struggle to compete in this respect. The internal fit out is top notch too, really comfortable and very well equipped.

The crew were exceptional - skipper plus two crew and an excellent chef - we were looked after incredibly well. We left the menus to the chef and every day were offered different combinations of fresh and healthy options, it's impossible to highlight one meal, they were all first class. The service was attentive without being too formal, the balance was just right, and we enjoyed privacy whilst never needing to ask for anything, our every need was anticipated.

The acid test - would we charter Bamarandi again? Without hesitation.

Peter
Comments
The comments below apply to Donald & Audrey's previous charter yacht
Sensational Charter
Audrey and Donald,
You made our family vacation absolutely sensational! Your hospitality, humor, educational moments, excursions were only some of the highlights!! The boys enjoyed all of the activities. Learning to Scuba dive was truly something I will remember forever. You both didn't miss a trick .... We can't thank you enough. I am excited to share recipes with you. It was unbelievable how you were able to make one meal better than the next. Charlie's pirate experience was wonderful. Watching his excitement made the voyage even more fun. Eric enjoyed every water activity and we had such pleasure watching Bryan being so relaxed, which was needed. They all enjoyed learning to sail. Mark is now an expert at grabbing the pick up buoy. My in-laws haven't stopped raving about it all. We were strangers at the beginning of the week and have now become friends for life. We are looking forward to seeing you again.
Mark and Renee, New York
BVI Charter 2014
Donald and Audrey,
What a sincere pleasure to have the privilege to sail with you for a week in the BVI. You are such a delightful couple who have made us feel like we are your family. Don's humor and quick wit kept us all entertained. Then he would show us his extreme knowledge on many subjects - especially the stargazing. And Audrey absolutely amazed us with some of the most delicious and beautiful presentations at breakfast, lunch and dinner. And her smile and charm always complimented each meal. Together as Captain and First Mate they are an unbeatable team. We thank them for one of the most enjoyable and amazing weeks. Absolutely the best!!!
Bill and Amy - New Mexico, USA
Over the top Charter
Over the top! Didn't know it could get this good! Thank you for giving of yourselves all day and night. Your stamina was remarkable. Your personal stories were extraordinary. How can two people have this much humor and this much wisdom and knowledge? Thank you dear friends, may we do it again and again!
Joe and Sherry, New England, USA
Family Charter
You helped bring my family together in a way other vacations simply could not. Thank you for seven adventure-packed days of snorkeling, scuba, jumping, hiking, kayaking, kneeboarding, etc... and also laughs, magic tricks, delicious food, engaging stories and impeccable service. We consider you friends and comrades, and we look forward to our next holiday together onboard Aletheia. Thank you for a truly unforgettable and heavenly experience.
Jeff and Kim - Ohio
Spectacular Week
Dear Audrey and Donald,
Our voyage with you this week was just spectacular! Both of you are models of THE BEST host and hostess. We had a wonderful time snorkeling, laughing, fishing, sailing, our tour of the Baths, our fun in the Bubbly Pool, the absolutely gourmet, healthy, fresh, fabulous meals! What a trip to remember! Thank you for your wonderful, caring hospitality. We will always treasure this week. Thank you! You are the THE BEST! We look forward to our next sail with both of you!
All our love, Bill and Donna and Alice
Family Charter - March 2014
Felt like family to crew upon arriving on boat. The best! Our comfort was their priority. Huge congratulations on finding such a very gracious, courteous, easy and open minded crew. We had the best ever service. Whatever we wanted to do, they were on top of it. Top notch, on top of everything. Crew bent over backwards to meet all of our needs. Cant imagine this crew ever being short on fun. Many activities engaged at every level. Over the top great. Could not imagine having more fun with 3 people weve never met before. Like family but the good ones!

The Captain and crew were expert at everything: scuba diving, sailing, food, making sure guests are having fun. They know the islands, where to go & what to see. Diver Instructor a HUGE plus. Extremely knowledgeable in regards to all aspects of our trip.

Audrey is an excellent chef. All meals above and beyond what we expected. Never had better! Loved everything. Best meals weve ever had on vacation. NOT just a couple meals, every one of them was awesome. We discussed the best meal while on board and we all found it difficult to single out just one. Audrey should be cooking in a 5 star restaurant! The meal presentations were awesome, such a delight. 5 star! Great!

We would charter this yacht again and again and again.
Kent and Family
March 2014
January 2014 BVI - 10 guests (5 couples)
Was a perfect vacation. The locations and choices for stops were great. We had a great mix of private relaxing beaches, quick tours, snorkeling and party days. The food was incredible. Meals and drinks were perfect. Great variety and never needed anything different. Perhaps the best two highlights go hand in hand. First being the amazing crew. Tough to call them a crew because they were part of the experience more than being the crew. Fun to be around, experts at what they do, helped with every want or need. All three [crew members onboard]. Couldn't imagine the trip without them. Second highlight because they were so amazing, it was the first vacation (and perhaps first week of adult life) we really didn't have to make any decisions. It was all taken care of by Donald, Audrey and Kyle.

All in all - the best vacation ever - hands down.

Honestly, I can say this was one of, if not the, best trips of my life. Donald, Audrey and Kyle did such a fabulous time of making sure that our entire group truly relaxed and entertained! From the food, the activities and the sites we saw - it was just amazing! Most times on vacation - by the end people are ready to go home, but not on this one.