Late January, 2018, guests aboard catamaran INVICTUS poetically said...
William and Kim,
As we bid adieu to our lovely hosts
We remember the things we loved the most
A beautiful boat
Cutting through a raucous sea
Enclosed in shelter all four a lee
And then returns the Caribbean sun
Magnificent islands will not be outdone
Craggy rocks shine in bright blue sky
Azure seas bring the tides reply
Heavens open to moonlight night
Stars gaze down upon sandy bight
Much has been lost yet much to gain
As the wind swept islands rise again

Kim and Will, thanks for a wonderful week. Our doors are always open to you on Cape Cod . Good luck with your new adventures. Susan, Eric, Denise and Tim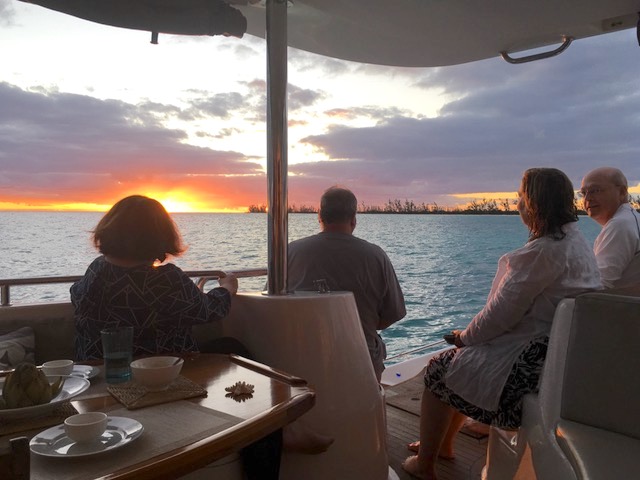 2017/2018 New Years guests on INVICTUS wrote:
After our disastrous sail around Australia I never thought I'd see my family get on another sail boat. I was wrong - and lucky that the next one happened to be Invictus. We had a great week and an amazing drunken stumble into the new year. Thanks for always making sure our glasses were always full and our bellies even more so. Although we'll still be sunbathing in California, we won't have your amazing stories and company to make the time fly by. Your hospitality meant the world to us.
With Love,
The Clark family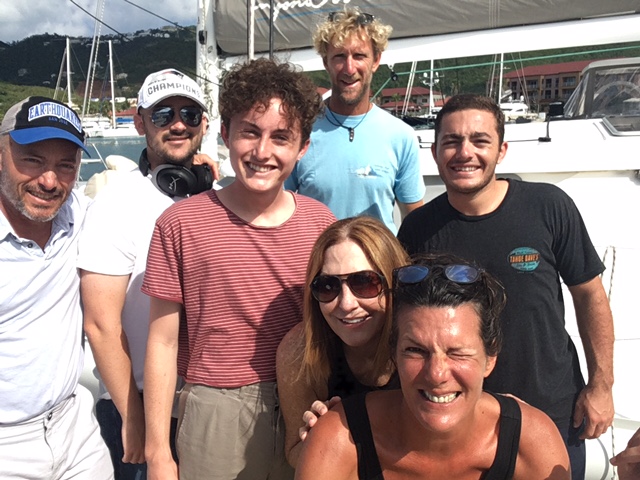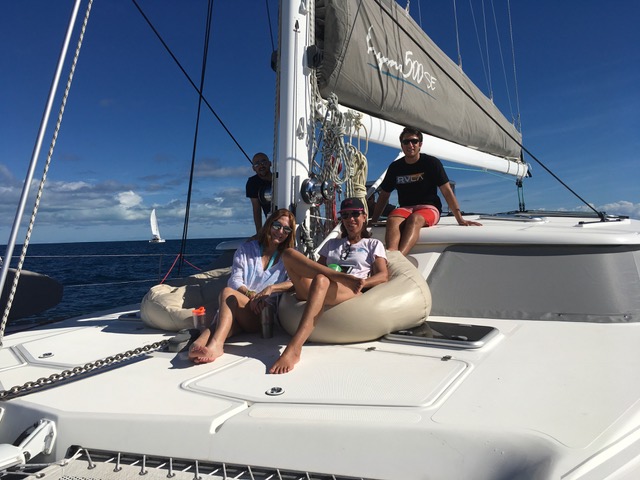 Guest on Invictus January 2017
Dear William and Kim
My dream vacation came true. I had no idea we would have such amazing food + free diving experience + feel like we are on a new floating home + act so silly + enjoy the company of William and Kim (as we've made two new friends in just 7 short days)
I can't thank you enough - Bucket List ticked
Arron and Leola - Maine

William and Kim
Where do I begin? This vacation exceeded our every expectation in every way imaginable. From Kim's UNBELIEVABLE cooking to the the teaching of new "Dance Moves" to William's vast sailing knowledge and great stories. Most of all the wonderful memories that you both helped create and that will never be forgotten.
A million thank yous for a vacation of a lifetime!
Love, Pat and Kelly, Connecticut XO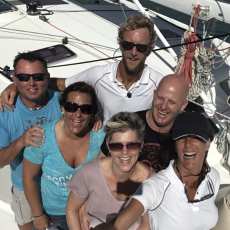 Mid January guests aboard catamaran INVICTUS wrote:
William and Kim
It is less exciting to wake up in Wisconsin to 14 degrees, snow and ice than to daybreak on Invictus in the BVI.
No words can express the gratitude we feel toward the experience you delivered. You are an amazing team that work seamlessly together.It really exceeded our expectations every step of the way. Again , a sincere appreciation for everything you did for us. It was truly a memorable experience that we will cherish forever.
Kim, Dave and Max

Rare is the opportunity where one is able to interact to intimately with their crew when by the end you feel you have widened your circle of friends. William and Kim were the consummate hosts, tremendously professional and clearly capable. Their intelligence and knowledge in a vast array of areas made conversations delightful. We've learned so many new skills - from kiteboarding to finding the nirvana in free diving and were inspired by William to look into building our own wooden boat! In addition to Kim's numerous talents, obvious of which are the culinary - she often accompanied us on a number of hikes and showed us hidden gems to photograph. This exceptional team put together an unforgettable and memorable trip for us which we will fondly look back upon for many years to come.
Dave + Kim + Max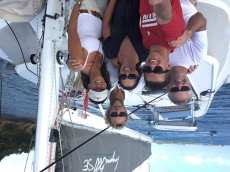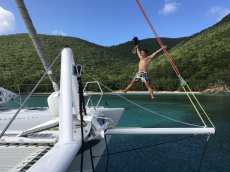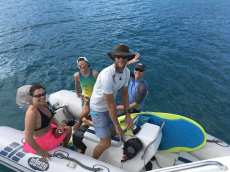 Charter guests aboard for New Years week on catamaran INVICTUS said:
William and Kim!
Thank you so much for an amazing trip! We would have never believed before we came aboard how wonderful both the journey and the crew would be. We are particularly grateful for how kind and caring you have been for Lexi and Nate - we will hear often from them how much they miss you and "can we do it again?" From amazing meals to amazing views to finding lost gold on Treasure Island, the trip was even better than what we expected (and we expected a lot). Thank you Captain William for being so kind, yet strong. I felt perfectly safe at all times with you (even with a Barracuda). You were wonderful with my kids. Thank you Kim for just being amazing! You are fun, smart, kind, gentle and giving. I wish you two every happiness, warm seas and gentle breezes - and write that book!
Pam, Geoff, Lexi, Nate and Marilyn. (Ages 85-6 years old)
In the photo, Lexi tried 14 new foods during her week on INVICTUS and was a awarded a signed certificate by Captain William Garnier and First Mate Kim Stoklasa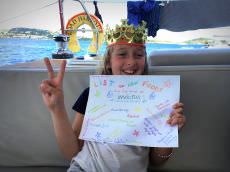 Christmas week INVICTUS charter guests from California (2 adults 3 kids between 10 and 14 years old) said:
Dear William and Kim!
Thank you for a special vacation that we will never forget. We had the time of our lives. You made us feel welcome and comfortable from the first moment we came onboard. Blissful sails, fascinating snorkelling, toys for all - from the subwing and the ZUP to the paddle board - all prepped and ready with the dinghy at a moments notice, beautifully presented and super delicious meals- we are so grateful for the innumerable ways you took care of us. And all the while it was such a pleasure to spend time with you and get to know such interesting, funny, smart and all around lovely people. There could be no better hosts in all of the Caribbean.
Thank you again!
Jessica, Bertrand, Luc, Alex and Claire
Californian guests for Thanksgiving, 2016 on INVICTUS said:
William & Kim
Thank you so much for such a spectacular and memorable vacation! This has truly been the BEST vacation we have ever experienced. We so enjoyed all of the new experiences: the sailing, snorkelling,THE FOOD !( OMG- AMAZING!) Thank you Will for Adventure Island and all the laughs we shared. We always felt safe with you at the helm. Kim, I think we told you at least 100 times about your amazing food. This has been a culinary experience we will never forget!
Lets do it again soon!
With love,
Keith & Kristen, Jeff & Jamie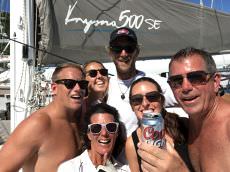 Mid November, 2016 guests aboard catamaran INVICTUS said:
I wish words could say how far all of our expectations were exceeded. To say Kim and William were amazing is an huge understatement. Every day was a new adventure. They catered everything to our wants and needs - from the amazing food to the water toys - it was all simply perfect! I sincerely hope Kim and William understand how grateful we are for the greatest vacation we have ever dreamed of. I can assure you - we will be back!

Thank you so much

Mark, Diane, Beth and Tommy

I truly wish there was a way I could articulate how amazing this vessel and crew are. William and Kim scheduled every day to exactly our interests.
We had a group of 4 and 2 are vegetarians. Kim catered every meal to fit in everyone's taste and preferences. I can only say if someone is chartering a catamaran in the USVI and BVI please don't hesitate to make the greatest decision you will every make toward a vacation-BOOK THIS CREW!

Tommy Tucker November 12th-16th 2016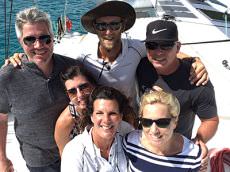 Late March, 2016, guests aboard INVICTUS said:
KIM AND WILL WERE THE PERFECT HOSTS, VERY PROFESSIONAL AND VERY WELL PREPARED. WE WERE LUCKY TO HAVE THEM AS OUR CREW, IT WAS AN AMAZING EXPERIENCE AND OPORTUNITY. THEY ARE REALLY AMAZING PEOPLE.

KIM IS AN EXYTAORDINARY CHEF, SHE UNDERSTOOD PERFECTLY THE KIND OF MEALS WE WANTED, AND BY FAR SURPASSED OUR EXPECATIONS.

THE WHOLE EXPERIENCE IS UNFORGETABLE, THIS IS THE FIRST TIME WE CHARTER A CATAMARAN, AND IT WAS A DREAM, EVERYTHING WORKED OUT SO PERFECT, IT WAS AMAZING. THE QUIET PLACES, THE PEACE YOU HAVE SAILING, THE FAMILY TIME, IT WAS A VERY SPECIAL OPORTUNITY IN EVERY WAY.

WILL AND KIM WERE AMAZING. THEY WERE VERY WELL PREPARED, VERY PROFESSIONALS AT THEIR WORK, FULL OF ENERGY, NOTHING WAS TOO MUCH FOR THEM, THEY WERE ALWAYS READY. THEY WERE VERY GOOD COMPANY, GOOD CONVERSATION PARTNERS, AND IN EVERY WAY AMAZING PEOPLE. WERE THE BEST CREW WE COULD HAVE HAD. WILL WAS A GREAT SCUBA DIVING TEACHER, AND KIM AN AMAZING CHEF.
Guest on Invictus In February 2016

Impeccable Standard
Nothing too much trouble
Volumes of wine always on standby
Imaginative and creative cooking
Coral Jenga!
Taboo (William and Kim current champions)
Unlimited fun!
Sun, sailing, snorkelling .....SUPERB!

Thank you William and Kim - we hd sooo much fun and we are already planning the next trip with you, on which we are demanding a Taboo re-match xx

Mark & Sam Smith

Post New Years guests Daniel and Silvana, of Bogota, said:
Kim and William are masters of the Art of Relaxation and Fun. Thanks to their professionalism and knowledge our week on INVICTUS was one of the most enjoyable vacations, definitely one we will remember and recommend! The food -Oh the food was delightful and so healthy. The spots they picked were always picturesque and simply perfect. And we always felt safe on the boat which made the experience an even better one. Thank you Kim and William!
Besitos,
Silvana & Daniel
P.S. Snorkeling, Diving, Fishing, we did it all!

And a follow up e-mail from Daniel

Dear William and Kim,
Thank you very much for your mail. We had the very best time on INVICTUS, thanks to both of you. Snorkeling, diving, fishing, swimming, hiking, playing with water toys, and the food (fantastic chef, unforgettable experience) and wine selection. It is probably one of the best trips we have ever done, if not the best! Captain of the boat was incredible, always knew where to go.
Thank you both very much, best regards,
Daniel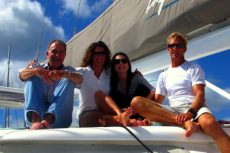 New Years guests the Davenport Family, from Hampshire said:
We could not have had a more relaxing or enjoyable week aboard INVICTUS. It seemed as though nothing was too much trouble for William or Kim. William was the most capable skipper and very knowledgeable about the area and activities we might care to do snorkeling, exploring caves, etc. Kim took great care of making sure the boat was in perfect condition and prepared the most delicious meals all beautifully presented. They were both excellent company and we could not have wished for a happier holiday. With best wishes and many many thanks.
Graham, Susan, Thomas, Katharine and Mary