June 2017
One week from Olbia, Sardinia to Porto Vecchio, Corsica + everywhere in between. Thank you Pawel, Clare + Marek for such an incredible experience. Our first charter, but definitely not our last. Hopefully we can meet you guys when Ocean view hits the Pacific. (By then we will have our kite training…). Honestly, the crew makes the charter as much or more than the boat, and you guys made this awesome. We used to think we knew about boats, then we met Pawel and woah… Clare can cook. Hard to choose favorites: gnocchi salad? Asian shrimp tacos? Buttered cod with avocado? Ribs? Impossible to choose. All so delicious! As for Marek, you can't say enough about his good spirit + eagerness to always help make everything comfortable. Againk, what a great time, gorgeous boat, and phenomenal, charming, spirited, talented crew. Hope we meet again!
April 2017
Thank you so much for this amazing week! I love everything that we did. My favourite thing was the full moon party. I love also all the beautiful dishes you prepared for us (thanks Clare!!). I will never forget this time. I will miss you so much. Thank you.

They told us you guys where the best crew ever – but frankly we never expected this much! Best crew, best chef, best boat and… BEST VACATION EVER! Thank you Clare and Pawel. Now, the problem is that we are going to follow you EVERYWHERE so… see you next year in Marquises!!!
Lots of kisses to both of you.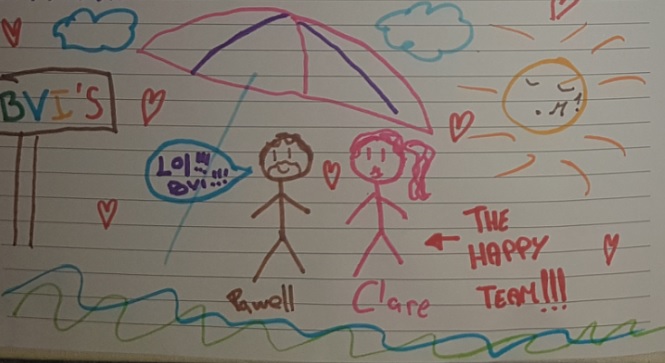 March 2017
My husband and I took our three teenage children to the British Virgin Islands for a sailing trip aboard Oceanview. None of us had ever been on a catamaran before. We absolutely loved the experience. Our capable and gracious captain Pawel and our talented chef Clare ensured that we were happy and satisfied at all times. We started each day with a beautifully presented breakfast at a lovely table overlooking the sea. Then we would begin our fun filled day which always involved a variety of water sports and activities as well as some quiet time reading and maybe a snooze.
Then we would gather for lunch and enjoy another creation by Clare. We moored in a new spot each day and explored yet another spectacular beach. Attentive and hospitable, Pawel knows just when to offer a cocktail before settling into a candle lit dinner under the stars. There is only one thing better than going to sleep on the water and that is waking to the morning sun. There is no better way to greet the day. The boat is elegantly appointed, very comfortable and meticulously maintained. Pawel arranges for all logistics such as scuba diving, dinner reservations and spa visits, effort free. Where ever you choose to cruise, Ocean view's first class team will provide you with a memorable and unique experience.
February 2017
Hi Pawel and Clare,
Since arriving home Helen and I have been thinking of you both on Ocean View, sailing off to Antigua while we headed back to our normal life in Scotland.
We had a fantastic week with you, the pace for us being perfect in every way and the food being memorable were just two of the things we enjoyed.
One week is normally long enough for us on a charter, our only regret is not making it longer and sailing off to Antigua and beyond with you.
Looking forward to seeing you again, it's a question of when and where rather than if.
July 2016
From Client:

Everything is great!
Pawel turned out to be very attentive and caring. Helped us a lot.

From Broker:

Thank you for a great team work on this charter. I will highly recommend this yacht and the crew to other clients in the future.
January 2016
a s'est trs bien pass. Le bateau, l'quipage, la nourriture, tout tait parfait. On en gardera un excellent souvenir.
March 2015
Pawel and Clare were fantastic: FUN, pleasant, knowledgeable, safe, fantastic food, patient, keen, humble, energetic with kite surfing… the list of superlatives goes on. We all had a great time and you were both enormous contributors to the success of our 10 days. We are very grateful and please take this as an expression and token of our thanks.

Charles