29th August - 2nd September, 2017 ~ Grenadines
It was amazing!
The crew were absolutely fantastic. Only thing wrong is we should have done
longer!
The food and service were brilliant, nothing was too much trouble.
I would recommend the yacht with the the captain and crew to anyone

Kind regards.
Geoff

29th August - 2nd September 2017, Grenadines
Thank you all for our wonderful holiday!❤
Sally T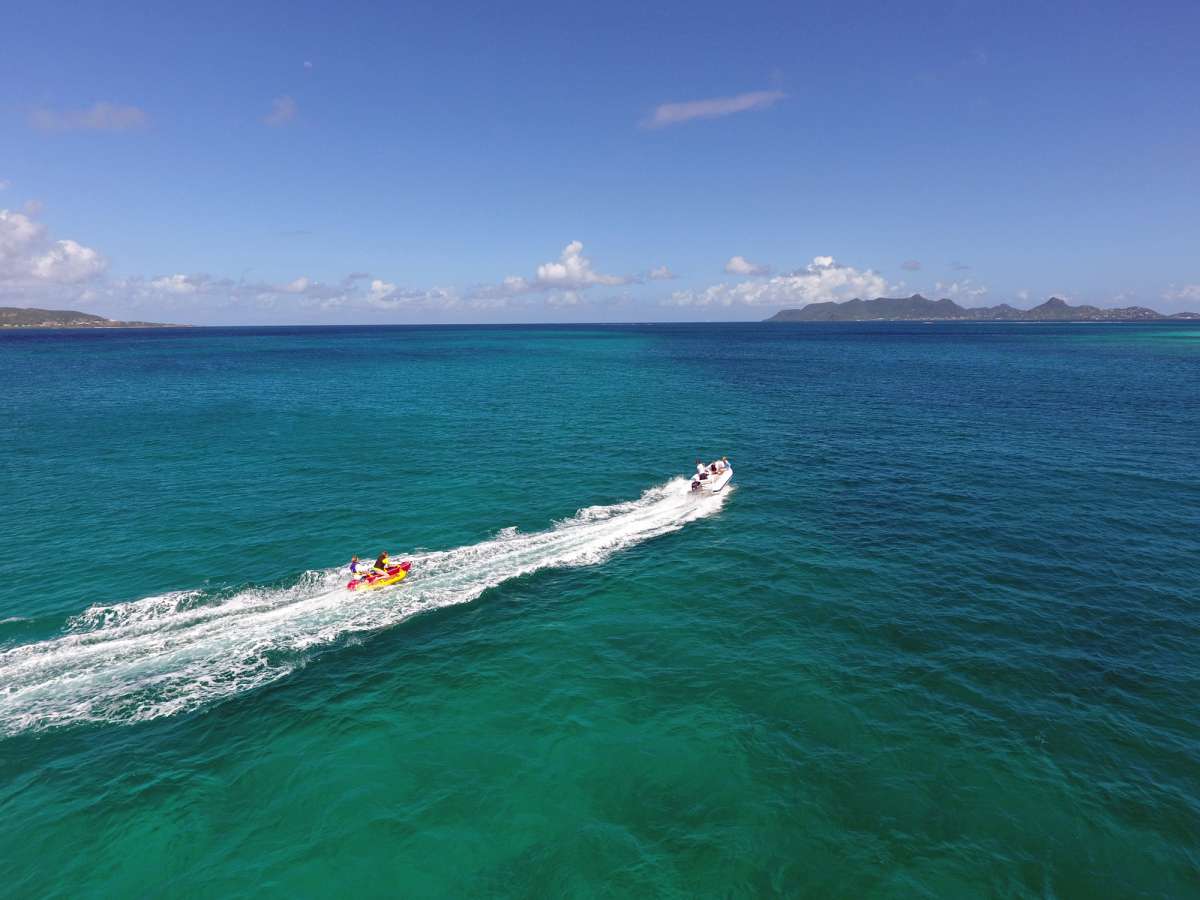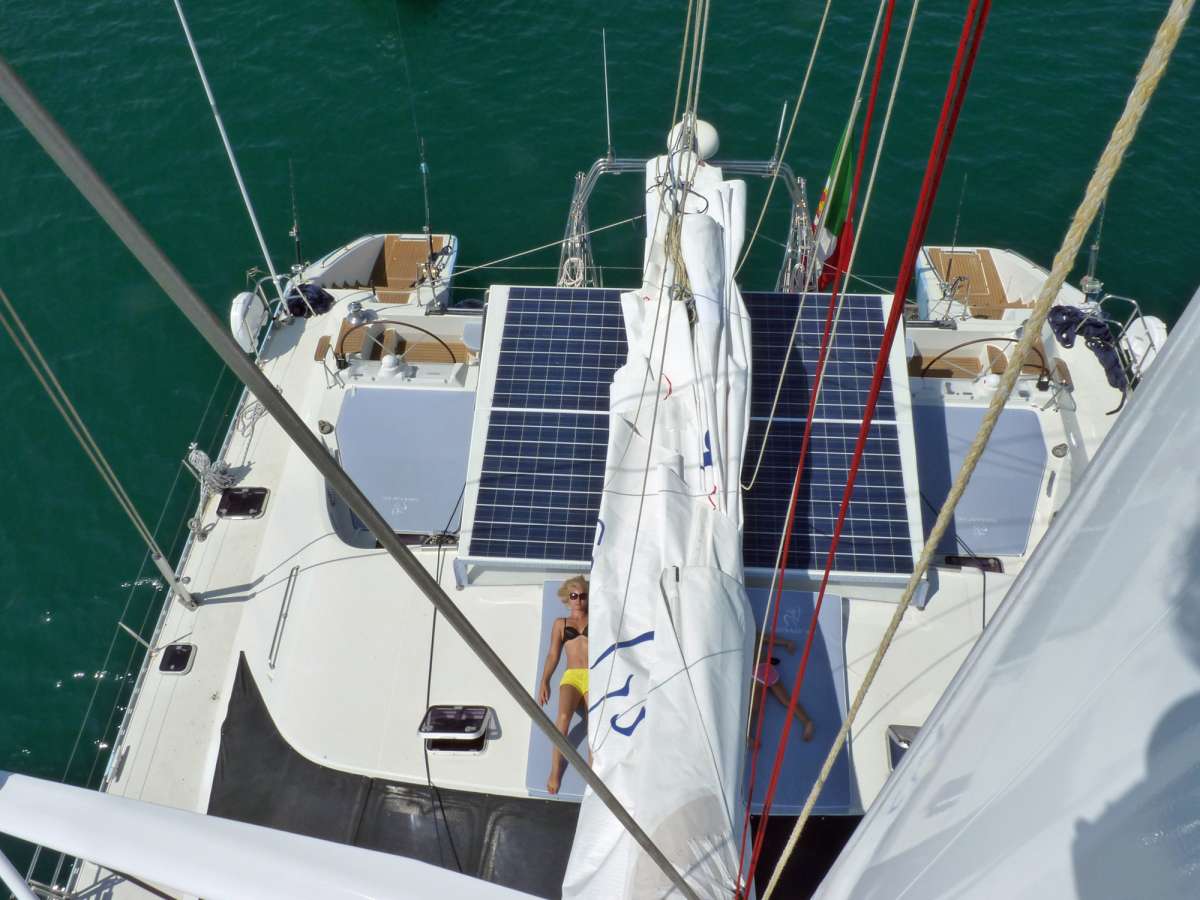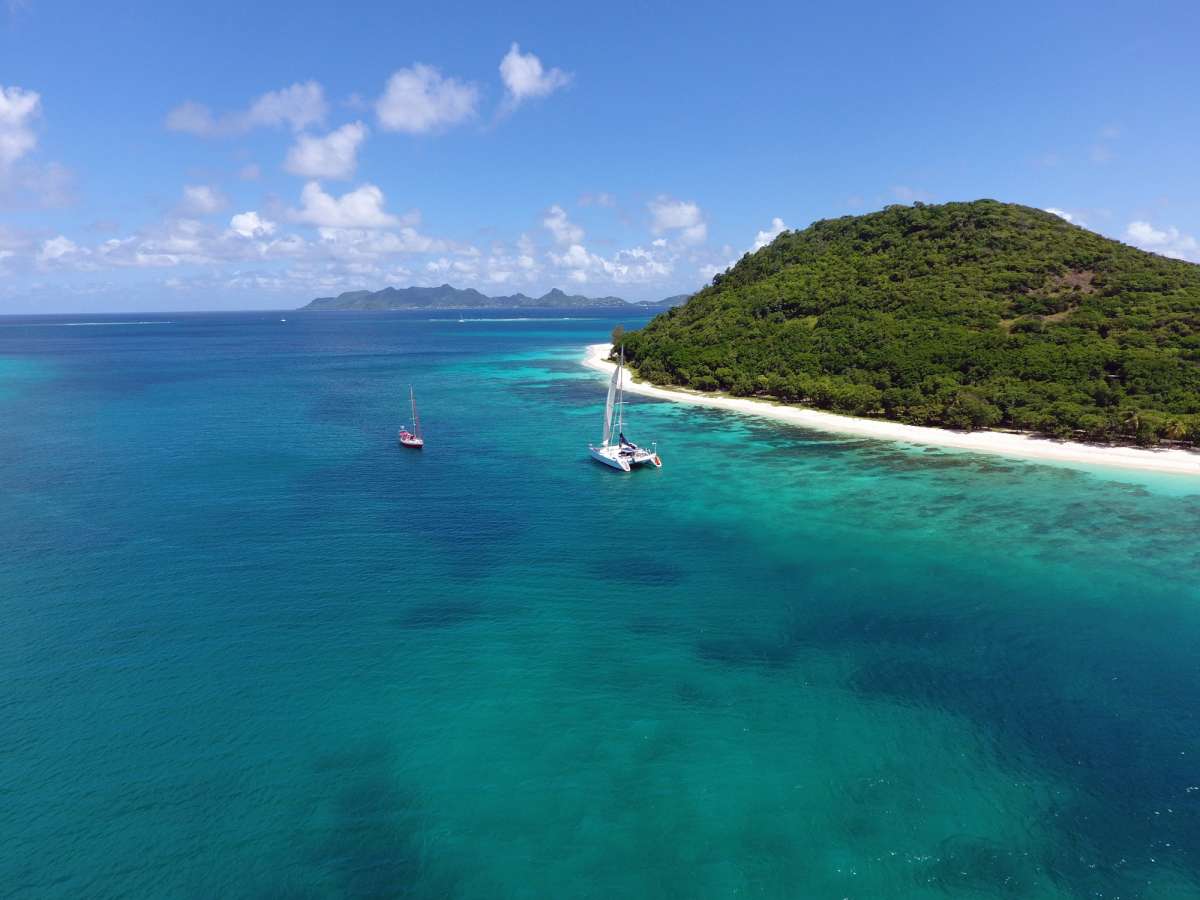 8-15 May, 2017 ~ Grenadines ~ A Memorable Week!
Hi Pierro, Alexandra, Christian and Caroline,
It seems very strange to us not to be in your company and on the boat anymore!It is certainly more boring and quieter on land!!! We miss you all! Thank you so much to all of you for making such a memorable week for us. We really enjoyed everything and particularly the sunsets and quiet bays!!! Very beautiful and unforgettable.
Thank you again for all your very hard work.......We hope you have now manage to have your party and some well deserved sleep?! We are now just chilling in Mustique for a few days and will do some tours at the end of the week.
When we get home, we will sort some photos of our week to send to you.Looking forward to meeting you hopefully in October in Alba.
Many thanks again for such a special week.Hugs and best wishes to you and your great crew.
Julienne and Alexei
xo

26-30 March, 2017 ~ BVI ~ Wonderful!
Note from broker:
Just thought you would like to know that Stacey sent me a very nice text this morning. They had a great time on Sagittarius and specifically stated the crew made the trip wonderful.
Thank you for all of your help and efforts in pulling off a last minute miracle with fisheries!

March 18- 25, 2017 - Absolutely Outstanding!
From Broker:
Hello Sagittarius Crew, Thank you so much for all your hard work in making what sounds like an absolutely outstanding charter experience for my clients. Please find below a their wonderful review. It was a pleasure working with you.

The Charter was amazing in every way. The Catamaran was beautiful, the crew was an absolute delight and we definitely have decided that any future vacations will have to be a charter. Please see my responses to the evaluation questions below. Again, we cannot say enough good things about our experience aboard the Sagittarius and the exceptional crew.

Evaluation Questionnaire:
Were you able to locate and board your yacht easily and at the agreed time? - Yes, we actually were able to find the Catamaran in the marina the night before our charter.

How would you describe the state of your Charter Yacht? - The Catamaran was in amazing condition. Clean, decorated and adorned beautifully. Provisioned wonderfully. Everything exceeded our expectations at least ten fold.

Were all the advertised equipment onboard and in good condition? - Absolutely

How would you describe your Captain and Crew? - The Captain and Crew were outstanding and amazing. Words alone can not describe these wonderful people. They were extremely warm and welcoming. Knowledgeable, funny, fun to be with, caring and each of them went out of their way to assure that our group had an amazing holiday. Captain Piero was a gracious host, a skilled captain and navigator. Riccardo was an exceptional cook who made sure we never went hungry and created some of the best meals we have ever had. Not to mention his kind demeanor and personality. Christian was always on the go making sure that all of the systems were operational and that we always had what we needed. Last, but by no means least, Alexandra was a blessing. Her caring personality and bright smile made each and everyone of us feel as though we were her only concern. The entire crew and captain went well above and beyond to ensure we had a great time and each of them became part of our family.

Were you able to partake in the activities and itinerary you desired?
- Absolutely and then some. The Captain made wonderful recommendations well as provided expert insight on our itinerary choices.

What were your favorite activities and highlights during your Charter?
-I would say our favorite highlight was when the Yacht was under sail and not on power. The quiet peacefulness was awe inspiring. I would also say that our Captain and Crew, and our interactions with them were some of our favorite highlights as well. Guana Island was not too shabby either. :-)

How would you describe the quality of the meals and beverages served onboard? - All of the meals and beverages were top notch. Better than what one can get in most fine dining establishments. I would rate the meals as 5 star (our of 5) and the beverages as 5 out of 5 as well.

Please add any additional comments, whether its constructive criticism or describing your satisfaction and appreciation. - I think I speak for each and every guest when I say that we cannot express enough our extreme satisfaction and appreciation to BROKER and The Captain and Crew of the Catamaran Sagittarius for making our holiday dreams and wishes come true. Everything from the first contact with Jessica inquiring about charters, to the moment we stepped of the Sagittarius was phenomenal. We each have commented on how we can't wait to do this again and how our vacationing experience from this point forward, has forever changed. Thank you all so very much for everything.

Sincerely,
Kevin H.


18-24 February, 2017 in BVI\'s
Wonderful "thank you" card from guests on Sagittarius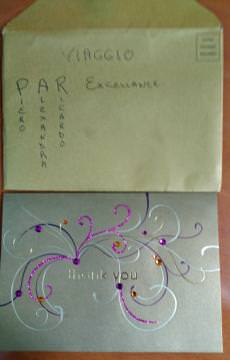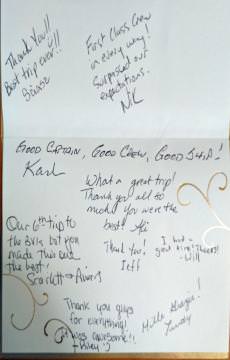 18-24 February, 2017 ~ 5 Star Experience!!
The captain was very knowledgeable about subjects and extremely accommodating with the itinerary. The food was gourmet and abundant, and the service was excellent!! There was an abundant and we ate lots of fish. We saw everything that we came to see. Thought there might be at least one more paddle board. (NOTE: new paddle board now on Sagittarius). The entire experience of our trip was 5 star, par excellance!!!!!!
The K Family

December 19-26, 2016 ~ Wonderful BVI Christmas!
All was wonderful!
Piero knowledge of the BVI was extensive and insightful.
Chef was amazing!
Hostess beautiful and helpful.
Maurizio was always on hand as well.
Thanks,
Chris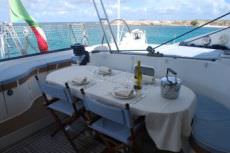 December 19-26, 2016 ~BVI ~ Wonderful!
Hi Captain and whole crew we had the best time! Thank you for giving us a wonderful vacation. Enjoy the amazing weather 🤗
Best Regards,

Vanessa

28 Feb - 6 March Grenadines
Thanks again for an amazing charter. That was my first one and it was an absolute blast.
Lindsay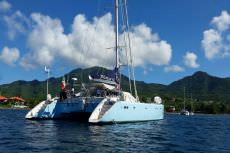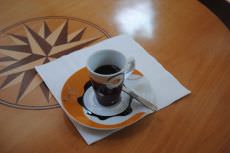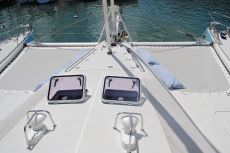 Aug 1-8, 2015, BVI
You guys have been amazing. I feel like we started the trip by becoming fast friends and ended as if we were family. We had the most amazing trip from the first sail to Anegada to the last day in the appropriately named Bitter End Yacht Club. The rope swing, wake-boarding, moonlight tube rides and diving were spectacular. Our favorite part was getting to know you two incredible people. Ill never forget our long chats on back deck. You guys are too kind!! We look forward to keeping in touch and we WILL see you again. Warm regards, Brandon, Jack, Meredith, Laura

Thank you for your hospitality. I loved everything about this trip! Getting to know you both was a special bonus to a wonderful trip. Glad to have new friends with sweet hearts. Best trip of my life. I will think of you often.
Love much, Meredith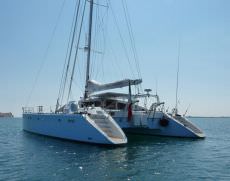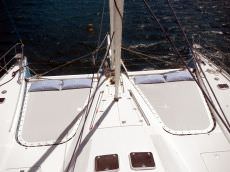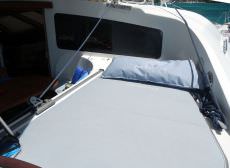 July, BVI
From the moment we stepped on the boat we felt like we were at home! Captain Tony and Chef Paola have been extremely accommodating and absolutely wonderful. They have shown us many beautiful places here in the BVIs and have helped create many wonderful family memories, from snorkeling near Norman Island and Cooper Island, to wakeboarding and tubing in the ocean, and the list goes on! Captain Tony and Paola are always up for anything and are always willing to go the extra mile. We cannot express our thankfulness and gratefulness enough. Paola has made the most amazing food during our entire stay and has inspired our Italian food and homemade ice cream palates!

We have had many laughs and will carry many fond memories within us of the special Sagittarius, Captain Tony and Paola. They are like family to us and we hope to spend many more adventures with them in the future at sea.
Until we meet again!
Don, Tiffany, Brooks, Adriana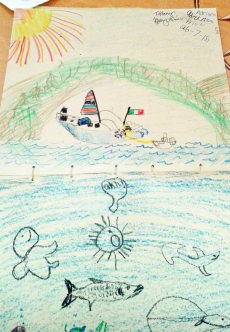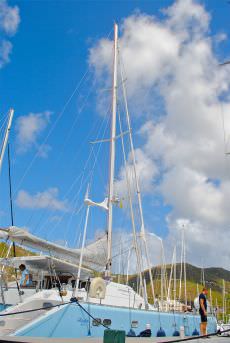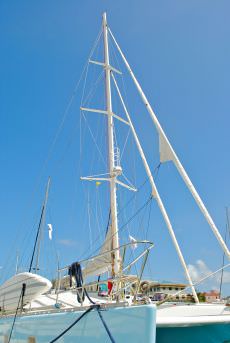 25 April - 2 May - 10 pax charter in BVI by Broker and her family.
The catamaran Sagittarius is very nice and comfortable, 5 double cabins (1 master + 4 double) with ensuite facilities and separate shower, 2-3 crew in separate quarters, solar panels, watermaker, ice maker, dishwasher, washing machine, compressor, 2 paddle surf
During my holiday there was another captain, Tony (the new one) is arriving now and hes very professional (hes also dive master).
The hostess, Paola, is a very kind person and she cooks very well.
Im sure that all clients will be satisfied!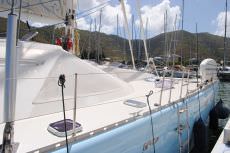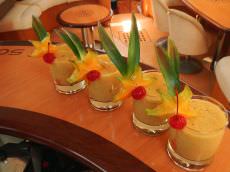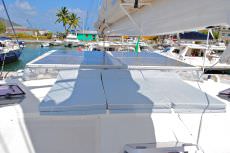 1-12 April 2015 BVI
" The yacht is wonderful, and especially the crew that ennobles her is outstanding.
There is no starry restaurant or masterchef that bears comparison with the appetizers and the kitchen of Paola . The Captain is the soul of the Sea ... after Cristoforo Colombo.
We will miss you"

Note: "masterchef" is referred to the popular television "chef competition", and "starry" should be translated as "michelin guide star": in italian "stellato" refers to the "stelle" (the valuation stars, from one to three, that the Michelin Restaurants Guide attributes to the top restaurants).

Note from Broker:
Regarding the charter I can tell you that our clients were more than happy, they told this was the best holiday in their life food excellent, great crew, the boat is maintained in excellent condition, all works properly.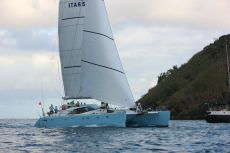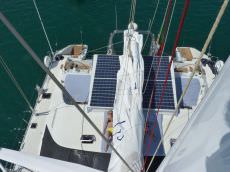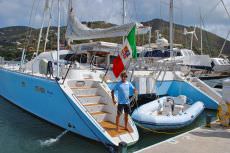 Feb 2015 in Grenadines
A wonderful holiday! Sagittarius is beautiful and totally comfy.