Christmas week charter guests aboard catamaran TRANQUILITY said:
The trip was superb! Patric and the team killed themselves to entertain the kids with diving and the water sports. All of their personalities/attitudes/service was great. The food, Mary, was excellent. Dave and Fran were both dive instructors (and great young couple) so with Patric there was three on board. We would go in groups of 5 guests and 1 instructor. We did our last 2 open water with them and managed 4 other dives including Xmas morning at 8 am on the RMS Rhone. Not sure when we will do it again but I would go back to them.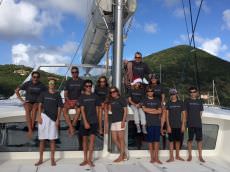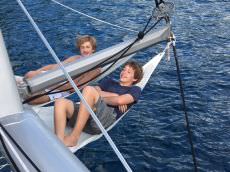 Random sample testimonials
Thank you so much. I loved everything! Most of all spending time with you guys. It was so much fun.. P.S. I loved the Food it was the best.. Nathan, 6 years old..
What can I say it was a fantastic time we had on Tranquility and none of this would have been so special if it wasnt for you guys.. Thank you for all your hard work. Excellent Crew. Jason, December 2015

WoW! Amazing this week was the best rip Ive ever been on. So very thankful for all of the wonderful experiences that you have allowed us to have..
Dreifuss, December, 2016

I have never been so taken care of. All of you do a tremendous job. Anticipating our every need and desire. You work so hard, provide entertainment and take such great care of everyone on the ship and the ship itself. I love the standup comedy, the incredible cooking, the 200 cups of coffee that Serena made for me and Wills never ending work. Thank you for giving me unforgettable days of bliss. Russel, December 2016

I cant imagine having experienced this wonderful vacation without the four of you.. Don, December 2015

Thank you so much for the trip of a lifetime. Patric the diving was a thrill. You made every moment a blast. Mary your cooking was a delight. Will, thank you for all the waterskiing. Serena you were there at every moment when something was needed. The Tranquility crew is absolutely incredible.
This has been a trip of a lifetime and you made it special with your care.. The meals were out of this world and the care you took to make us feel comfortable was also. We consider you part of the clan now. Wood, January 2016

I cant think of any words that could do this holiday justice. It has been fantastic form the moment we walked down that dock in the rain, to the boat.. All of you have made this the best holiday ever. You all are family now, and we will think of you, Tranquility and the BVIs often.. We hope we have given you some memories of a lifetime also. Pole dancing, long hair everywhere, our electrical expertise, endless wine tasting, yacht shopping via google and of course our own Dinghy captain with crew.. Jon, Jaci, Ashofrd, January 2016

We had the most amazing time of our lives! We hope you enjoyed us as much as we enjoyed you. This past week was full of adventures delicious meals, pampering. We felt like king and Queens, but most of all; we felt like family from the first day on board until the last. Thank you for all the memories that we will never forget.. Val & Craig Jan 2016

Thank you from the bottom of my heart for making my first trip to the BVIs beyond memorable Real perfection- the humor, the kindness, the help, the fantastic meals & service were the icing of the cake of looking at the beautiful waters and Islands. Meeting and seeing Lemurs for the first time, and me diving for the first time. You as a team are seamless and make for a magical vacation. Hope to find myself back with you one day. Benay, New York 2016

The Tranquility Crew created a magical parade for all of us, filled with great joy and happiness.. Elstrott, Jan. 2016

You guys rock, seriously! Thank you each and everyone of you for your diligence and long hours, and mostly for your patience. We had such an incredible week and its not easy to coordinate such a fantastic trip with so many individuals with so a huge range of likes and dislikes. You guys are really awesome in making it all work. Hope to see you guys next January again. William Feb, 2016

Thank you for an amazing time, this was a trip of a lifetime and we enjoyed every second! We will always remember our first trip to the BVIs Thank you again and again for making it so special Hope we cross paths again. Bianchini, Feb, 2016

Words can not describe how appreciative our group is to you all.
Mary, you are the true admiral of the boat. Galley Genius!!!
Serena, silent Assassin.. Keep up the great work.
Will, Team award for good sport wish you nothing but brilliance.
Captain, keep doing what your doing. You and everyone around you is nothing but perfection.. Seriously Thank you.. This was the trip of the lifetime and we always be grateful for you and our Tranquility family.. Hecht, March 2016

Thanksgiving week guests aboard TRANQUILITY said:
CHARTER REVIEW OF TEAM AND VESSEL

Name: Gordon & Lynley - Date: November 23-30, 2015

In a nutshell our experience onTranquility was a 10 out of 10. Patricand crew did an amazing job. Our comments below are somewhat in our comparison to our experience on a Lagoon 44 with 2 crew. To have a family reunion on a yacht in the BVIs was a once in a lifetime experience beyond anything our family could have dreamed of.

Comment on the comfort onboard Tranquility:
First class rooms, amenities, etc. were all great. Lots of space with 12 of us plus 4 crew.

Comment on the condition of Tranquility:
We specifically chose Tranquility as it is relatively new. Everything was working and when there were eany mechanical issues, Patric was a capable mechanic taking everything instride.

Comment on the cleanliness of Tranquility:
Spotless! And we appreciated the crew letting us help swab the decks to feel useful.

Comment on the congeniality of the Captain and crew:
They should win the BVI Congeniality award! They all engaged with our family from the young twin girls to the grandparents.

Comment on the service ofthe Captain and crew:
Stellar from 5:59AM to whenever we called it a night. Amazing to be able to keep this up fromdaybreak to end of day over an extended period of time.

Comment on the fun aspect of the Captain and crew:
Lets see snorkeling, scuba, paddleboarding, hiking, hammock, sailing, motoring, wakeboarding, tubing, Willy Ting, finding the best spot in each and every harbor, 11.5knots in a reasonable wind, dealing with left behind passports, slingshot! Nightly summary

Comment on the expertise of the Captain and crew:
Extremely experienced and willing to share insights with everyone.

Comment on the quality of your meals:
Each meal was better than the last. Quality was perfect. Marys first US Thanksgiving spread was beyond all expectations -> research and execution was amazing.

Comment on the presentation of your meals:
So good that we had to take photos every time J

Would you charter this yacht again? (Circle one) YES

Can you please let the owners of Tranquility know that theyhave a special yacht and an amazing crew. Patric & Mary ran a tight ship and made this a special week for us. Will and Serena were on top of their game. For our family, while we were the customers felt like we were with friends on Tranquility. I think they could see how much our extended family enjoyed themselves

Having departed from Tortola airport vs. St Thomas, if we are to do this again, I would always depart from Tortola. Its a unique experience to land at an airport and pretty much head straight onto the boat. While it makes it a bit more difficult to fly from Miami, it makes the arrival/departure easier and less work with passports, etc. It was interesting to see some of St Thomas, but arriving in Tortola feels like it buys you one more day on the water.
Payne, Family Reunion, November 2015
Awesome! Awesome! Awesome! Awesome! We didnt think we could top our experience of 5 years ago. But boy did you guys do that and more. Thank you for making this such a memorable time for everyone involved both young and old. Patric you are the host with the most you are unbelievably accommodating, witty and so upbeat all the time. I dont know how you do it. Mary you are incredible!!! Magnificent meals that were healthy, tasty and beautiful presented. A very hard act to follow. Serena and Will thank you for your friendly service.. You are the sweetest.