Sailing Directions provides your company or large group with access to a fleet of luxury crewed sailing catamarans and crewed mega yachts with accommodation for your whole party. Depending on your group size we can offer a large single yacht or more than one smaller yachts.
The charter can be aimed at pure entertainment and relaxation for an extended family gathering or wedding, right through to organized meetings, presentations and team building events to generate fresh ideas and bond colleagues into high performing teams.
A yacht charter in the beautiful Caribbean waters brings family and friends together and can help retain devoted, talented employees, keeping them motivated and incentivized.
Crewed Catamarans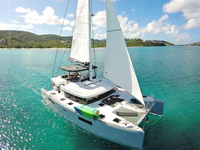 An excellent option for a group charter is to rent two or more identical crewed, all-inclusive sailing catamarans (3 to 5 guest en-suite double cabins in each yacht with separate crew quarters), which will sail in tandem, anchoring together in remote bays throughout the Caribbean island chain.
Each catamaran includes a professional captain and chef, a customized menu (tailored to the group's preferences), frozen tropical cocktails, ship bar, and water toys for entertainment. An inclusive package offers an unforgettable experience and value.
With dual hulls and a broad beam, catamarans have large deck areas, forward trampolines for relaxing, and easy access to the water for a multitude of water sports.
Entertainment equipment includes surround sound, flatscreen TV, a wide range of water sports equipment such as scuba diving gear, snorkeling equipment, tender and water skis, wake boards, kayaks, and safety and navigation equipment.
Private catamaran fleets are available in the Caribbean Virgin Islands, Leeward Islands and the Grenadines. There are a several options available from $2,300 per person per week all-inclusive.
Examples include: Pelican (10 guests) | Island Hoppin (8 guests) | Seahome (8 guests) | Tranquility (12 guests)
Crewed Power Yachts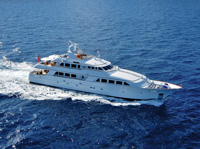 Luxury crewed power yachts are available throughout the Caribbean with the most popular destinations being the St. Martin and St. Barts area in the Caribbean Leeward Islands and the British Virgin Islands.
Luxury power yachts provide services and amenities that are traditionally found only in the most exclusive resorts. Five star, open air dining with award winning service and food make every meal a satisfying experience. Apart from dining, the state of the art entertainment systems, internet access, and water toys including wave runners, kayaks, sailboats, wind surfing, scuba diving, and snorkeling equipment and instructors, zodiacs for water skiing, tubing, and wake boarding (amenities vary) ensure that there will be activity options for everyone in your group. Audiovisual equipment can also be made available for corporate and executive meetings.
Guests have the option of choosing each detail from a list of options as long as their imagination. Nothing is left to chance. Our goal is to meet or exceed the expectations of every guest that boards one of our luxurious yachts.
Prices start at $3,375 per person on up.
Examples include: Ultra (8 guests) | Sea Glass 74 (8 guests) | Unbridled (8 guests) | Lady J (12 guests) | Lauren L (36 guests)