January 2018
We were so thrilled to enjoy a night on Dauntless before they headed south. It was a great experience. We relaxed aboard watching the sunset while enjoying great wine and food served by our attentive and welcoming hosts. We slept well and were surprised at the comfortable shipboard facilities having never experienced this style of weekend away. We plan to one day fly south and join them in any of their ports of call in warmer climes.
Eugine E., January 18th:
Date Night
We had a date night at the dock, and it was GREAT! Judy and Jim made us feel special and well accommodated. They took us out on a little ride on the Chesapeake, then cooked us a yummy dinner. The room we slept in rocked! A very enjoyable little sojorn- I definitely recommend them.
September 28, 2017
We booked a cruise in the Chesapeake Bay with Sail Dauntless! We explored Annapolis and St. Michael - amazing 18th century seaport towns with quaint shops and bistros. The sail across the bay was smooth and stable, even with a strong wind that day.
The on-board amenities were fabulous. We had a large stateroom with a private head. Showers were nice and hot! Snacks and beverages were healthy and delicious, served al fresco or in the large dining area. We enjoyed being underway just as much. Nothing beats a sunny day out on the bay, or enjoying a glass of wine overlooking starlit seas at night. We are already booking our next trip to the Caribbean and can't wait to go back!
Mary P
September 2017
What a great time! We thoroughly enjoyed our stay on the Dauntless. We were served fabulous food all week- creative and elegant, and a couple of nights were directed to some great restaurants in Annapolis. Judy and Jim were great hosts- a lot of fun and engaging, but also gave us time to just enjoy our private time.
I haven't been on such a relaxing (and invigorating- as we sailed around the Chesapeake- quite exciting too!) vacation in a long time. It was: kick back and enjoy from the minute we stepped on and stowed our bags neatly in our little cabin.
Everything was clean and tidy, leaving plenty of room to move around freely. Thanks
Nancy S.
Perfect!
Great cruise on the Chesapeake. Hosts and crew Jim and Judy were fabulous. The boat is spacious and accommodating for up to six guests. Everything was perfect, and so was the weather!
July 2017
What a beautiful evening we had! Food was perfect, the host and hostess are wonderful! Celebrating their engagement with a perfect evening! We toured Annapolis a bit before a delicious dinner on Dauntless! A wonderful evening, we highly recommend it!!
-Sue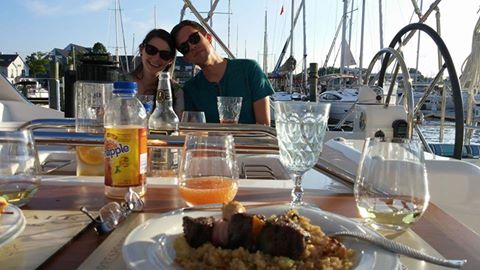 July 2017
The owners of Sail Dauntless, Jim and Judy Brown are the very best hosts! The boat is beautiful! We had an absolutely lovely day aboard their boat and were served amazing gourmet food. We highly recommend and can't wait til next time!
-Mary Beth
July 2017
Great family dinner and cruise celebrating my mothers birthday! Jim and Judy were wonderful hosts! My parents had a wonderful time spending the night on the boat!
-Stacey
May 2017
This is a great adventure!! Wonderful food, a warm atmosphere and a truly unique vacation experience. I highly recommend Dauntless Sailing to everyone and anyone!
-Henri
July 18
Thank you. In short, everything was great!!