PRIDE\'s New Years week, 2015/2016 guests said:
Todd, my husband, and I wanted to send a personal note too to let you know what an absolutely amazing time we had. While we knew the couples we were going with - my husband and I are used to staying in one spot for the week and just lounging (nice change from our fastpace life..). I took in each day with gratitude - the peace while sailing on the water was so good for me, the beautiful Islands we saw I documented each step of the way - I LOVED Cooper and Marina Cay - Anegada was a favorite although it took awhile to get there. (also - was it particularly windy last week or is it always like that in the Caribbean? I don't remember that on my previous visits!) The beds were so comfy - sheets too. The little details matter with me and I appreciated a good nights sleep. Kait did a wonderful job on our meals and now I'm craving one of her delicious mojitos!! I'm not sure the charter would have been as great without Jon and Kait - they were wonderful and your boat is just beautiful! I wish you the best in this new year.
All the Best,
Kristen and Todd
Guests aboard PRIDE in May, 2015 said:
Yes the week was wonderful! Our hosts were excellent and we really enjoyed the trip. I think if I were to do it again, I would probably book in a busier time when other young kids were around (can't believe I actually said that!), and I would have added more scuba diving as they really liked it. The weather and water were beautiful. Captain Bob and Sueno were such great hosts, food was excellent and Bob was very hospitable. You don't ever have to worry about your boat as I see they treat it as if it is theirs and with such care. Thanks Susan for all the help. I'm sorry I meant to email you as soon as we returned, but it got busy very quickly!
Sandy
February 2014
Name: Rhett Smith
Yacht: PRIDE with Richard Cassarino and Lisa Pratt
Charter Dates: Feb 2-7,2014
Area Cruised: Virgin Islands
Overall Rating: 5
5 being the highest 0 being the lowest
We hope your charter lived up to your expectations. We would love to know some of your impressions about your yachting vacation. Please answer the following questions and add any comments you may have.

1. Was the crew friendly and accommodating?
They were absolutely the best. Better than we could have ever imagined.

2. Was the yacht comfortable and clean?
Yes. In all respects.

3. Was the yacht well ventilated?
Yes and the air-conditioning worked well also when we wanted it.

4. Was the food good and well presented?
The food was fantastic. We all like to eat at very good restaurants and this was as good as any we have been to.

5. Did you like the area you sailed?
Yes. We saw alot of islands and the interesting places on them.

6. Could we have helped you further in any way?
Yes. We will sail again and with Lisa and Rich. They made the trip an experience we all loved and want to do again.

7. May we post this review on our website?
Yes

8. Additional comments on your charter?
Thanks for recommending Lisa and Rich. We all agreed that they made the vacation very special and one we want to do again. Also, thank you for the champagne! Rhett
Guests aboard PRIDE the 1st week of February, 2013
Dear Susan and Jack,
What a great time. Thanks so much. It was truly a wonderful vacation. I really appreciate all your hard work. I was so hesitant to go but it truly was far beyond my expectation. We both enjoyed ourselves so much. The knowledge of the area was amazing. Not to mention the food.
We have been on several trips to the Caribbean but nothing like this.
I would love to get your recipes if you get a chance.
Thanks again, See ya soon hopefully.
Cindy
Christmas charter
Thank you for getting in touch with us and yes, we had a wonderful vacation and thank you for being such good skippers. You both made us feel very welcome from the start and the food was excellent (even Philip's tuna!!) and we found the whole trip very stimulating yet relaxing. However, it was all too short - still so much to see and we would love to go back sometime.

Hope Christmas and the New Year went well and that you have lots of charters for the coming season. We have spoken to a lot of people about you.

All the best,
Cathy
What a Business Meeting
We had the best time we have ever had as a family and discovered business oportunities we hadn't had time to think about as partners. We can't say enough about how welcome and comfortable we felt aboard Pride. Jack is an inspiration having sailed around the world alone. The meals were fantastic. We came back one day from Diving and Susan had baked us an Apple pie knowing we would be hungry. The entire experience exceeded our expectations! B.T. Spring charter 2007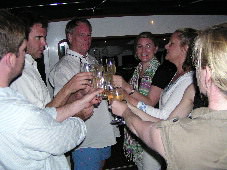 Great time we loved yacht Pride!
We loved Yacht Pride! What a great experience. We went to tranquil beaches as well as fun places for shopping and nightlife. What a great spring break. Best Crew and Thank you.
Honeymooners
We had a very romantic time aboard Pride. Spending quality time aboard Yacht Pride just the two of us was great. Jack and Susan took great care to ensure our privacy, offer meals around our extremely relaxed non-schedule,and take great care of all the special details. It was truly so wonderful, we are inspired! We have made friends for life. We want to return again with the children.
April 2012
A family of 6 that booked aboard Pride for April 7 - 14, 2012 called with the following comments:

"It was a great trip...phenomenal! Everyone was happy and the kids had a blast. Jack and Susan were extremely flexible, particularly Susan who had to deal with our very unusual preferences and 4-6 different needs at each meal. Jack is an outstanding Captain, sailor and person. His standard of safety was really appreciated. Jack and Susan were fun to be around, easy to talk to, and we really appreciated when they snorkeled with us, pointing out the interesting things. I would definitely recommend them."
Dec. 27th 2010
A family of 6 that booked aboard Pride for New Years, December 27, 2010 - January 2, 2011 wrote with:

"We just returned last night from the charter and I wanted to tell you what a fantastic time we had aboard Pride. The boat was beautiful and well maintained and the crew kept everything in order all the way down to the way the sheets on the beds felt and smelled!! The food was amazing and you can imagine that trying to please 6 people isn't easy but every meal pleased every single one of us every time. The presentation, the flavors, the variety all without a single hitch. Unfortunately we all gained weight during the trip.

Jack and Susan were great to be around. Susan was always there for us and even with some sketchy weather and waves, all the newcomers to sailing (everyone except me) felt safe with Jack as the Captain. The fun stuff like snorkeling and kayaking was available whenever we wanted and Jack and Susan always had ideas about what would be fun and where we could visit and where we could anchor or moor. The crew was fun to be with and talk to and the kids enjoyed being with them as well. Leaving the boat was a little sad as we will miss them.

All in all we had a wonderful time and next time we sail it will be with Jack and Sue."

Thank you,

Lynne