Celebrating Life in Paradise
"Our Story" -- My husband had a traumatic brain injury in 2013, and its been a long road to recovery. He turned 60 on Nov. 12 and a sail trip has always been on his "bucket list." What better way to celebrate his miraculous recovery, and the Big 60, than this trip. We told our children a year ago, so they could plan their schedule to join us.

So, that's "Our Story"... But now for the great stuff! We were scheduled for this trip, and then the hurricanes came! We refused to cancel, and just sat watching from Oklahoma to see if the islands survived. A few changes had to be made, including the boat, but thankfully "The Delphine" had been tucked away, far away, and was safe!

From the initial phone call from Captain "Cautious" Brad, all my worries were put to rest about the safety of the trip. Captain Brad had surveyed the islands, knew where and where not to go.

We are one of the fortunate ones that came early, and soaked up the peace and seclusion of the islands. We were the only boat docked in the bays, and had entire beaches completely to ourselves. To be able to have The Gorda Baths just by ourselves was an experience of a lifetime!!

This family was here to celebrate life, and spend "off-the-grid" time together, and that's exactly what was delivered, in paradise.

Yes, the hurricane damage is devastating, and families and businesses are torn apart, but yet nature is quickly repairing itself. Certainly, seeing the devastation is humbling.

Now, for Shana! Can't even describe her skills and talent in that tiny kitchen! Of course every single meal was served with perfection. The afternoon snacks of warm chocolate chip cookies were gone in a matter of seconds! The banana walnut bread that rivaled by grandmother's was perfect! We sat at the dinner table the last night reminding ourselves of our favorite meals.

But not only is she the perfect "chef," she's just a positive spirit.

Thank you both for exceeding all expectation for our family trip of a lifetime, we will never forget!

-The Treece Family
The Trip to Which All Others Will Be Compared
Thank you, Brad and Shana, for the greatest family vacation of all time! We spent 16 months planning this trip for our family of 5 and it exceeded all expectations. Brad's preparation for our trip made us feel as if he had spent 17 months prepping for us! He went out of his way to find the private mooring spots we desired while offering opportunities to engage in a few must see/do activities for our 3 girls (ages 10,13,15). He took us on amazing snorkeling excursions around the different islands we visited.

Shana is the penultimate hostess. Her culinary skills are exceptional - every meal was truly 5-Star from preparation to presentation. I know Shana was the magical fairy aboard Delphine who makes beds, tidies rooms and common areas and bakes cookies and brownies for our girls just because she can.

Brad and Shana exemplify teamwork and they were a joy to have on our family vacation. This trip will be the one to which all others are compared and the next family that books Delphine with Brad and Shana can rest assured that they will create a bank of memories that will forever remain at the apex.

Thank you for the best week EVER! ~The Elkus Family
Incredible People and Fun To Be Around
We had another wonderful vacation with Brad and Shana on the Delphine. This time we went with our adult children and they loved it as mush as we did. Brad and Shana are incredible people and fun to be around. Brad is the most experienced captain who cares about your comfort, and safety; he took us to places that we had not seen during our first trip and we loved it. Shana is a special person. Not only is she the best cook that many upscale restaurants would have, she is also a fun and dedicated person. It is amazing to watch how the two of them working together in such harmony. ~The Touzovas

The Perfect Vacation For Our Family of 4
We cant thank you enough for the perfect week-long vacation for our family of four. We have traveled to many places throughout the world and this trip is now at the TOP of our list! Nothing can hold a candle to your warmth, kindness, thoughtfulness and caring hospitality!

The food was second to none, Shana, and each an every meal was an experience for our eyes, nose and palate. You brought the colors and the beauty of the Caribbean to our table. Yum! Brad, your experience allowed you to sail us away from bad weather to amazing places where we experienced the great underwater world filled with turles, fish, eagle rays, sharks (small) and many other beautiful sights.

Jumping off rocks into the grotto was a favorite of our son's and our 12 year old daughter did it, too. You encouraged all of us to try things while keeping us safe through all. Thank you both for a trip that we will never forget! To all of those that will come after us, youve picked the best boat and crew!
~Marc, Brigid, Grant, Malayla and Michael
Fabulous Hosts, Fabulous Food!
We had an amazing trip with Brad and Shana on Delphine! They were fabulous hosts. We got to go to all the spots we wanted and they took us to new ones we had not visited before. The food was fabulous. It is truly hard to pick a favorite meal because they all were spectacular! Starting with breakfast burritos and ending with beef tenderloin, we all got the "clean plate award" every meal. Our question was whether Shana was a better cook or bartender! She made great Bloody Mary's and Painkillers!

We will definitely refer friends and family and hope to come back again soon! All the best, Allison Grimm for the Grimm family.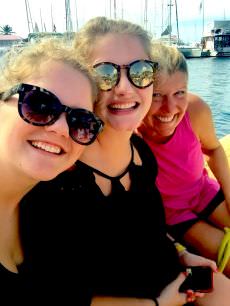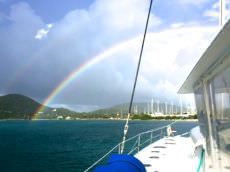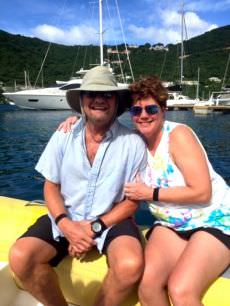 Hands Down, Best Family Vacation Ever!
Wow! What an amazing week! We have traveled extensively and this is by far our favorite family vacation ever!

Brad is so knowledgeable abut the boat, sailing, water sports, and the US and British Virgin Islands.He knows the days and times to visit local attractions like The Baths and popular snorkel psot so that you dont have to fight the cruise ship crowds. We felt like we had private tours of everything - we always had the best and most calm mooring spots.

Our boys are ages 14,16 and 18, and Brad entertained them the entire week with sailing lessons, fishing, tubing, paddle boarding, lots of snorkeling, diving and fun on the sandy beaches. He even hand-picked perfect movies for night time entertainment, and we all enjoyed his stories of sea adventures!

Brad has a unique ability to keep the fun going while maintaining an eye on safety. He thinks of and takes care of everything so you dont have to. We have never relaxed so thoroughly for so long. What a blessing this week has been!



And then theres Shana - what an extraordinary talent! She rivals any 5-Star Chef we have ever experienced and her hospitality made our week extra special as she worked hard to make us feel at home from day one. Not having to plan meals, shop and cook was a treat in and of itself, but to have gourmet meals and snacks prepared for us all day long, every day, was unbelievable and allowed us all to really unwind and spend a ton of quality family time together which was our goal. Shana had stocked up on some of the boys favorites and had clearly read our preference sheet. When she heard that a restaurant we tried didnt have the ceviche and coconut shrimp we were looking for she made us some herself that was amazing!



We all loved spending time with both Shana and Brad and would love to sail again with them some day. If you are considering booking this type of charter - look no further. You have hit the jackpot and will not be disappointed! You are about to have the most awesome vacation of a lifetime!

Hands down BEST FAMILY VACATION EVER!

WE LOVED EVERY MINUTE

Thank you for going above and beyond.

~The Brechbuhl Family.
Brad and Shana Made Sure Everything Was Wonderful
What an amazing experience! The Delphine is a beautiful boat with more than enough space for our family of 5. Brad and Shana did a great job arranging our days to fit what we most wanted to do and went out of their way to make sure everything was wonderful. With 3 kids it could have been a challenge, but Brad and Shana made sure everyone go to have the experiences they most wanted. We would highly recommend it and specifically the Delphine and Brad and Shana to anyone we are absolutely planning to come back! ~The Trusky family
A Great Balance of Activities and Relaxing
What a fabulous week! Sailing the British Virgin Islands with Brad and Shana was a great experience. They are both great people and we loved spending time with them as they showed us around.

We had great snorkeling where we saw caves, old submerged cannons, beautiful coral and fish of all kinds We explored the islands themselves and even caught a fish! It was a great balance of activities and relaxing.

The food was outstanding -every meal. The two of us probably ate too much at every meal because it was so delicious! Brad and Shana did a great job of designing our days to fit our specific desires and went out of their way to help us in any way they could.

It was a great trip and I would highly recommend it to anyone. We are ready to come back with our three kids! ~ Julie and Kevin Fitzpatrick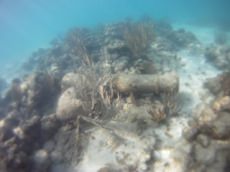 Totally Delightful!
My wife and I just completed our second Delphine voyage, and it was totally delightful! The crew are both wonderful hosts and will do everything to cater to whatever you're in the mood for. They've been sailing the Caribbean for many years, so they know all the places to anchor. Want a quiet rocky cove for snorkeling? Captain Brad knows where they are. Prefer a secluded beach? He knows those too. Prefer something with a beach bar (or two?) No problem. We asked for all of those and within a short time were arriving at exactly what we had asked for.


The Delphine is a wonderful, high-end catamaran that's clearly been maintained by loving hands with an eye for detail. It's fully equipped with all the amenities, even a wine cooler, and everything looks clean and new with no visible wear. They continue to make incremental improvements, for example, since our last voyage in early 2014 the front trampolines were upgraded to a wide and flat webbing, a very comfortable improvement over the more common rope trampolines. Delphine also added a sunshade which can cover one side of the trampoline, although our group preferred full sun and we didn't use that. Other changes since last year include a new generator which is considerably quieter, and LED lighting so the generator doesn't run nearly as much.

Food and drink are obviously a big part of the enjoyment on a sailing charter, and kudos to the crew for the quality, variety and freshness of the food. They even have a gas barbecue on the rear deck. Dinner presentations were especially nice, with fresh cloth napkins every night. As for drinks, we had Painkillers at all the bars we stopped at and I have to say our captain's were the best we had anywhere. There's a beer cooler on the deck for easy access, and somehow they found a surprisingly good wine selection despite being on small tropical islands.

I never saw a housekeeping cart come on the boat, but somehow the beds were magically made and the trash got emptied while we were eating breakfast. Midway through the week we got fresh sheets, a very nice and unexpected touch.

Water can be a concern on charter boats, both the quantity and the cleanliness of the system, but not on Delphine. They have their own water making system, so it's very pure water, and there's plenty of it for showering or rinsing off dive gear.~ Russ

You Thought of Everything
Thank you for this wonderful trip! We had the most incredible trip ever. We know you both put a lot of effort into preparing our meals, arranging our trips, keeping our cabins clean and tidy and all of our provisions were on board. You thought of everything. The places and sights we saw were spectacular! The dinners and the Virgin Painkillers were awesome! The time we had with you was very special.~Beth



Even Better Than We Could Have Hoped For
Thank you for going above and beyond to make sure we had a fabulous family vacation. The trip was even better then we could have hoped for - from your very comfortable accommodations to the delicious cooking and all the beautiful locations to visit in the BVIs. You treated us like family, and youll be part of our familys wonderful memories of our vacation. We cant wait to return and hopefully sail again with you one day. ~Brian, Beth, Collin & Evan
Like Reading a Terrific Book
What an incredible week! You two are the host and hostess with the mostest! The food was wonderful and the drinks equally satisfying. Even with the voracious wind I never felt worried. Your experience is obvious and makes everyone feel comfortable. This week was like reading a terrific book - you just dont want it to end. Sailing with you was truly a painkiller!
~Tom & Kathy
Not To Be Missed
I had the vacation of a lifetime aboard the gracious Delphine! This catamaran has it all! Its spacious and elegantly casual. The beautiful teak table under the hard top canopy over the rear deck is where we spent much of our time eating, talking, and gazing out at the islands with white waves crashing upon beautiful rocks with aqua colored seas below us. The trip between islands was thrilling both in scenery and being at sea. Anchoring for the evening we had cocktail hour as we watched the other boats come in and watched the sun set over the sea. Simply amazing.

The meals were outstanding fish, pork, beef, chicken, vegetarian All amazing. The equipment on the boat was top quality for snorkeling. I went snorkeling just about every day and when I came back on board for a wonderful lunch, a beer was in my hands. Then it was off to another island with the breeze through my hair (I gave up trying to look the part and gave in to my wild hair) Come to another island and off we went on a shopping adventure. I brought home t-shirts, island dresses and gifts for friends. Along the way we might have to stop by and taste the local drinks. The bright yellow zodiac driven by our incredible captain brought us back to the boat for another evening of delicious dinner and fun with maybe a signature rum drink called a Pain Killer. You must experience this drink while watching the sun set.

The cabins are generous in size, each with their own head. Wake up in the morning and sit outside sipping coffee in preparation for a breakfast that will start your day out right. Its going to be another wonderful day!! The trip on this boat, the DELPHINE, is not to be missed boat, crew, and in my case the company could not be beat !!!
The Best Vacation of My Entire Life
I probably wont be as articulate as I would normally be after last nights party at Willie Ts! But it was worth it! What a great ending to an extraordinary vacation through the Virgin Islands. You two are fabulous. The meals and painkillers were outstanding, the boat and cabins, immaculate. You treated me with such care, knowing my every need. This was the best vacation of my entire life. ~Barbara
One of the Best Trips in our Lifetime
We really enjoyed our voyage with you. For us it has been one of the best trips in our life time. You are both really good at what you do. It shows in a thousand small and big ways. Thanks so much for taking such good care of us.
~Bill and Chris