Day 1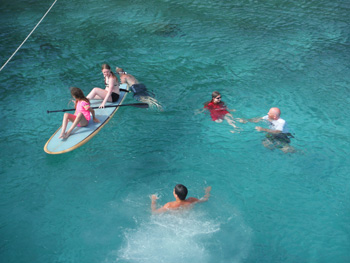 Welcome! After meeting your crew they will help you aboard and let you settle into your cabins. Once you have a tropical cocktail in hand the crew will give a brief safety briefing and show you around your private charter yacht. Now is a great time to discuss plans for the week or put final touches on a planned itinerary taking into account the direction of the breeze. Then it's time to hoist the sails and head to your first Caribbean beach or bay so you can dive into the warm, clear water!
If you are meeting your yacht in St Thomas, USVI
Set sail to St John which is home to a large National Park that covers much of the island both above and below water and is home to tropical and migrating birds, fish, corals and other marine life. Dive into the waters at picturesque Trunk Bay and then head over to Francis Bay, St John for dinner, drinks and your first evening aboard in the Virgin Islands.
The following morning you will clear out of US customs in St Thomas and sail over to Tortola and clear into the British Virgin Islands. You can pick up the rest of the itinerary from here and subtract one of the BVI anchorages.
If you are meeting your yacht in Tortola, BVI.
Sail the short reach to exclusive Peter Island. Here you will anchor in the pristine water at Deadman's Bay and take your first swim in the turquoise waters of the Caribbean Sea. After a delicious lunch aboard it's time to set sail to Salt Island and snorkel (or scuba dive) the Wreck of the Rhone, famous for its part in the movie, 'The Deep', then on to Cooper Island for dinner and your first night aboard under the starry Caribbean sky.