Why book through a charter yacht brokerage like Sailing Directions?
There are many reasons to book your charter through an experienced charter broker. You can leverage our knowledge of the boats, crews and cruising areas to guide you to the best yachts, avoid any pitfalls, and act as a fiduciary intermediary, and advocate on your behalf. Also:
Our information is current, accurate, and unbiased.
Experience and stability - we have been in business since 2005 with a A+ BBB rating.
You have the protection of the standard Charter Yacht Brokers Association (CYBA) charter agreement.
Your deposit is held in an independent and safe escrow account until just a few days before your charter begins.
We will always be here to help and advise you on your best options and generally respond within 24 hours.
If you are new to chartering, we provide a wealth of information and support.
We offer ongoing after-sales support. We can assist in all aspects of your vacation preparation and manage your relationship with your crew.
If for any reason the yacht has issues and is unable to take your charter, we will be here to assist you. We move fast to find you the very best resolution to the problem or refund in full.
Learn more about our charter brokerage company and the value we offer you as our customer.
Why choose a crewed charter yacht?
Having a professional crew taking care of all of the details allows you to relax and enjoy your time off from the moment you step on board.
A crewed yacht charter is a luxurious, yet affordable way to explore the Caribbean while relaxing with your family and friends. For duration of your charter, the crew will manage every aspect of your vacation to bring you a private and personalized charter experience.
All of the work of running the boat and prepping the yacht for your vacation is handled by the crew. Benefits of having a professional crew include:
Customized menu planning and food preparation
Provisioning the yacht with necessary items for charter
Cleaning - the crew takes care of all the cleaning
Yacht handling - no need to worry about the details
Local knowledge so you can visit out-of-the-way places
Cruising itinerary planning
Simply fly into the islands and meet the yacht and crew. Once you're aboard you're on vacation!
What can I expect from a crewed yacht charter vacation?
A vacation of a lifetime with family and friends in the beautiful Caribbean!
Your crewed yacht charter will begin at 12 noon and end on the last day at 12 noon, so you'll have full 24 hour days available to you aboard the yacht. Once you arrive at the marina you'll be met by the crew who will help you board and settle into your guest cabins. Most yacht cabins have double or larger beds, private en-suite bathrooms with toilet, shower and vanity, storage for clothes, towels, etc., and air conditioning.
Upon boarding, snacks or lunch will be served and cold drinks will be on hand as you cruise out of the marina and set sail into the Caribbean waters!
Each day you'll set sail and make a couple of stops along the way to your overnight destination giving you a chance to visit picturesque swimming bays and famous snorkel spots, explore ashore, or use the water sports equipment. Each afternoon the crew will anchor the yacht in a different bay so you can enjoy the water and an evening beneath the Caribbean stars.
Starting early in the morning and throughout the day your chef will prepare customized meals and snacks for your party. Meals can be served to your group al fresco in the cockpit, overhead on the fly-bridge, or inside in the saloon. Beverages are always on hand with an open ships bar which includes standard wine, beer, cocktails, and mixers along with assorted non-alcoholic options.
An all inclusive crewed yacht charter is a great way to vacation completely stress-free as the crew are there to handle the yacht and all preparations - you can just relax and enjoy the vacation. If you'd like to get involved with the sailing there is the option to pull some lines too.
The first step in the process of reserving a crewed charter yacht is to either search for available yachts or contact us and one of our crewed charter specialists will answer all of your questions and help choose the best yacht and crew for your group.
A Caribbean crewed charter is a vacation that you'll remember fondly for years to come!
What is the role of the crew?
Along with the yacht, the crew is a very important aspect of a yacht charter vacation. In fact, many groups will say that the crew was key to making their charter a memorable lifetime event!
Most crews are industry professionals hired by the yacht's owners, but some crews are owner-operators which means they own and crew their yacht.
A crew typically contacts you a week or so before your charter to introduce themselves directly and arrange a time to talk further about meal and itinerary planning. The crew really brings your vacation together and provides everything you need in a floating resort, allowing you to simply relax, have fun, and explore the Caribbean waters.
Read more about the role of the crew on your yacht charter vacation.
What type of yacht is best for my group?
There are three main types of yachts available for crewed charters: Sailing Catamarans, Monohull sailboats, and Power/motor yachts.
Considering a few factors on what you are looking for in your charter vacation will determine which of the yacht types will be the best fit for your group. Here is a brief guide:
Where can I find reviews of the crews and yachts?
View feedback from our customers here.
After each charter we reach out to the guests to ask for feedback on their crewed yacht charter vacation and, with approval, we publish the reviews. Here are some recent reviews:
What activities are available during a charter?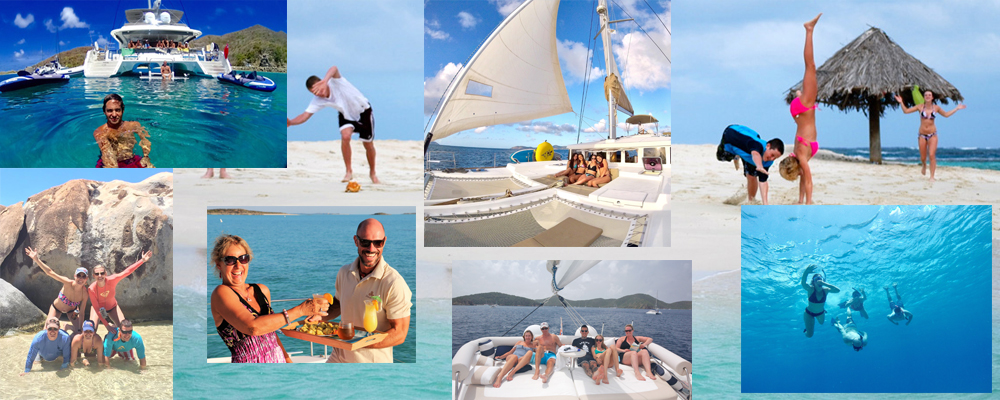 When you charter a crewed yacht in the Virgin Islands and other locations in the Caribbean there is a large range of activities available. One of the main activities is being able to explore locations that are only accessible by boat!
Water based activities include snorkeling, scuba diving, sailing, kayaking, stand up paddle boarding, stargazing, swimming, water skiing or tubing behind the yacht's tender, sunbathing with a cold beverage, board games, movie nights and more!
See the 'Specs' page on each yacht to find a complete list of water toys and amenities available for your yacht.
There are also plenty of activities to do ashore which include hiking unique Caribbean islands, beach time on white sandy beaches, visiting famous beach bars like the Soggy Dollar on Jost Van Dyke, enjoying live local music.
Activities are all customized to your group's interests by the crew. Your sailing itinerary is flexible. Wake up each morning and dive off the yacht for a swim, get out some water toys, catch up on some reading and relax or raise anchor and set sail to the next destination!
Is SCUBA diving included in the yacht charter rate? What is rendezvous diving?
It depends on the individual yacht as to whether scuba equipment and diving is included in the charter rate.
Some of the charter yachts are fully equipped for scuba with dive equipment and a dive master / instructor as part of the crew. Some allow diving however you need to pay for the scuba equipment rental. SCUBA details are listed on each of the yacht's 'Specs' tabs and we can provide details on individual dive policies for individual yachts.
If your boat does not provide SCUBA diving onboard, there is the option to do Rendezvous diving. A rendezvous dive service is provided by local dive shops and is not included in the charter rate. The dive shop will bring their dive boat to your charter yacht, pick up your divers and take them to a dive site for diving, and return the divers back to the yacht afterwards.
Rendezvous diving is a good option if only one or two members of your group is interested in diving as the rest of your group can continue the charter as normal with both the captain and chef on board in the meantime.
Should we bring the kids on charter?
Kids are seldom bored on yacht charter in the Caribbean! They really enjoy sailing, snorkeling, and playing on the beach. Most of our crewed boats are kid-friendly, and many of the crews love family charters, however some yachts do have age minimums or other requirements (e.g. swim safe).
The yacht's crew is employed to maximize the enjoyment and safety of your vacation. However, please note that they cannot take responsibility for overseeing the welfare of children at all times. Children under the age of fourteen must be under the direct supervision of a parent, childminder, or other appointed adult.
Where can I view a sample itinerary?
We've put together a sample 7-night cruising itinerary that includes many of the sailing highlights in the Virgin Islands! This should give you an idea of what you can do during your all inclusive crewed yacht charter vacation. Remember, this is just a sample! The itinerary for each group will be customized and once on board, your crew's local knowledge is an invaluable resource to help plan day-to-day activities.
What is the best time of year to sail in the Caribbean?
Caribbean Virgin Islands: mid-November through end of July (winter through early summer)
Caribbean Leeward Islands: May – July (late spring and early summer)
Caribbean Grenadines: May – August (late spring through late summer)
Mid-December through the end of April is the high season in the Caribbean as travelers escape cold northern climates to bask in the tropical sunshine. This is a very popular time to sail and many consider it the best time to sail. For the peak holiday periods of Thanksgiving, Christmas, New Years, and the Spring Break months of March and April, crewed charter yachts should be reserved well in advance.
December through May is considered the dry season while June through November is generally the more humid season. However, in our experience, rain or clear skies can occur at any time during the year. Rainstorms often pass quickly and there is sunshine on most days during the year. Average air temperatures in coastal areas range from 72º to 86º F. The warm coastal water temperatures stay between 68º and 74º F.
The northern summer is the low season in the Caribbean. However the months of May, June, early July, and late November are still great times to visit the islands. In addition, all inclusive charter rates and flight prices may be lower and the beaches, roads, and restaurants are rarely crowded.
Atlantic hurricanes can occur any time from August through October with the most active month being September. The good news is that every year brings more sophisticated storm warning systems and it is unusual for any one island to be severely affected more than once or twice every 10 years and, with a bit of planning, your actual odds of experiencing a hurricane are very low.
What is the most popular charter location in the Caribbean?
The most popular sailing location in the Caribbean is the Virgin Islands. This includes the US Virgin Islands / USVI (St Thomas and St John mostly) and the British Virgin Islands / BVIs (Tortola, Virgin Gorda, Anegada, and Jost Van Dyke, along with over fifty other smaller islands and cays).
This is one of the world's best sailing areas due to the number and close proximity of islands, bays, and sandy beaches all within a hour or two sail. Warm, clear tropical waters that offer great snorkeling, warm air temperatures year-round, quiet out of the way bays, fantastic evening star-gazing, and if you're in the mood, world famous beach bars.
The Virgin Islands is a great sailing vacation destination for first time sailors and families. There are many crewed private yachts available to charter and the light trade winds and protected bays make for a fun, safe playground for kids and adults alike.
How do I book a crewed charter yacht?
Ask us to place the yacht on hold for your dates, we'll then email you over the charter agreement and reservation instructions. You'll read and sign the charter agreement and pay the deposit by credit card or wire transfer.
For more details about the reservation process, including deposit amounts and after sales support, please see How to reserve a crewed Caribbean charter yacht vacation.
What is included in the all inclusive yacht charter rate?
The all inclusive charter rate generally includes:
Captain and Chef/Host/Crew
3 meals and snacks each day on board the yacht
All drinks, including standard brand wine, beer, liquor, and mixers
Air conditioned accommodations
On board water sports equipment (SCUBA gear may be additional)
Cruising permits, fuel, limited wifi and all on deck amenities unless otherwise specified
Extra charges for all inclusive yachts include crew gratuities, and optional: communications, marina berthing, shore based activities and any meals taken ashore, trip insurance.
See more about crew charter vacation Costs here.
What does it mean when a yacht is plus expenses?
This means that in addition to the charter rate, you will be asked to pay an Advance Provisioning Allowance (APA) which is usually 30% of the charter rate. Power yachts and mega yachts are often plus expenses (we will let you know if the yacht is plus expenses in our quote).
See more about crew charter vacation Costs here.
What is the payment schedule for a crewed yacht charter vacation?
Payments are due in two or three payments depending on the time of your booking relative to your charter dates.
If the start of your charter is more than 6 months from your date of booking:
25% deposit is required to confirm your charter
25% payment is due 6 months prior to your charter
50% final payment is due 60 days prior to your charter
If the start of your charter is less than 6 months from your date of booking:
50% deposit is required to confirm your charter
50% final payment is due 60 days prior to your charter
Which payment methods are accepted?
We accept several different forms of payment with no fees. You can pay by wire transfer, check, Visa, MasterCard, and American Express.
We also offer the convenience of splitting credit card payments between charter group members through the customer portal on our secure website.
How much is the customary crew tip?
Standard crew gratuities are 15% - 20% of the charter rate depending on your satisfaction with the service.
The crew is an integral part of your yacht charter and they work hard to ensure that your vacation is a great one and will be remembered for many years to come. They are your chef, bartender, waiter, and tour guide.
Crew gratuity is generally given in cash prior to disembarking on the final day of your charter period. Certain crews accept checks on US bank accounts, and/or payment apps such as Venmo or PayPal. Let us know if you'd like to pay this way and we will double check that your crew can accept this payment method.
Do I need Travel Insurance?
Travel insurance is optional.
Sailing Directions International does not sell or advise on trip insurance; however, the past few years have shown us that the unthinkable can and does happen, so we strongly encourage all clients to purchase travel insurance upon booking to ensure an additional layer of protection against financial loss.
When purchasing trip insurance, please make sure that the policy you choose provides coverage for your insurance needs. This may include:
Medical coverage
Delayed or canceled flights
Lost or damaged luggage
If you need to cancel the trip for any reason
What are the Caribbean Passport and Visa requirements?
Passports are required for all visitors in the Caribbean.
The United States Government will require a valid passport to regain entry into the US. Please remember to bring passports for each member of your group.
US Citizens: For information on renewing your US passport or obtaining your first passport please click here.
British Virgin Islands:
US Citizens can enter the British Virgin Islands with a valid passport - no visa is required.
Non-US Citizens may require a visa to enter the US and / or British Virgin Islands. For a list of countries that qualify for the US visa waiver program please see: US Visa Requirements
For more information on Visa requirements for the British Virgin Islands please see: BVI Visa Requirements
Many other Caribbean nations offer tourist visas, some of which must be applied for in advance. Please let us know if we can help you with any questions.
How can I be reached in an emergency during my crewed yacht charter?
All vessels have VHF radios and the captain will have a cell phone where you can be reached in the event of an emergency.
You can also bring along your own cell phone. Please check with your provider that you have roaming capability in the area you are visiting. Many of the boats also have wifi internet available onboard available for guest use so you can receive calls or messages through an internet calling service such as Skype or Messenger etc.
Who can I contact if my question isn't answered here?
If we have not addressed your specific question, please contact us and we will be happy to help you further!
We typically provide same day responses by email, but if you have an urgent question please don't hesitate to call us toll free at +1 877 669 2248.