All-inclusive crewed yacht charters in the Caribbean Virgin Islands
"We combed beaches, hiked and explored, sat at little beach bars, snorkeled, scuba dived, fished, and kayaked, all in 1 day! Not many places that you can travel for a week and have such a variety of activities at your fingertips."
Why choose the Virgin Islands?
Sun, fun, lots of crewed yachts to choose from, the ability to sail to a new anchorage each day and beautiful Caribbean islands. The Caribbean Virgin Islands, including the USVI (St Thomas and St John mainly) and the British Virgin Islands / BVIs (Tortola, Virgin Gorda, Anegada, and Jost Van Dyke, along with over fifty other smaller islands and cays) are one of the world's best sailing areas due to the number of islands, bays and sandy beaches all within close sailing distance, clear tropical water that offers great snorkeling warm temperatures year-round, quiet out of the way bays for snorkeling, relaxing and evening star-gazing and, if you're in the mood, world famous beach bars.
The Virgin Islands is a great sailing vacation destination for first time sailors and families as there are many crewed private yachts available to charter and the light trade winds and protected bays make for a fun, safe playground for kids and adults alike.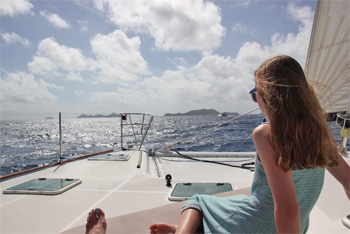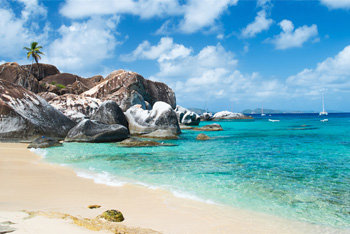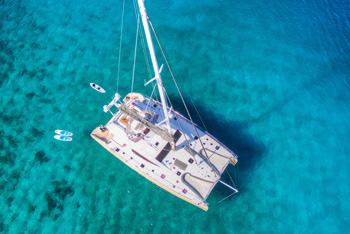 Why a Crewed charter yacht?
"We had an amazing week. Everything was better than could have imagined. Thank you for all your assistance in setting us up with the perfect yacht and crew."
A crewed charter yacht in the Virgin Islands offers an excellent chance for you to have an adventurous yet safe and fully catered vacation with family (there's plenty for kids to do!) or friends (about half of charters are groups of couples or single friends). The crew takes care of all the menu planning, provisioning, cleaning, yacht handling, local knowledge and cruising itinerary while you can relax and enjoy every moment of your vacation time.
More information on the role the crew plays in a crewed yacht charter vacation.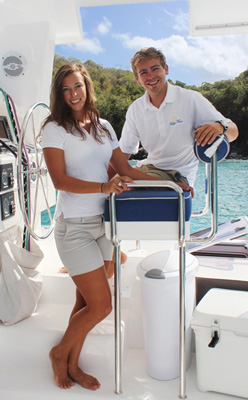 Dining on board in the Virgin Islands
"The quality of the food and variance of the menu, was the biggest single surprise of the trip. We are a well-travelled group and the food was among the best we have ever had! Rich is truly an excellent chef, wonderfully supported by Lisa. The cuisine was amazing!"
Dining on board your yacht is an important part of a crewed, all inclusive charter vacation as it is a great way to enjoy your time together and relax while your meals are served al fresco in a beautiful Caribbean anchorage. The crew will customize a menu to your group's preferences and take care of all the provisioning, planning and details. The chefs aboard these private yachts are some of the best in the islands!
Dining aboard also allows you to spend more time in remote bays in the Virgin Islands that do not have restaurants.
You are still free to dine or get drinks ashore if you'd like to try out some of the Virgin Island's famous bars and restaurants.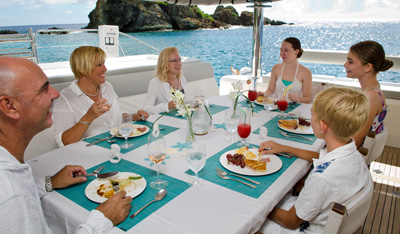 Activities in the Virgin Islands
Chartering a crewed yacht in the Virgin Islands opens up a large range of activities including exploring the island chain (many locations are accessible only by yacht), snorkeling, scuba diving the wreck of the Rhone, hiking, sailing, kayaking, standup paddle boarding, stargazing, dancing at famous beach bars like the Soggy Dollar on Jost Van Dyke, swimming clear warm Caribbean waters, beachcombing along a deserted stretch of Anegada, water skiing or tubing behind the yacht's tender and board games & good times after a great meal aboard your private yacht!
Evenings in the Virgin Islands can be as lively or relaxed as you like - head out each night to the beach bars or enjoy the quiet sounds of the Caribbean waters in a secluded bay.
Wake up each morning and dive off the yacht for a swim, get out some water toys, catch up on some reading and relax or raise anchor and set sail to the next destination !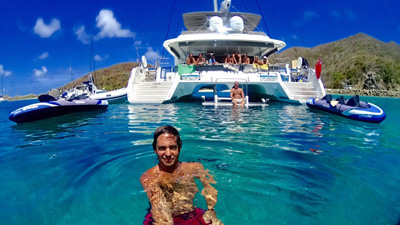 What type of yacht should we charter?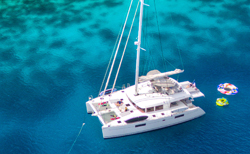 Sailing Catamarans
The most popular style of crewed yacht to charter is a sailing catamaran. Catamarans offer a broad, stable platform with private en-suite guest cabins and plenty of space throughout including trampolines forward and a covered cockpit with dining table aft.
In the Virgin Islands there are crewed charter catamarans available for many budgets and party sizes, starting from 44ft catamarans accommodating 2 - 6 guests on up to 76ft catamarans that can accommodate a party of 12 guests in 6 en-suite cabins plus crew. A sailing catamaran is the best choice for great value and comfort.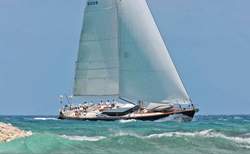 Monohull sailing yachts:
There are crewed monohull yachts for all budgets starting at 45ft, Caribbean-styly economy vacations to well over 150ft sophisticated luxury charters. These yachts offer a classic sailing vacation experience. Monohulls tend to have less space than similar length catamarans although the trade off is great sailing performance, especially up wind.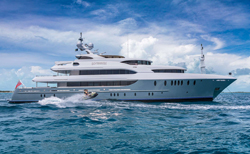 Power yachts:
Luxury power yachts are at the top end of the price scale and tend to offer a high crew-to-guest ratio which allows for excellent service. Power yachts are able to get you about the islands swiftly and in style. They also have space for the every water toy and offer discerning guests the comfort of a high end condo catered by top chefs with the flexibility to cruise to any point in the Virgin Islands.
Where are the Virgin Islands?
The Virgin Islands are located at the top of the Caribbean island chain and are easily reached from the US mainland via St Thomas (STT - an approximately three hour direct flight from the East Coast) and Beef Island (EIS - connect through San Juan for direct access to the BVIs) airports. See more details about flying to the Virgin Islands.
Sample itinerary for the Virgin Islands
Please see our Virgin Islands sample itinerary here.
Your itinerary can included as much or little sailing as you like – each cruise is customized for your group by the crew and takes the current breeze into consideration. This is a sample of the distances you can cover in 7 days with a lot of sailing: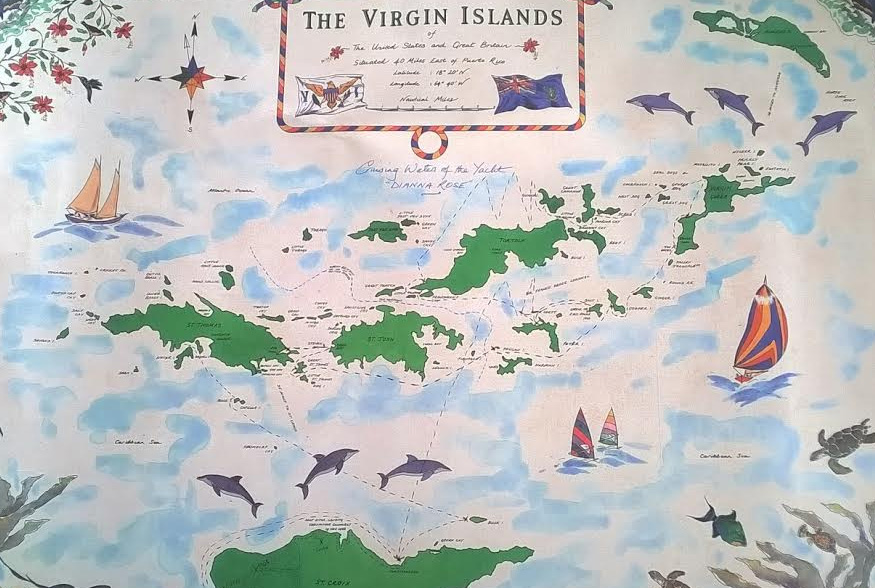 Why choose Sailing Directions for your Virgin Islands Yacht Charter Vacation?
"Sailing Directions itself did everything I could ever ask. We were matched with a perfect vessel and the support from the booking through the cruise was thorough and professional. Thank you again for everything!"
Sailing Directions is dedicated to crewed yacht charters in the Caribbean with most of our focus and expertise in the Virgin Islands. We know the yachts and crews well, we book a high volume of charters and which allows us to get you the best terms on the best boats. Sailing Directions is a top 5 charter brokerage for the Virgin Islands crewed yacht fleet and we have been in business for over 10 years with great customer reviews. Learn more about our charter brokerage company and the value we offer you as our customer.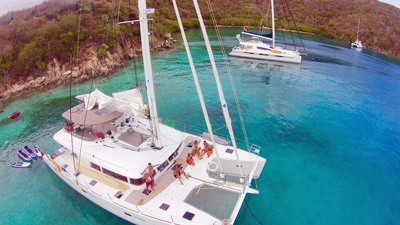 How do I see Virgin Island crewed yachts that are available for my dates?
You can run an availability search on our website to see a list of yachts that are currently available for your dates that accommodate your group size and budget.
Enter your Guest numbers, target Weekly Budget and Start Date you are looking for and hit Search to see available yachts that meet your specifications:
How can I get pricing, suggestions and make a reservation?
If you would like us to make some recommendations for your group or help you make a reservation please complete this form and one of our knowledgeable charter brokers will be in touch with more information and a selection of yachts for you to consider: