April 2017
Dear Ben & Elizabeth,

Thank you for creating a special and most memorable vacation for our family. Your kindness and expertise in all you do is second to none. Elizabeth is an amazing chef. We loved the variety and tasty meals and of course all the special touches - chocolate shakes on a boat?! Ben is the most patient and attentive dive instructor and captain. We always felt safe and protected. As a team, you both are phenomenal. We could not have chosen a better vacation on the sea than with the Sea Anemone. Thank you for putting up with 4 teenagers…that alone would have scared off most!
We had a wonderful time and appreciate everything!

The Sollenberger Clan (Alan, Stacy, Emma, Brennan, Gavin and Amick)

March 2017
The last seven days have been an experience we'll never forget! It has beat all of our expectations, from breakfast out on the decking to sipping Elizabeth's famous cocktails at sunset, we have lived a dream every day. One of our highlights was going diving with Ben, you couldn't meet a more capable and patient instructor. Hopefully, this is just the beginning of a life-long hobby for us!
We also have to mention Elizabeth's magical cooking skills, they are first class and we love her enthusiasm and passion for her food.

We can't fault anything about our time aboard the magnificent Sea Anemone, a home away from home in paradise!

Ben and Elizabeth are a team made in heaven. They have given us a trip of a lifetime and we take away with so many fantastic memories. Thanks for everything!!!

Cheryl, Paul, Mark and Jamie, Scotland

February, 2017
Ben and Elizabeth, I can't explain the amount of fun and relaxation we all had. This was by far the best vacation we've ever been on. The views were beyond amazing, the food was the best. Ben, what a way to begin our scuba experience, everything else will pale in comparison. Elizabeth, superb food+desserts, always making sure we all had everything we needed.
This was our first trip to BVI and every vacation here after will have to live up to this one. You've truly made this an amazing trip. Thank you!

The Yocom's
Best time ever!!!
January, 2017

Ben & Elizabeth - No better voyage will there be than the one on the 'Sea Anemone'

The blue & green water sparkling bright,
Delicious food all day & night!
Adventures & laughing beyond compare
No time for 'primping' just blow in the air!
The Indians & RMS Rhone were both big wins,
Take your tank, mask, snorkel & fins.
New Years 2017 arrived in style
With lobster, champagne, fireworks and smiles.
The best part of the trip by far was - the crew
Our love & friendship always to you!

Love, Stephanie Anderson NY

Ben & Elizabeth, thank you for some of the coolest experiences + food ever. I'm in love with diving and really want to go even further with it. Hopefully we will see you again. I don't want to leave!

Ava Anderson, New York

Thank you for an unforgettable adventure. You both work so hard to make this experience perfect. From the cocktail creations (Whisper of Summer, Red Hind) to the most beautiful dives, I enjoyed every minute of our trip. Please reach out if you venture to New York!
Olivia Anderson, NY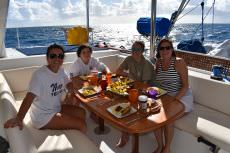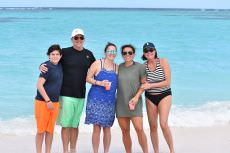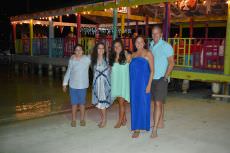 Sea Anemone - The Best! Gourmet in every sense of the word!
Christmas '16
Words can't do justice. Love suffuses this boat, manifest in Ben & Elizabeth and their competence and attitude. A truly exceptional crew, an exceptional cruise, unforgettable!!! We will never forget the Sea Anemone and the amazing BVI's.
Vic + Barbara Crosby

Ben+Elizabeth
Absolutely our BEST CHRISTMAS WEEK EVER!
Turkey + gravy? You are kidding!
Sushi night?!
Birthday Party!
Over the top - DipDip Eggs, amazing cocktails, superior local knowledge, diving, snorkeling, sunning.
FUN
Barbara,USA

Ben and Liza: You guys are awesome!!! We have been to the BVI's several times and this was the best. The diving, the sailing, the food, the hospitality, I could go on and on. Simply the best.
Thank you so much for the trip that you both worked so hard on, my family will never forget!
Don't forget, I want pictures of pirate night!
Love, Joel and Ashton, Lexi and Ellawynn
Knoxville Tenn, USA

Ben and Liza, Arrrg!
You guys are amazing! Thank you for everything and truly a great adventure! Keep living the dream! Till next time!
Ashton, Knoxville, TN
'The Keisners'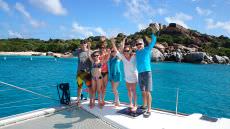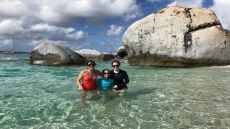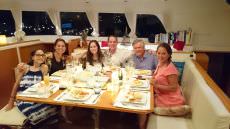 An experience of a lifetime
My wonderful friends Pat and Leon had sailed with Ben and Elizabeth before and invited me along for their third trip. What a beautiful adventure, we dove everyday 2 dives a day and Pat did her first night dive! It was fabulous! Our best dive (of my life!) was at Angelfish Reef where we saw turtles, a nurse shark, 2 giant spotted eagle rays and had excellent visibility! FANTASTIC!!! The sails were fun and beautiful. Leon captained the boat and did a great job. We visited lots of cool islands and especially liked Little JVD and Anegada. Elizabeth and Ben were fantastic hosts and Liza is a gourmet chef. Every meal was a healthy, beautiful delight! Ben's experience as a captain and dive instructor was perfect. I felt so overjoyed and grateful every moment on the Sea Anemone.

All my love, Kelly

I've been here before with Ben and Elizabeth and I've said it before - there is no better experience anywhere. The attention to detail, the hospitality, professionalism... Everything! We feel very fortunate to have met this most amazing couple, and we will continue to sail with them as long as they will have us. I learned to scuba dive with Ben at age 59, and he has made me a diver for the rest of my life. Elizabeth is so capable in every way - cooking, diving, video-graphing, and generally chatting with. Book your trip with them before they become too famous:)

Until next time,
Pat Finn and Leon Martens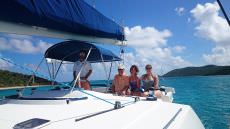 By far the most amazing trip!
Thank you for a truly memorable experience for our family. It exceeded all expectations. Its not easy to play cruise director, chef, dive instructor, captain and crew for 6 people. Thank you. Painted Walls was the best dive Ive ever been on. Food was superbevery meal distinct, healthy and wonderful. Cocktails were always at the ready. Great plan, great itinerary. The sail from Anegada to the Dogs was perfectfast and smooth. Best part was getting to know Elizabeth and Ben. All our best.

The OBriens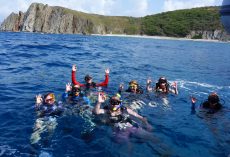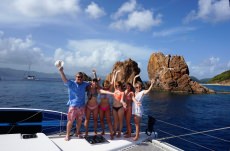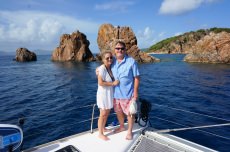 Guys - you were a 10/10 and we loved it!!!
Our expectations of this trip were surpassed in every possible way. We spent months looking forward to the vacation of our dreams and none of us could possibly dream what Elizabeth and Ben created for us this week. They took such wonderful care of us while we scuba certified and made a new and particularly dangerous experience felt very safe and exciting. Elizabeth + Ben are a beautiful couple who really know how to cater to different groups. If we are lucky enough to be able to do this again, we'd be back on the same boat again in a heartbeat.

Shari, Lou, Sonya and Andy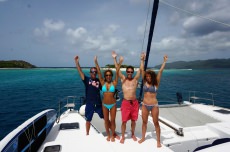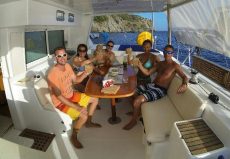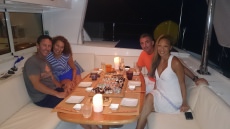 A perfect combination with Mitch and Leon at the helm while Pat became the newest member of the underwater world
What an incredible experience of a lifetime for me! Experiencing the BVI's by boat was truly magical. Ben and Elizabeth are such wonderful people making each moment one you will never forget. This trip was one of the most peaceful vacations I can remember. Lastly, the food/drink was 5 stars!
Michael H.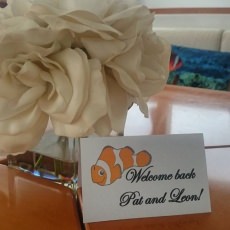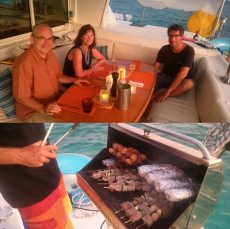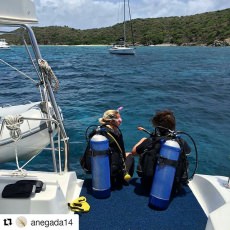 We will come back!!!
Thanks to Ben and Liza, we had a marvelous week. You are the perfect couple. He is an excellent dive instructor and she cooks brilliant. We had an amazing experience. We will be back very soon! Everything was perfect. They spoiled us with every single desire. Sorry for my English, we are Spanish speakers.
Flora and Segio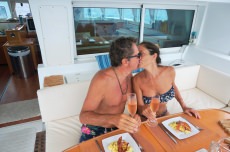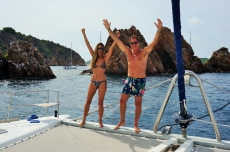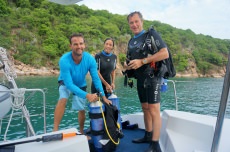 This week has been one incredible experience after another!
What a wonderful week! Such great food and professional service. We loved every minute of our trip and have started to plan our return trip before disembarking for home. Wishing captain Ben and first mate Elizabeth fair winds and following seas at all times!
Mike

This vacation was planned one year ago. Things never turn at as expected. We were supposed to be on a different boat but it had some issues. So Ben and Elizabeth took on our charter. I feel truly blessed that we get to spend a week sailing with them. We have had fun, sun and good times. Everyday held another adventure. Each one better than the last. I truly believe that we were meant to be together for this week. Thanks for everything.
Karen

This was a vacation of a lifetime. I finally got to be a Pirate! Ben and Elizabeth helped to make my 60th birthday one I'll never forget! Thanks to my honey Bob and all my good friends, this is an adventure I will always cherish. Thanks for all you did.
Sharon

This week has been one incredible experience after another - truly the vacation of a lifetime. And captain Ben and Elizabeth have been gracious and fun hosts - you've made our stay on Sea Anemone that much more enjoyable. Thank you both for an amazing 7 days. We're already talking about the next charter!
Bob

The most amazing week ever! Great accommodations and incredible food. The beauty of the islands was close to the beauty of our fabulous Captain and First Mate. Loved every second of the trip, Many thanks.
Doc and Jane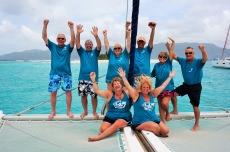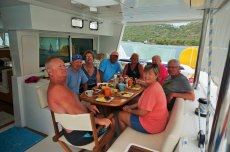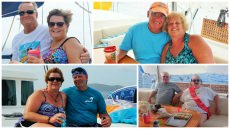 Experience of a life time - swimming with five wild dolphins!
This was an amazing week! I loved the snorkeling and swimming with sea life that I have never been around before - sharks, stingrays, sea turtles Everywhere we went there was awesome sea life! Thank you for waiting on us each day with a huge smile! That too was so special. The food was great every day too! After dinner each dinner we thought that we had eaten the best meal ever, then the next day it would be topped! The whole week went like this everyday was better than the day before! Great vacation!
Beth Watts

Thank you so much for an awesome vacation, I hope one day you guys come visit us!!! Meow
Mary, 16 y.o.

My top three are
- Night dive
- Wild dolphin swim
- Trampoline splash waves
David, 15 y. o.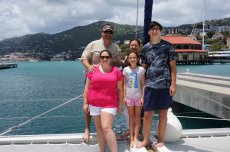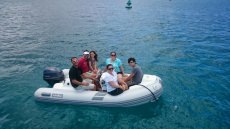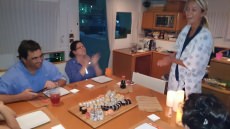 You will see us again!
Ben and Elizabeth,

Thank you, thank you for a very special week aboard the beautiful Sea Anemone. As you know, we have sailed on trips like this before, so I speak from experience when I say there is no better charter to be had. From start to finish, the attention to detail, friendliness, professionalism, and quality of service were extraordinary.

I will always remember this vacation for two unique experience - a first visit to St. Croix and my first dive!! I couldnt ask for a more expert - or more patient - Dive Instructor than Ben. To anyone thinking of trying out scuba diving, I say absolutely let Ben take you out. If sailing the boat is your interest, Ben is happy to give you the helm. Last but not least, Elizabeth makes the best videos! I cant wait to see what she comes up with from this trip.

Pat and Leon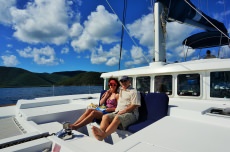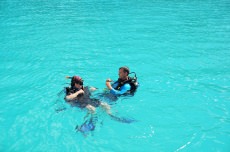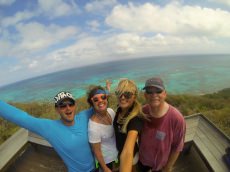 Missing the sun and the ocean already.
This was a trip to remember! Sailing on such a beautiful boat in such a magical location.
The food was fresh and delicious, the drinks cold (especially the Dark and Stormys!). Ben and Elizabeth were charming and always there with just what you needed.
Five Star all the way.

1. Did the skipper/hostess make you feel welcome and comfortable onboard? -
They were fabulous. They made us welcome and were very attentive and friendly but also gave us some space.

2. Did you feel free to choose activities? - Ben talked to us the first morning to get an idea of what we wanted to do. He also had some suggestions and we worked out an outline for the week. That being said ,they were very flexible day to day about what we wanted to do.

3. Please provide specific comments regarding your skipper and hostess. - Both Ben and Elizabeth were excellent. Ben was excellent as a skipper and dive master. We all felt completely at ease with his obvious knowledge and ability. Elizabeth was charming and fed us fabulous food and smoothies! We never had to ask for anything, somehow she always anticipated our needs.

4. Were the meals and beverages as you expected? - The food was even better than I had hoped for. The drinks were all great and plentiful. Ben and Elizabeth were always there with a drink when we needed it.
Elizabeth's smoothies were delicious.

5. If you made any special requests were they met? - Yes. We had a few dietary issues and all were seamlessly met. No one ever felt left out. And the food was fabulous.

6. Was this your first visit to the BVI? - Yes.

7. Would you recommend this yacht for a charter vacation? - We already have. To 2 different families here in Toronto.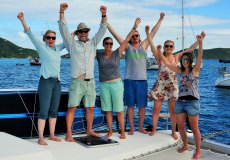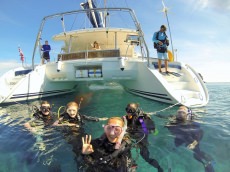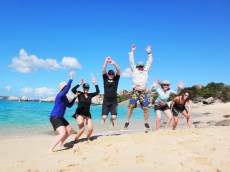 7 days, 8 islands! Treasure hunting with three little pirates;)
Ben and Elizabeth couldnt have been more welcoming and hospitable. They looked after us and our lively three boys so well and went out of their way to make us feel both at home and totally spoilt! A wonderful trip to be remembered forever.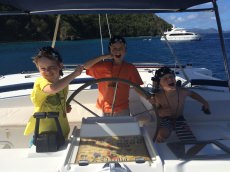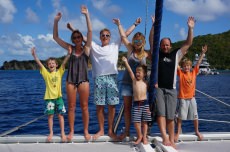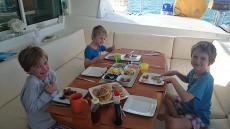 My first dive experience!
While on holiday in Punta Cana my wife and I got away from the crowds and enjoyed an adventurous and romantic 2 day getaway to Saona Island. We celebrated my wife's birthday onboard and got to drink champagne under the stars. The following day Ben took me on my first scuba dive. He was very knowledgeable and patient and was always just beside me throughout the dive. Thanks Ben and Elizabeth we had a blast.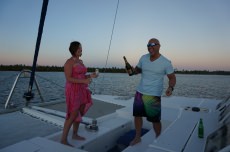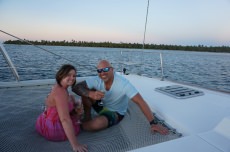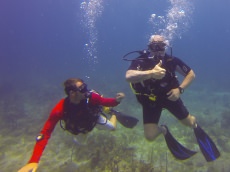 3 days/2 nights Dominican Republic, Punta Cana - Saona - Bayahibe
I have been to a lot of resorts. Taken the kids on a lot of vacations. No comparison to the one of a kind personal experience my family and I enjoyed being out at sea with captain Ben & Elizabeth This unique vacation was exactly what we were looking for. Somewhere in between laying back on the top deck soaking in the sun or the stars , the top notch food, drink and fun for me it was like having time stand still The calm waters are the best place on the earth to unwind and unplug and just live a little. To anyone out there looking to treat their family to a unforgettable time, whether a couple days or a couple weeks you will not be disappointed Worth every penny. Thanks again captain Ben.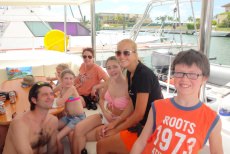 Diving in DR
While vacationing in the Dominican Republic, my boyfriend and I met Ben and Elizabeth at a restaurant in the beautiful Bayahibe Harbor. Soon after arriving at the restaurant we struck up a friendly conversation, which led to Ben and Elizabeth inviting us on a trip to go snorkeling at a local cave. It wasnt long before we found out that Ben was a master scuba instructor and had a stunning catamaran docked within the harbor. Just as soon as we had developed a friendship with the two newly-weds, we had also made plans to go on a snorkeling trip. A few days later we were lucky enough to board Bens boat and set sail in the Caribbean Sea. While sailing, Ben gave us a crash course on the basics of scuba diving and also drew a detailed map of the reef known as the Aquarium which we would soon be exploring. Once we arrived at the Aquarium, Ben helped us gear up with top of the line equipment and into the water we went. The experience was life changing. The world under the sea was like nothing weve ever seen before and Ben was right there with us along the way to ensure our first trip was safe, fun, and memorable. When the snorkeling was over, Elizabeth had prepared a great lunch for us along with a few drinks which we continued to enjoy during our sail back to Bayahibe. Ben and Elizabeth undoubtedly made the experience, and it wouldnt have been the same without them. Next time were back in the Caribbean we will certainly make sure we reach to our friends for another adventure!