May 2013
We had the best time on Secret Oasis and would highly recommend Debbie & Peter and the boat. It was our first time chartering, and everything exceeded our expectations. We are not sure how a regular hotel vacation will ever be able to compete.

We all grew fond of Debbie and Peter. They took great care of us. They were lovely to spend time with, very good entertainers and thoughtful hosts. They especially bonded with our kids. Peter is a great adventurer. My son has enjoyed telling his friends that he snorkeled with barracuda, sting rays, and eels. Peter showed us the best snorkeling and we all felt very safe with him at all times. My son likes to talk like a pirate, how Peter taught him "ARRR". Peter taught my husband the basics of sailing, which he really enjoyed. He also taught my daughter how to waterski, with great patience. He wouldn't let her give up and she is very proud that she was able to succeed. Debbie made us great meals, much better than you'd expect from a boat's kitchen. It was like having our own fancy floating restaurant. Debbie accommodated all of our menu requests, and even the kids ate almost everything. She was creative and varied with the food. The kids enjoyed hanging out with her in the kitchen area, playing cards while she cooked. It was a fantastic luxury for me to not to have to touch a thing in the kitchen for a week.

The boat was terrific. It was so well taken care of that it seemed almost new. Everything was very clean and comfortable. We could have a/c at night, but usually preferred open hatch ventilation with the lovely breezes. The boat was plenty big for 9 of us. We never felt crowded, or antsy to get off. Though it was a great pleasure being able to jump into the ocean all the time, or look out and spot a sea turtle coming up for air.

Our itinerary was great. The islands were amazingly beautiful. We particularly enjoyed the Baths, the pirate show, water sports time, and the Soggy Dollar Bar.

This was a vacation that truly felt like a vacation, getting away from it all. There was nothing to worry about, no crowds around to bother us, no lines to wait in, no reason to have to dress up. And Peter and Debbie took care of everything.

On the last night of our cruise, Peter and Debbie surprised us with a slideshow of our trip. I was so relaxed on vacation that I hadn't been diligent about taking photos. But Peter was taking them constantly and sent us home with a full USB stick. My kids and I went through those pictures every day the first week we were back home. I am so happy to have the pictures. I wouldn't have expected Peter and Debbie, who were already quite busy, to also be our photographers, but I am so glad that they did this for us.

My son asked me the other day "do you ever miss Peter and Debbie?", and yes, I certainly do.


You can use my comments on your website.
Thanks,
Stephanie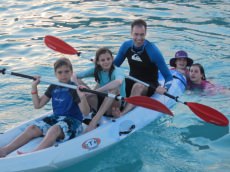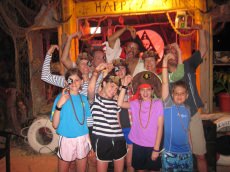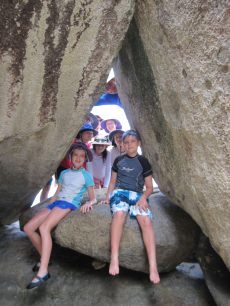 Sam\'s vacation - April 2013
Peter and Debbie were really nice. Debbie made really good food. She made chicken for me because I don't like fish. Peter will go snorkeling to the shore with you. The snorkeling was cool. We saw lots of interesting fish and other stuff. Peter takes you to a pirate show. Peter lets you swim under the boat. At night there were big fish that would swim under the boat that looked like sharks, but Peter said they didn't have any teeth. He said there weren't any sharks there. I helped Peter make steak for dinner. We did magic tricks with cards. Peter would say "swimming pool is open" when we could jump in the ocean.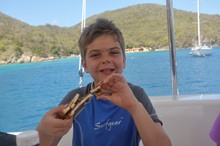 Aurentz Family - April 2013
We had the best time on Secret Oasis and would highly recommend Debbie & Peter and the boat. It was our first time chartering, and everything exceeded our expectations. We are not sure how a regular hotel vacation will ever be able to compete.

We all grew fond of Debbie and Peter. They took great care of us. They were lovely to spend time with, very good entertainers and thoughtful hosts. They especially bonded with our kids. Peter is a great adventurer. My son has enjoyed telling his friends that he snorkeled with barracuda, sting rays, and eels. Peter showed us the best snorkeling and we all felt very safe with him at all times. My son likes to talk like a pirate, how Peter taught him "ARRR". Peter taught my husband the basics of sailing, which he really enjoyed. He also taught my daughter how to waterski, with great patience. He wouldn't let her give up and she is very proud that she was able to succeed. Debbie made us great meals, much better than you'd expect from a boat's kitchen. It was like having our own fancy floating restaurant. Debbie accommodated all of our menu requests, and even the kids ate almost everything. She was creative and varied with the food. The kids enjoyed hanging out with her in the kitchen area, playing cards while she cooked. It was a fantastic luxury for me to not to have to touch a thing in the kitchen for a week.

The boat was terrific. It was so well taken care of that it seemed almost new. Everything was very clean and comfortable. We could have a/c at night, but usually preferred open hatch ventilation with the lovely breezes. The boat was plenty big for 9 of us. We never felt crowded, or antsy to get off. Though it was a great pleasure being able to jump into the ocean all the time, or look out and spot a sea turtle coming up for air.

Our itinerary was great. The islands were amazingly beautiful. We particularly enjoyed the Baths, the pirate show, water sports time, and the Soggy Dollar Bar.

This was a vacation that truly felt like a vacation, getting away from it all. There was nothing to worry about, no crowds around to bother us, no lines to wait in, no reason to have to dress up. And Peter and Debbie took care of everything.

The charter company was very professional to work with. He helped us book Secret Oasis and promptly answered all of my questions. I would definitely recommend using them again.

On the last night of our cruise, Peter and Debbie surprised us with a slideshow of our trip. I was so relaxed on vacation that I hadn't been diligent about taking photos. But Peter was taking them constantly and sent us home with a full USB stick. My kids and I went through those pictures every day the first week we were back home. I am so happy to have the pictures. I wouldn't have expected Peter and Debbie, who were already quite busy, to also be our photographers, but I am so glad that they did this for us.

My son asked me the other day "do you ever miss Peter and Debbie?", and yes, I certainly do.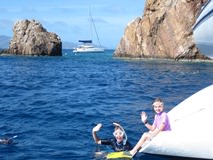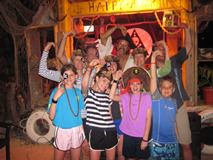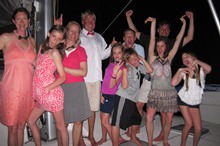 The Bonnors 50th wedding annivesary _ Feb 2013
Dear Debs and Capt Peter,

Again thank you for a fabulous week on Secret Oasis.

We got on the same wavelength right from start.
From experience we know it isnt always easy to handle 3 generations on a boat, but the two of you got it organized perfectly and even managed to form a teamwork with the ones who wanted to participate in sailing the lovely boat, so everybody enjoyed themselves.
The places we visited were just what we had hoped for including your organization of the water sports.

Last but not least: Debs cooking - it was simply marvelous (and a lot of hard work when we got up you were at it and when we retired for the night you were preparing for the next day).

Bravo to both of you.

We will see you again.
John and Anne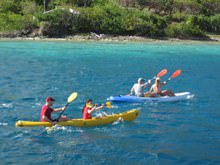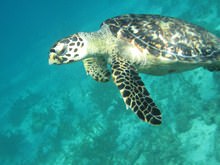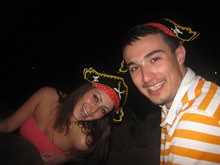 Debbie and Peter 2013
Hallie and James May
COME SAIL AWAY, COME SAIL AWAY, COME SAIL AWAY WITH ME
Want the best vacation ever? We started our adventure from St. Thomas! My husband surprised me for our 15th wedding anniversary with a week charter on this luxury catamaran. To say that it was a trip of a lifetime is an understatement. Start to finish was incredible. Peter and Debbie could not be more accommodating. From the chilled champagne and shrimp waiting for us after a long days travels, to the burgers on Water Island with our new friends at the end of the trip.. we couldnt have asked for more. Great adventures each and every day, spectacular scenery, incredible food and accommodations. I really could go on and on and on and on and on.you get the picture!
Peter and Debbies knowledge of the BVIs is superb. They cater the trip to exactly what you want to do.. you can do a lot, or a little.. it is up to you. Peter took us on lots of snorkeling adventures and really made us feel comfortable in the water. Debbie is an outstanding chef! So creative in the food menu, and everything is made fresh daily.
Because it was our 15th wedding anniversary, they added so many little touches to the trip to help us celebrate from decorating the boat with balloons and banners, to helping my husband arrange an incredible couples massage on Scrub Island (with a surprise bottle of champagne from the crew). Going above and beyond is what Peter and Debbie do best.
So, sit back, relax and take in this amazing adventure with our now friends, Peter and Debbie. We will be back soon!


As seen on Tripadvisor: Neil and Verda
Wow! Where do we begin is an understatement! We chartered with Debbie and Peter in May 2012. Peter and Debbie are a phenomenal team! They were very professional, yet personal and easy going. Captain Peter goes out of his way to ensure all guests are happy and get to the destinations they wish to go. Debbie is an outstanding chef and adds personal touches to all that she does. The catamaran is spacious, clean and well appointed. We could not have been happier with our charter and highly recommend it to even the most discerning guest. Thank you for an outstanding trip!! Neil and Verda Hutcheson
Cathy,Bill, Cyindi and Chris
Our trip in April 2012 was the 3rd for Bill and myself together and the 1st for Chris and Cyndi together. Peter and Deb were willing to take us anywhere to get some good dives in and snorkeling.
Peter and Deb are so entertaining and we learned so much about them and how interesting their lives are when theyre not sailing the Caribbean.
They are a terrific team who work so well together to make sure everyone is well taken care of and never in need of anything.
One of the special treats from this trip was getting the pictures from Peter and Deb. I was ready to be the one taking all the pictures when Deb was right there clicking away! It was nice being in the pictures this time.
Awesome trip and looking forward to getting it together to do it again
Cathy Schmitz


Karen, Amnon, Yael & Zvi 2012
Review for Peter and Debbie From Karen_2012
Was the crew friendly and accommodating?. Very much so
Was the yacht comfortable and clean?. It was very comfortable and very clean when we arrived.
Was the yacht well ventilated? . Very
Was the food good and well presented? . Delicious food, lovely presentation, every special need & request was met perfectly. Kudos to Debs talents in the kitchen & her ability to make interesting & very varied meals.
Did you like the area you sailed? .Yes, very much do.
Could we the brokers have helped you further in any way? . I dont think so, you did a great job matching our wishes, requests & needs. All questions were answered quickly & with detail.
Additional comments on your charter? .We loved our experience thoroughly. Thanks for everything & I hope we have the pleasure again in the future to charter yet another trip. Karen, Amnon, Yael & Zvi


The Zeelanders-2nd trip 2012
Debs and Peter,
We had a wonderful week with you again. Our second vacation with you was even better than the first (I did not think that was possible) You catered for our dietry needs perfectly and Debs your food was amazing. Peter, as usual, you showed us snorkeling spots that we had never been to before (and the duck diving was great). You gave us time to relax when we needed it and then showed us the night life for a bit of island partying. We already look forward to next year with you. Keep well We miss you two!


The Weils Easter 2012
Dearest Peter and Deb
THANK YOU, THANK YOU.
We had the most wonderful, memorable vacation the trip of a lifetime.
The food was amazing the hospitality and company, SUPERB and our girls feel like they now have a new Aunt and Uncle!
Chris and I are so grateful for the way you taught our children about a whole new world that they could never have dreamt of. The will never be the same and neither will we.
Hope we will see you again very soon.
Be well.Lots of Love
The Weils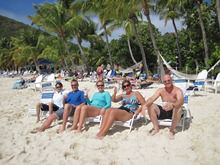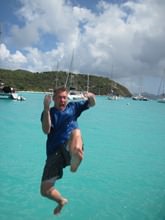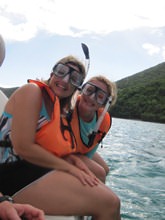 Debbie and Peter 2012
Mark and Sally - 2012
My wife Sally and I thoroughly enjoyed traveling the British Virgin Islands. We have sailed many time with out Debs and Peter before they started chartering. We will never do that again. Debs and Peter are a wonderful. Debs takes care of ALL your needs and thinks about things before you have a chance to ask for them. Her food is amazing (and she has been kind enough to give me her recipes) and great fun to be around. Peter loves the ocean and constantly gets you swimming along new found reefs and little hidden spots. We always see an abundance of wildlife with Peter. He is a great Captain and very knowledgeable He has had an interesting life and his stories will keep you entertained for hours.
The boat is comfortable, roomy, stable and has all the modernconveniences that made our trip wonderful. It was great to have so much space and be able to get into shallow water near the beaches! We have our next trip all ready booked.
Hersham - New Years 2013
"Debbie and Peter were terrific hosts during our week-long stay aboard Secret Oasis. Not only did they manage to get us to all our favorite spots, they somehow made it seem effortless. All ages were happy with the food, drinks and fun. A great week for all and we can't wait to go back!"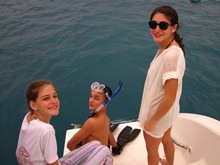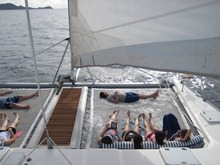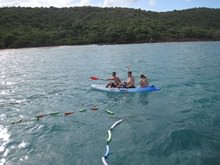 2011
Neal and Brenda - 2011
The vessel is so stable, we found it easy to carry on our non-sightseeing activities while in transit; sleeping, eating, reading just winding down, are all easily accomplished. Peter and Debs are terrific. We just wish we could have spent more time with them. `
Best Regards
Peter and Debbie... 2011
Bill and Becky - 2011
Debbie and Peter, we had an amazing time and thank you all for treating us so special. It was the vacation of a lifetime!
peter and Debbie, 2010
George and Mitzi - 2010
The experiences Mitzi and I had aboard are almost indescribable. The crew are fun, professional and very capable in their jobs.
We had every convenience/luxury you could ever want and the ability to go into small and secluded bays for days at a time just enjoying the wonderful waters of the Caribbean. We look forward to returning and cant wait to be with you again.
David and Barb - 2010
My husband and I have had the pleasure of vacationing in the U.S. and British Virgin Islands. She is a very comfortable boat with well appointed cabins and private heads, and a beautiful salon and galley.We were very sad to be leavingthewonderful waters of the Caribbean hope to return some time and meet Peter and Debbie. Mike has told us all about you.