Amazing adventure...
Thank you for making my first out of country vacation an amazing adventure. Every single place we went to was beautiful and an experience I could not find anywhere else. Both of you made sure me and my family were as comfortable as possible and we all appreciate it extremely. Thank you for making my last Christmas as a high school senior the best trip I've ever been on.
~Chloe

I couldn't have picked a better team. Wow! You guys Rock! No experience can replace an Amazing Chef (Casey) or Captain (Matt). You guys made my last family trip with my girls the best it could possibly be.
~Gary
Perfect crew...
Matt and Casey are the perfect crew!! 6 of us enjoyed an amazing vacation and felt completely safe with them and their judgment at every turn. We ate every meal on the boat and loved the chef inspired cuisine. I truly cannot thank them enough for being so helpful and skillful!! They knew the BVI's like the back of their hand and guided us as we snorkeled, hiked, swam, paddle boarded and kayaked when we weren't sunning on the foredeck. One of the women on the trip was originally a bit apprehensive about a sailing vacation, but by the third day she said 'I will never do a cruise ship vacation again when I have such a great option with Matt and Casey. There is no comparison to a sailing charter and a cruise ship because the sailboat takes our experience to another level. Thank you very much for making our vacation a memorable one!

~Jerry
Best family vacation...
This was the best family vacation - I cannot say enough about this trip! Captain Matt and Casey gave us the most wonderful experience! It was the perfect balance of activity (snorkel, hikes, water sports, jumping from Willy T's) and relaxation (sailing, sunsets, fabulous cocktails and food). Our meals were top restaurant quality - healthy, delicious and beautifully plated.

My children 11 and 14 enjoyed every bit of it of this trip too. There are so many other highlights but the biggest take away was that my husband and I were able to relax and not have a care in the world because Matt and Casey took care of everything.

~ JLT
Truly relaxing...
Our family of four spent an amazing week in the USVI and BVI with Captain Matt and first mate Casey. The beauty of this trip is that you can be as lazy or active as you want - and Matt, Casey and the boat can accommodate any and all desires. We were fairly active so we snorkeled, hiked, knee boarded, paddle boarded, and kayaked.

Matt and Casey are so pleasant to be around and acted as our guides on some snorkels and hikes but were also willing to pull back and allow family time. The meals were absolutely incredible - using many native fruits and vegetables and locally caught fish (Matt was able to get a newly caught Tuna on the day we arrived so we had fresh sashimi for the first couple days of the trip). The crew's knowledge of the islands is very impressive so you can get a great history lesson if you are interested. And if you want to learn about sailing or tying knots, that can be done as well. Captain Matt also captures many photos throughout the trip and was good enough to send all the photos electronically a few days after the trip ended.

Overall, you can't go wrong. It was truly relaxing because everything is taken care of and you know that the family is in safe hands. Go sailing with Matt and Casey - you won't regret it!

~The Thompson family
Loved everything...
Thanks so much for opening your boat and home to us. We loved everything about the trip especially the union and its babies! We were looking for a way to get away and you guys provided just that! We all lead very busy lives, and we loved being able to disconnect for a little bit. We loved hiking Salt Island, the Indians and the Baths! Thanks for everything! We hope we can do this again in the future!

~Shannon, Thomas, Sara, Jake, Kurt and Kate
Wonderful trip...
We just got back from 6-person/6-day trip with Matt & Casey. The islands are great on their own but having a local captain and chef added so much to our trip and allowed us to see & learn more than you get from travel books. Matt and Casey are so experienced, they can help with anything related to the trip (such as less experienced snorkelers). I have provisioned and captained a few times in the past, but this was much more safe, fun, and relaxing. The boat has everything, the food was unbelievable, and Matt and Casey are the best. They took care of everything and we are planning next year's trip already!

~J Wilmes
An ideal vacation....
We love the crew of Casey and Matt and believe that guests are bound to experience the best week of their lives with this exceptional couple as their guides.

They are committed to creating your ideal vacation, whether that means an active charter with lots of fishing, snorkeling and hiking then dancing the night away at a beach bar, or a total relaxing charter floating with a cocktail in hand, or a week of reconnecting with family. Casey and Matt know where to go and how to optimize every minute.
Amazing time...
From the flexibility to the recommendations for snorkeling to the tasty cuisine to the hospitality, to the breadth of knowledge about the beautiful islands, to the phenomenal playlist...we could go on and on! Thank you for the most amazing time! You guys made every day of this trip The Best Day Ever!

~Mitch, Judy, Bob, Natalie, Keith, and Todd -AKA The Aquaholics!
Matt & Dana (Dana filled in for Casey) were very friendly and clearly knew what they were doing. Matt's knowledge of the islands led us to many places others may not have the opportunity to experience and we took home several recipes and ideas from Dana's cooking. My 83 year mother traveled with us and Matt & Dana were very patient and willing to help her so she had a wonderful experience.
We found the boat very comfortable for 6 people and the crew. We really only slept in the cabins, but they were big enough to sleep well. We had plenty of space on the deck, whether we were up front when sailing or sitting in the back for dinner/lunch. The boat is a little bit older which we knew going in but is well maintained and very comfortable.
The water toys really added to the experience, wake boarding, snorkeling, paddle boarding, the go-pro and Peggy & Ursula made sure we had plenty to do in the water.
The food was fantastic, really nice variety and plenty to eat. Dana did a great job creating menu options for my vegan daughter who probably had more variety on the boat than any other time. Very locally focused, which was nice in terms of experiencing new tastes.
Eddie Y, aboard Catamaran Island R&R June 2018 sailing the British Virgin Islands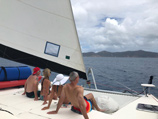 Matt and Dana (standing in for Casey) were stars. They were more than friendly they were like family. Matt's knowledge of the islands, special stories and the history were amazing. They accommodated our gluten-free needs as well as fresh and healthy with flavors Galore and presentation of a Michelin meal. The breakfasts were exquisite with poached egg on portobello mushrooms to spectacular Portuguese sausage and Spanish omelets.
Matt encouraged us, with little bit of a nudge, to try things that we were a little apprehensive to do but we're so thankful that he did.
The Virgin Islands were way beyond our expectations. Matt knows his stuff when it comes to balancing each day with as much as you could possibly do and yet fully enjoying each moment.
This was a bucket list trip but because Dana and Matt made it beyond our expectations we have high hopes to repeat this vacation. We are fortunate to be youthful in our late 50s and 60s and this trip reconfirmed that we want to continue to push and enjoy this part of life.
Robert H, aboard Catamaran Island R&R May 2018 sailing the Virgin Islands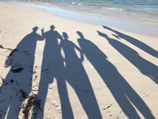 We were a group of three couples for 7 nights on the Island R and R Catamaran "Leopard 46" with crew Matt and Casey. They simply delighted us from start to finish with a well-rounded tour of so many delightful bays, beaches, bars and daily activities of hiking, snorkeling and site seeing. Their flexibility and range of options made for a truly wonderful trip. We were always in awe of what was offered in both the British and US Virgin Islands. The onboard hospitality, food and drink was truly 5 star.
Matt and Casey were in touch with us prior to arriving in St Thomas, very helpful with getting us from our hotel to the boat. Met us with open arms at the Dive Bar prior to boarding. A great option to "overnight" with Casey and Matt before we sailed. We all got to know each other, we got to settle in, and it allowed us to get a great early start on the first day. They had great and extensive knowledge of all the sites along the way. They were very helpful in giving us a range of options and choices for things to do, places to visit and sites to see. Extremely helpful and flexible in planning out each and every day.
Island R&R was clean and comfortable. The front bean bags were a great option. The dining area at the back was also one of our favourites for breakfast lunch and dinner. Of course we must give special mention to Darnell the Duck for floating on. Snorkeling equipment in great form. The floating "mat" was also a great place to lolly gag when tied up.
Oh my, the food! Casey and Matt did an extraordinary job. Case did handle the bulk of cuisine but Matt assisted on many occasions. Casey had us totally delighted and the dietary customization made our one "non seafood fan" very happy. Some terrific creations. We've asked for recipes.
The itinerary was awesome. It was really great to start off with a quick sail and then a snorkel for us all to get comfortable with the boat, as well as the crew. A special treat was Pizza Py in the first bay we visited before sailing on for a few hours that afternoon.
Great service from Sailing Directions - always straight forward - informative. The website is clean, informative, straight forward.
Ferg D, aboard Catamaran Island R&R March 2018 sailing the Virgin Islands
Matt and Casey were wonderful. We couldn't have picked a better crew to be a part of our vacation. Our entire group would all agree that this was the best vacation we have ever had. I can't imagine going on another charter without Matt & Casey!
We enjoyed the Island R&R greatly. We found it clean, comfortable and well ventilated. The beds were very comfortable, and the a/c at night was wonderful. I am not sure if there was anything in particular that would be a favorite aspect as we were 110% satisfied the Island R&R. The accommodations were great, the water toys were great ( and the sling shot was really great ! ).
Casey did an outstanding job with our meals, everything was well presented and delicious. Casey took very good care of us for all the meals, snacks, appetizers and desserts. Not to mention the beautiful view you get to enjoy at every meal !
Our itinerary fit what we were looking for perfectly. We talked a bit about a few stops we wanted to make and left the rest to Matt. Matt did a great job guiding us to places that fit exactly what we were looking for. We were even fortunate enough to have some dolphins join us one day while we were in the water which was one of the high lights of the trip ! ( of which there were many )
Cant say enough how much we enjoyed spending time with Matt and Casey, I fact as we tell others about our trip, we all consider them part of the Family.
Kevin M, aboard Catamaran Island R&R July 2017 sailing the Virgin Islands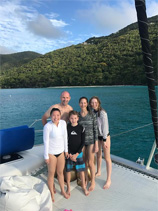 Matt & Casey could not have been better! They were amazingly welcoming from the moment we walked on the boat. We have 3 teenage kids and they knew how to relate to them perfectly. They gave us the perfect amount of history of the islands, let the kids participate in the sailing, made us very comfortable, provided amazing food, good music and gave us the perfect balance of private time and together time. Matt had us all jumping off the boat by the end of the trip! Would definitely book with them again!
The Island R&R was beautiful. It is maintained very nicely. All of the amenities were great - we had bean bags to really enjoy the cruising from place to place, great coffee in the morning, air conditioning for sleeping, everyone had their own bathroom, we all had our own cup, towel and snorkel gear. For fun in the water, we had the big blue mat to lay on and play on, Matt pulled us behind the dingy on a kneeboard, we had paddle boards - everything we needed.
The food was perfect. Casey can do some amazing things that should not be possible on a boat. She made things that I would find too difficult in my full sized kitchen. Her meals were well presented, delicious, creative, flavorful and more than enough food. She customized the food as needed (my semi-vegetarian daughter got a separate main dish for a couple of meals), the food choices fit perfectly with our family, we had snacks that we could grab during the day and drinks at any time we wanted. They really listened to our preferences and had everything we asked for or should have asked for.
Matt really listened to what we wanted out of our itinerary. We got a good balance of relaxing boat time, time in the water, snorkeling, beaches, 30 minutes hikes, luxurious stops and historical stops. We visited The Baths, the north sound, the RMS Rhone, the Indians, Foxy's, Willie T's and so many more.
John with Sailing Directions answered all of our questions quickly and thoroughly. Booking the trip was easy.
Best vacation ever!
Sara H, aboard Catamaran Island R&R March 2017 sailing the Virgin Islands