21-29 July, 2017 – We Loved Everything!
"Amazing" is a very appropriate name for both the boat and for this crew. We simply loved everything!
We had a wonderful time onboard. The catamaran Amazing is a floating piece of paradise. The crew is wonderful.
Thanks for everything!!
For this "amazing" crew, with thanks from us,
The 'C' Family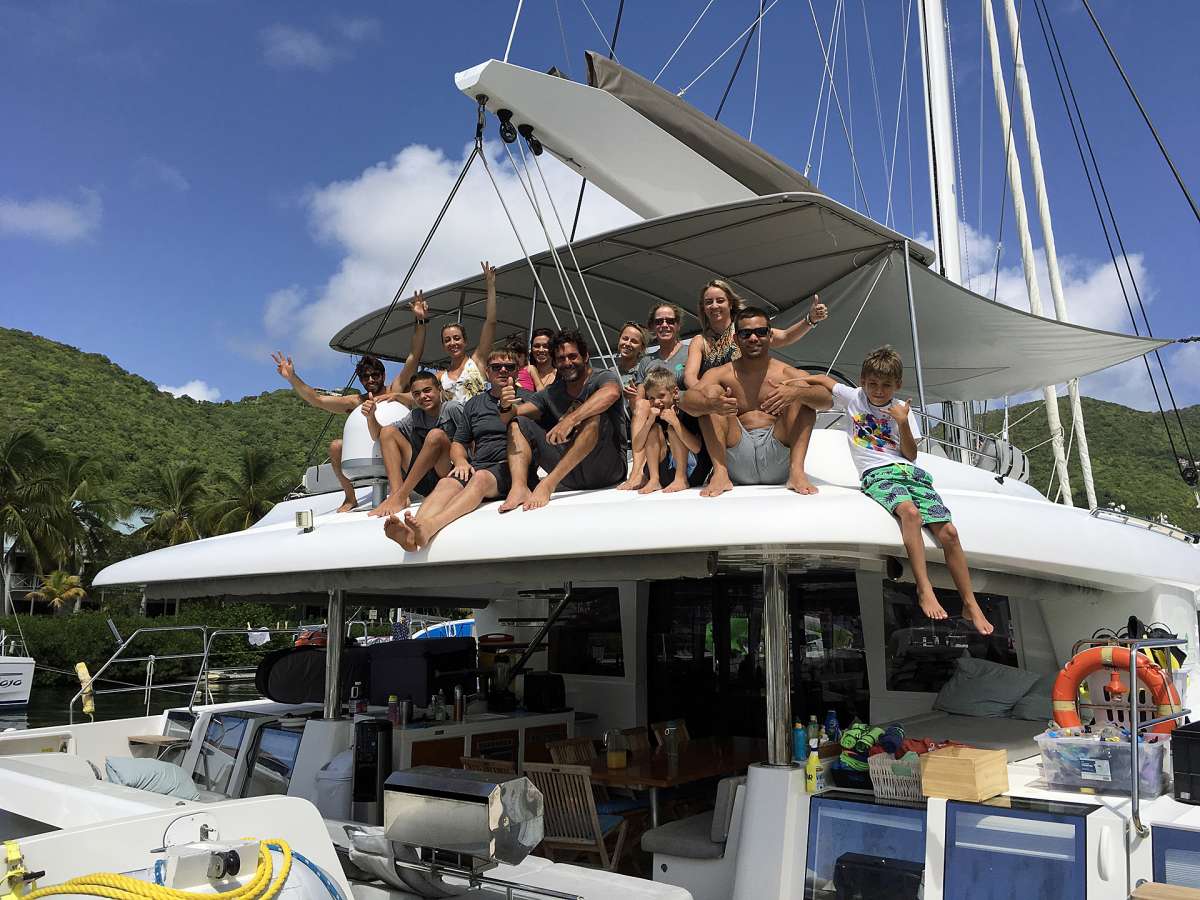 GUEST COMMENTS BELOW FOR CAPTAIN ANDREI LISSENKOV from previous charter yacht prior to Amazing. Please ask for guest comments for Winter Crew Kirk & Heather.
March 15-22, 2015 BVI

I must have said the word amazing a thousand times on this trip. Either it was the impressive technology of the boat or the food or the locations that Andrei took us to. It was the insider's view of the Virgin Islands and all the natural wonders they offer. And the crew was gracious, friendly, attentive and sweet. It is hard to express the measure of our gratitude for such a rare and life-changing experience guided by Captain Andrei.

The boat was perfectly maintained and equipped with every possible toy all providing access to the nature and wildlife all around us. Thank you for all of it! Bo and Simone

Can't get much better! Thanks! Henry
Thank you for a wonderful time! Oliver

We are so blessed to have met you and lived with you for the last 8 days. This has been the trip of a lifetime. Purely and simply lovely and wonderful. Amazing crew, amazing captain! Lucky, lucky us!
Love, Melissa & Jim, Oliver, Henry & Marin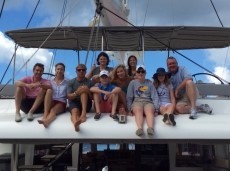 Captain Andrei Lissenkov's previous guests comments
Feb. 14-21 2015

Thank you so much for a fabulous week. Captain Andrei captained our boat with excellent skills, and showed us places like "Bubble Pool" we've never seen before. Thanks! The E. family
Captain Andrei Lissenkov's previous guests comments
Corporate Charter 8-13 March 2015 in BVI

The charter far exceeded expectations! For sure I will do it again. The crew was THE BEST. They did a GREAT job and we would want to have them on our next charter. The yacht was IMMACULATE. The meals were SUPERB. Vastly exceeded our expectations.
Thanks! Mike

1 - 6 July, 2017 – A trip to remember!
Amazing experience on Amazing! Amazing fun, amazing friends (new and old), amazing food, amazing cocktails. This far exceeded my expectations. Looking forward to the next trip with Will & Nicole!
Todd

This could not have been a better trip! Thank you for everything you did to make it wonderful!
Melissa

Thank you Will & Nicole for giving our families an experience we will never forget. The food, the entertainment and all the little "surprises" (my birthday and Katie getting to see her friends) were wonderful and much appreciated. The Amazing charter would not have been the same without you two being our crew! Love you both, you truly are amazing! Let's said again soon!

This was the best trip I've ever been on! It was so fun. I will never forget Will and Nicole and the trip. Y'all are the best cooks, captains and people. We will come back to see you, I know I will see y'all again, or I will make my parents take me back!
Your best guest,
Drew

This was the best trip I've ever been on. It was so much fun having you two experience it with us. I will never forget the places we went, the things we did and I especially will never forget the food! This was a trip to remember! I had so much fun and you two made it so much better. I will never forget the amazing places you took us to, the laughs you gave us and the memories we will never forget. Thank you so much and best wishes!
The W Family

Captain Andrei Lissenkov's previous guests comments
Feb. 21-28, 2015 BVI

Welcome Party!! Guests enjoy swimming with dolphins right off the yacht.

Guests are thrilled when playful dolphins come to visit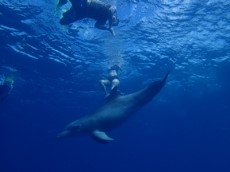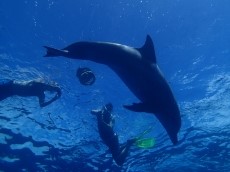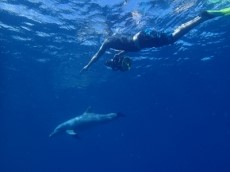 Captain Andrei Lissenkov's previous guests comments
BVI corporate sailing trip 2-7 February 2015

Thank you all for a great experience. Captain Andrei was a great leader and very accommodating. The food was incredible and every time we asked something we always heard "of course"! Thank you for an amazing experience. Keith, Mike, Bob, Dan, John, Jeff & Matt.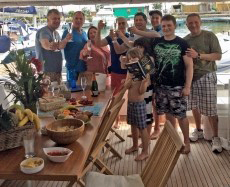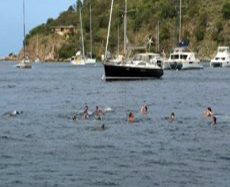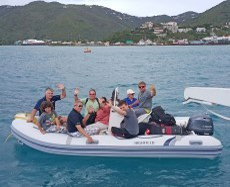 Captain Andrei Lissenkov's previous guests comments
New Year Charter 2015

Dear Andrei and crew,
Our family had an amazing week with you all! Andrei - you are a great captain! Thank you for taking us diving, water skiing, and always being patient & also for taking us to Sandy Spit!! Loved it! Extraordinary team! You make it look so easy to provide your guests the vacation of a lifetime! Thank you for a most memorable week! We could not have dreamed of a better group of people to sail with. We hope our paths cross again!

Feedback to broker:
Q How did you enjoy your vacation?
A Incredible vacation enjoyed by all.

Q Was the boat clean on arrival and kept clean during charter?
A Yes, the boat was always clean and in excellent condition

Q How was your Captain?
A Outgoing, Professional, Friendly.
Captain Andrei is an excellent Captain and is always working hard to make the charter an exciting and memorable occasion for everyone on board. He was very personable and we enjoyed it when he was available to chat with us.

Q Did you feel free to choose each day's activities?
A Yes, Captain Andrei always gave us many options and asked us what we would like to do and helped us create an itinerary for the day's activities.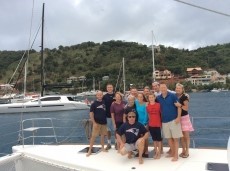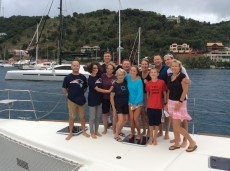 Captain Andrei Lissenkov's previous guests comments
Christmas Charter 2014 -
Thanks so much for the amazing week. Your hospitality was second to none. Andrei - you are quite the Captain and we experienced so much more than any other BVI trip we have been on from diving, snorkeling, sailing or climbing the mast, you have made it great. Thanks for putting up with us and our unusual humor. You are all the best!!!
Pat, Cheryl, Erin and Kasey and Stacey, Donna and Brett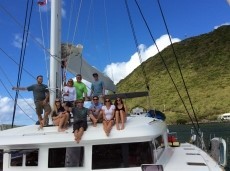 Captain Andrei Lissenkov's previous guests comments
Med Summer 2014 - Great kite surfing in Tenerife with Capt. Andrei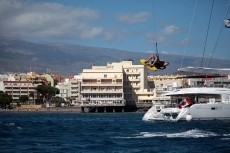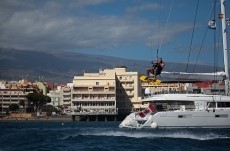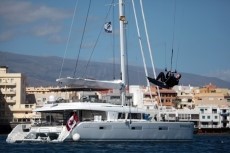 3-10 June, 2017 ~ BVI ~ AMAZING!
Thank you so much for our adventure in the BVI. Will & Nicole – You are the best! Best wishes to both of you and Happy Sailing!
Love Annie, Kyle & Charlie

Will & Nicole,
You thoroughly enabled our clan to be highly adventurous, extremely well fed and appreciative pirates for the week. We would easily select you and your CAT over a Russian super-yacht and crew of 70 any day of the week! One word sums up the whole week: AMAZING!
Best wishes to the two of you on your personal adventure.
Cyle, Cameron, Carter, Cindy & Craig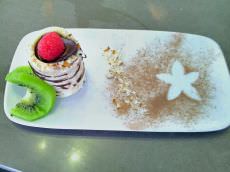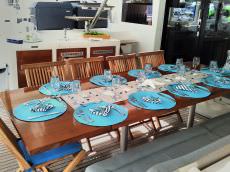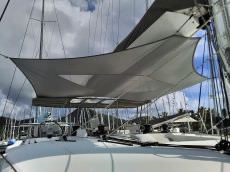 30 April - 9 May 2017 ~ Amazing Moments!
What an Amazing Experience. Thank you from our hearts and way beyond words. Will & Nicole, for every minute!! Thank you for taking such good and special care, you never stop amazing us. We take you both in our hearts and you'll stay there in a very special place for this wonderful gift you made possible!!

Will & Nicole, what a wonderful crew, they are 2, but care and support like 4. We won't forget you and wish only the best for your future life. Keep both a surprise!

It was a wonderful experience, full of "amazing" details and moments. The food/meals were prepared with love and dedication, on top and first class quality. Many thanks Will and Nicole for your compassion.

Will & Nicole,
Thanks, thanks, thanks, thanks for this "Amazing" trip, full of love. We could see the wonderful people you are and we are very lucky things happened for something special. Thank you very much!! Love you!

Excellent boat and wonderful crew!! Thank you for all the time you dedicated to us. Very special and different meals. Hope to be with you again in the near future!

Thanks much for all your kindness and care! We had a wonderful time!

It has been a wonderful experience. It is hard to find a crew like Will and Nicole that really love what they do, no matter the hard work. You guys never lose your smile and your sense of humor. We will treasure this fantastic vacation!

Marco, Cecilia, Paul, Martha, Cesar, Joey, Mirtha, Victor, Julia & Aurelio

Feedback to Broker:
Thank you very much for helping us with all the procedures/preparation to make our wonderful trip.
Really Amazing !!!!!!! An amazing trip !!!!
It was all wonderful, Will and Nicole great people, very nice food, we all had fun with games, sailing, beautiful places, etc.
Thanks a lot for everything……


30 April - 8 May, 2017 ~ A Wonderful Trip!!
Thank you very much for helping us with all the procedures/preparation to make our wonderful trip.

Really Amazing !!!!!!! An amazing trip !!!!

It was all wonderful, Will and Nicole great people, very nice food, we all had fun with games, sailing, beautiful places, etc.
Thanks a lot for everything……

18-24 March, 2017 ~ Virgins ~ A+ Experience!
A+ experience on Amazing. Captain Will and Nicole are terrific. They are clearly experienced sailors and very focused on providing a great customer experience.
We felt safe and very comfortable with them.
They are fantastic with children and transformed our 5 kids (who never spent time on a boat) into enthusiastic sailors and snorkelers.

As you know, we were a little concerned with the last minute change in Chef, but Sandy was awesome!! Her food is diverse and delicious. I would put her in the same category as Chef Lisa, who we had on Enigma two years ago. Speaking of Enigma, we were anchored in a remote area and Enigma pulled in next to us! We swam over to say hello and talked to Lisa! Evan and Jalene are back in Colorado, but its always fun to see a friendly face in the BVI.

We would happily take the crew of Amazing on another charter in the future.

C & S Families
9-16 March, 2017 - The Best!
Fabulous trip. Relaxing. The crew gave us 110%. Loved the cruise, absolutely love the sailing, snorkeling and the locations we visited. Will, Nicole & LeAnne were the best! We especially loved the food. Something new and exciting every day. We are already discussing how we can come back. It would have to be with this crew!
M & S

The availability of water activities was outstanding. Having the opportunity to paddle board as the sun set in such a pristine location will never be forgotten. Sea kayaking brought new opportunities to explore the islands and beaches. Snorkeling was fantastic in such clear beautiful water. The comfort on the sailboat was beyond our expectations. And the service was impeccable. LeAnns culinary skills made each meal exquisite. This is a trip we will remember forever. Our only regret is that it didnt last longer. Thanks for sharing this week with us.
Richard & Natalie

Outstanding staff and amazing trip. Very impressed with the variety of activities that were provided. Absolutely the most amazing experience and the trip of a lifetime! Loved all the water activities, snorkeling, the seadoos and adventures. Enjoyed exploring all the different islands and beaches and being able to hike and take land adventures as well. Outstanding staff, loved Willem, Nicole & LeAnn. Very fun, energetic group that all contributed to making this trip just perfect. Excellent service, excellent food (best chef around!) and would love to come back & stay for months. Thank you to you all for making me feel at home and for all the fun adventures. I will always treasure these memories!
Melissa

This vacation has been the trip of a lifetime for me. We do not want to leave! The crew has been fabulous. We leave with great memories of our time spent on the Amazing! Thank you so much!
Mike & Alicia

Best holiday we have ever had! The trip through the BVI, the boat, the fantastic crew (Will, Nicole & LeAnn), the sailing, snorkeling, delicious meals, overall experience was truly AMAZING! Thanks for making our trip so wonderful. One day we hope to come and stay with you again. It was a trip you all filled with lovely memories!
Rob & Emily

8-16 March, 2017 ~ Virgins - Perfect!
We had a perfect trip on Amazing. Captain Willem, Mate Nicole and Chef Leanne were outstanding in all aspects. We had excellent weather and got to visit many for the islands and just overall relax. The boat was clean comfortable and roomy. We never felt crowded. We were probably different that most charters as we just enjoyed the boat, sailing, snorkeling and walking on isolated beaches. We had three superb meals each day with evening dinner being really special each night. The crew quickly picked up on the things we liked to do and eat. The crew was outstanding in help looking after my wife with her infirmities. Leanne proved to be the star each evening preparing and serving a wide variety of main dishes. In my travels, I've eaten in a lot of fancy 5 star restaurants and I can honesty say the food we had was as good or better than many of those establishment.

My family will remember this trip as the perfect vacation.
Michael

28 Feb - 7 March, 2017 - BVI to St. Thomas - Fantastic!
Thank you for the wonderful trip. All the beaches and sites were fantastic. Your hospitality was fantastic! We loved every meal and the time and talent you put into each meal was amazing! We hope to see you beautiful faces again!
Beth & Rob

What can we say; Great boat, wonderful crew, fantastic food. Fun times every day. Thanks for taking care of us so well. Love to all.
May visions of sugar plums dance in your heads forever!
Diane & Jerry

Our time with all of you was so much fun! Great boat, great food. Leann is a great cook, wish I could take you home with me. Will, love your accent. Nicole, we love your smile and friendliness. Thanks for a safe and fun trip! We love the BVI.
Jeff & Joanne

I can't believe how fast the week went. You all made it possible. Great boat to be on. Fantastic food. We like how you introduced all the cheeses from Wisconsin. We will miss you guys! Don't forget if you come our way to stop in.
Ken & Joellen

Thanks for everything, the crew, food & fun times went too fast. Look us up if ever in Wisconsin. You all took very good care of us. Thank you all and good luck.
Lots of love, Ron & Diane

27 Dec - 3rd Jan, 2017 ~ New Year's Eve in St. Maarten
Willem, Nicole & Lizzy,
Thank you for a wonderful trip! Our family had an "amazing" experience because of your generous hospitality and your collective effort to make our time together fun and truly memorable. Your warm personalities, incredible service and absolutely delicious food and refreshing (and healthy) drinks made our entire trip relaxing and special. Thank you so much for the wonderful memories! We wish you smooth sailing and happy, healthy and joyful years ahead! You make a great team and we wish you all the very best in life and hope to see you again soon.
God bless you all, with love - Jay, Lisa, Catherine, Claire, Sarah, Nils, Hannah and Max

One of my favorite places was Dog Island.
Max

I enjoyed Dog Island too, I think we all agreed and were saying it was one of, if not, the most beautiful beaches we've been on. This was such an amazing trip, seeing and spending time on such pretty beaches, islands, snorkeling, hiking, enjoying time on the boat relaxing and everything else, really. Thank you Will, Nicole and Lizzy for an amazing time. We are thankful to have had shared such a fun trip with you. Hannah

Such an amazing trip! It's hard to choose a favorite because everything was so nice. I loved the last island we visited (Fouche). From the gorgeous hike overlooking St. Barth's to all the beautiful marine life snorkeling. It was unbeatable! Thank you so much Will, Nicole and Lizzy for making this such a memorable trip. You guys are the Best!
Nils

There are too many favorites to list, but Meads Bay and snorkeling in Fouche (turtles) were some of my favorite highlights! The food was all amazing on the boat; favorite dinner was New Year's Eve; mashed potatoes, ham, sausages, beets and veggies! Lizzy is an amazing chef! You guys were all so great and I really can't thank you enough
Sarah

Nicole, Lizzy & Willem! A brief note could not do justice describing the incredible trip with you guys! Truly unforgettable; from exploring Dog Island all to ourselves, waking up to Nicole's smoothies, incredible snorkeling especially the last few days at Gustavia off Columbier and at Fouche! Lizzy, your cooking and constant positivity made this week so enjoyable (although I may need to hit the gym in January now). Willem, you are the master of these Seas, thanks for being so patient while you and Nicole heard the dingy for our slowpokes! Thank you for making us feel so welcomed and spoiled! Well, I hope our paths cross again!
Claire

Thanks for everything! We loved it! We'll cherish our special memories. Thanks to you all and God Bless Love Lisa

We miss you guys!

We had an incredible time and we are so thankful we got to meet and spend time with you, Nicole and Lizzy. You guys are a great team (and you all compliment each other very well). We were spoiled all week by your warm personalities, incredible attention to detail and friendly service. It was clear from the beginning that you all wanted to make our experience special, which it certainly was - thank you all!

We know you have some exciting charters (and even more exciting trips ahead), we wish you, Nicole and Lizzy all the best this new year and always!

Thanks so much for looking out for and taking such good care of our family. We will always remember you guys and our memorable experience with you.

Let's stay in touch. God bless you all.

Thanks again, Jay, Lisa, Cate, Claire, Sarah and Nils, and Hannah and Max


Itinerary included:
Day 1: Simpsons bay - Maho snorkel
Day 2: Buckaneersbay, Road Bay Anguilla
Day 3: Meads Bay, Dog island, Maundays bay Anguilla
Day 4: Tintamarre SXM French side, Port of Gustavia
Day 5: Columbier, St. Barths
Day 6: Salina Beach and back to Gustavia
Day 7: Ill Fouche
Day 8: St. Maarten Dutch side.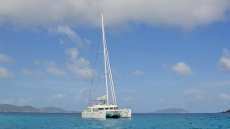 18-25 December, 2016 ~ Christmas in St. Maarten
Amazing and her crew were "amazing"! Kind, generous, fun, professional. Thank you for such a wonderful week. Every aspect was amazing! Will, Nicole and Lizzy were wonderful because the food inside my stomach is smiling.
Love Sean

You think you're an adventurer? Thank you so much for the trip of a lifetime and a fantastic week Nicole, Lizzy and Will!

Talk about service with a smile! The crew on Amazing are, well, AMAZING! So fun and kind and patient and willingness to share their love for the ocean and sailing. The food was show stopping, and the boat breath taking. Thank you for an unforgettable week!

Amazing is an incredible catamaran, with an even more dedicated and fun-loving crew. Willem captained while coordinating everyone's wishes. Lizzy cooked all delicious meals (including a South African Christmas dinner), and Nicole always had a smile on her face. Thank you all and this boat for being flexible, enjoyable and enthusiastic! - Love Jessica

Thank you SO MUCH for the happiest, most adventurous, fun, funny week of my LIFE at SEA! We'll miss you Lizzie, Nicole and Will - Ethan

July 16-21, 2016 ~ A Lovely Time!
We had a lovely time. Thank you for working with us so that we could be with our family on Amazing. We really appreciate the help you gave us snorkeling.
GC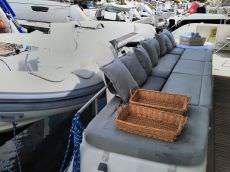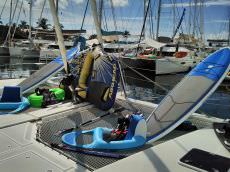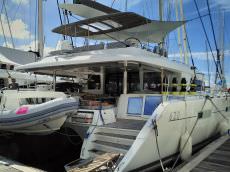 Italy August 2014
Wonderful memories on Amazing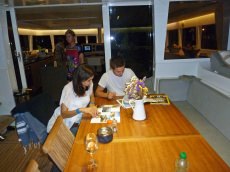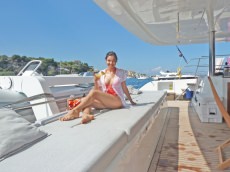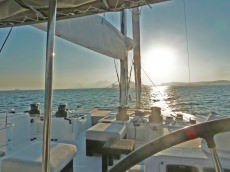 Italy August 2014
More fun pics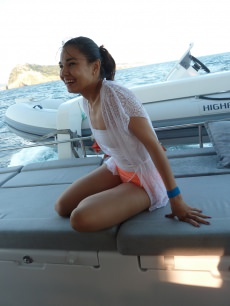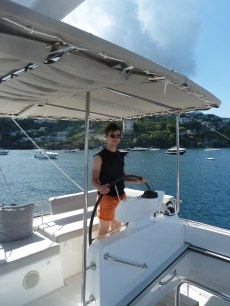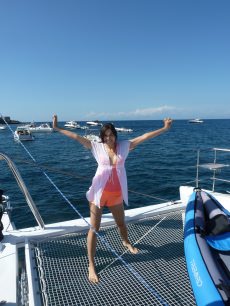 Italy August 2014
More Pics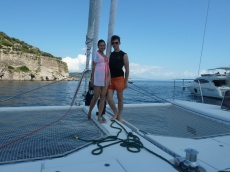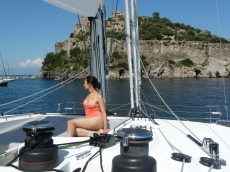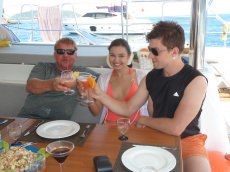 Italy August 2014
Beautiful Italy on Amazing!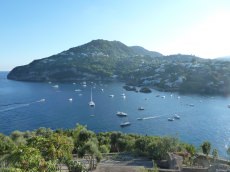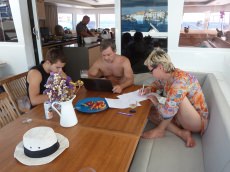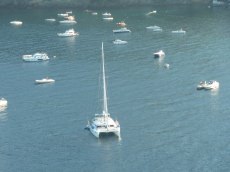 August 2014 in Med
Awesome time in the Med on Amazing!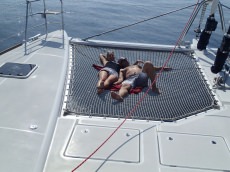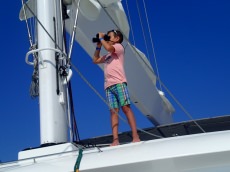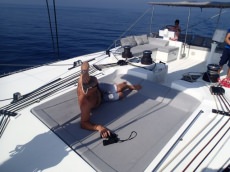 August 2014 in Med
Awesome time in the Med on Amazing!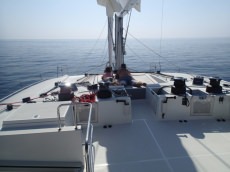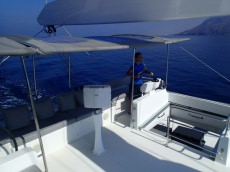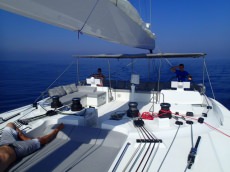 August 2014 in Med
Awesome time in the Med on Amazing!