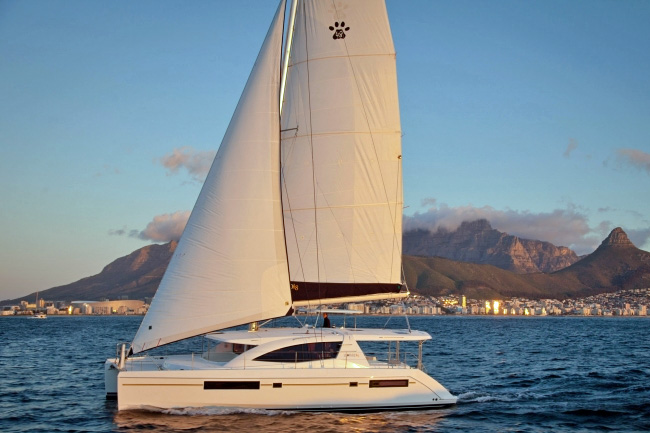 Weekly Charter Rates

From

$13,400

(2 passengers 7 nights)

To

$15,400

(4 passengers 7 nights)*

*Price range is subject to change. Please

Contact Us

for pricing for various party sizes, number of nights and seasons. Best price guarantee: We endeavor to offer the lowest prices available and will always match lowest rates. We accept Visa, MasterCard and AMEX, no fees.

Specifications

Guests
Cabins
Length
4
2
48ft
Guest cabin configuration:
1 Master, 1 Queen en-suite cabins with A/C
Designer

Leopard

Built
2013
Children Allowed
Yes
Children Min. Age
Swimmers
Home port
Red Hook, St Thomas, US Virgin Islands
Scuba
Rendezvous only
Special Offer
$400 Discount in the BVIs
Details:
Save $400 off the listed rates for charters with BVI pick-ups and drop-offs.
Dates:
Available for charters starting now through 31 July 2018
Reservations need to be confirmed before 1 July 2018
Catamaran Blossom Overview
Blossom is a 48ft crewed Leopard charter catamaran launched in 2013 that features a large master suite with ample storage and office desk which occupies an entire hull, plus a queen cabin. Both guest cabins have a private en-suite bathroom and entertainment system as well as individually controlled air conditioning.
In addition to a spacious cockpit the yacht has a covered seating area forward which makes an excellent private retreat. The yacht's helm station is raised which leaves the cockpit uncluttered.
Bright and airy throughout, Blossom is an ideal crewed catamaran for up to 4 passengers sailing the Caribbean Virgin Islands in comfort and style.
Why you should book Blossom!
Blossom is a newer yacht with a large master cabin, forward covered seating area and is bright and clean throughout.
Ports and Available Cruising Areas
Red Hook, St Thomas, US Virgin Islands (Home)
Village Cay Marina, Tortola, British Virgin Islands (Additional)
West End, Tortola, British Virgin Islands (Additional)

Green Initiative: Eco friendly products used when possible. Do not use disposable products like glasses etc. Filtered water available on board, no plastic water bottles. Solar panels.
Amenities
Air conditioning
Electric Heads
WiFi Internet: Onboard WiFi
Flatscreen in Saloon
Sound system
Hairdryer
Ice maker
Board Games
BBQ
Deck Shower
Flatscreen in Cabins

Water toys
Kiteboarding: 2 full sets of kite boarding gear for experienced kiteboarders
Dinghy: 40HP Yahama Enduro
Snorkel gear
Stand-up Paddleboard: 2
Kayak (1 person): 2
Wakeboard
Kneeboard
Towing tube
Waterski Adult
Floating mats
Additional water toys: 2 surfboards, 2 folding bicycles, study with guest computer in master suite, memory foam beds
Fishing gear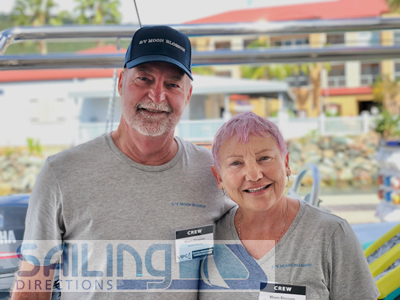 Meet the Crew
Jamie & Thea Young
Jamie was born in Zimbabwe and started out working life in the field of electrical engineering and building construction. After leaving Zimbabwe in 1984 with his wife Thea and their young children, they lived for 11 years in the beautiful wilds and outdoors of Botswana. Subsequently they spent 8 years in Cape Town and here Jamie started following his dream and with friends and family began recreational sailing around the unpredictable African wild East and West coasts and off Cape Town.
After landing a job as a Projects Manager in the UK, he and Thea moved to the United Kingdom where they have lived for 10 years. It was in these waters Jamie decided that a 9 to 5 job was not for him and so decided to pursue a professional sailing career in the yachting industry and in the process has sailed the strong tidal waters of the Solent off Portsmouth and Southampton and up the West and East coast of UK, including cross channel sailing to the Channel Islands, France and the Brittany coasts. He now holds the RYA Yacht Master Certification. In addition to sailing the coasts of South Africa, the U.K., he has also sailed in the Bahamas and the Caribbean islands of St Vincent and the Grenadines.
Jamie's electrical engineering, building and managerial background contribute to his captain's skills, expert seamanship and in-depth understanding of the varied mechanical, electrical and digital systems aboard Yachts. Jamie also holds the PADI open water diving qualification and loves exploring the beauty below the waves...read more
Thea was born in South Africa and at a very young age moved to Zimbabwe, where she met and married Jamie. She pursued careers in retail merchandising, accounting and hospitality both in Africa and the UK. She has always loved cooking and whilst in Cape Town owned her own bistro. Thea loves sports and the outdoors, having played tennis and hockey at club level and enjoyed water skiing. Since moving to the UK, Thea took more interest in yachting, and immediately hopped on board with Jamie's decision to pursue a sailing career and rekindled her love for cooking by attending the renowned Ashburton School of Cookery in England where she did the Mediterranean and Fish and Seafood courses. Thea is looking forward to putting her culinary and social skills to work for guests aboard Blossom sailing in the BVIs.
Jamie and Thea's life experiences in Africa and the United Kingdom combined with their sailing, world travel and gourmet cooking, and not forgetting the best BBQ's / South African 'Braai's', and their warm hospitality, will guarantee you the vacation of a lifetime, every time, aboard catamaran Blossom.
See reviews
Availability
calendar

for Blossom:

Listed below are any confirmed reservations or unavailability, as well as current holds / options. Note: this calendar is not always 100% current. Please contact us for more information about available dates aboard this yacht.
Upcoming 12 Months Reservation Calendar:
Available:
Available weekend day:
Hold/Option:
Booked:
Unavailable:
Off season:
Reservation Calendar with Port Locations:
Currently there are no bookings for Blossom
Hours required between charters: 48

Contact us for rates and current availability or to book a charter aboard Blossom!
Charter Guests with Jamie and Thea said:
"Absolutely fabulous!"

"We sailed with my wife and 2 daughters, 9 and 8. We all loved Jamie and Thea and highly recommend them for any charter. "

"From the moment we met Jamie and Thea it was if we had known them for years. They are the consummate hosts and meet your every need before you even know you have one! This is the best boat with the best hosts in the BVI. We will be back!"

"What a wonderful experience this was! Jamie and Thea were an absolute joy to be around. They had a wonderful sense of humor and great knowledge of the BVIs. We loved spending NYE with them. I can't wait to book our next adventure!"

"It was our friends first time chartering and in the BVI so it was great fun to be with them and share. Thea and Jamie were exceptional hosts! Clean and relaxing environment, wonderful sized staterooms and baths, Thea's food was wonderful and she did a great job catering to one of our folks who is a "little bit picky", Jamie and Thea both showed us the ropes on chartering - teaching us along the way. Couldn't have asked for a better boat or crew! "
Reviews for Blossom with previous crew:
Blossom was absolutely perfect! We loved everything about the yacht. The food exceeded our expectations. Byron & Molly went above and beyond with everything. The itinerary was a great combination of everything we ask for.
Randy K, aboard Catamaran Blossom sailing the Virgin Islands
Molly and Byron were great - very friendly, knowledgeable, fun and engaging. They very incredibly accommodating and they made the trip so fun.
Blossom was very comfortable, clean and well ventilated. Our favorite aspect was the comfort and spaciousness. It was an added bonus that all sunscreen and shampoo/conditioners/soap was provided.
The food was delicious! We really liked all the meals - plenty of snacks, many of them healthy. Molly is an excellent chef!
Byron took us to many interesting places - many a bit out of the normal tourist areas.
Molly and Byron were really great - they seemed to know when to be available and when to let us be - we enjoyed playing games with them and talking to them about all of their different experiences. They were really good with our two teenage boys as well.
We were very happy with Sailing Direction's service - any issues that came up were addressed quickly. All questions were answered immediately.
John H, aboard Catamaran Blossom sailing the Virgin Islands
Byron & Molly made our trip everything that it was. From before we even left their planning and preparation made us comfortable. They stayed in contact with us leading up to the cruise, to as soon as we landed and until we met at the boat. They welcomed us and immediately made us feel at home. They simply could not have done more for us. They were extremely warm and friendly every second of the trip. They always made sure we were relaxed and had anything we could ever want. They made sure our days were filled with whatever adventure we wanted and plenty of relaxation. I can't imagine another crew I would ever want to sail with other than Byron & Molly.
Blossom is a spotless, open and airy vessel. It is extremely comfortable no matter where you are on the boat. My favorite aspect of the yacht was the master cabin which was large and more room than I expected.
Every meal Molly made was well thought out and delicious. She made everything to our liking and requested preferences. She asked us for our input to make sure whatever she was making was to our liking. Her desserts were always a huge hit. Byron and Molly were very attentive during meals to make sure all was to our liking and to make sure we always had the perfect drink to accompany the meal.
Byron laid out an itinerary over an extremely busy New Year's week. Everywhere we went we never waited for anything. All of our stops were special in their own way and had magnificent views. I wouldn't change anything about the trip.
Sailing Directions itself did everything I could ever ask. We were matched with a perfect vessel and the support from the booking through the cruise was thorough and professional. Thank you again for everything!
Gerry L, aboard Catamaran Blossom sailing the Virgin Islands
Disclaimer: While we make every effort to ensure that the information for Blossom is current, we cannot guarantee that the details listed are 100% up to date. Please
contact us
and we will happily verify any details for you. Your privacy is important to us, view our
Privacy Policy