Late April, 2017 guests on BREANKER said:
Marianne and Kristian,
I truly don't know where to begin; To try and share my thoughts and feelings abut this past week would take me "pages"! Without a doubt this is OUR BEST FAMILY VACATION EVER! From the beautiful boat to the incredible harbors, snorkeling adventures, boat jumping, tubing, family swimming and so much more – it was all over the top! And what can I say about our meals…. your cooking was FANTASTIC! You both did everything possible to make our family experience onboard the Breanker truly special – and it was! I have never had so much fun and relaxed so much all at the same time. As I stand above – I can go on pages…. Tarpon, sea turtles, pirate show, Honeymoon Bay, sunsets, bubbly pool, kayaking and trail hiking!! Please understand that as I write this and reflect on our week, literally have tears in my eyes thinking about all the wonderful family memories that we made here. Jack, Phillip, Ashley and I will cherish this experience forever. It was also a true pleasure to get to know you and Kristian. Thank you for the hospitality and new friendship forayed… Good luck with your Denmark project and I wish you safe travel home!We will defiantly be back for another Breanker adventure! Thank you again for this incredible experience.
God Bless, With love,
John, Ashley, Jack – 10 and Phillip – 7

My highlight was snorkeling; I had so much fun at Buck Island with the sea turtles. JackI enjoyed snorkeling at Peter Island.
Love, Phillip
Early April, 2017, guests on catamaran BREANKER said:
Marianne and Kristian,
I started this trip at a 0 out of 10. I was terrified of the ocean and apparently had a large seasickness that I did not know of. I couldnt look at an ocean swell without being scared and my heart beating fast. The first morning when I woke up and threw up for 30 min. off the side of the boat really solidified to me that I shouldnt be on the water. However, all I needed was a day and you guys made me feel so at home, (ocean included). Somehow with your guidance, and calm, cool collectiveness, I was able to ease my way into the ocean and overcome (not all the way) my fears. I saw dolphins, swam with turtles, heard shark and got out of the water (Thank Good), and so much more. The food was incredible and the company of you guys was so much better. Wish you nothing but the best!
Xoxo Kelly (the girl that was scared of the ocean)

Marianne and Kristian,
Thank you so much for our second charter experience. We loved the USVI way better and this was the perfect week away. Thank you for you hospitality and for keeping our bellies full. As always the food was amazing. I feel this trip was extra special given all the animals we got to see sea turtles, an octopus, a sand shark etc. The jumping stingray was also amazing! Since our sister and brother in law missed the trip due to their Breanker baby, we will be back again soon! Have a safe travel to Denmark and enjoy your time off with your family! Wishing you all the love and happiness.
Joe and Lauren

Kristian and Marianne,
Lighting does strike twice! This our second trip with you and again the adventure was one to remember. I especially appreciate the way I can share with you what our family likes to do and you then take us to the place where that vision becomes reality. Private beaches, coral reefs, hiking trails, visiting old plantation ruins, and spending a night listening to live music in a cozy island bay bar! More happy days to you both.
Dan and Linda
Guests aboard catamaran BREANKER in mid-March said:
Dear Kristian and Marianne,
Dave and I would like to thank you for your graciousness this week we loved spending the time on Breanker with you both as our hosts. Its difficult to have four couples with different needs and expectations, but you managed to make it all seem seamless and to make each couple feel completely spoiled. And as special as this past week has been, with so many fun and different moorings, I think that the one thing we will treasure most is meeting the two of you and getting to know you. We wish you the best in the future adventures and truly hope to be able to spend more time with you on Breanker again!
Hugs to you both, Dave and Susan

Kristian and Marianne.
WOW what a wonderful week! We greatly appreciate your hospitality, flexibility and unfailing good humor this week. The food was marvelous, the boat and the amenities perfect you just made it seem so easy. THANK YOU for a perfect week and we look forward to joining you here on Breanker again in the future. In the meantime we will follow you on the net and wish you safe travels and fair weather. Thank you again for everything.
Brian and Heather.

Dear Marianne and Kristian,
The two of you have given us a trip of a lifetime.
I say, as we wont be back! But we WILL! Your command of your boat, incredible service and fine dining has given us a wonderful experience. We are so grateful! Being boat people, we understand the work and concern you have to have to run a week with us charter folk. We were able to relax 100% confidence in you both. Some thing new for us for sure. You both have been so genuine we love you and welcome you in to our family! We know for a fact that we will continue to be in touch. Our lives are now intertwined. So. until we meet again. Stay healthy and strong! Keep eating your healthy food and drinking water!
Love to you both, Ted and CJ

Dear Marianne and Kristian,
AMAZING AMAZING AMAZING!
We had such a wonderful time on board your beautiful boat. It was a trip of a lifetime. We loved all the wonderful food and great wine. You both are so wonderful and you made us feel so much at home. We will follow you on FB. Lets keep in touch and we will be back again. Thanks for all the great memories. We love you both.
P.S. Come and visit us in Destin. We would love to have you both. We will take you out on our boat.
Larry and Beverly.
Early March, 2017 first-timer charter guests from Minnesota, Florida &d Alaska on BREANKER said:
We cant say enough to express the wonderful hospitality, culinary and sailing expertise! Of Marianne and Kristian - They keep such a clean boat and clearly they are so organized with their years of chartering. We felt so pampered with food, drink, dinghy-shuttle and tour guiding by these lovely warm people. I can only hope that we might be able to come again on a charter with Kristian and Marianne. Oh, and it was so fun for snorkeling! We loved the Bath and the Dogs Isle for this the best.
If you EVER decide to enjoy seeing Minnesota in the summertime we would LOVE to host you - In fact, we would include some boat time of the St. Croix River too! I hope we keep in touch for a very long time.
P.S. I hope they do not have a bouncer who will force/through us off the boat!
Cyndi and Steve
Today is our final day in our precious 7 days!
We had a wonderful time exploring the islands and swimming in the beautiful blue water. Before we came we thought we knew about the treasures here in the USVI and BVI We thought is was the brightly colored fish, amazing beaches and the crystal clear water. It turns out the real treasure was the friendship we now have with Marianne and Kris. We will cherish our time spend with them and look forward to our return trips. Thank you 100,000 times.
Chris and Helen
Kristian and Marianne, Thank you so much for a wonderful week! This was our first time on a sailing charter and the experience has been fantastic! As a matter of fact this was our first trip big trip as a couple and we didnt break up! We will be talking about all of our adventures, the beautiful sights we got to see, the fantastic food Marianne prepared for EVERY meal, the comfort of Breanker, our knowledgeable captains and all of the wonderful memories we made with our friends. Thank you so much for all your hospitality and sharing so much information about your selves and the BVI and USVI! It has been a vacation of a lifetime!
Steven and Mary
3rd time repeat guests on catamaran BREANKER said:
Kristian and Marianne this was our third charter on the Breanker and we had an absolutely fabulous time. Kristian and Marianne are the most welcoming and enjoyable hosts we would not ever consider chartering with anyone else. They always go out of their way to make sure that their charter guests have a wonderful time. Mariannes cooking is spectacular and the meals are healthy too! Although this is only our third charter it feels like we have known Kristian and Marianne for 10 years. We had such fun every night laughing until our stomachs hurt. The trip was pure joy for us. We are so relaxed and happy that we do not want to leave the boat. We will most definitely charter with them again. Thank you both for making our trip so enjoyable and memorable.P.S. Also I meant to mention that Kristian and Marianne keep Breanker in such good condition. The boat is always immaculate.WOO HOO! We want to do 10 days next time!
David and Cindy
Late February, 2017 guests on BREANKER said:
Kristian and Marianne. Words are inadequate to capture our feelings regarding this trip. Don and I have never been on any type of cruise but after hearing all about you from Cyndi and David, we truly wanted to experience you and the Breanker. It so far exceeded our expectations that we are still trying to process the whole experience. You have both made us feel that if Breanker was our home, as well as yours. We relaxed, saw crazy beautiful bays and islands and had absolutely fantastic food!! Snorkeling for the first time was a great experience and we can truly not wait to come back and move in with you again! We are still waiting to be adopted We hope to see you soon (April?) Hopefully you will be doing this for a very long time!
Lauri and Don

This past week has been one of the best of our lives we appreciate the effort and passion you put into every detail. And thanks for allowing us to be the first drone flight of the Breanker cant wait to share the footage! You both are amazing!
Debbie and Jeff
Late January, 2017 guests aboard BREANKER said:
Dear Kristian and Marianne.
This was our introduction to catamaran sailing and WOW was it great. From the wonderful food to the beautiful sites, it was our greatest relaxing vacation we have ever taken. You two made the experience all the more special with wonderful Happy Hour drinks and snacks. But perhaps the best part of the trip were your warm hearts and great stories. You made this vacation personal, relaxing and most of all fun! Thank you again for helping us renew friendships, make new friends, eat fabulous food in beautiful locations and experience life in the BVI. You have made this experience truly great.
Love, Dave and Tonya

Kristian and Marianne.
Thank you for a wonderful week! It was so relaxing! The bays were the most beautiful. The very best part of this trip were both of you! We loved every moment we got to spend with you. Your stories were fun and very entertaining! Thanks for making us feel like a part of your family. We are already planning to come back in 2019! See you soon!
Steve and Karie

Holy cow! Where do I begin! We will begin with the crew. You two are nothing short of amazing. You work together so well that we cant really tell which one of you are in charge! J The food and wonderful company really did make the trip complete.because the place is the most beautiful on earth. A trip like this has always been a dream of ours and we were not disappointed. We (as you know) are now figuring out how we can get back here. We hope you will continue to charter forever, because now we have discovered sailing we do not want to do it with anyone else!!
W/love Ron and Liz
23rd Charter! WOW! Guests aboard catamaran BREANKER for their 23rd charter with Marianne and Kristian said...
Dear Kristian and Marianne,
Well, on our 23rd trip now you are still introducing us to firsts. The overnight in Honeymoon Bay with the world-class musicians on Water Island was fantastic. Its very rare (unheard off) to go to Carnegie Hall in shorts and flip-plops! And then to Maho Bay on St. John to Marina Cay to Leverick. Thank you for joining us at Hog Heaven what a view! Then to Anegada thank you for spending the afternoon at Loblolly Beach, gorgeous, especially watching the breakers on the reef. Back on Breanker for snacks and adult beverages I still cant believe that sunset incredible!! Have you ever seen the ocean that still? 30 feet of water and we could see the starfish on the ocean floor. Long smooth ride to Green spit Friday, another first with the wind mostly from the northwest. Then our last night on board anchored in front of the Bee Line. Okay, so Ive written too much. It was a great trip! Oh, and the food, as always, was gourmet. Hope to be with you guys again soon!
Love Martin and Jodie
P.S. I forgot to mention the lobster dinner with you guys at Anegada Reef Hotel It was wonderful! Thanks again.
January, 2017, guests on BREANKER said:
Dear Kristian and Marianne.
This trip has been the most wonderful trip that Scotty and I have ever been on. The boat, the food, sights, company have all been outstanding. The diving and snorkeling have been exceptional. Thank you for bringing us to the full moon party it was a blast. Thank you both so much for taking such good care of us. We hope to sail with you again
Love
Scotty and Cindy Jo

Kristian and Marianne.
Shawn and I feel so blessed to have met you two. You are living a life most dream of!! We know it is hard work and the sacrifice you give to provide us a wonderful vacation. Thank you so much for sharing your time, boat and lifestyle with us. The food is amazing, sights beautiful but most of all the new friendship we have with you. This was truly our best trip ever and I cant wait to come back!! What an awesome time we have had! Thank you again!
Love
Shawn and Leigh
New Years celebrants on catamaran BREANKER said of their week aboard:
Dear Kristian and Marianne.
This was the BEST trip! Everything about it was perfect the food, the places we visited and the company! I cant wait for the next trip down here to do more exploring.
Love Melinda
Kristian and Marianne.
Thank you for the best vacation ever! It was so relaxing and everything you did added to how amazing it was. Hopefully we will see you again.
Love Schuyler
Happy New Year!
This was a wonderful treat to meet you, enjoy your knowledge and hospitality and welcome 2017 with you at the Bitter End Yacht Club. Thank you for a terrific introduction to the BVIs. We look forward to our next trip!
Rick
Thank you for a fabulous week. Breanker is so comfortable and well-kept, your pride in your boat is evident! We appreciated your local knowledge and perfect suggestions for our itinerary. The meals astounded us every time so delicious, great variety and where did you store all the food that kept on appearing? Your calm gracious demeanor and hospitality was the biggest highlight. You made us feel at home and took the best care of us. Thank you for an incredibly memorable vacation. We will be back!
Betsy
Thank you for such a fun and relaxing vacation! The food was perfect and the rum punch was hard to beat. You are the perfect host and hostess.
Lee
Dear Kristian and Marianne.
I cannot begin to thank you for the most amazing experience. I never thought that I could be brave enough to sail for a whole week. You made this week so incredible amazing for me! The food was so incredible, and all of our destinations were stunning. You two are so wonderful and I will never forget you. Thank You! I cant wait to sail with you again.
Liesl
Thank you guys for the best trip ever. I love you and this boat and the BVIs and wish you were my grand parents. We will be back.
Hadley
Kristian and Marianne.
Thank you for the most amazing trip! It would not have been the same without guys! I hope we will be back to see you soon!!
Xoxo Isabelle
3rd timers aboard catamaran BREANKER for Christmas week, 2016, said:
We are all so happy to share Christmas with you. Our kids have the best memories from each time on your boat. Such a great Christmas! We decided that our best trips are on the Breanker! Looking forward to our next trip!
Carrie
Im privileged to say Ive had 3 trips of a lifetime in only my so far short one. Thanks for making each time better than the last .
Much love,
Cyrus
Every time our family come to stay with you guys we have a great time. I am so glad that me and my family was able to have the pleasure of spending another vacation with you. I look forward to when I will see you again.
Kian
I love being on your boat during the cold months back home. The food is always amazing I cant wait to come back.
Kamran
The 3rd time out on the Breanker. My family and I enjoyed hospitality of Marianne and Kristian. They are charming, accommodating and very knowledgeable. For us, the best Caribe experience is on Breanker We will be back Thank you Marianne and Kristian for another wonderful trip in Paradise.
Houshang
6-times guests aboard catamaran BREANKER wrote:
Kristian and Marianne, spending a week on Breanker is like coming home for us! I dont even remember how many times we have been here but you just cant get rid of us. As always, this week was fantastic even though we got in troubles for leaving our portholes open (on the sail back from Anegada). Next time we promise to keep ALL our stars!
Bill and Dee

2-time repeats -
Dearest Kristian and Marianne.
Thank you again for your wonderful hospitality. We enjoyed our second time around even more than the first and we werent sure that was even possible food was incredible and thank you for introducing us to Little harbor a new favorite! We hope to be back sooner than later
Dean and Terrie the only ones left with 5 stars xxo!

Kristian and Marianne thank you for giving us a wonderful vacation. The food was the best ever!! We loved all the places we saw, the ones we saw before and all the new ones. This was a trip of a lifetime for us. Good luck and we hope to see you again.
Jack and Patti

3rd timers -
Kristian and Marianne Boarding Breanker and seeing you two again was like arriving at my home away from home. Your gracious hospitality, cooking and sailing skills are unsurpassed! Loved the sail to Anegada and snorkeling at little harbor. Many thanks to you for a wonderful vacation!
Sheryl and Don
Repeat guests in early April, 2016, aboard BREANKER said:
Dear Kristian and Marianne, thank you for an amazing week! We love the time we have spent with you and cant wait to come back. Love the hot water; flush anytime toilets and all the diet coke J ! We will be back and send our friends and family. Maybe we will come with Mike next year. Dont retire too soon. If you are ever near SLC, come and visit.
David and Kristel

What an awesome trip!! Kristian and Marianne have been absolutely wonderful! We appreciate their kindness and their great sailing skills. Thank you for showing us such beautiful places. We loved the dives, snorkeling, fishing, hiking and just plain relaxing. What a great setting to do these things. And what fabulous cooks!! Thank you for a wonderful week!
Jerron and Melanie

What an amazing trip! Every expatiation was met and beyond. Thank you both for sharing your beautiful boat with us for a week and sharing your life adventures. What a story the two of you have together!! Incredible food! Truly a once in a lifetime experience for us. Safe sailing!
Ryan and Irene

WOW! Thank you for an amazing week! You two are unbelievable great food, great touring, and great diving! We feel so privileged to get to join you on your amazing adventure! You two are an inspiring team. Brad LOVED the bone fishing I loved everything! You made us feel so at home just cant say enough about this trip! Definitely excluded my already very high expectations. Try Again!!
Brad and Kimberly
Five-time repeat guests aboard catamaran BREANKER in late March and early April, 2016, said:
Marianne and Kristian. Once again you have outdone yourselves in making our trip enjoyable. We feel like you are part of our extended family now! Each of our five trips with Kristian and Marianne has been spectacular great folks, food, scenery and company. Our family trip was enjoyed by all. Little harbor has the very best snorkeling and is Mariannes favorite spot. Riley exceeded on the paddleboard and John made a valiant effort. All agreed that White Bay was the best beach in BVI. We have remained friends over the years and value our relationship with Kristian and Marianne.
Harold and Julie
Dear Kristian and Marianne, thank you for a wonderful week at sea. The views were incredible as well as the boat. This was a very unique experience for Riley and I. You made us feel very welcome and at ease. The food was awesome and I enjoyed trying out new things! We will keep up with you on Facebook.
Donna and Riley, John and Jennifer.
Guests aboard BREANKER in late March, 2016, said:
To two fabulous hosts who felt more like family. You made me feel so welcome. The food and the company I give you all the stars in the sky. Thank you for such a wonderful voyage on the Breanker. Looking forward to next time.
Claudia

Kristian and Marianne.
Thank you! Thank you for a wonderful adventure we will never forget. It has been wonderful to meet you smiling, welcoming faces and be able to eat such yummy food and see such beautiful places. We look forward to another sail with you in the future! Thank you!!
Janiece (and Garry)

Dear Kristian and Marianne, thank you for making this trip so, so extraordinary! From the food to the smiles, Ill remember this trip forever. Thank you for taking so great care of us. We will miss you both. Happy Easter, all our love.
Gary (and Janiece)

4 times repeats aboard BREANKER
Thank you Kristian and Marianne for another wonderful vacation. You take such good care of us that we dont want to go home! The company was delightful and the food delicious. We cant wait to come back for another charter. We love you both.
Teresa and Tom

3rd times repeats aboard BREANKER
What more is there to say? You are truly like family to all of us! It was a fabulous trip! Great sailing, fantastic food, marvelous company. We are blessed to have met you many years ago and to have been able to come back. I am certain we will see you again love & hugs,
Billy and Kristin
22-time repeats for Kristian and Marianne aboard BREANKER said:
Well, weve had another wonderful trip. with friends this time. Thank you so much for taking such good care of all of us old folks!! Again we couldnt have asked for any thing better. food, hospitality, graciousness all just right. Thank you especially for the lobster bisque and the wonderful lamb chops!!
The only problem was we had to wait 6 weeks before we could be back onboard with yall.Love to you both and wishes for a successful end of season.
Martin and Jodie

2nd time repeat
Dear Kristian and Marianne. Thank you so much for your kind hospitality. You two are gracious hosts who made us feel at home and so very welcomed. We have all had a wonderful time this week with yall on Breanker and are so looking forward to seeing you again for another smooth sailing vacation. You two are such a wonderful team with great food, wonderful sailing and delicious blueberry cheesecake to boot!With love and appreciation
Lisa. (Hopefully Scott can make it next time)

Its a rather sad morning as we draw near to St. John to end another beautiful time with you both on Breanker. Weve enjoyed our time with you again and hate to see it come to an end. You both are consummate hosts. Thank you for sharing your boat and yourselves with us. My favorite breakfast place in the world is the cockpit of Breanker wherever she may be anchored or moved.
Blessings Woody and Linda

Early March, 2016 guests aboard BREANKER said:
Kristian and Marianne, where do I start? This has been a wonderful week. From the moment we stepped onboard our every need and want has been taken care off. All meals were wonderful, coves spectacular and the company was great! It will be extremely hard to step back into reality next week. Thank you for a wonderful trip!!We look forward to returning!
Michelle and Richard

Kristian and Marianne,
It is hard to describe in words how wonderful this past week has been. It truly has been a dream vacation! Your hospitality and all your efforts to provide such an exiting and wonderful week is so appreciated! Our meals were delicious and served with such beautiful flair. 11 years ago Rex and I were in Tortola and saw boats like this in various areas we visited. It looked like the guests were having so much fun. Even with such a memory I could not imagine just how wonderful this week truly would be! It has been a trip of a lifetime!!
Thank you!!
Rex and Susan

Kristian and Marianne, from the moment we stepped onboard have been amazing! Our rooms were very comfortable and clean. The food was incredible. Every meal was wonderful. Beautiful snorkeling and sailing was great. What we liked most was the personal experience with both you and Kristian. This was a once in a lifetime but hoping to do it again soon. Thanks so much for the great hospitality and experience.
Michael and Jennifer.
Guests on board Breanker February 27th 2016
February 27th 2016
Kristian and Marianne.
On behalf of all of us, I will start by saying thank you a million times for such a great week! You are masters at your craft and have toured and fed us to an incredible state of bliss. Clada and I have done this several times before and you have raised the bar, to a new and very high level. Thank you so much!
Your boat lay out is out of this world!!!
Chic and Clada

Kristian and Marianne, thank you for a fabulous week! Every thing was first class. It was my first crewed charter and I shall never ever bare boat again.
Mange tak, Sherry

Kristian and Marianne, thank you for a week in Shangri-La!! Smooth sailing, DELICIOUS food, always a smile and great stories. The Breanker is Heaven. You showed us the best BVI, but your warm style added to the special feeling. It was an absolute pleasure to sail with you many, many taks!
Stacy and Dave

What an amazing time we have had. We were the virgins to the BVI but what a fab boat, crew and crewmates we have had. Amazing experience. Kristian and Marianne made our maiden voyage in BVI that will last forever and we hope we will return again. (If you will have us). The boat is perfect great comfortable accommodation fantastic trampoline-sundeck the biggest of our flotilla of boats. Thanks you guys true hosts!
Happy sailing, Steve and Anne

Breanker guests February 13th 2016
13 February 2016
The whistling 8 of February 2016 are so grateful to Marianne and Kristian for a week filled with many laughs, great food and. the change to observe their seamless dance as they worked together in every aspect of this week their extreme knowledge of the BVI and their ability to customize our trip, showing us the best spots, and their beautiful timing which allowed us to do a lot of activities without ever being rushed We loved Mariannes story time we loved the quiet sailing we appreciated their professionalism and attention to detail which created a relaxed, safe atmosphere Mil was appreciative that there was no judging on the amount of alcohol we consumed ☺
Thank you for making each of us feel so special! P.S. Sorry about the fishing line x 2.
Lisa and Kenny, Christine and Erich, Bern and Mil, Kate and Dave

Guests on board Breanker February 2016
2/6/2016
Kristian and Marianne, What an amazing week! Thank you so much for sharing your boat with us. We loved the amazing food. Marianne, you are a great cook. Great places to snorkel. Just loved everything ☺
Michael and Shari
P.S. Marianne also wanted to thank you for sharing your holistic reads and coconut oil with me.
Shari
Kristian and Marianne, Thank you, thank you, thank you. My husband and I have traveled to many places and experienced many hosts. You by far are our favorite. As first time sailors youve made this the best experience ever. Your food was to die for and we are very picky about food quality. Every island stop we made you made it so easy and delightful to get around and enjoy. Our rooms were delightful for a 66ft man and his 510 wife. Your home (boat) felt like home and you made us feel so welcome! I could recommend your charter or this experience to anyone and know they would be in good hands. Thank you so much for such a beautiful, happy and enjoyable vacation. I feel honored to have met you and hope we meet again in Denmark or back on Breanker we may have small babies next time but you already promised that was OK!
xoxo Lauren and Joe
Kristian and Marianne, An unbelievable experience. We have never enjoyed a vacation more than this one and we have been on many, trust me. The best part is that it was totally stress free we never had to make a decision, we were totally catered to every minute, and the food was incredible. We will totally be back!
Linda and Dan
Kristian and Marianne, You two operate this boat and craft this vacation experience with a level of expertise, calm and warmth that has likely spoiled me for any other charter. I will remember every delicious morsel and the coral flower garden for years to come. Thank you for letting us take part in this harmonious adventure with you and we hope to see you in 2017 if not sooner.
Joe
Kristian and Marianne. Thank you so much for this amazing experience. Being able to relax completely stress free with my family has been wonderful. We will never be able to top this experience from this amazing time in our lives. You have both been kind and so unbelievable accommodating. Weve loved your stories and truly enjoyed meeting you both. The food, what else can we sayINCREDIBLE!! I hope to be back w/larger families ☺
Mary and Sean

Multiple repeat guests aboard BREANKER - January 28,2016 16 YEARS!!!! 20 TRIPS?
Well, Kris and Marianne, we made it back!! One of these times we actually have to count the number of trips we have made with yall. Its been 16 years now since our first and quiet a few times we have been lucky enough to be with you more than once a season!As always, the time this year was amazing! Laid back for us this time no snorkel or swim trips which was just what we needed!Getting us to our favorite anchorages in time for cocktails, lobster dinner at Anegada Reef, special time with you both on Cow Wreck beach, Anegada, Marina Cay, Peter Island, lunch at The Top Of The Bath all new wonderful memories to add to our own list.Time on Breanker is always so special the hospitality, the food amazing always SO GOOD, comforts of home and we are always still so pampered and cared for!We truly love you guys and hope to add to our memory and many more times on Breanker!! If not once more this season, hopefully next!!Thank you again for ALL you do and for always making us feel so special!!
Much love Martin and Jodie
From guests aboard BREANKER for New Years 2015/2016
Thank you for your hospitality, experience and wonderful meals. We enjoyed every minute of our time on Breanker. One of the best holidays we have ever had!
Gordon, Donna, Emma and Ethan

So thrilled that our first introduction to the BVI was on board the Breanker. We loved celebrating the New Year at Foxys, exploring great snorkeling spots and soaking up the sun in the trampoline! The eight of us had a fantastic vacation. We are all well rested and well fed. Thank you!
Bill, Sheila, Riley and Grace

Thanks Marianne and Kristian for everything! Sorry we kept on forgetting to turn off the fans. We loved all the delicious meals you made for us (gluten-free too!) Yum J Agreed I think I gained 5 pounds!! But you kept us busy snorkeling and enjoying adventures both on land and in water! So thankfully I lost these 5 pounds! If you are ever in the Boston area be sure to reach out to us J we would love to show you our home too. Even though the weather there is probably as cold as Denmark. Thank you again, you really made our time in BVI special!
Best Riley (19) and Grace (18)

Marianne and Kristian. Thank you for a trip of a lifetime! You took us on so many adventures that well never forget. I said it every time I passed the galley, and every time each meal was served but the food was AMAZING!!! Not only did we have a great time, but we learned so much about the BVI, sailing and your Danish culture. Thank you both for these amazing memories that well hold dear to our hearts.
Much love Emma (15)

I loved being onboard the Breanker. Some of the best days I have ever had. Weather was relatively good J the food was amazing. I had a fun time doing one of my first salt water dives with Kristian (our amazing captain). Checked out some great spots, meet some nice people.and had a great time!
Ethan (13)
P.S. Thanks for the food Marianne and the dive Kristian and every thing to the both of you! J
Christmas Guests on BREANKER, 2015
The Dugans
Great views, great meals, great company! Thank you for everything it was an outstanding vacation that will be impossible to forget. The Breanker will always hold special memories!
Maggie

Had a great time on the Breanker with you guys. I couldnt have had a better trip! Thank you very much!
Ryan

Rain drop keep falling on my head Really? Batten down the hatches. Loved every minute! BTW Need GPS for the adventures thanks for waiting Kristian
Tom

Beautiful week spend down here with you pirates. Thanks again for all your hospitality, the food was unreal!
Connor

Absolutely fantastic family vacation! Sooo enjoyed your company and our adventure on the Breanker! This will be a memory to last a lifetime! Thank you for all that you did to make us feel so welcome and comfortable. The BVIs are beautiful Jay loved it too!
xo Stacey and Tom
Guests aboard BREANKER in early December, 2015
Dear Marianne and Kristian. This has been an amazing week!!! The hospitality, the food and the sights were GREAT!!!
Thank you, Helen and George.
P.S. Come and visit us in Lake Lure

To great hosts!
We came as a group of 8 friends from Lake lure. We sometimes call ourselves Lake Lure Locusts because we came as a swarm. I was not sure what to expect, but I will never forget the great times we had during our 8 days. Snorkeling was awesome, I got to use my noodle sling (could have sold it several times) and the very good hike at the Bitter End was so great. To me the highlight of the trip was the sailing with both sails. Now for the most important part the food. We could have never imagined how good it was going to be. Our every wish and desire was granted to us. Hats off to both of you.
Chris and Carol.
P.S. Come and visit us in the mountains.

Marianne and Kristian A truly unique experience full of fun and adventure. You both made us feel comfortable and relaxed. The food was excellent a culinary delight! Thanks for a wonderful time!
Patti and Jim

Thanks you for a wonderful first time! You were gracious hosts. Food was wonderful. We had a great time. Come visit us in North Carolina.
Love Joan and Russ
Guests aboard BREANKER for Thanksgiving Week, 2015
Without a doubt over the top quality quality quality. We loved the food and of course the beverages as both Kristian and Marianne is very talented. We will rebook in the future, as we could not find one fault. All was perfect. We found that the other guests were also the best. They not only kept us entertained but took us to many spots in the BVI.
Bob and Marge

Excellent meals, very experienced crew and very cordial to our every needs. Breanker is a wonderful memory for us. Go Vikings!
Marge

This has been the most perfect experience. You both are very talented and make the charter so special for us. The food and beverages was top notch. It could not have been a better experience with yall. Everything was perfect. We cannot wait to visit again. I hope I didnt ruin your boat too much J Thank you again.
Ginny Rae and Brad

Thank you very much for this great vacation I enjoyed it very much. I hope we will see you soon on another trip.
Gabbi

Thanks for a great vacation. We enjoyed it very much. We hope to visit you again or on Moen was great everything!
Takket vaere en million
Heinz and Ingrid

My dear friends, Kristian and Marianne thanks for doing such a fantastic trip for us again. You two are truly the best!!! The food, the cocktails, and your company, your great Breanker all top top top notch. Much love to you and I cannot thank you enough.
Xoxo Sonja

Guests aboard BREANKER in late October, 2015
Dear Marianne and Kristian. What a wonderful trip you made for us. The food was the best I have ever had! Obviously Bob too. You have converted him! I feel so blessed we meet you. So very blessed to be friends with Giselle and Steve for over 40+ years. This was awesome! The beaches, the views, the hospitality was the best. You all were so good to us!
Jan
P.S. Plus living with Bob on his 1st trip to BVI! We fell in love with both of you!

This has been the best 40 years anniversary trip I could have asked for andd surprised Steve with. Andrew was so right, Best crew you can get. Thank you for a wonderful time and that very special Champagne to end the trip. I look forward to my Christmas card this December and every one after. One day we will be back and hopefully you and Kristian will still be here and not retired! Best trip ever! Thank you so much.

Giselle

May you never lie, steal or drink.
If you lie, lie in the arms of the one you love.
If you cheat, cheat death.
If you steal, steal way from bad company.
And if you must drink, then drink with us because we are your friends.

Being in BVI is a blessing for Giselle and I. A trip of a lifetime that words cant explain how I feel while I am here. Each day is a special memory and because we were able to enjoy the BVI with our children, I wish they were here. I am very grateful for all you have done for us on our trip. This trip is in honor of our 40th Anniversary so we will be back in 40 years
Steve and Giselle

Kristian and Marianne. Thank you for hosting Martin and I for our first BVI trip together very special. We are foodies and enjoyed every bite! Really delicious! Martins comment was I know now I can stay in close quarters with you for a week. He was just kidding but it really is the closest quarters we have been in together. You also have to understand that we also work together just like you two. It takes a special couple to do this and you are! Wonderful week that we will remember for a lifetime! All is gooder than good as the Southerners says in SC. We are sad to go.
Jennifer and Martin
Guests aboard BREANKER in late May, 2015
We have enjoyed this trip so much from the scuba diving all the way to island hopping. My husband has known you all for 13 years and you are his favorite charter! We love the food company and (not to forget) the drinks.
We cant wait to come and charter again with yall one day! Thank yall for welcoming us with open arms.
We love yall,
Allison

From John: I have loved yall from my first time on the Casador (I was 10 years old the first time) to my senior trip on the Breanker. (I was 18 in May of 2010) To the trip on Breanker now in 2015
Vi elsker jer We love you (in Danish),
John

Every time I make it down to USVI, it is always a special treat when we can make it aboard Breanker. Sailing is the best and yall; make the trip way more enjoyable with the great hospitality. The food is top notch and some of the best meals I have had in my life. This is the 3rd charter with you (one on Casador and two on Breanker) and hopefully this will not be my last!
Love,
Ben

WOW, Kristian and Marianne! 15 years since our first trip with yall and it is still awesome! Have lost track of the number of times but this year twice in three months YEA!!
Yall are excellent hosts and we have come to feel like you are part of the family. The food is always wonderful, table always set perfectly and attention to detail is great!! Kristians gentle spirit and calm way of dealing with snorkel trips and Scuba excursions always make us feel safe and looked after! Still from the moment we awake to lights out, you both see to all our needs whether we are 2 or a group of 8! Thank you for taking care of our family so well for so many years! Have a great summer and we are looking forward to see yall next season!!
With much love
Martin and Jodie
Guests aboard BREANKER in mid May, 2015
It is hard to believe! 18 years ago the first voyage! 5 years later our 6th trip, 13 years ago in May for our anniversary!
Our 7th trip today!! It has been glorious!! You both are the best in the charter business! Never a disappointment! The snorkeling was wonderful and the trip to Leinster Bay fantastic!
The food second to none! Marianne is an amazing chef!! Kristian the very best captain & bartender!! Thank you so much both of you for keeping in touch with us over the years and for your friendship! We look forward to our next visit, hope fully sooner than later. God bless you both in health and happiness, always!
Love and hugs Jim and Allison

This trip was our first experience chartering and it will not be our last! Everything was perfect. The boat is beautiful, smooth sailing and all the toys you need to have fun. The food was awesome and we never had a change to get hungry. Thank you for a beautiful day and a wonderful memory. Snorkeling was top notch we saw so many beautiful fish. What a relaxing day you took care of us so well. We totally enjoyed our first time and hope to do this again!
Thank you Jessica and Michael
Guests aboard BREANKER in early May, 2015
An amazing week of fun! Hospitality was fabulous, great food, beautiful sunsets, many memories!!
Tusind tak, (thank you in Danish)
Pam and John

Marianne and Kristian. What a fabulous sail! So relaxing and what a stress buster! You two make everything so enjoyable. I havent eaten so well in years!! Thanks for the best vacation.
Patti and Bob
P.S. I was going to write this in Danish but knew no one could read it Patti

This was our second trip with Marianne and Kristian and it was absolutely perfect! The entire week was so relaxing and fun at the same time. Marianne and Kristian are wonderful people who make you feel at home. The food was so delicious and healthy (which was a great bonus). We had a group of 6 for the week and all of us are wishing we could stay longer. We are defentely coming back and wouldnt sail with anyone except Kristian and Marianne. We had so much fun and cant wait for the next trip and danci9ng with Kristian what a blast! Wouldnt have changed a thing on our trip!!
David and Cindy

Guests aboard BREANKER in mid April, 2015
The most relaxing trip ever! Beautiful dives. Very nice hospitality. A trip we will for sure do again.
Jeff and Stacie

Thanks for a fun and relaxing trip. Love the BVIs.
Jim and Marilyn

Repeat guests aboard BREANKER, after 12 years!
Back again after 12 years!
Thank you for another perfect sail in BVI. You out did yourselves again!! Thank You.
Donna and Phil

Thank you for one of the best adventures we have taken. This trip was more than we ever expected. You two are beautiful people. Thank you!
Rebecca

WOW what a great week! Perfect weather, perfect p[laces to explore and most of all perfect company with Marianne and Kristian What a wonderful journey!!
Earl

What a great week Breanker is beautiful and a wonderful boat and introduced us to the BVI sailing so comfortably. But the big win Was Marianne and Kristians hospitality and friendship. Looking forward to the next trip!
Laurie
Guests aboard BREANKER for their 14th charter! (March, 2015)
Kristian and Marianne 14th YEAR!!!
Hey guys, thanks again for another great trip. We are sad to leave after only three days but such is life. We will let you know as soon as we can about a trip in May.
Love Martin and Jodie
Guests aboard BREANKER in mid March, 2015
Wonderful week circumnavigating of the BVIs. Food was a gourmet delight with extraordinary service. This was our first crewed charter on a cat, so I enjoyed the opportunity to sail wing-on-wing at the helm. Also our first time to Anegada and wonderful lobster dinner ashore. Stay Happy and Sail on!
Ed
And more from Anderson/Delaneys
What a great week to share with dear friends from St. Croix, the Colburns, and revisit our old sailing grounds. We have loved every minute. You have made our sail with you on Breanker a memorable one. Thank you and we are likely to join you again.
Betty
You have totally spoiled us! This was a fabulous adventure with a perfect mix of sea, sailing and shore. Thank you so very much for being so considerate, caring and thoughtful.
John and Patty
Guests aboard BREANKER during the first week on March, 2015
Memories, memories. We had a wonderful time! Great friends, great food and wonderful hosts! We saw beautiful beaches and even though we had rain it was still wonderful! Relaxation at its best!!
Cheryl

Trip of a lifetime. Enjoyed everything about the trip. Food WOW!!! Hanging at the boat at night awesome. Great friends, great crew.
Ken

Beautiful trip love the sailing and the gorgeous views! Food was fabulous, company was awesome! Would do this trip again in a New York minute! Thanks for all your special attention.
Juanita

AAARRGH!! Time flies when having rum. Great lounging on the trampoline with great friends and good music and some rum.
Ken and Crystal

We had a wonderful time on the Breanker. You both were outstanding hosts.
Thanks for a great vacation.
Lee

March 7 2015
Best vacation in my life! Great variety of island stops. Kris and you did a great job.
Food was fabulous and it was a very relaxing vacation.
Thanks Marianne and Money
February 2015
Feb 7, 2015
Thank you so much for an AWESOME trip! I very much enjoyed the food, the dives, sailing and especially meeting you all!! You are special people!! Thank you again for every thing!! Hope to sail with you again soon!
Kristel

What an awesome experience!!! Although we never actually skinny-dipped or had sex on the beach it always seemed a possibility. Great food, incredible moonrises and sunsets. We look forward to sail with you again soon.
David.

Thank you so much Marianne and Kristian for an incredible week! We came with old friends and leave with you as new friends. Beautiful views, great diving, wonderful food. An absolutely wonderful vacation. You are wonderful hosts and guides.
Kathy and Scott

Marianne and Kristian what an amazing one in a lifetime trip! No, VACATION! Not trip whoot whoot! Thank you for showing us the magic of the BVI!
The food was fabulous! Kristian was so patient with us ROOKIE divers. We found the best places to stay. We had a full moon week. Loved Mariannes favorite place, Little Harbor. Loved the sail from Anegada. Pretty much loved everything. We hope we can do it again some day. Love you guys!
Kimi and Steve

I was a bit worried when hearing that we would have to board the Breanker with a different crew than we had booked, due to the Quests broken engine. But WOW! Breanker was perfect, and you, Kristian and Marianne, were FABULOUS!!
Loved the SUPs and kayaks, the clear blue waters, sailing the seas with the awesome sails, learning of the history and culture of the nearby lands and the faraway land Denmark swimming with the underwater sea life, being so well taken care of while sick, and THE FOOD!! Thank you for the wonderful, beautiful vacation!! I hope we can return soon!
Kristopher and Kim

January 2015
1-30-2015
Our first catamaran trip and it SURPASSED our expectations!
Everything was fabulous and your hospitality made us feel pampered and special. The food was AMAZING every meal!! Thanks you for making this a dream trip for us. We hope to sail with you in the future.
Blessing to you both.
Bob and Melony

This was our first Mom and Dad vacation in about 10 years. Our son and daughter want us to bring them next time. We had an excellent experience.
I believe a catamaran tour is the only way to see the BVI. Every day is a new destination and a new adventure. There were so many activities; you cant fit them in in 24 hours. The meals are fantastic. Marianne does a fantastic job of having fantastic varieties of dishes. And Kristian is a great sailing instructor and tour guide. Just had a fantastic time. Thanks so much for the memories of a lifetime.
Scott and Betty

Thanks for the great time! The boat and sights were beautiful. Your food delicious.
Dave and Becky

We had a fabulous time aboard Breanker! The sights were beautiful and the food was amazing! We loved snorkeling, relaxing on the trampoline while sailing, swimming and hiking. It was all so much fun! We cant even decide what is the favorite part of the trip. Thank you so much for the hospitality! We enjoyed meeting you both very much and hope to see you again in the future.
Fondly Jeff and Courtney

January 2015
January 17, 2015

Millions of thanks to Marianne and Kristian for a wonderful week onboard Breanker Cruising the Virgin Islands. Amazing trips on the sea and on the Islands. Fabulous meals onboard and good company it all builds up to very good memories we will carry along and wish to repeat one day.
Hugs and kisses Soeren and Rie

17th of January 2015.
This was our first time on board the catamaran Breanker and what an experience! We have loved every minute here. Honeymoon Bay is a fantastic place to spend some days. St. John with Anna-berg is a must because of the history. The trail across to Coral Bay and Skinny Legs a hip place was hard work but also a very good experience. Snorkeling on the coral reefs was beautiful and Cruz Bay a colorful impression.
Wherever we stopped Kristian was there to pick us up in the dinghy. Onboard Breanker we had the most delicious meals and Kristian and Marianne is a perfect crew! They have done everything to comfort us and guide us to so many fantastic experiences. We appreciate the time here and hope to come back.
Xoxoxo Hanne and Carsten

January 2015
1-3-15
Thank you so much for the wonderful food and kindness. We loved sailing across the seas into the islands. Thank you again for everything! (Also for trying to open the conch) ☺
Grace

Thanks for the outstanding food and hospitality!! Have a great 2015!!
Adam

I couldnt have asked for a better trip across the seas. The day that we stayed at Bitter End I particularly enjoyed.
The food was delicious and everything exceeded my expectations. Thank you very much.
Nathan

Awesome trip! I could not have asked for e better vacation! You both were amazing hosts to our BVI adventure! Loved the food, boat and crew!
Xo Nat and Adam.

Thank you for the amazing trip. I could not have asked to be on a better boat. The food was so yummy. You both were great hosts. I hope to see you another time.
Happy New Year Emma

Fabulous hosts. Magnificent views. Delicious meals. Outstanding adventures.
A vacation of a lifetime! Thank you!!

Oh how we enjoyed sailing under the sun on the wonderful boat Breanker! We enjoyed beautiful views and calm seas. We even saw many underwater creatures including octopus and sea turtles and we even saw a few fireworks on NYs eve.
Oh what a fabulous, extraordinary, special time we had!
Craig and Denise

Thank You!
Dear Marianne & Kristian,

Hello! I hope that this finds you well following your video shoot and time with friends. It has taken two weeks, but we have finally assimilated back into our everyday routines.

We just wanted to let you know what an extraordinary time we all had on the Breanker. Your expertise navigating the BVIs was evident as you led us to unbelievable reefs, islands, and coves where we swam, snorkeled, kayaked, paddle boarded, hiked, and even water skied amidst a stunning tropical setting. How exciting it was for the children to see so many fish and underwater creatures (including an octopus), and discover seemingly endless amounts of conch shells (that you graciously attempted to prepare). And what a thrill it was to raise the sails and to share the helm with you! Mariannes culinary skills were superior to any fine restaurant, as we enjoyed delicious and beautifully presented meals complete with fresh herbs grown on the boat. Your attention to detail was flawless, bar none from fresh ground nutmeg in Kristians pina coladas to homemade gravlax and chocolate mousse to our impeccable quarters featuring nautical themed bed and table linens. More than anything else, your kindness, warmth, and hospitality made our trip truly special. Our family will forever remember our fabulous sailing adventure in the Caribbean.

Thank you again for everything. If you ever need a reference (or an extra hand on deck), we would be delighted to share our experience with others.

Wishing you calm seas and sunny skies in the new year.

With warm regards,
Denise & Craig Strauss

December 2014
12-26-14
Marianne and Kristian: Beauty, grace, tranquility and harmony resonate throughout the BVI, but nowhere do these qualities chine brighter than on board The Breanker with the two of you graciously sharing with us your adopted home and all its wonderful trappings.
The quiet of the morning, the vibrant shades of turquoise and blue along the sea, the magnanimous clouds, the bright lush green islands, the radiant sunsets, the starry nights and the frequent rainbows are certainly memorable. But your warmth, charm and friendship are what we will best remember and all take with us when we regretfully head back home.

On behalf of our family, Allan

Thank you so much for a wonderful week. My siblings and I had and amazing time swimming, relaxing and eating in an insane amount every day.
Thank you for every thing It was an unforgettable week!
☺ Alex

Thank you so, so, so much for an amazing week! It was so beautiful and so much fun! I had the time of my life.
☺ Grace

Thanks for an awesome week! I had so much fun in this beautiful place thanks to you two!!!
Lilly

Best vacation ever!!!! Thank you so much for helping along the journey!
Zach

Thank you for such an amazing trip! I really enjoyed my time here. Hope to come back soon!
Jane ☺

Dear Marianne and Kristian
It was such a pleasure to have spent the last week with you. Our family enjoyed every moment on board (especially me) and hope that we did not bore you an ideal vacation is relaxation eating, reading and sleeping.
I know we shall see each other again soon in Denmark or California?
Thank you for sharing your life with us.
Judy

October 2014
11-14-2014

Where to begin This has been an unbelievable journey. Everything was Kathys favorite - - - Each island, shopping, happy hour and the meals.
Kerry loved learning the history of each island and the knowledge he has learned of the islands.
Thank you so much for a wonderful trip.

Love Kathy and Kerry

11-14-14

I have loved to share the experience with our lovely American friends/family on your amazing craft. Your ability to welcome us, care for us feed and nurture us has been amazing. Thank you for your knowledge, skill, hospitality and calmness.
This has been the holidays of my dreams!!
Linda xxx

This has been a wonderful adventure. I had no real idea of what this trip would be like but it has far exceeded anything I could have imagined. That is down to you your easy going hospitality, your knowledge of where to go - and when
And the outstanding food emerging from that tiny kitchen. It is hard to believe.
Paul xx

11/14/2014

Marianne and Kristian.
This was our fourth trip with you and it just keeps getting better and better!
You are like family to us now. As soon as Kathy wins the lottery, we will be back!
(Just kidding, we will be back soon I hope).
As usual, the food was unbelievable the weather was fantastic and the company was great.
We are so happy that our family enjoyed the trip. We will definitely return.
Love, Julie and Harold.

April 2014
4/7/14

We had a trip of a lifetime; Four generations and the perfect hosts.
Boarded a size 6 departed a size 16. Fabulous food!

Susanne and Paul

4/17/14

Thank you both! You are the perfect hosts your service is love made visible!
May your hearts continue to grow and your wings sour on these currents of Spirits breath.
With Peace and gratitude and blessings of health and vital wellness.

Heather

APRIL 2014
4/7/14

Fabulous hospitality, delicious meals, incredible scenery!
Marianne and Kristian you think of every detail What a delightful trip on the Breanker.

Martha ands Will

4/7/14

We had a wonderful trip onboard Breanker. The hospitality Marianne and Kristian shared with us will never be forgotten.
What a wonderful week we had with so many memorable moments!
Can I say, Thank you. never enough to you both for making our week so special!

Marmie and Zig

4/7/14

THANK YOU!! Wonderful trip great food, great company and stories!
AWESOME TIME!

Katty and Gene

MARCH 17/14
3-17-14
The Freemans and extended family. (7)

We loved Casador 14 years ago and it all much better on Breanker.
The BVI are a beautiful place to spend some time relaxing, snorkeling and Yum punching.
Marianne and Kristians hospitality as ever first class and generous.
Looking forward to another trip!
Hugh


3-30-14
Another fantastic trip on Breanker! Yummy food and lots of fun.
Brenda and Dennis

Cant wait to do it again! Cant imagine a better trip. Food, sun, fun and rum!
Lauri and Dough

Thank you for an amazing trip truly enjoyable J
Scott and Michelle


MARCH 2014
3-9-14
Kristian and Marianne What a wonderful time Thank you for opening your floating home to us. Great food and wonderful memories of your hospitality!
Judy and John

3-9-14
Marianne and Kristian, thanks for providing a fabulous and wonderful week in our very first visit to the Virgin Islands (and The Caribbean)! Fantastic food and drink morning, noon and night! Accommodations are very comfortable. LOVE the rum!

Heres to our brother, the pelican.
His beak will hold more than his belly can.
He holds more in his beak
Than he eats in a week
And I dont know how the hell can
Michael Bean, The Pirate

Thanks Marianne and Kris.
Great relaxation, sun and water and wonderful memories.
Jim and Kip

Thank you both so much for taking such great care of us, especially me, during my sickness. The food was outstanding; Curt will speak of that forever.
We were treated like royalty!

This morning over looking the bays where we spent the nights were spetacular.
As every one comments, the food was very special. I have absolutely no reservation of recommending this trip to anyone wanting to visit BVI. FANTASTIC TRIP!
Curt and Ann

We sailed the ocean
6 days and 5 nights
BVI for to see
Sea life, rum and the sights

Our captain and cook took care of us so well
That we all gain some weight
And our waistline so swell

You two are the Best
To show us around
Indulge in our wishes
Experiences we found

So this is our thank you
Remembering the sand
Youre our friends forever
Kristian and Marianne!

Judy and John

FEBRUARY 2014
2-28-14
Kristian and Marianne. This has been one of the best trips we have ever been on! Thanks for sharing your home and life style with us. The food was fabulous and so were all the scenery, island, just every thing was wonderful!
Hope to see you both again!!
Linda and Lou

2-28-14
Marianne and Kristian. Thank you again for opening your home to us during our vacation. You are very gracious hosts. We have enjoyed our time on your boat more than any of our past vacations. The cooking is out of this world (we will be the first in line for the cookbook)! The variety of ports and the knowledge of each enhanced the vacation. More than anything you let us have a great time and you also took part in it! Thank you for those implacable memories!
Thanks again! Ben and Diane

2-28-14
Kristian and Marianne. This has been a great vacation for us. We enjoyed you opening you home and personal stories to us. Every stop was an adventure and very exiting. The food was awesome and I ate things that I never thought I would try.
Thanks again Barb and Charlie.

2-28-14
Marianne and Kristian. Thanks for the hospitality! We enjoyed the fabulous meals and drinks! We felt very safe with both of you! We had a wonderful time and enjoyed sharing time with both of us!
Jean and Scott

February 2014
2-20-14
Marianne and Kristian. We are back for our second trip. This time we left our 50th Birthday friends and we brought or 3 children. Another great experience with great food, weather, ambience and adventures. The best views of the BVIs are always supplied by the best anchoring by Kristian.
Your aim to please, attitude by Marianne and the Breanker experience overall is a 10!
Thanks for having us!
Jim, Luke, Megan, Ann and Henry.
We hope to see you for a 3rd adventure.

February 2014
February 2 11, 2014.
Kristian and Marianne Thank you so very much for an absolutely fabulous week. The Breanker is a beautiful boat but the two of you put that to shame. Wonderful weather, gorgeous views we could go on and on. The diving was lovely, swimming and snorkeling was breathtaking. Your hospitality and generosity helped make this a tremendous week thank you thank you thank you.
Staci and Scott, Tom and Char
November 2013 - January 2014
Jan 11 18 2014
So many years I have listened to my brother and sister-in-law talk about how amazing a sailing vacation it was with Kristian an Marianne. When we got an opportunity to take this vacation we jumped at it and have found out for ourselves how amazing this week has been. We had such a wonderful time and cant wait to sign up for another week or more. I cant think of anything that would have made it better. IT WAS THE BEST VACATION EVER!!
Devin and Kathy

Jan 11-18-2014
Cruising around the Virgin Islands has been a bucket list item for us for a few years. We are so glad we got the opportunity to sail with Marianne and Kristian. The entire week was absolutely spectacular. There was nothing about the week that could have been better it was perfect! We are still in awe of how beautiful the BVI is. Marianne is an amazing cook. Every meal was delicious and it seamed like we were always eating. The Breanker is a very comfortable boat and when we sailed it was so exiting. We now know how much we missed all those years of cruise ship trips! They dont even compare to the experience we had on Breanker with Kristian and Marianne. We will definitely sail with them again.
Dave and Cindy

January 17, 2014
WOW! What a great trip. Kristian and Marianne were fantastic hosts. Great days and great food. We will definitely be back and soon. Thanks for everything it would not have been so good without you two!
David and Jackie

12-31-13 1-16-14
Once again your hospitality and beautiful boat has captivated our family.
I can say all of us love every minute ages 60+ - teenagers:

Again your boat takes us to many wonderful sights.
Kamran 13 years

From towering old lava mounds to the subtle seaside beaches, Breanker scores big with our family. From snorkeling caves to paddle board yoga we zin out with its crew. Although the sunset may occur in our absent, we will take home the hospitality and the sun like dreams of tomorrow well assuredly happen again.
Cheers

We had a great time once again, hope to have many more adventures.
P.S. Kristian makes a mean Pina colada

The food is always good and Kristian and Marianne are the kindest crew around.
They know all the best spots to go.
Kian 13 years

Enjoy The Caribbean with two skilled, pleasant, kind and very friendly couple, Marianne and Kristian. You have to abid yours rules, that pleasantly enjoyable.
Rule #1: Love Marianne, rule # 256-A: like Kristian of course you know who sets the rules here.
This is our second trip with this lovely couple from Denmark. Knowledge is impeccable, hospitality is un-parallel.
My grand children, children and I will come back! We like Kristian and Marianne so much; we are loading to become neighbors!
Housang Seradge.

How could it get any better??? There is not a more pleasant to be in the Caribbean with or without kids and teenagers the Breanker is an exceptional vacation not to be duplicated anywhere they can even accommodate vegans along sides feeding those who like a full meal.
If only we could do this every week. Thanks so much for such an incredible trip!!!
We look forward to future trips!
Carie Baer

December 2013

Oel nu! (Danish) Thank you for the exquisite food and amazing company.
I could not have asked for a better captain and first mate.

Tak, Tucker Stone

What an incredible experience. If I could live this week over again Id do it in a heartbeat. Ill remember those smiling faces and warm breezes forever.

Jamie Stone

To the best cat in all of Caribbean Tusind tak (Danish), smooth sailing and happy holidays

Salamander Stone

A Haiku for Breanker.
So many hours spent on the deck of Breanker Oh shit it was fun.

Captain Claus aka Adrian Stone

We couldnt ask for better hosts. This has been a family cruise for the ages.
Thank you Marianne and Kristian!!

Jonathan Stone

12-30-13
Marianne and Kristian!
We had such a great time on Breanker!! Thanks to your hospitality, warmth.. oh and amazing cooking and captaining!!! We hope you were able to survive the Stone familys infiltration; All the animals, our crazy antics and games, ect!!
Hope we are back on Breanker soon and hope you enjoy your future sails, grandchildren and the places you call home. ☺

Cheryl, Drew, Jamie & Tucker

12/1/13

Marianne and Kristian thank you so much for your warm hospitality, delicious meals and for showing us the BVIs. No amount of rain can take away from the beauty of the waters and islands! We loved kayaking, waterskiing, paddle boarding, swimming, snorkeling and eating M&Ms.
Thanksgiving will be a memory for our family for years to come and we thank you for making it so special!

The Steins (June, Lee, Serena, Skyler, Spencer and Max).

2013/11/18
Marianne and Kristian
WOW! What a trip! Good people, great food, good drinks! Your boat is beautiful!
Highlights for me were the pink flamingo and the dolphin pad.
Thanks for taking such great care of us!

Charlotte and Tony


11/18/2013
Marianne and Kristian. Thank you so much for your great hospitality on Breanker. A beautiful boat, a great time had by all.
We especial was enjoying your fabulous cooking we will be dieting for many days when we get home to the great white North. And we will be wishing we were back in the BVIs snorkeling, diving and carrying on at Happy Hours!!
Thank you, thank you.

Love Sherry and Dave


Nov.12-19 2013
Marianne and Kristian.
Thank you both for a great week. I have been looking forward to enjoying the BVIs as a guest for some time. It was a special trip for me back to a beautiful place where I have been living for 7 years. It has been very special to share the experience with my good friends! Your hospitality was fantastic and reanker is a beautiful boat to spend a week on.
We had a great time celebrating our 50th year with delicious food and tasty Happy Hour drinks!
Thanks for the Birthday gifts for myself, Char and Sherry it all adds up to a great time and experience!

All the best love Janice


Nov. 12-19 2013

Thank you Marianne and Kristian for the wonderful week on your boat. The food was incredible and it was an inspiration to learn about your lives on the water. Thanks!

Philippe

November 1, 2013

Marianne and Kristian. We arrived last Saturday with the highest of expectations and, while we would not have thought it possible, you surpassed them. Providing us with one of the greatest vacation experiences we have ever had.
From the first class cuisine (accommodating our gluten free needs) to the superlative snorkeling, amazingly beautiful views, to the relaxing sails, and especially to your welcoming company, all was the best.
We said on Sunday how long and relaxing the day was and on Friday how fast - too fast the week has gone.

Thank you for everything.
All our best, Lynn and Dave Kadela


11/1/13
Marianne and Kristian
We had heard so much about you two from Harold and Julie and finally had the chance of experiencing the best from the host and the hostess with the mostest!!
What a wonderful week of fun, laughter and some of the best meals ever.
Everything was perfect even the rain did not dampen our spirits!!
You will always have a special place in our hearts.

Love and all the best Roy and Terri Davis

11/1/13
Marianne and Kristian
Words will never be enough to express how much we have truly enjoyed our week with you and our wonderful friends. You have made this trip that will never be forgotten!
The food was terrific, the sailing fantastic and our memories of you will last forever.

Mary Jo and Bill



11/1/13
Marianne and Kristian
It has been a long 10 years since Julie and I were with you on the Casador.
The wait was so0 long that we are returning in a year. We and our friends had a relaxing and enjoyable vacation with you this week. I highly recommend this trip to others.
This trip has been so enjoyable that we are returning with two special couples.
The 8 of us had a great time!

Julie and Harold Koretzky

May 30th/13
May 30 2-13
Dear Marianne and Kristian, thank you so much for your hospitality. We had the time of our lives. We made memories for life and we had a fabulous time. You are such wonderful people and I hope we all meet again. You are great people and amazing cooks the kids want me to get all your recipes. The best vacation ever!
I/we can not thank you enough and this will not be our last charter. Thanks for being flexible with a large family with 5 BIG kids.
Should you ever come to the Midwest, please stop by.
With the outmost and deepest appreciation.

Will, Senia and Kids
May 22/13
May 22, 2013

Thank you for an absolutely delightful day cruise From St. Thomas Great Bay to BVI..you were fantastic hosts!!
Lunch was fabulous thanks for the excellent salad dressing recipe.
We look forward to sailing with you again Next time for more days!!

The Yolo Sisterhood Marty, Sunny, Jan, Janet, Sheila and MaryEdith

April 15/13
April 15, 2013
What a great 25 years reunion! We had a fabulous adventure it was like we never missed a beat with our friends. The sailing, the sightseeing, the food. every thing was wonderful.
Thanks for helping us reunite with our friends and making it such a wonderful success!
Jim and Deborah


Sunset April 15, 2013
25 years ago I had hoped we would return to the Caribbean with dear funny friends! Your floating home was a wonderful place to tease each other mercilessly share delicious and interesting meals, read your well worn books from previous guests, nap, snorkel with turtles nock down painkillers bounce on the trampoline, surviving the whooping tarp all night long.
I have a deep appreciation for the hospitality you provided to our reunion group.
We were well cared for.
Marianne, thank you for preparing delicious food. I marveled at your organization.
Kris, you abilities as captain your boat so calmly provided us all a chance to relax.
We will be back in 2038.
God bless you both.
Lisa and Rick.

April 7th
April 7th, 2013
Kristian and Marianne, wonderful hosts welcoming us so graciously on their lovely catamaran Breanker.
Delicious food so exquisitely presented.
Sailing on Breanker has been unadulterated pleasure sometimes invigorating and exiting, sometimes gently therapeutic.
Dinghy excursions added another dimension and experience.
Words are superfluous let us just say Many, many thanks for a delightful experience.
Beth and John

April 6th 2013
April 6th 2013
This was our second trip with Kristian and Marianne in the Virgin Island and definitely not be our last.
The week has gone all to quickly but we have had a wonderful time visiting beautiful anchorages and being thoroughly spoiled by Marianne and Kristian.
The food was superb, the table settings elegant, but the atmosphere so relaxed and welcoming you immediately feel like old friends.
We could not have thought of a better way to celebrate my Dads 90th birthday year. He jumped off Breanker, swam every day and even tried paddle boarding! Thanks for making this a trip we will always remember.
Love Mike and Joy

March30/13
3-30-13
Kristian and Marianne Our first trip with you was the start of some thing fantastic!
Some of us are here for the second, third, or the fourth time. As always, you are gracious, hospitable, and masters of your boat. When the wind was strong during the night, we all felt safe in your hands.
The trip to Anegada was fabulous thanks for suggestion that to us.
Oh yeah thanks for the 109 eggs! The food and the drinks was amazing you spoil us!!

Love to both of you from
The repeat Offenders, Dee & Bill, Cheryl & Don, Teresa & Tom, Kristin and Bill.


March 30, 2013 A.D.

The intrepid crew of the Breanker prepared to debark from Tortola amid a light breeze and waning moon.
One week before a tattered and overworked crew assembled at Road Town from a snowy North. All brought together from a bustling and snowy town called Chicago. But with a common goal of pillage and plundering The Caribbean.
Under a hot sun and a fair breeze, we put the sail for the far side of Peter Island, a safe haven amongst pirates to plan our route and escape.
We soon moved to Cooper Island under the command of Captain Kristian and Marianne. Their navigating skills and galley skills, unmatched in the Islands.
Moving quietly port to port, we stayed in Virgin Gorda to meet with the pirate Michael Bean.
The wealth of wind prevailed and we set sail for Anegada. The crossing was perfect and we encountered pristine beaches to explore and bury treasure while dining with captain and crew on enormous lobster.
We next cruised to Jost Van Dyke, a stiff breeze in our sails, and fishing the deep.
The Armada and The British Royals could not compete with the speed of our Breanker and we safely took anchor in Diamond Cay.
In the morn we took to foot to the Bubbly Pool for increasing waves and ideal conditions for stretching the legs.
The morning light brought us to the pirate city of White Bay to relax with our compatriots. Alas we rturn to West End, before setting sail to the safety of the US territories.
The British Main plundered, the rum is gone and as wanted privatiers, tomorrow we sadly return to the mainland.
Many thanks to Kristian and Marianne, fair winds and following seas.

Our sail and bellies full, and the rum empty, we head for home.

Bloody Bill, the pirate king.

March 23/13
3/23/2013
Thank you for letting us sleep and play on your boat. I had lots of fun exploring all of the different islands and for cooking us great food.
Thank you. Hailey 7 years and Kenna 5 years.

Thank you for showing us around the islands. We will never forget the beautiful beaches and snorkeling adventures. Peter island and Virgin Gorda was our favorite.
Kim and Greg

The amazing hospitality went WAY above and beyond.
Thank you for a trip of a lifetime.
Gord and Stacey.

We had such a wonderful time. You were great hosts and we will defiantly be back again. All the islands were beautiful and your expertise was appreciated.
See you again soon!
Amanda and Mike, Hailey and Kenna

P.S. Thank you for being so wonderful to our girls. They are already sad to leave and begging to come back again!

Kristian & Marianne
S/V Breanker

March 2013
March 15, 2013
Marianne and Kristian. Thank you for taking us on such a fabulous family adventure sailing around in the BVI.
Your ship is beautiful, the food was incredible, the company was so enjoyable.
Mark and I and our children were so spoiled we felt like super stars for the few days with yaall!
Thank you for a taste of real living

Love Kelly and Mark

Thank you so much for sharing your boat with our crazy family! We all had so much fun and it will be a vacation we will never forget!

Kaitlyn

Thank you for letting us stay on your boat! I had a lot of fun! The food was great!
Thanks again, Emily

Had a great time boating around the Caribbean!

Jordan

I had a wonderful time! The food was great and the experience was fantastic.

Connor

MARCH 11/13
March 11 2013
Where to begin? This week on Breanker has been splendid. Loved every minute and you can bet that we will be back for more. Breanker is a beautiful, comfortable boat and is kept in perfect condition.
You two are such professionals and such great hosts. Thank you for your wonderful hospitality and good company. Not to mention outstanding food!
Loved sailing to new places and really enjoyed crossing the Anegada passage on those big rollers.
What a treat to see dolphins, turtles, barracuda, pelicans, rays and so much more.
Tak saa mycket!
Karlyn and Mary

March 11 2013
This is our 4th sailing trip in the BVI. Wish we would have known Kristian and Marianne years ago. Then this probably would have been our 8th 10th trip.
Doesnt get any better than this!!!!
David and Carol

March 11 2013
Thank you so very much for a fantastic week. You made every day special, enjoyable and tasty! Great food, beautiful sailing, wonderful hosts and memories to last a lifetime.
Looking forward to and planning another journey with you both!
Wishing you warm breezes and calm seas.
Jenny and MaryJo

March 2013
Dear Miss Marianne and captain Kristian.
I think the Breanker is really nice and I think that you and captan Kristian is really nice too. You are a really good cook. My favorite was the scramble eggs and make your own sandwich. I love everything about the BVI. Denmark sounds good too I want to go there. I also like the language.
Love Stephanie 7 years old

3-1-13.
Dear Mrs. Marianne and Mr.Kristian.
You were so nice to me and my family. The food is great I love everything. The boat is beautiful and playing cards is fun. The Cornish hen was my favorite and key lime pie and cheese cake, I cant decide.
If you miss me email me at jlynch.. I know we will miss you. You are like family and I know we will miss you. Stay in touch hope to see you soon.
Jessica, 9 years old no caps for email tuk monga tuk situk I love the language

3/1/13
Dear Miss Marianne and Mr. Kristian.
It has been one of the best experiences of my life staying on the BREANKER with you. I love every part about it! I love the food, the boat, and especially all the beaches and islands we sailed to. Ive really never lived on a boat before so this was definitely an awesome and different experience.
One of the favorite beaches we went to was the little beach in the Bitter End in Virgin Gorda. There, my mom saw a stingray and many fish. It was also very exiting to see al thee conch shells in the shallow water! My sister and me also constructed a mermaid and many see animals out of sand!
I also LOVED how warm it was when it was only about 20F in Pennsylvania, Pa, USA where we live! I didnt like how we had to apply and reapply sunscreen every day! But I have to say, that is better than getting sunburn!
Some of the water sports I enjoyed was tubing and snorkeling. Snorkeling might have been my favorite part of the ocean. Also SCUBA diving was very fun. It was so quiet and peaceful and scary and exiting all at the same time!
Also the food was amazing!!:)
You make the BEST key lime pie! My favorite dessert I ever tried was the Monkey food! I would recommend this to every person I know!
This vacation was so peaceful! Just writing in my journal or doing homework or sitting down was wonderful! Most kids dont like homework but I like doing homework while drifting along with the wind blowing peacefully!
I was a little homesick but we did so many exiting things and you guys were so kind I didnt have time to feel sad! I only feel sad because our trip is almost over!
I will certainly miss you!
Best wishes, Katie Lynch, 5 days until 12 years old!!:)
THE BREANKER ROCKS!

Dear Miss Marianne and Mr. Kristian. Thank you so much for sailing us to all the islands. Thank you for all the amazing breakfasts, delicious lunches and the most amazing delicious dinners I have ever had.
Thanks for letting us have the conchs we found. Thanks for the water sports. I loved tubing. Waterskiing was awesome, the paddle board and kayak was lots of fun.
I will never forget how to say: Thank you Good morning Good day hello Good night in Danish.
Miss Marianne, thank you for teaching me the solitary game. I cant stop playing!
Mr. Kristian thank you for letting me sail the boat a little bit. Also thank you for captaining us along on this trip.
This was definitely an adventure.
My favorite place was every thing. My favorite breakfast was Caribbean French Toast. My favorite lunch was hamburgers. My favorite Happy Hour was the Brie cheese bread. My favorite dinner was the salmon and the tuna steak.
Thanks for everything you did for us!
Tak, Danny , 13 years old.

March 2, 2013
Captain Kristian and Marianne - Thank you for taking such great care of our family on our vacation to the BVI. I was very apprehensive to come on this trip because I get seasick and didnt want to be ill for a week! I have never been on a long sailing trip before, or ever on a catamaran, and I must say.it was awesome! The island, beaches, water sports, snorkeling, sailing and food were beyond my expectations. I cant even pick a favorite!
Ive never snorkeled before and I can hardly believe how peaceful and beautiful it is. I will be sure to do it again when I get a chance.
Living on a boat for a week sounded scary, but now after doing it I realize that it is the best way to travel!
Marianne and sous chef Kristian our kids say it best.they loved all the food you made.I am in awe as how you can create such wonderful dishes every day in your tiny galley kitchen.truly amazingplus you got our kids to try different food that they wood have never triedand they liked it!!
Our evening conversations were a treat. We enjoyed learning about your island Moen in Denmark. Your adventures as charter captains were fun to listen to as well.
Great drinks, great food, great weather and great companywhat more can we say Thank you.
Susan

Dear captain Kristian and Ms. Marianne.
It is with humble pleasure that I express to you the gratitude I have for providing my family with what amounts to the greatest adventure of their lives to date.
In particular, you have provided our children with an experience unequalled to any other trip weve been on. I am constantly vigilant for opportunities to teach the children about the ways of the world. This trip has been a slice of life that they will never forget. I believe in the philosophy that to whom such is given, much is expected. I further believe that you both have contributed to the molding of these young minds to be brave, seek adventure and to not fear new things. I hope that you have given them an appreciation of the sea and a sense of what adventures of previous generations held in their heart to encourage then to explore and learn.
Thank you for a wonderful adventure.
Dan


21 feb 2013
21 February 2013.
Kristian and Marianne,
My first trip to the BVI was in October of 2003. The next year 2004 was my first year with Mart Stott. I knew right away that we could become famous friends and we did and have remained the same these past 11 years - and counting.
And, in the providence of God it was through Mart and Jodie that I first heard about the two of you. They spoke in glowing terms from their experiences with you guys and I remember listening with envy about these wonderful trips they were having.
So far, a number of years passed, and by Gods grace I was able to continue to come to the BVI. And, from time to time I would be on a trip and Mart would point out the Casador to us and speak fondly of their time with you.
So now, years later, we have this unexpected opportunity to spend a week with Mart and Jodie and with you on your boat the Breanker. And we of course, immediately said yes to the offer.
Now, I sit on the deck of your boat and look back across the week at your graciousness, your professionalism, your friendliness, your thoughtfulness, your attention to detail to the hundreds of ways literally that you have given your selves and making this one of the most enjoyable and most memorably weeks of my life.
Thank you! Thank you! Thank you!
What a joy and blessing it has been to know you. I can only hope that God will be so kind as to give me another opportunity. And one more thing I have clearly relaxed and enjoyed myself this week. But I would be remissive if I did not say to you that the one thing I sincerely hope is that you guys will one day be with all of Gods people in Heaven. It is my hope that you will one day if you have not already, (and I do not know because I have not had this conversation with you) but I hope that you will be looking to the Lord Jesus for the same mercy and grace that I am looking to and for his kindness and mercy to do for all of us what we could never do for ourselves. His death for me has given me life and I hope and pray that you will be leaning hard upon that for yourselves.
I see so much in the two of you that reflects so well of His image within you. There is a graciousness and sweetness that I see and for which I thank God. I will be praying for you both as long as I live.
Thank you again for your sacrificial and fantastisc hospitality!!
Scott Lindsay, February 2013

Thursday February 21 2013
Dear Kristian and Marianne. Thank you for this wonderful week aboard your boat. The Breanker sailboat is lovely as is the two of you. I thought the Branker was brand new because it is so beautiful and well done in every way.
You guys have given so much attention to detail and have made this week a one of a kind of vacation experience. I am as appreciative of all your sweetness to make us feel at ease and at home. You have been a wonderful blessing for us this week.
Mart and Jodie spoke so highly of all their times with you and rightly so!
We are so thankful they have shared yall with us!
With love and appreciation, Lisa Lindsay

2-22-13
Well, yall have done it again!
Thirteen years, lost count of how many trips, and it is still amazing!!
New places, new sights, new food all great! Thank you especially for giving the four first timers a wonderful experience. It was really good to see them being able to really relax and allow them selves to be taken care off. So much of what they do involving taking care of others it was awesome see someone take such great care of them!!
Thank you so much again! We love you guys and look forward to next time!
Much love Jodie and Martin
Dolphins! Jumping ray! Turtles!

2/22/2013
For thirteen years Linda and I have heard about Kristian and Marianne from Mart and Jodie, who think and talk of you not simply as friends but as family.
Several years ago Mart and I ran into Kristian at the Moorings at Road Town and then last fall we meet in North Sound, the two of you and the six of us. But then we were given the privilege of spending an incredible week aboard Breanker and experience your warm and wonderful hospitality, gaining ten pounds at your table and seeing the BVI (after already having made 10 or more trips) through new eyes. I wish I could find suitable words to tell you how much I appreciate all that you have done this week to make it a memorable experience that Linda and I will cherish and talk about forever.
This is a terrible inadequate attempt to say thank you for a great time now we know why the two of you are so special to the Stotts and now to the Markerts as well!
There are many charter boats and crew available, but only one Kristian and Marianne.
Love and blessings, Woody and Linda Markert.
P.S. Kristian you make the finest Bushwhackers in the Caribbean!!

january4th 2013
January 4 2013
Marianne and Kristian.
Thank you for a wonderful vacation! You treated us like family and we enjoyed every moment. The food was AWSOME and we enjoyed sharing stories and getting to know both of you during happy hour. Thanks so much again for a great holiday!
The Holmes family, Julie, Tim, Damon and Trent, Ontario, Canada

Marianne and Kristian.
Thank you so much!!! I had a great time. I loved your food! I loved tubing!
Thank you once again!
Trent Holmes

Marianne and Kristian.
Thanks for the amazing stay aboard the Breanker! I loved all the food! I enjoyed the water sports especially the tubing! Thanks for an amazing and unforgettable week.
Mikayla Jeffrey

Marianne and Kristian
SIMPLY SUPERB!!!
You guys are AWSOME!!!
Thank you!
Mark, Mari-Jo & Mikayla Jeffrey

Marianne and Kristian. Our holiday aboard Breanker was fabulous J
We relaxed and experienced the BVI in a very personal way.
Your hospitality was outstanding and the extra attention you gave the teenagers was truly appreciated. We enjoyed hearing stories about Denmark, your family and your years of chartering. We hope our paths cross again.
Mari-Jo, Mark and Mikayla

Dec 19-26-12
Name: Steven & Ann Yacht: S/V Breanker
Date: December 19-26, 2012

Christmas 2012

Kristian and Marianne This has been a fabulous trip for our family the first Christmas we have ever traveled and now the start of a new family tradition.
Thank you for sharing your home wonderful meals and the beautiful BVIs with us Marianne we loved our history conversations about your homeland and Kristian thank you also for your knowledge and safe transportation throughout the trip so much to see so little time we WILL be back!
All the best Ann and Steve

Good food! Good drinks! Good company! Mange tak!
Grey

12-26-2012
Thank you both so much for a great week! We saw some beautiful sights, ate WONDERFUL FOOD!! And had the pleasure of doing it with you two.
Cant wait to come back. Merry Christmas J
Love Hannah and Stella


Comment on the comfort onboard Breanker: 

We were all very comfortable with our cabins and the common areas of the boat. 



Comment on the condition of Breanker:

The boat was in excellent condition.



Comment on the cleanliness of Breanker: 

Everything was very clean. Although both of the stern cabins had a small ant problem. 




Comment on the congeniality of the Captain and crew:

Marianne and Kristian were wonderful hosts. We enjoyed spending time with them and learning about the BVIs and also about their interesting lives living on boats and back home in Mn, Denmark.

Comment on the service of the Captain and crew:

Service was excellent, all of our needs were met whenever we needed anything.



Comment on the fun aspect of the Captain and crew:

They were just what we were looking for. A relaxing, fun and interesting time.



Comment on the expertise of the Captain and crew:

They are both very experienced in every aspect of running this boat and taking care of their guests. We felt safe and well taken care of every day and night.




Comment on the quality of your meals:

All of our meals were top notch. Marianne is an outstanding chef!



Comment on the presentation of your meals:

Beautiful presentation of all meals. We took photos of most of them.



Would you charter this yacht again? (Circle one) YES NO





Nov to Dec 2012
Nov. 2nd., 2012
Marianne and Captain Sean Connery J
Thank you so much for an amazing trip from your shit wrecked Canadian Team. Our BVI Baaaar. Tour is one to remember!!! Well, some of us will remember more than others :J
Food and hospitality were as Chris would say Top 10. We couldnt have asked for anything more for a vacation destination thanks for the ..Banana rum, air conditioning, dinghy rides, being the girls wingman when our husbands couldt, day care rope, early shuttle home, shoe basket, doing Chriss laundry J, the best anchorages, your never ending patience with our silly antics and most of all sharing a piece of this amazing paradise!! Am only sorry the time went by to fast!!
If you ever make it up to Canada please be sure and come and visit us so we can show you some Canadian hospitality and boating in the Ontario Kawarthios.
All the best for a wonderful boating/charter season in 2012-13 and hope one day we can come back to visitJ
Cheers!!! Lynn and All, Chris and Taren , Mark and Jackie
P.S. Sorry about the luggage J

November 18th 2012
Don and I LOVED the time with you on your boat! We so needed the time here. Cheers to you both.
Don and Rebecca

It was my first, but not my last charter! Thanks so much for your southern hospitality. I LOVE your boat, keep my berth warm.
Love Ginger

I enjoyed the time on the boat very much. This will definitely not be my last charter! Thank you very much for everything.
Love Gabbi and Andrea.

Dearest Marianne and Kristian, another most wonderful charter with you.
I did enjoy every second of it, you two made it to the perfect vacation.
I love you both and your wonderful yacht!!
Your hospitality is amazing and we all appreciated it so very much. Mariannes amazing food, Kristians painkillers were fabulous and your sailing skills are terrific.
Much love from your good old friend Sonja xoxoxo

12-14-12
Dear Kristian and Marianne After that fabulous martini it is hard to articulate the way Id like about how great this week was! You are wonderful hosts in all aspects sailing skills, hospitality, patience, tolerance, sensitivity and ability to make every one happy! Thank you so much for a wonderful time, your friendship and your humble skill. Stan joins me in saying that we enjoyed a most memorable week with you both.
Esta and Stan

Dec 8-15 2012
After 7 days together we can only say that every thing was first class. That harmony that the two of you share in your personal life with 6 strangers on board, makes for a most comfortable weeks charter. ( Better we dont understand Danish). Its hard to begin even to list the exceptionalism of the 2 of you. Sailors, Haute Cuisine, patience, skills, cabin maintenance and wonderful small harbor nights and peaceful quiet. Forget the flies at Jost Van Dyke.
We are most grateful for an introductory charter of such quality!!
Weve also become to you in such a short time.
Many thanks, Laura and Ery Magasanik
A toast for a successful New Year Laura and Ery

A boat full of guests with I-pads and e-mail. The whole world to deal with its issues, madness and current events but not for me I am on the Breanker here with my lover, friends and you, Marianne and Kristian enjoying the best of your vessel, culinary expertise (that is at least 5 paragraphs), hospitality above and beyond incredible, comfort and cleanliness and all that sailing involves to wonders of your world, in particular Virgin Islands would with its fine sailing, beautiful vistas and swim and snorkel spots of excellence.
We are blessed and you and your world are a gift.
Shalom and love Sandy and Neil



Dec 8-15-12
BREANKER 8-15 December:

In a word that sums up everything it was great.
Crew, attention, food, attitude, cleanliness, etc etc etc.

Laura and I and surly the others would happily recommend the Breanker
to anyone and everyone.

Thanks again

Ery

The charter was absolutely wonderful in every way. Kristian and Marianne could not have been better hosts in all respects. We really felt like we were leaving family--that's how comfortable we were. The boat was also very comfortable; the food was outstanding.

The next time we plan a charter in the Caribbean, Breanker, Kristian and Marianne will be our choice.

Happy Holidays,

Esta and Stan Shindler

I know Ery has responded already but I wanted to add some feminine comments. We never expected the level and quality of service that we received. Who would think that we had the head cleaned ,sheets folded on a daily basis? Even the linens and towels were changed mid week.
The two of them had a seamless flow about them, quietly organizing the meals and clean up without notice. As a woman who does a lot of cooking and entertaining I've got to tell you that I am more than impressed with how Marianne produced such attractive, delicious meals and snacks. There was always fruit and goodies available for us to take ourselves. No $$ were spared in what they spent on the foods and drinks that we were served.
Christian and Maryanne showed amazing patience, caring and willingness, so all is most positive and only wish we had the financial ability to do this more often.
Many thanks for your referral.

November 2010 - April 2011
4-25-11
Dear Marianne and Kristian. By reading through many of the entries in this guest book, I can see we are not the only people who have been totally blown away by this incredible experience turtles, sharks, dolphins, barracudas, Rays, Kenny Chesney and pain-killers What a week!! Thanks for every thing come visit Austin soon! Highly recommended, cant wait to do it again.
Vivek and Brittany

The Goswami family second time around:

Dear Mrs. Marianne and Kristian.
Thank you for cooking so good food and being good drivers. I will never forget you guys. Please let us come back to the Breanker. If there were any option we would choose you.
Love Kegan 8 years

Dear Marianne and Kristian.
You guys rock! You did an awesome job! Thank you for the food and steak!
I am so glad I came to Marianne and Kristian. From Maya 6 years

Dear Mrs. Marianne and Captain Megasore.
Thank you SO MUCH for the fantastic food and great hospitality. I really enjoyed the beautiful beaches that you took us to. I especially liked Sandy Spit. I hope to come back next year. You guys are really great people.
We will miss you! (a lot)(and your great food) Take care of the crabs 4 us please! Rekha 11 years

Kristian and Marianne.
Priceless memories will live with us forever. Great weather, food, drinks, family and 2 great friends You two are the class of the Caribbean! Thank you so much! Keep up good work we will be back soon
Nilesh and Monica Goswami


15-4-11
Dear Marianne and Kristian.
WOW..What to say!..... We have been lucky enough to see some beautiful places over the last 10 years or so, but this holiday takes the price for the best ever! So many beautiful places (and still so many left to see for next cruise..!) Delecious food (every meal!) than even sometimes-defeated 4 teenagers! Great Happy Hour (or two hours or three) and some wonderful restaurants and bars you shoved us too.
Hard not to admire what you do not just the hard work, the professionalism, the hospitality, your relaxed and easy going atmosphere (perfect for vacation!) but the character the two of you bring to us all. It has been a privileged getting to know you just a little bit.and a shame it will be a while before we see you again.
We were all ready trying to figure out this morning when we can come back next year (Easter unlikely because of teenagers with Public exams!).but we will figure it out, even if we have to miss a season!
Love you both, thanks for a wonderful time, for sharing your home with us and for being so relaxed and welcoming with our four guys.
We will miss you both. Until next time. Mary and Tom Monfries

Dear Marianne and Kristian, Thank you so much for this last week. I have enjoyed every part of this week. The food has been consistently amazing, as have been the drinks! The ship is beautiful and very homely. I wish I could stay longer. I loved the island and all the places we went, and I cant wait to come back.
Thanks so much, Rob Monfries age 16

Dear Marianne and Kristian. Hearing that we were going to be on a boat for the most part of our vacation exited me greatly, and it did not disappoint. The food was superb and the drinks were amazing! especially Kristians painkillers. We have had the honor of visiting some brilliant islands and reefs. The atmosphere and warmth on this boat have been very special, and you are both lovely, caring people.
Thank you for a brilliant week. Simon Bickley age 14

Dear Marianne and Kristian. Thank you for an incredible experience. Its been amazing. Every thing was better that expected. The boat was brilliant, the islands was beautiful and the food was to good to be true. You are both extremely welcoming and hospitable, I really felt at home. I just hope I wasnt to much trouble. In my gap-year I would love to be able to visit for a while and say hi.
Hope all continues to go well.
Thank you Byron Blacking age 16

Dear Marianne and Kristian, thank you for taking care of us this past week, it has been a great experience and is even better than I thought it was. The islands and beaches were great as well as the snorkeling, seeing a lot of fish and even a turtle. You both were lovely and made great food and drinks, and I hope to return to the BVI soon for another sail. Good luck with your next charter.
Thank you. James Monfries age 14


3-31-20011
From all of us, thank you for welcoming us into your world and home. The seas, dives, Happy Hours and meals were all superb only surpassed by the graciousness of our hosts. We are lucky to be able to call you friends. We had a wonderful time! Thanks for all the hard work and the hospitality to make our vacation fun!
We love you!! Waiting to return soon. (your favorite 3rd grader Greg!!!)
Hope to see you both again, The Tupelo Crew, The Burks, Ramseys and West.


March 10-17 2011
The Steppe family:
Cyrus Steppe, 12 years: Thank you for teaching us how to make conch fries.
Kamran Steppe, 10 years: Thank you for the excellent pasta.
Kian Steppe, 10 years: This is the place to be☺
Thank you for a memorable trip for our family. The cruising the snorkeling the food, the company and much more to mention were fantastic! Your kindness will always be remembered!
Richard Steppe
OH WHAT A TIME!!! Island time! So sad to be going. But we need to get back to our friends and tell them about our new friends. All three generations found the food and kinship wonderful. You have become part of the family, so when we see you both in Denmark and back here in the VIs we expect to hear about new adventures and dreams till next time.
Espanta Steppe

We came far and long. We floated on Breanker for a week. I was taking my wife, child, son-in-law and grandchildren to an unknown captivity in a boat with a strange name, and captain and admiral with even stranger names. Now I am in the harbor to take the plane home from Beef Island airport. We do not want to be sad, as the week has been the most fun my traveled grandchildren and I have had! So much that we are considering joining The Viking Clan in Denmark! Fortunate are people who are given the chance to spend time with the beautiful Marianne and Kristian. We all love them and promise to be back.
Houshang Sedrage, MD, Oklahoma City, USA

WOW what an incredible first sailing trip with the kids! We will defiantly return and charter with you again! You set a great course packed with everything that everyone wanted to do! Its a hard job to satisfy 7 people all with different whishes and you did it with such grace and charm. We look forward to a future trip.
Carrie

P.S. Dr. Seradge talking: With my grandchildren joining me on their first sea voyage, I wanted a conservative and cautious captain and mate. Our captain was so cautious, that he married his wife The Admiral Marianne after their grandchild was borne! Thats what I call a cautious man that you can trust your loved ones to keep safe and give them enough fun that they would like to come back. My grandchildren are calling me to the dinner table and telling me that I do not have to write a book. Let me tell you, a book long written is well short of what Marianne and Kristian can tell!!

2-26-11
2nd annual Chicago Parrot-head sail charter!
The second time was as good as the first! Both the returners and the newbies had a great time. The food and the hospitality was fabulous and the destinations were as well. Thank you for getting us safely to Virgin Gorda in gale force winds it was totally worth it to get to the Baths. We appreciate the fact that you kept the sun shining all the time, even with the crazy winds. We will be back!
(Note to Kristian from Kristin: Thank you for telling me over and over what island we were on and where we were going and how long it would take to sail there!!)☺
Thank you for such a wonderful ride! We loved the sights/ the food/ the drink/ and the company. Safe home! Slainte!
Billy and Kristine

Kristian and Marianne Thank you for another fabulous week You are the best!
Bill & Dee
Kristian and Marianne Thank you so very much for an absolut wonderful vacation! We loved everything and hope we can come again! Cheers!
Jeremy and Tiffany
Kristian and Marianne, thank you so much for another wonderful week. The scenery was spectacular, the food was amazing and the company even better. Thanks again for your generous hospitality.
All the best Teresa and Tom

March 2011
I love the food it is awesome. It was so fun.
Suzie, 8 years

Heaven on a plate Mariannes food
Thank you so much for taking us to amazing snorkeling spots and windy sailing. The food was amazing and I hope we can come again next break.
Thank you ☺ from Jack, 11 years.

Thank you for having me! I really enjoyed the food and all of the beautiful sites. I loved getting to do different things and meeting new people. I love you guys! I love the beach!
P.S. Kristian I loved sailing! I am going to get my sailing license.
The girly sea girl, Mary Rives, 11 years.

Marianne and Kristian Thank you so much for rescuing our families! Words cannot begin to express our gratitude. Your boat is beautiful and every meal was outstanding! Thank you for providing Mary Rives a make up 11th birthday! It is one she will never forget. Neither will the rest of us.
Hi Hi! The Rices and the Boldings

March 10-17 2011
The Steppe family:
Cyrus Steppe, 12 years: Thank you for teaching us how to make conch fries.
Kamran Steppe, 10 years: Thank you for the excellent pasta.
Kian Steppe, 10 years: This is the place to be☺
Thank you for a memorable trip for our family. The cruising the snorkeling the food, the company and much more to mention were fantastic! Your kindness will always be remembered!
Richard Steppe
OH WHAT A TIME!!! Island time! So sad to be going. But we need to get back to our friends and tell them about our new friends. All three generations found the food and kinship wonderful. You have become part of the family, so when we see you both in Denmark and back here in the VIs we expect to hear about new adventures and dreams till next time.
Espanta Steppe

We came far and long. We floated on Breanker for a week. I was taking my wife, child, son-in-law and grandchildren to an unknown captivity in a boat with a strange name, and captain and admiral with even stranger names. Now I am in the harbor to take the plane home from Beef Island airport. We do not want to be sad, as the week has been the most fun my traveled grandchildren and I have had! So much that we are considering joining The Viking Clan in Denmark! Fortunate are people who are given the chance to spend time with the beautiful Marianne and Kristian. We all love them and promise to be back.
Houshang Sedrage, MD, Oklahoma City, USA

WOW what an incredible first sailing trip with the kids! We will defiantly return and charter with you again! You set a great course packed with everything that everyone wanted to do! Its a hard job to satisfy 7 people all with different whishes and you did it with such grace and charm. We look forward to a future trip.
Carrie

P.S. Dr. Seradge talking: With my grandchildren joining me on their first sea voyage, I wanted a conservative and cautious captain and mate. Our captain was so cautious, that he married his wife The Admiral Marianne after their grandchild was borne! Thats what I call a cautious man that you can trust your loved ones to keep safe and give them enough fun that they would like to come back. My grandchildren are calling me to the dinner table and telling me that I do not have to write a book. Let me tell you, a book long written is well short of what Marianne and Kristian can tell!!!

2-12-2011
Three couples from Finland, six good friends, one plan in February 20011, Breanker, Marianne and Kristian. Six hat-headed friends sharing a home with a lovely couple and a lizard.
Ingredients of a once in a lifetime holiday: Love, good laughs, Mariannes excellent food, Kristians Pina Coladas and eyes, sunsets, snorkeling, relaxing, swimming, clear blue water, turtles and sharks, 5 coffees and a little cup of tea, rain following eating, folded napkins, fruity and fresh smoothies, Black Jack with poker eyes, 11 hours of sleeping.
A dream came true, beautiful views, good stories enjoying life☺
Warm thank you from co-captains Siru, Teppo, Annemari, Adrian, Maria, Mika


1-2-11
Marianne and Kristian, we really enjoyed a relaxing week with you aboard Breanker a beautiful boat, a gorgeous setting, and a week to enjoy a family reunion of sorts for the Ghrones, Tassones, Harrisons and Huberts. You fed us well no one is going home hungry! I think we enjoyed it all, just wished for a little less wind(!)
Happy New Year! Jenny and Butch, Jack, Sahara, Ben and Lindsey.

Kristian and Marianne, this trip has been amazing and a lot of fun and also very memorable. It was a great first experience in the BVI! I cant wait to return! The food was AMAZING! I have no complaints. The Happy Hour was always entertaining with the people from Quest. Thank you so much for every thing, and hopefully we can take another trip with you!
Sarah Huber

Dear Marianne and Kristian, Thank you so much for our memorable family sail it took a lots of extra planning and effort to do our tandem trip with Quest. We all look forward to be able to do a repeat with less wind a little bit warmer days.
We wish you good health and happiness.
Marg and Dave Grohne.


10-30-10
Dear Kristian and Marianne, Thank you for hosting the greatest 50th birthday party ever held in the BVIs! Our group had long awaited this trip and very moment exceeded our hopes and expectations. Being aboard this lovely boat and having the flexibility to have so many new adventures every day created memories that will last a life time!
Bob and Sheryl

Truly an experience of a life time and certain of the ultimate 50th birthday anyone could have. Thank you for all your wonderful service, knowledge and friendship! Hope we can return soon!
Anne and Starke

Marianne and Kris
The water can be perfect (it was!) the temperature ideal (it was!) the food delicious (it was!) and the scenery breath taking (it was!) but with out the two of you being as wonderful as you are, the other would have been worthless. Thank you for making us all feel like family. It truly was one of the nicest weeks we have ever experienced. I do hope that we will be lucky enough to be able to return one day soon.
Stockton and Melinda

Dear Kristian and Marianne
Not just on vacations but everywhere people appreciate flexible people. It seems to come naturally to you both. We never once felt like we had to follow a n exact prescription. We loved the company of the crew, not to mention the foos, drinks, music, scenery, breeze and general BVI heaven. Thanks in particular for dropping us with cooler at our own hard to get to beach.
With fondness and appreciation Steve and Kathy
P.S. We will send you an electronic copy of 10-23-10 Charted Map!



11-30-2010
To Captain Kristian and Captain Marianne.
First thank you very, very much for all your excellent hospitality making your home a home to all of us. Second, thank you for sharing your life at sea and the many wild and adventures tasks. They were amazing. Finally thanks for keeping a close eye on Dennis while he was driving the boat. That could have been a bit of trouble.
Many thanks and best regards Jeff.

11-30-10
WOW! Needed to be recharged and that definitely happened here. Great food, great company! You two are the best! I hope you arent retired next time we decided to sail! Thank you! Thank you!
Kim

11-30-2010
Marianne and Kristian. Thank you so much for a wonderful week aboard the Breanker. Your hospitality and fun personalities made the trip truly a pleasure. I know I will be so much more relaxed when I return to work. Meals were delicious!! I hope to see you both again soon and wish you more happy sailing! Thank You!
Christina

11-30-2010
Dear Marianne and Kristian. Thank you for making your boat our home for a week. You made us feel comfortable and spoiled. I loved the stories and making new memories together.
Many thanks, Hend

11-30-10
Dear Marianne and Kristian
I loved the broccoli smoothies mmmm mmmm good!
Thank you for the wonderful time. Dennis

May - December 08
May 08
Marianne and Kristian. We had a wonderful time on Breanker the past nine days. After ten years of chartering in BVI we must say that Marianne is by far the best chef weve ever had! Your meals were a delight and we thank you enormously for the recipes. (The royalty check is in the mail). We loved the snorkel spots and especially the Jacuzzi! Thank you so much for the warm hospitality and sharing your home at sea with us. Wishing you good health and many great times with your grand kids.
Our very best regards, The Nobles, the Rogers, and the Morissons.
P.S. From Mike Rogers. It was restful too! Sleeping on the Breanker is like sleeping on a waterbed. We visited some of our favorite spots and then some. Thanks for a terrific trip. RMR




May 08
Marianne and Kristian, we are having the most wonderful time on the Breanker. The food is first wonderful, the company even better. We loved every moment. We hope to see you in Chile soon.
Love Kelly.

May 08
Ode to Mary and Kris
Marianne Marianne one of the greatest hands
She cooks she cleans and always dreams about her Danish land.
Shes married to Kris in marital bliss also a first mate man
Her favorite hobby is a gardening with all the bulbs never hardening.
She is cute she is sweet, like a Danish treat and we all love her so.
She is almost always in the galley, narrower than all back alleys.
They have a yacht that they have almost bought and its called the Breanker
It is large and wide, has five heads, two hands and two large anchors.
Kris and Mary they sail the seas and know all their nauticals As to Zs.
We wish them well with our big grin and hope to see them again.
A great en week in Danish speaken, we all bid our farewell!
Ron Brown A SUPER WEEK!

May 08
The most reluctant of sailors, had a wonderful time. Thank you for sharing this wonderful life style with us. May our fortunes carry us to another time together soon.
Severon and Carol
May 08
K and M thank you for sharing your home (glorious yacht) with us. Your hospitality, good food and sailing events we will keep in our hearts forever. Hope truly we will see you in Chile. Thanks again for all the special memories.
Love Kay and All
P.S. Awesome, outstanding. Enjoyed it and WILL be back soon.
Al

November 08
Kristian and Marianne
What a wonderful experience. It was short but so sweet. I am certain I can express to my readers what a yacht charter should be. Good luck and thanks.
Best Tom Wuckowich

November 08
Kristian and Marianne
Thank you for a wonderful experience plus fabulous food. This is a trip I will never forget. Look forward to seeing you in the future.
Thanks, Angelina


December 08
Kristian and Marianne
Never a Christmas morn, never a Christmas ends,
When someone thinks of someone, old days, old times, old friends.
Mange mange tak for another wonderful week sailing with you We were fortunate to gather the whole family this time, and more fortunate to be with you. May the opportunities to be with you again and again continue, (dont retire!) Merry Christmas and best wishes for a happy, healthy and prosperous New Year.
Marc and Francie, Maria and Bailey, Cooper, Hadley and Nate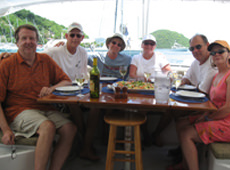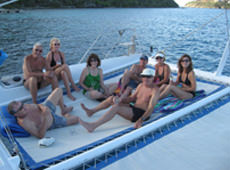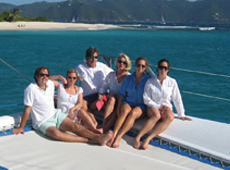 March - April 08

March 08
Dear Kristian and Marianne
Thank you for your wonderful hospitality. We love your boat Breanker and felt comfortable and at home right away. Every day we looked forward to the delicious meal you prepared. I think we put on a few extra pounds, but it was worth it !! You made our vacation in the BIV very special. Kristian took us to great snorkeling places. The Caves were great! If you ever come to the Boston area, please call us. We would love for you to visit us because we live near a beautiful beach and we could take you for a sail. This has been one of our best vacations and we hope to come back to the BVI and see you both again.
Tony and Dolores Mack

March 08
What a wonderful week - great friends to share a dream week with and now we have both of you as new friends! The food was extra special, the down time to relax and unwind, swimming almost every day all was well until I met the huge stingray. We are all already looking forward to our next week of sailing on the Breanker. If you ever find yourselves in Dayton OH there is only one Bloebaum in the phonebook give us a call you will always be welcome!
Happy sailing, Bill and Margaret.




March 08
Dear Kristian and Marianne.
Our last evening on board Breanker after sailing the BVI. We hoped that it would never end! You both made our vacation memorable. This was our first trip to the British Virgin Islands, and it was a week that we will never forget. You made us feel welcome, took us on a sailing adventure of many islands, served a wide variety of gourmet food from you kitchen, showed us were the best snorkeling was and provided us with all the comfort and service that we could have imagined. On a scale form 1 to 10, you rank as an 11. This was one of the most relaxing vacations we have ever taken we cant thank you enough! We envy your life style and wish you the best sailing in to the future. Hope to see you again.
Al and Phyllis Saye



April 08
Dear Marianne and Kristian
Thank you for a wonderful and memorable week How great to get to know you both and share the pleasures of sailing and Mariannes gourmet meals every day!
Lois
This has been one of our best family vacations ever. The sailing, the atmosphere and the company of the crew could not have been better. We have been pampered start to finish. The food has been outstanding and Kristians bartending was very accommodating. From the towels and linens to the great appointenents in the salon and cockpit every thing made us feel special.
Thanks for giving us such a special week! The Pipers, Bruce, Karen and Austin


April 08
Kristian and Marianne, how to begin! Being with Lois and her family who had this experience before, I had no idea of what to expect. How quickly you both removed any apprehension I might have had coming aboard. From day one being picked up on the dinghy, through the entire trip around the island of the BVIs the both of you showered us with a genuine hospitality that is unsurpassed! Thank you !! It has been so very exiting to meet a couple like yourselves who has so much talent and openness to share it all with us guests. Many thanks, keep well. Enjoy your well-earned trip back to Denmark and God Bless.
Al Smeaton




April 08
Dear Kristian and Marianne
Thank you for a wonderful week of sailing. David has always wanted to sail the islands. This was amazing. There was some thing different and beautiful about each island. The food was delicious and beautiful to look at. We had no idea the food was going to be as good as it was. I know you will remember our group for the neat pickers. David is still thanking me for this gift to celebrate his big 50. You make a wonderful team! Everything was great, thank you again for every thing!!!
Madeline and David Kessler

April 08
Dear Kristian and Marianne
Thank you for an unforgettable week. The food, atmosphere and happy smiles helped make a wonderful and easy time. If the two of you could only come home in my suitcase. I will never forget this cruise. Maybe well be booking another charter with you soon! You never know!
Suzette and Mark

April 08
Dear Kristian and Marianne
Thank you so much for sharing your wonderful home away from home with us and all of our friends. I know we can be a bit rowdy at times but all in fun! You both are genuinely at the top of your game you only do the very best of every thing nothing is done half way you do every thing with grace and ease but the show is spectacular and we all know that behind the scenes you worked so hard to create the perfect masterpiece. You both are absolutely at the top of your field and I surely wan you to know, I loved it!! You are welcome to come visit Jeff and I any time!
Love Debbie
P.S. It was one of the best weeks of my life we had an absolute blast! So dont forget when you are ready to visit Luosiana and the Kleinpetters.

April 08
Marianne and Kristian what a week! Thank you for making our trip outstanding. We could not have asked for anything more. You thought of every thing. The food was unbelievable and how amazed we were, when there was nothing out and then all of a sudden, out came a meal better than any fine restaurant. You took us to all the best spots in BVI. We had the best time with our old friends and our two new ones.
Thanks, Michael and Erin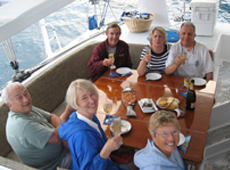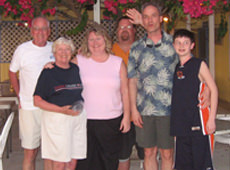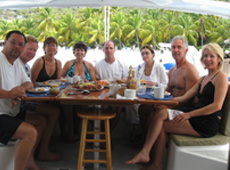 February - March 08
February 08
Marianne and Kristian what a wonderful week in the BVIs on the Breanker! Your hospitality was surpassed only by the meals, happy hours and cocktails. It was impossible to imagine matching our experience 21 years ago on the Endless Summer, but I think that you actually surpassed it. Willie Ts, the Soggy Dollar Bar, three wonderful dives and who can forget our evening at Foxys? 16 lobsters and hours of dancing. You played well with the Shellette and your friends aboard your sister boat and you never lost your balanced demeanor with them or us! Thank you for a great week on your beautiful boat. We are confident it wont be another 21 years before we return to see you.
Laura and Mark Bluhm.
Thanks for a wonderful week !!! We have never been so relaxed and having a fun time in the sun! You are both wonderful people and we thank you for everything. May God bless you and keep you safe and happy.
Love Gary and Jane
P.S. I wish I could cook like you !!








February 2008
Marianne and Kristian.
Thank you so much for a wonderful week at sea. As this was our first time for such a trip, you made us feel at ease and most welcome the minute we stepped on board. You are both great hosts. Marianne, what a fabulous cook you are and Kristian a most accommodating bartender. It was a fun and relaxing week with any memorable moments. Get out of our cove!
Best wishes to you both and safe sailing.
Kent and Cindy


February 2008
Dear Kristian and Marianne.
Thank you so much for a wonderful week! You made me feel so welcome in your home! The food was outstanding as well as the diving and the drinks!! We especially appreciate your willingness to accommodate our friends from the Shellette, 16 people on the boat for the entire day was asking a lot The Happy Hours were great I know you were a big part of our friends experience on the Shellette. Best to you always and we hope to sail again with you!
Regards Graig and Marianne



February 2008
Dear Marianne and Kristian.
Thank you both for the most memorable vacation As you know, we have traveled a great deal, but this vacation will always be on the top of the list! The food was outstanding and so appreciated. The sailing was delightful, for Bruce, the snorkeling a treasure. But both of you and your hospitality were the best part! We consider you friends now, so keep in touch!
Carol and Bruce Appelbaum





March 2008
Dear Kristian and Marianne
Niel, Dave and I (Antony), wanted and hoped for a relaxing and friendly trip. You have far exceeded our expectations and have not only helped us to relax, but also made us feel so welcome, as to feel like friends. We have had a truly lovely trip witch we sincerely hope we are able to repeat in the not so distant future. The quality of the food, your help and service has been five star to say the least! Thank you so much for a wonderful trip.
Take care and happy sailing and long may it continue.
Antony (UK)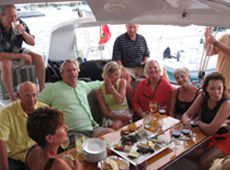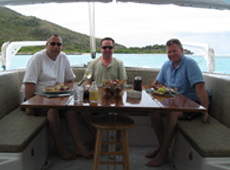 January - February 08
January 08
Marianne and Kristian Thank you so much for the wonderful week on Breanker. We all had a great time The beautiful little private harbors, the sea turtle sightings, the adventurous dives, the delicious and beautiful meals, the perfect weather, the beautiful boat, the laughs at dinner time, the tequila shots.And on and on and on!
We so appreciate you making us so comfortable in your floating home and the lengths you went to to accommodate us (picky eaters, air tanks, football game!)
We thank you and hope to see you on Cape Cod. Our door is always open, the welcome mat out!
The Barnicle family, Ted, Lou, Erin and Ryan


January 08.
Dear Marianne and Kristian.
It is with mixed emotions that we leave, sadness at ending our week with you and delight at the weeks adventures. I loved the beautiful isolated bays, the long ocean trip, the sail on Saturday, the exploring for dive sites and the little community that developed onboard as our three families developed our rhythm.
Thank you for your hospitality in your beautiful floating home. Your flexibility, experience, knowledge and kindness created a memorable ambience as we roamed the seas. Thanks also for arranging such unusually beautiful weather and creating such delicious fare for our idiosyncratic palates.
With respect and admiration, Ginny and Nate Sigel.





February 08
Kristian and Marianne.
Thank you for a wonderful week. We ate well, had fun, did what we wanted to when we wanted to and enjoyed your company. This is definitely the way to see the island of BVI, and it was different than our Breanker trip 3 years ago.
Your warmth and ready smiles made us feel at home immediately the beautiful and delicious meals, the rare rain, (mostly at night), and your lovely boat all combined to make this a week to remember.
Thank you, thank you, thank you,
Carie and Ron, Judy and Mat.


February 08
Dear Kristian and Marianne.
What a fantastic time! You both are wonderful hosts extraordinaire!!!
I never imagined I would enjoy being on a boat for so long and not once bored.
You made our family trip one we will all never forget.
Big hugs and kiss, Lisa Sterio.
Dear Kristian and Marianne.
Steve and I had a wonderful time, more than words can say. You were both exceptional host and hostess. Having all our family together was so special and thanks to you, it was a time full of fantastic memories.
Cheers Maria and Steve.
Dear Kristian and Marianne.
We sure all know how to ski, snowboard, hike the mountains in Austria and Canada, but we had no idea how it is being on a boat for a whole week in the Caribbean. But what we experienced exceeded all our expectations.
Every day another beautiful bay, smooth sailing on a Rolls Royce boat, fun party places, dancing on the beach, safe sailing through rough waters, great snorkeling and swimming. But most of all your outstanding hospitality, the fantastic food and the great and friendly personality of you two gave us the feeling like being together with old time friends. Thank you for every thing We will be back for sure for another Dream Cruise!
Love Wally (#1stroker of Foxys), Inge and the whole Spitznagel family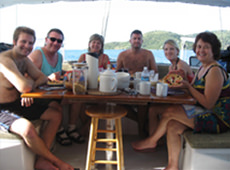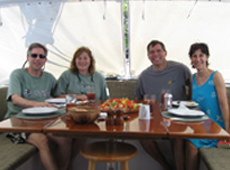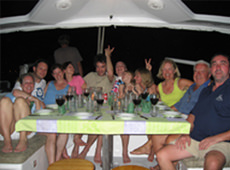 June 2011 - May 2012
May 13 2012
Kristian and Marianne Best crew ever Thank you for a fantastic trip Excellent food and company Memories we will never forget Hope to see you again!
P.S. If you come to Napa, California please call us so we can share a bottle of wine and more good times!
Tim and Robin

May 6-13 2012
Marianne and Kristian, what a great trip! We have never had a better crew! You made our trip absolutely the best. Ellen will hear how wonderful you both are. We WILL be back! Come visit!
Toni and Ken

May 2012 I cant begin to thank you for the wonderful trip weve had! We have enjoyed every moment from the beaches to the bars to the FOOD! You both make an incredible team and we couldnt have asked for more. And the swimming especially at midnight WOWEE! Thanks again for an amazing experience!
Mike and Jenifer

5/2012
Kristian and Marianne tusind tak (spelling?) We now share memories!! You will be forever in my thoughts! Marianne, I really enjoyed our talks. Kristian, I really enjoyed our swim!! Of course the sailing and the food were the best! Please, if ever you are in Napa, you must visit us Or if you find yourselves in Kauai, the same. Both Ken and I love your boat, this trip, and both of you!
Ken and Debby

19 April 2012 The Dailey family voyage.
Dear Marianne and Kristian, this has been the briefest week long holiday ever.
A lot of swimming, eating, dining, diving, sleeping and only the occasional interruption for an occasional drink. You are the perfect hosts Thank you!!
Tom, Kate, William, Lilly and Georgiana.

THANKS The ski bobbing was so much fun. (I hope that I spelled that right!) We saw so many fish when we went snorkeling and we had so much fun. Thank you so much for this trip and all of the excitement and excellent food!
Libby (9 years old)

Dear Marianne and Kristian It was so much fun! I loved to swim to the beaches and around in the middle of the boat. We had an awesome time.
From Georgie (8 years old)

April 13-20 2012.
Dear Marianne and Kristian. Well this is what it is all about! Fabulous food, glorious scenery and wonderful company. Thank you, thank you!
You are the greatest!
Louise and Bob Dailey Jubilee Yacht charters.

4-7-12
Mrs.Marianne and Capt. Kristian, Thank you for every thing. The food was AMAZING. I saw so much I hadnt seen before. Thank you☺
Bailey Robertory.
Dear Mrs. Marianne and Capt. Kristian. Thank you for a wonderful 4 days. I will not forget Mrs. Mariannes cooking and captain Kristians table settings. This was the best vacation.
Thank you, Catherine Corsini
Dear Mrs. Marianne and Capt. Kristian, Thanks for an awesome vacation and GREAT food. We had a fun time. Your boat is so cool.
Thank you, Lauren R.
Dear Mrs. Marianne and Capt. Kristian.
Thank you for a wonderful trip on your boat I had a really fun time. Thank you for teaching me how to make a boat out of a napkin! Thank you Emily Corsini.
It was fun ☺
Kristian and Marianne.
WOW, what a wonderful 3 days not long enough that is for sure☹
We had such great laid back days full of fun exploring, great food. Thank you for sharing your home and your incredible hospitality. A trip we will never forget!
Kevin, Jodi, Catherine, Emily Corsini.
Kristian and Marianne, Thank you for opening your home to us! What a fabulous and luxurious trip for our two families. I just love the bathing and showering system here. Whish I could continue it at home. Thank you so much for catering to Baileys food needs. Again, made mommy very happy. Great food. Wish I could cook like that and so does Rob! Thanks again for your gracious hospitality.
Paige, Rob, Bailey and Lauren.

March 31, 2012
Marianne and Kristian, what a lovely Spring break vacation we have enjoyed aboard the Breanker! We had no idea of what to expect of our five days on the water and now are so sad to be leaving Thank you for taking our crew to some fabulous places in the BVI. Sailing, snorkeling eating, reading, diving and most importantly RELAXING. We take with us lasting memories!
Thank you for sharing your knowledge and love for this part of the world. I hope we can come back some time in the future and stay more than five days!
Happy sailing, The Robertsons, Kim, Jim, James and Emma.

March 31, 2012
Kristian and Marianne, We cant thank you enough for your hospitality throughout our five day adventure aboard your beautiful cat, Breanker.
I wasnt quite sure what to expect, but I have to say that the trip totally exceeded our expectations. The food was delicious and I especially appreciated your extra efforts to accommodate my dietary restrictions. Your extensive knowledge and experience in the BI enabled all of us to relax and enjoy the beautiful surroundings such a treat!
We have many friends back home who cant wait to hear about this trip - we will defiantly spread the word about this wonderful trip and the Breanker specifically.
The Crowes, Kevin, Julie and Ryan.

March 23, 2012
Guests of Kristian and Marianne for 12 years!!
Kristian and Marianne Again WOW! What a wonderful week! Everything is always so relaxing and laid back aboard Breanker. The food is wonderful, the company even better! You both spoil us terribly!
Martin and I have counted. Now we have been with you 6 times (42 days at sea) over the last 12 years and 3 times aboard your other boat, Quest (when you were not available).
Each time is as special as the time before! It is amaxing that there are always new places to discover Cow wreck beach, Cam bay, Key bay. We are always looking forward to next yeartime with yall and the new discoveries on Breanker!
Love you both Martin and Jodie Stott
P.S. Martin asks if you have any weight loss program you can recommend!!
Food was awesome again!! ☺

3/5-12, 2012
Four girlfriends from Kansas are feeling a bit sad this beautiful morning on the Breanker we have to go home today!
From the minute we stepped onboard with Marianne and Kristian we were treated to wonderful meals (Sue took pictures of each one as they were beautifully presented). Kristian also made sure we had drinks painkillers, wine, margaritas and more. Our (my favorite) was the little coves that we anchored into and snorkeled along the most beautiful coral reefs. We saw amazing fish every day we discovered a new variety we would get back on the boat and identify as many fish we could with the books on coral fish that were supplied. We were exited to discover a school of squid so odd and beautiful, a spotted eel, a eagle ray, a couple of beautiful angle fish that we couldnt identify. The coral was the same.
We thank you our hosts for taking care of us and being attentive to our interests the week went by way to fast Also enjoyed the dcor on the boat and special conversations with Kristian and Marianne!
We will return soon, I hope!
Sue, Julie, Lisa and Sarah
Feb 27 Mar 4 - 2012

Marianne and Kristian. Our second year on Breanker! We have so loved every spot you have taken us!!
1. The FOOD.
2. The last resort
3. The soggy dollar
4. Anegada
5. The dolphin that swam and played with us on the sail back from
Anegada!! Unbelievable an experience we will never have again!!

xoxo Bolding and Rice families

3-3-12
Thank you Marianne and Kristian for having me on your boat! It was so much fun. I loved the burgers they were the best. I loved to get to do different things, especially trying different foods and snorkeling of course! You guys are so sweet and thanks for having me! I hope you enjoy your hat and bag. Remember go Tarheels!.
P.S. Anegada was so cool☺.
Love, Mary Rives
Another fabulous vacation on Breanker! We had so special sightings of dolphins, rainbows and starfish! Thank you both for you hospitality.
Suzanna, Brent, Mary Rives and Suzie Rice
Marianne and Kristian, your food is amazing! I like everything, especially the burgers. The snorkeling was great and again the food was amazing especially the toast and jelly you had in the morning. Anegada was my favorite place we went to.
A happy Jack. P.S. Go heels!! From Jack
What I like about the Breanker is that we saw a wild dolphin. Im lucky because no kid my age get to see a wild dolphin so that is what I like about the Breanker!
From Suzie

February 2012 3. Time repeats.
Another great adventure both for any of us who are returning again and for the first timers. So many highlights it is hard to list them all. Mariannes excellent cuisine, the great weather, many great snorkles, encounting great tarpon and sea turtles, learning about each others and ourselves. Another shitty day in parrotdise!! We look forward to adding to your napkin ring collection.
Bev and Rick Kleinman

Bill (best boy) and Dee tropp You havent seen the last of me!
Thank you for sharing your lovely home with us! You made us feel welcome and we hope we respected your wishes we will be singing praises of this week for years to come! Thank you again!
Dean and Terry McClan
Just watching the two of you cook through the windows working so well together is a treat.
Jimmy and Terry Ramsay.
2-17-2012
Dear Marianne and Kristian.
Another very special holiday with you without the boys this time and I think they wish they came!! Not sure theyll let us come without them again! You coped with Tom and his eating habits very well (without me missing out on all the fabulous things you do)! You found so many special places for our evening stops and so many different visits in the days too. No other holiday can ever measure up. Thank you for sharing your winter home with us again it was so lovely seeing you again and to getting to know our newfound friends better. We hope you have a good time the rest of the season (some relaxing moments together I hope amidst all the hard work and planning) and a well-earned time at home in the summer (workshop and greenhouse calling!)
With our love and see you again soon, God willing.
Tom and Mary Monfries

February 7, 2012
Kristian and Marianne. Thanks so much for a fabulous time! You made us feel very welcome on your lovely cat. I hope to be able to fit in to my clothes some time this year!!
Love Carlyn and Tom.

Marianne and Kristian. Thank you for a great trip. Breanker is quite the trooper. Best of best always.
Warmly Joe.
P.S. Kristian, my 50/50s were perfect every time ☺ Thank you.
P.P.S. Blue cheese olives were well done. Thank you again. Joe

1-22-12
What a wonderful tour of the BVIs! My group of nature lovers truly enjoyed being enlightened by Kris and Marianne. My fun loving flock will return next time we need to be recharged and relaxed.
Dennis, Brenda Ohio. David, Sheryl AZ. Bob, Lisa Denver Dick, Julie CO

1-20-12
Thank you so much for a lovely trip! The fantastic meals and the beautiful boat were unforgettable. Kristian was a fantastic SCUBA guide! Our vacation would not have been complete without conversation and guidance. We hope to be able to come back to visit you again for frilly painkillers.
Sara and James
P.S. Thank you to the ONeills and Lantzys for inviting us on their family vacation.

To our amazing hosts, Marianne and Kristian.
You have delivered a most incredible family vacation for Dad, Mom, John, Jared and I. I have been enormously awed by you smooth perfectly orchestrated hosting each day. We have been lucky to have had a week on charter with you. In addition to the tasty gourmet meals, spectacular snorkeling and SCUBA, smooth sails and comfortable accommodations, you have the great mix of laid-back and good-humored personality that absolutely makes the atmosphere! Thank you both for an unforgettable week of escape and fun.
Sincerely Shanon
P.S. Its all in the details, and you do the details like none other!

My husband and I got to not only spend a week with our adult children but got to enjoy a perfect vacation, perfectly orchestrated by Kristian and Marianne thank you to you two. Family and friends together on such an enjoyable vacation is so perfect and a touch stone life experience, so what can be better than sharing life with family and friends and Marianne and Kristian who made it possible. Perfect!!
Nicki ONeill

1/3/2012
Dear Kristian and Marianne.
Roses are red the Ocean is blue.
I cant think of a better way to spend the New Year than with you!
Our family cannot appreciate your love and understanding of the beauty in the surroundings enough. Thanks you for sharing your home, your fabulous cooking and your fabulous surrounding and most importantly, thank you for being patient with a group of crazy Southerners God bless and hotty toddy.
The Carters and friends

12/25/2011
Dear Kristian and Marianne. Thank you for welcoming us into your beautiful floating home! We spend a fun and sun-filled time in your company this past week, making memories we will cherish for years to come. 1
Your zest for life is contagious, your cooking is scrumptious and your hospitality is boundless. We couldnt have asked for a better way to spend a holiday.
Sicerely Gil, Monica, Eduardo and Diana Sverdin and Sara Melman Lisker

11-17-11
This has been the most wonderful week aboard Breanker. Great friends both new and old, wonderful crew, and fabulous meals! Thanks Kristian and Marianne.
Dennis (yacht broker)

Dear Kristian and Marianne.
I have known that you are the best, but too experience this myself was just amazing. The sailing, the fantastic food Marianne you create and those astonishing yummy cocktails.. this could go on and on!
I love you guys xoxo Sonja (yacht broker)

I have so enjoyed the time on Breanker. Thank you Andrea

11-17-11
Dear Marianne and dear Kristian!
We thank you so much for this wonderful week. Thank you for you to show us the best places, to cook the best meals, to sail all the time when sailing was possible, to tell us something about Denmark, to dance with us during the night and so on and so on.
We wish you all the best, your Austrian people from Vienna.
P.S Thank you for my Birthday cake!

10-30 - 06/11/2011
Dear Kristian and Marianne.
We are from Brazil and English is not easy for us. But, in our pour English we are going to pass our telling about our trip.
All the days are happy☺!! We love the food, the sea sight, the music, the diving, the swimming. And the cheese!!
The boat are comfortable and everybody likes. But your reception were wonderful, excellent and everybody loves you.
For you we are a different experience, for us you were excellent and we want to continue to be friends, and we wait you in Brazil.
Thanks for all things!!
WE LOVE YOU MARIANNE!! WE LOVE YOU CAPTAIN!!
Thanks, Valena & Sergio, Clarice & Higinio, Claudia & Ruy, Flavio & Myria

June 5th thru 12th, 2011
Barefoot elegance, just elegant! And I am VITA MIX challenged☺
Thank you Kristian and Marianne for memories that words can not describe but will forever be written in our hearts.
We love ya Pe-tah!
Cindy and Greg Abrahamson

June 12 2011
Dear Marianne and Kristian. This was a vacation that Mike and I have dreamed of doing for a long time. Thanks to you guys it was every thing we dreamed of and then more. Yall made us fell at home the minute we stepped aboard. You are two wonderful people that I am now happy to call friends!! Thank you for extending your season one more week!
Hope you are blessed with many more wonderful charters.
Mike and Susan


Guests aboard in November, 2010
Yacht: S/V Breanker
Date: November 10-17, 2010

Thank you for selecting us for your tropical adventure. Kindly take a few moments to honestly evaluate your experience onboard your selected vessel.

Comment on the comfort onboard Breanker:

We were very comfortable aboard the boat. Kristian and Marianne took care of our every need. We thought the trampoline area on the front of the boat was much more comfortable than our last charter.

Comment on the condition of Breanker:

While Breanker isnt the newest catamaran on the water, she is very well kept up. You can tell that a lot of work has been put into the boat, and at the same time there is a nice charm to the catamaran. It feels very warm and soulful.

Comment on the cleanliness of Breanker:

We found Breanker to be extremely clean.

Comment on the congeniality of the Captain and crew:

We loved Kristian and Marianne. I would definitely travel with them again.

Comment on the service of the Captain and crew:

The service, overall, was excellent. They read us all very well, and tailored the trip to our likings. They have a very good way of blending the service aspect, with having us feel like welcomed guests in their home.

Comment on the fun aspect of the Captain and crew:

Again, we loved them. There was definitely a good bond between captain, crew and the guests.

Comment on the expertise of the Captain and crew:

They seemed adept at all aspects of sailing but honestly we didnt have any wind and we werent under sail. Cant really judge here but from my untrained eye, they seemed to have a good sense of things.

Comment on the quality of your meals:

Food was very good. I would say that they followed our preference sheet to about 90%. The other 10% didnt really bother us anyways, as we still ate and loved it. Marianne makes some really nice dishes, and she spent time listening to us when we didnt know she was listening and came up with some nice surprises as well.

Comment on the presentation of your meals:

Meals were presented in a great homestyle format. Its very much like we eat at home. My crewmates all liked this very much.
Would you charter this yacht again? YES

Dennis

November - December 07

November 2007
When we look back upon this week the smiles we wont contain.
For in this short span of time our hearts will remain.
We look forward with a faithful heart that our paths will cross again.
But if our fate takes a different path, please know you are a friend.
We will remember glorious beaches with sand as white as snow
The Caribbean waters changing colors atop of every wave we roll.
Well remember the sounds of sails shifting in the wind
And the sweet Danish accent of our captain and his kin.
We will reflect upon the majesty and the beauty in His name,
The coral, the sand, the mountain strands and the creatures below,
But none of these will we cherish as much as the people weve come to know!
Thank you both for the most incredible vacation weve ever had.

Fondly Sam, Shawn and Alison Dell






December 2007
This has been a wonderful experience for our family. We had a goal of bringing this family together and having a meaningful commitment ceremony.
All was achieved but at a level that far exceeded our expectations. You two were a big part of making that happen. We will always remember this special trip and its moment in time makes a milestone for us.
Thanks for your hospitality, patience and taking a firmer hand with the kids it turned our vacation around!
All the best David
Kristian and Marianne.
We have so much to thank you for! You provided a wonderful backdrop of hospitality and willingness to share your home on the water with all the Barb Sebastian Family!
With much love and many thanks for helping us celebrate the unification of our families. Nancy

Wow what a week! Thank you both so much for an awesome lifetime experience! Thank you for putting up with all of us kids, since I know we can be difficult.
The food was awesome, by the way the others the others are just a little inexperienced with eating quality food!
I will always remember this vacation and thank you both for making it such a memorial vacation.
Sincerely Benn

This was probably the best vacation Ive ever had, and we owe so much of it to you guys. You gave us everything we could have possibly needed.
I know we can be a difficult group sometimes and you were so patient with us! Thank you for everything! I will never forget this trip or you guys!
Kim

Thank you for this once in a lifetime experience. This has been so much fun to be part of your life on the water. I know we were a hard family to put up with and I thank you for your patience. Again thank you so much for everything.
Chase

Thanks for this amazing trip. This was so much fun. Without you guys this trip would have been nothing.
Thanks again Reed

This trip was absolutely wonderful! You guys did so much for us this past week and I hope you know how grateful we all are! You made this trip very memorable and made everything run so smoothly! Thank you so much for making this week an amazing experience.
Sam
Dear Marianne and Kristian.
I came into this vacation very stressed and over worked. I needed something to take everything off my mind and this just did it for me. The combination of the Breanker and you two are probably the three biggest stress relievers even with the rest of my family onboard. This vacation I will always remember. Thank you very much!
Sincerely Beau

Marianne and Kristian.
This was probably the best vacation Ive ever had; it exceeded all of my expectations! You provided us with so many opportunities, and we were so fortunate to have you guide us around the islands. Im so glad I got to know you both, youre so nice and helpful, and really helped me to feel like I was at home.
Everything was perfect and so much more than I imagined! Thank you so much for everything! Ill miss you!
Kim



December 2007
To Kristian and Marianne.
Where do we start to thank you for the most wonderful week in your floating home. From the minute we met Kristian in Tortola we all knew we were going to have a special week. You have both exceeded our expectations by so very much. We feel that we have known you far longer than a week. You have anticipated and catered to out every need before we even thought of it!
The meals have been fantastic one better than the one before. Kristian has taken us to the most beautiful places to snorkel and in and out of all the different bays. Thank you so very much for your wonderful hospitality and your gentle kind care of us this week.
It has been so wonderful to be with our family and dear friends for a week on your beautiful boat. It is not so often that we get the change to be so close to our girls for a week.
We feel like we made two new friends that we will think of often. We WILL be back again!!
Please call us anytime you are coming to the States. We would love to reciprocate your hospitality.
Love, Nancy, Bill, Jordan and Mary Mitchell Fuqua

Dear Marianne and Kristian.
We have had the most wonderful relaxing week with you. I cant wait to come back. Your gracious hospitality has won our familys heart. You both are such gentle genius people. I will always have fond memories of this trip with you, especially since you stole my son, Arthurs heart with your fabulous meals and your caring spirit. Kristian, you are such a gentle person. It was a pleasure spending the week with you and see how you calmly handled your boat and every situation we encountered. Many thanks for the introducing our family to the BVI way of life! Well be back!
Fondly, Arthur, Carlton Arthur and Dudley
Come see us in the mountains! P.S. You are a fabulous cook Marianne

Kristian and Marianne.
Thank you for such a fine week! I have had such a good time traveling all around the BVIs and getting to see so much in a short time. I hope we will be back soon!
Thank you again! Love Jordan.

Kristian and Marianne.
Thanks so much for such a memorable week. We had a great time getting to know you yall, and yall made our time here that much more special. I will always remember dancing with Kristian at FOXYS. Thanks again for everything! I hope to see yall in the future.
With love, Mary Mitchell

Kristian and Marianne.
Thank you so much for everything yall have done for us this past week. I have had so much fun. I hope we will get to come back in the future!
Thanks again! Love Dudley

Kristian and Marianne.
I appreciate everything that you have done for us this week. It made our vacation so much fun and relaxing. And of course the food was wonderful! You are wonderful people and thank you again for a great week. Arthur (little)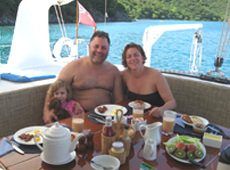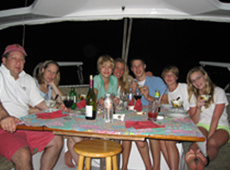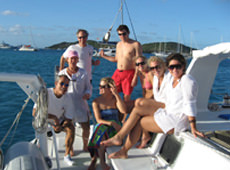 December 08 - January 09
December 08
The Taylor family. Chuck and Georgie from St. Croix, Ben and Stewart from Idaho, Jack and Kari, Rachel, Nathalie and Max from Colorado.
From the first day to the last, your smiles never disappeared. What a wonderful late Christmas gift and what a wonderful New Years gift to us all! It never mattered which island, which harbor, which meal, but you always smiled and you always made us feel special. Marianne was the best first mate, executive officer and chef. Kristian was the finest captain, bartender and so, so patient with the kids. Now we have some thing very special a family memory. And we hope that you have a memory of a family who will never forget the two of you. And we have proved without a doubt, that a family that sails together, (and drinks together), stays together. Our goal is to go sailing with you again in to the setting sun.
Affectionately, Chuck.

Sorry for the late nights, tastes like chicken, chicken doodle.
Jack

It has been a great trip. You have been so nice to me. Sorry for the cup.
Nathalie

A very special trip. As I sit here on the last morning watching the sunrise and the beautiful cluster of islands, it is hard to believe I will be back in the mountains of Idaho soon. The wonderful sounds of water and wind will soon be replaced with the hustle and bustle of my restaurant, a chef coat instead of a swimsuit. I am fortunate to lead the life that I have chosen. Trips like this make it even more special. Thank you Kristian and Marianne for sharing your world. It is simply amazing!
Stewart.

It has been a wonderful experience for all of us to explore the BVIs, but the best part was being on the Breanker with the two of you. You are the host and hostess with the mostest! Your boat is prestine and the food absolutely fabulous and you made us feel the part of the family. This has truly been a trip of a lifetime.
Fondly, Georgie

This is difficult to put into words just how unique our time has been on Breanker and with the two of you. Your patience, obvious experience and talent on deck and in the kitchen, and your infectious smiles are unparalleled. I can only say thank you for sharing part of your lives with us. People are truly blessed to have spent time with the two of you. We share that blessing.
TAK, Bennett Taylor


1-23-09
I ate too much!!! My pants dont fit! I had such a relaxing trip, I really dont want to go home yet. But I seriously had a great time this week. The boat is wonderful, clean and comfortable. I made some new friends in Marianne and Kristian. I hope I can return some day soon.
Sincerely, Mike Gifford.
1-23-09
I have never relaxed so much as on this trip. The friendship, the food, the drinks, the sights were well above expectations. The only thing that exceeds those insights was the camaraderie of the crew starting as strangers and becoming great friends.
Memories will remain until the next trip. Same crew and same group. Nothing could be better! Kristian and Mariannebest of luck with future charters. Thanks again.
John Wojtuwicz
1-23-09
This is my third BVI charter on a catamaran. It is so far above the rest that words fail me (some thing all my fellow charterers and crew will tell you is near impossible). 4 guys needing an escape from the hustle of the real world have come together for a spectacular trip, beautiful scenery, excellent comfort, superb cooking and meals, a plethora of available activities, and a tour of great bays, great cays, and great bars.
Kristian and Marianne very unobtrusively took care of our every need. Without imposing at all, they became, by invitation, friends and travel mates to each of us. Accommodations, food and drink were all top notch but the get-away, to relax among friends, made this my best trip to the Caribbean ever!
Call me for more info any time . Marty Zase
1-23-09
DITTO! Just what Marty just said. JUST WOW! - NIRVANA -
Narcy Dubicki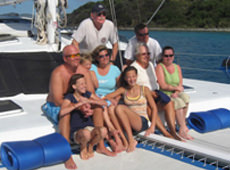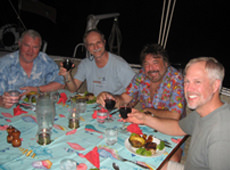 Christmas 2012
Christmas 2012
Kristian and Marianne This has been a fabulous trip for our family the first Christmas we have ever traveled and now the start of a new family tradition.
Thank you for sharing your home wonderful meals and the beautiful BVIs with us Marianne we loved our history conversations about your homeland and Kristian thank you also for your knowledge and safe transportation throughout the trip so much to see so little time we WILL be back!
All the best Ann and Steve

Good food! Good drinks! Good company! Mange tak!
Grey

12-26-2012
Thank you both so much for a great week! We saw some beautiful sights, ate WONDERFUL FOOD!! And had the pleasure of doing it with you two.
Cant wait to come back. Merry Christmas J
Love Hannah and Stella


May 2012
May 6-13 2012
Marianne and Kristian, what a great trip! We have never had a better crew! You made our trip absolutely the best. Ellen will hear how wonderful you both are. We WILL be back! Come visit!
Toni and Ken

May 2012 I cant begin to thank you for the wonderful trip weve had! We have enjoyed every moment from the beaches to the bars to the FOOD! You both make an incredible team and we couldnt have asked for more. And the swimming especially at midnight WOWEE! Thanks again for an amazing experience!
Mike and Jenifer

5/2012
Kristian and Marianne tusind tak (spelling?) We now share memories!! You will be forever in my thoughts! Marianne, I really enjoyed our talks. Kristian, I really enjoyed our swim!! Of course the sailing and the food were the best! Please, if ever you are in Napa, you must visit us Or if you find yourselves in Kauai, the same. Both Ken and I love your boat, this trip, and both of you!
Ken and Debby

Nov. 2nd., 2012
Marianne and Captain Sean Connery J
Thank you so much for an amazing trip from your shit wrecked Canadian Team. Our BVI Baaaar. Tour is one to remember!!! Well, some of us will remember more than others :J
Food and hospitality were as Chris would say Top 10. We couldnt have asked for anything more for a vacation destination thanks for the ..Banana rum, air conditioning, dinghy rides, being the girls wingman when our husbands couldt, day care rope, early shuttle home, shoe basket, doing Chriss laundry J, the best anchorages, your never ending patience with our silly antics and most of all sharing a piece of this amazing paradise!! Am only sorry the time went by to fast!!
If you ever make it up to Canada please be sure and come and visit us so we can show you some Canadian hospitality and boating in the Ontario Kawarthios.
All the best for a wonderful boating/charter season in 2012-13 and hope one day we can come back to visitJ
Cheers!!! Lynn and All Brodie, Chris and Taren Annett, Mark and Jackie Bizjack
P.S. Sorry about the luggage J

November 18th 2012
Don and I LOVED the time with you on your boat! We so needed the time here. Cheers to you both.
Don and Rebecca

It was my first, but not my last charter! Thanks so much for your southern hospitality. I LOVE your boat, keep my berth warm.
Love Ginger

I enjoyed the time on the boat very much. This will definitely not be my last charter! Thank you very much for everything.
Love Gabbi and Andrea.

Dearest Marianne and Kristian, another most wonderful charter with you.
I did enjoy every second of it, you two made it to the perfect vacation.
I love you both and your wonderful yacht!!
Your hospitality is amazing and we all appreciated it so very much. Mariannes amazing food, Kristians painkillers were fabulous and your sailing skills are terrific.
Much love from your good old friend Sonja xoxoxo

12-14-12
Dear Kristian and Marianne After that fabulous martini it is hard to articulate the way Id like about how great this week was! You are wonderful hosts in all aspects sailing skills, hospitality, patience, tolerance, sensitivity and ability to make every one happy! Thank you so much for a wonderful time, your friendship and your humble skill. Stan joins me in saying that we enjoyed a most memorable week with you both.
Esta and Stan Shindler

Dec 8-15 2012
After 7 days together we can only say that every thing was first class. That harmony that the two of you share in your personal life with 6 strangers on board, makes for a most comfortable weeks charter. ( Better we dont understand Danish). Its hard to begin even to list the exceptionalism of the 2 of you. Sailors, Haute Cuisine, patience, skills, cabin maintenance and wonderful small harbor nights and peaceful quiet. Forget the flies at Jost Van Dyke.
We are most grateful for an introductory charter of such quality!!
Weve also become to you in such a short time.
Many thanks, Laura and Ery Magasanik
A toast for a successful New Year Laura and Ery

A boat full of guests with I-pads and e-mail. The whole world to deal with its issues, madness and current events but not for me I am on the Breanker here with my lover, friends and you, Marianne and Kristian enjoying the best of your vessel, culinary expertise (that is at least 5 paragraphs), hospitality above and beyond incredible, comfort and cleanliness and all that sailing involves to wonders of your world, in particular Virgin Islands would with its fine sailing, beautiful vistas and swim and snorkel spots of excellence.
We are blessed and you and your world are a gift.
Shalom and love Sandy and Neil

October - December 2014
11-14-2014

Where to begin This has been an unbelievable journey. Everything was Kathys favorite - - - Each island, shopping, happy hour and the meals.
Kerry loved learning the history of each island and the knowledge he has learned of the islands.
Thank you so much for a wonderful trip.

Love Kathy and Kerry

11-14-14

I have loved to share the experience with our lovely American friends/family on your amazing craft. Your ability to welcome us, care for us feed and nurture us has been amazing. Thank you for your knowledge, skill, hospitality and calmness.
This has been the holidays of my dreams!!
Linda xxx

This has been a wonderful adventure. I had no real idea of what this trip would be like but it has far exceeded anything I could have imagined. That is down to you your easy going hospitality, your knowledge of where to go - and when
And the outstanding food emerging from that tiny kitchen. It is hard to believe.
Paul xx

11/14/2014

Marianne and Kristian.
This was our fourth trip with you and it just keeps getting better and better!
You are like family to us now. As soon as Kathy wins the lottery, we will be back!
(Just kidding, we will be back soon I hope).
As usual, the food was unbelievable the weather was fantastic and the company was great.
We are so happy that our family enjoyed the trip. We will definitely return.
Love, Julie and Harold.


12-26-14
Marianne and Kristian: Beauty, grace, tranquility and harmony resonate throughout the BVI, but nowhere do these qualities chine brighter than on board The Breanker with the two of you graciously sharing with us your adopted home and all its wonderful trappings.
The quiet of the morning, the vibrant shades of turquoise and blue along the sea, the magnanimous clouds, the bright lush green islands, the radiant sunsets, the starry nights and the frequent rainbows are certainly memorable. But your warmth, charm and friendship are what we will best remember and all take with us when we regretfully head back home.

On behalf of our family, Allan

Thank you so much for a wonderful week. My siblings and I had and amazing time swimming, relaxing and eating in an insane amount every day.
Thank you for every thing It was an unforgettable week!
☺ Alex

Thank you so, so, so much for an amazing week! It was so beautiful and so much fun! I had the time of my life.
☺ Grace

Thanks for an awesome week! I had so much fun in this beautiful place thanks to you two!!!
Lilly

Best vacation ever!!!! Thank you so much for helping along the journey!
Zach

Thank you for such an amazing trip! I really enjoyed my time here. Hope to come back soon!
Jane ☺

Dear Marianne and Kristian
It was such a pleasure to have spent the last week with you. Our family enjoyed every moment on board (especially me) and hope that we did not bore you an ideal vacation is relaxation eating, reading and sleeping.
I know we shall see each other again soon in Denmark or California?
Thank you for sharing your life with us.
Judy


1-3-15
Thank you so much for the wonderful food and kindness. We loved sailing across the seas into the islands. Thank you again for everything! (Also for trying to open the conch) ☺
Grace

Thanks for the outstanding food and hospitality!! Have a great 2015!!
Adam