Recent guests aboard catamaran CATSY with Michael and Jennifer said:
Our trip was excellent, Jennifer and Michael are a wonderful team that provide a world class chef and a extremely capable and professional Captain. The boat is very well maintained and all systems were working during our trip. Catsy has a wonderful layout and the team makes all feel at home, increasing the enjoyment of the boat.
Jennifer's cooking is excellent at every meal, outstanding presentations, such creative dishes, and the quantity and quality provide more than enough for all to enjoy.
Mike is always eager to do anything to make the trip enjoyable, snorkel, boat, tender, move the vessel any where, just an excellent Captain to meet the needs and wants of his guests. Also the provisions were perfect, they obtained wines we asked for and all meals watched diet restrictions perfectly which took away any concerns.
Would be happy to recommend this team and boat to anyone that wants to enjoy first class sailing. Please feel free to share these comments with others and Jennifer and Mike, as we are very happy customers.
Thank You, God Bless
John
Guest abard first week of April
Kerry,

We had a great trip. Mike and Jennifer were unbelievable.

My family and I have been fortunate to travel and have many great 5 star experiences both inside and outside the US. As you might imagine, with four teenagers it is rare that everyone likes the same thing at the same level. All six of us agreed that this would be the best trip we have ever experienced. 5 star accommodations, 5 star + food, 5 Star service, and a 6 star experience.

I would recommend Mike and Jennifer at the highest possible levels on all elements.
Late July guests aboard catamaran CATSY with Michael & Jennifer said:
1. May I have your Overall Rating for your charter, with 10 being the highest, 0 being the lowest?
( 9.5 )
2. Were Michael and Jenn friendly, professional and accommodating? -
Yes, way beyond our expectations. They were both phenomenal. Michael went out of his way to be a full-time activities director for our family and personally provided hours and hours of fun (watersports and otherwise) for us and our kids. Jenn is literally crazy about cooking and spent multiple hours longer than we ever could have expected preparing meals for us. They were both dedicated to their roles in a way that I had trouble believing, and it's clear they truly love what they are doing. (And they have fun doing it!) They literally worked 18 hours a day (sometimes longer). I am so impressed with both of them that I hope to book our next charter with them again.
3. Was CATSY comfortable and clean? -
Yes, in every way. It is a fantastic boat, and Michael and Jenn go out of their way to keep it that way. They definitely act as if the boat is an extension of themselves.
4. Was CATSY well ventilated? -
Yes, even better than we expected. The AC on the boat was fantastic, especially since my family likes cold air to sleep.
5. How was the cuisine? -
Great. Jenn goes beyond a reasonable point with the amount of time she spends on preparing meals and the detail she applies to each one.
6. How was the BVI? -
Absolutely fantastic and perfect for a charter like this one. We definitely plan to back again to visit the places we didn't get to this time.
7. Any additional comments on your charter? -
It was better than I could have expected. The boat and the crew were perfect for our family.
Fabulous report from July, 2016 guests aboard CATSY
CATSY & CREW - BVIs - July 2016

Where to start? This was our first trip to the BVIs. In total, we had a group of 15, of which, 13 were first timers. This was a tandem trip or two yachts working together to accommodate our group. The two veterans in our group gave us a few pointers as to what to look for in regard to yacht selection but didn't offer a lot in the way of guidance when it comes to selecting a crew. Let me be the first to say, you need both and, wow, did we luck out on both!

Let me start with the CATSY. She's beautiful! Again, being our first trip, we don't have a lot to go on but I can say without hesitation that we did not see a more beautiful yacht during our entire trip. She has a one of a kind paint scheme and she's beautifully appointed throughout. She has all of the water toys anyone could ask for and, with a bit of ingenuity, a unique toy our boys just loved (you'll have to ask Mike about that one). The CATSY offers a spacious fly bridge which is an absolute must have if you're scouting yachts. The fly bridge allows you to sit up top shaded by the sun while enjoying the sail to your new destination. Down below, she has plenty of room to dine and lounge. The only negative thing I can say about her is the two forward cabins can be a challenge for a couple to find themselves comfortable overnight. I'm not saying you can't fit four couples but it would be a bit "snug" for those in the forward cabins. The aft cabins are spacious, well appointed and offer plenty of storage space. The salon offers top of the line finishes and plenty of space. This yacht is perfect for two couples and can easily accommodate two couples with a couple kids. While we were a group of 8 (2 couples, 4 kids) it was a challenge for the kids in the forward cabins.

The second part of the equation - CREW. Oh, where to begin with these two! Let's start with their best character traits. First, Mike's ability to handle any situation with a calm resolve and humble approach is truly remarkable. This is an attribute we all wish we had more of or surrounded ourselves with others that exhibited these traits more often. As for Jen, her infecious smile accompanied by her bubbly personality will make anyone feel right at home. From the moment we first met and boarded the CATSY, they put their best character traits in action. Jen welcomed us as though we were long time friends and Mike graciously gave us the ground rules while making us feel as though there really were no rules - this was our kingdom for a week. Before I go any further describing just how great these two are, there's something that should be understood. The CATSY is one of the larger yachts in the BVI fleet. This is a crew of two that manages everything from docking, anchor setting, sailing, cooking, cleaning, entertaining and on and on. Somehow they make it all look easy (99% of the time anyway). These two are in constant motion but will always stop to answer a question, ask you if there's anything you need, or what you want to do for the day and they do it all with a smile. I could go on for pages but no one will read that much so I'll do my very best to scale this back. The food, oh my gosh the food! Initially, we filled out our itinerary stating that we intended to eat several meals on the islands. After the first meal we realized that this was a huge mistake and changed the itinerary. Jen is an amazing cook and I'm not sure those words do it justice. Just one example, scrambled eggs. We've all had them, right? How do you make scrambled eggs any better than the next person? Well, try Jen's! Ribs... truly amazing. Every dish prepared was excellent - Jen pays attention to every detail and combines flavors to make the perfect gourmet meal. If you're lucky enough to book these two, I would highly recommend chef Jen over any meal we ate on one of the islands. While Jen is preparing amazing meals, cleaning cabins and assisting wherever needed, there's "Mike the Butler". Just kidding, but someone has to serve Jen's cooking. Mike is an amazing captain and he got to know us well when it took all of 4 hours for one of our group to drop an iPhone to the bottom of the ocean. Without hesitation, Mike begins free diving and somehow finds the thing. This was just a precursor to Mike's incredible ability to entertain. On a side note, we bookended the trip with another free dive for a missing fishing pole..which Mike also found. As stated above, we had a large group with lots of kids and, every day, Mike found a way to entertain not only the kids but the entire group. And, again as stated above, doing all of this with a calm resolve, humble approach and "can do" attitude. While being an excellent captain on a 62 ft. yacht, more impressively, the guy can make some serious drinks! He created concoctions that we had never heard of and they were all amazing. I had the opportunity to spend a few nights out back engaged in casual conversation with Mike and Jen and I can tell you that they are passionate about what they do. They are true entertainers!

If you want a true yacht experience with a five star chef and top notch captain, look no further!

A truly memorable experience!
Popelka & Barker Families
Guests aboard catamaran CATSY for Thanksgiving Week, 2015 said:
Not sure where to even start on this. I could go on and on. This by far was the most memorable trip we have taken. It was absolutely fabulous. Jim and Amanda were amazing. We could not have asked for a better crew. For the kids and us to get off the boat at the end and feel like we were leaving home as well as new friends, tells it all. Amanda's cooking was to die for, accommodating 6 teenage appetites plus getting them to try some new things; and Jims adventures/tour took us to some new places we have never been too. Catsy was a well equipped boat and very spacious. We were very impressed with what the boat had to offer. Bottom line, no matter the boat, Jim and Amanda were the key to a successful vacation. I would recommend chartering with them any day.

We are already discussing our next adventures with those two! Thanks again for all your help in arranging this and assisting us in our catamaran choosing.

Kelli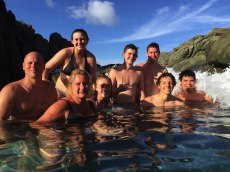 \"Livin\' Large\" on catamaran CATSY - Guest fan mail for Jim and Amanda Grant​ from CATSY\'s mid-March charter:
Hi Jim & Amanda,

Check out what Brad had to say about his charter. I personally love the "Live Large. Go Catsy!!" part. Sounds like a nice advertising tag line for you guys! Thank you as always for the wonderful charters you do!

"The yacht was impeccable. Captain Jim was extremely knowledgeable and fun. Amanda (NOW FOREVER KNOWN AS AMAZING AMANDA), keeps a tidy ship and cooks like a goddess. Their team work is so fluent you dont even realize all that is being done unless you have the previous charter experience that I have had and then you truly appreciate how well they manage the vessel and their clients. I truly have nothing to say. The outdoor living space and overall lay out of Catsy is perfect for the BVI cruise experience. 3 couples are comfortable, And I can tell you that the dollar value is exceptional. Live Large. Go Catsy!!
See you soon.
Brad Nelson"
Guests aboard for their 2nd charter aboard CATSY, in July, 2014
CREWED CHARTER BOAT REVIEW

Name: David Keliehor
Yacht: CATSY with Jim & Amanda Grant
Charter Dates: July 3-11, 2014
Area Cruised: Virgin Islands
Overall Rating: 5
5 being the highest 0 being the lowest
We hope your charter lived up to your expectations. We would love to know some of your impressions about your yachting vacation. Please answer the following questions and add any comments you may have.

1. Was the crew friendly and accommodating?
That's an understatement. We were spoiled by Jim & Amanda the entire week!

2. Was the yacht comfortable and clean?
Every Day

3. Was the yacht well ventilated?
Yes, and AC was nice and cold. Jim kept the generators cranking!

4. Was the food good and well presented?
Better than ever. Last year we went to shore for dinner and we said "never again". Amanda's "chef Tel" menu was superior.

5. Did you like the area you sailed?
Awesome. Tried several new spots this year. Jim and Amanda got the Boys involved and they loved it.

6. Additional comments on your charter?
Booked Year #3 while on board. Enough said.
The Keliehor Family David, Stacie, Max & (Dingy Man) Au
JUNE 2013
Name: David Keliehor
Yacht: CATSY with Jim & Amanda Grant
Charter Dates: June 19-26, 2013
Area Cruised: Virgin Islands
We hope your charter lived up to your expectations. We would love to know some of your impressions about your yachting vacation. Please answer the following questions and add any comments you may have.

1. Was the crew friendly and accommodating?
Outstanding

2. Was the yacht comfortable and clean?
Fabulous

3. Was the yacht well ventilated?
A/C was cold and comfortable at all times.

4. Was the food good and well presented?
Better than we have ever had. Tried a restaurant one evening which was a huge mistake. Amanda is a great Chef.

5. Did you like the area you sailed?
Beautiful

6. Could we have helped you further in any way?
Good job

7. May we post this review on our website?
Yes

8. Additional comments on your charter?
We are booking two weeks next year instead of one.


The True Family Charter
Tell me about your meals? Did the menus meet your expectations?
OMG - the meals belonged in a 5 star, top of the line restaurant in the most famous cities in the world! Each day was a complete surprise and there was never a let-down in regards to the delicious treats that Amanda prepared. So yummy!!! Cant wait till we have a chance to have Amanda share them with us!

Ferrell Family Charter
This was the best vacation ever! We have wondered how our trips are ever going to compare to this and we seriously think the only way is to plan another one with your company and Jim and Amanda.

We cannot say enough about how wonderful this trip was. This was my husbands and my 5th trip and it surpassed all the others by miles! Thank you for everything.
Monica and John Ferrell

Mike T & Family
Nancy,
I am back from our week long sailing vacation. Thank you so much for arranging the week and the flights and the many details.

The week not only met our dreams, but blew them away.

Jim and Amanda were the ultimate hosts. My baggage didn't arrive, it became Jim's problem and a one hour round trip in the rain, in the dingy to pick it up later, was done without a thought to complain. When Kathy's insulin pump died,(not from a swim in the ocean), again Jim made it his problem, and another trip in the dingy to get insulin without a complaint. Jim made us feel welcome, and made sure we had our every wish fulfilled.

The only decisions we really had to make all week were whether to have a Bloody Mary or Mimosa with breakfast or Red or white wine with dinner.

The itinerary included all the hot spots we had read about in the travel guides. We visited party coves and experienced the Will T and Soggy Dollar Bar, scenery unparalleled, snorkeling areas that were breathtaking, Natural sites like the Baths, and secluded isolated anchorages.

Amanda's should never be called a cook. She is a five star rated chef. Never in my life have I experienced 7 consecutive days of food that made me say "Oh Wow" at every meal and every course. Salad nicoisse with grilled tuna and a killer homemade dressing, or chicken roti for lunch, pina colada pancakes or rum infused french toast for breakfast, grilled Mahi Mahi in an amazing tropical marinade, beef tenderloin for dinner as just a sampling of the menu. And the desserts..........homemade cheesecake, key lime pie, and chocolate birthday cake.

They made reservations for us on our one night out for dinner and we had the most amazing lobster dinners in the Caribbean.


Not only can I recommend this boat a crew, but I am already plotting a way to spend another week with them.

Thank you again for arranging a extraordinary week for me and my family. This is an experience they will never forget.
Mike T.

Best Vacation we have taken
This was one of the best vacations that we have ever taken. Amanda and Jim were both outstanding. Amandas meals were amazing, great variety and Amanda did an amazing job tailoring her menu to our particular dietary needs. She also doubled as a great underwater guide. She came diving and snorkeling with us and was very knowledgeable about all the different species. Jim was a great captain and master of ceremonies. He put together the perfect itinerary and kept us moving with lots of great activities. He was also like a private instructor helping us windsurf, water ski and scuba dive. We got on the boat after a very busy week for our wedding and Jim did the extraordinary step of even getting some laundry done for us!

Cant say enough positive things about them both. They are total pros. I really cant think of anything that was missing.

The pace and itinerary of our vacation was perfect. After a long hectic week for our wedding, Jim knew and executed the perfect mix of relaxation and activities. We often anchored at out of the way places which afforded great privacy.

Jim and Amanda are a great team and we had a lot of fun hanging out with them. Our charter was only 2 people so we obviously had a lot of attention but I bet Amanda and Jim would be an amazing team for larger groups as well. We are already trying to get a group together to charter with them again.

Matthew and Nichole

Wonderful Vacation
Dear Amanda and Jim,

After having a few weeks to reflect on our wonderful vacation we are only more positive that it was the most perfect week we have ever spent together as a family! Far from cell phones, TV, and the pressures of life, we were able to completely relax and connect with each other and the amazing locations, flora and fauna of the BVI.

Your enthusiasm and obvious love of life on the water was contagious. We learned so much from you and we carried home with us splendid memories! (snorkeling with the myriad fish we now know the names of, finding the cannons, swimming through the tunnel, hanging out with sea turtles, seeing the lurking barracudas, hiking to the pirate lookout, our own private beaches and secluded bays, fancy frosty drinks and amazing appetizers after a riotous afternoon of tubing, wakeboarding and kayaking, star lit gourmet dinners, fabulous desserts, we could go on and on...) Quite often you just read our minds, like when you whisked us from Anegada to Norman Island just to find the perfect sunset.

We thank you for your many kindnesses to us that went above and beyond the call of duty. Our week with you will never be forgotten and we are determined to reconnect with you in the future.

Have a great summer!
With sincere gratitude,
Steve, Liz, Betsy, Steven, Hannah, and Claire Smith

March 4-10-12
Name: Angel
Yacht: CATSY with Jim & Amanda
Charter Dates: March 4-10, 2012
Area Cruised: Virgin Islands

We hope your charter lived up to your expectations. We would love to know some of your impressions about your yachting vacation. Please answer the following questions and add any comments you may have.

1. Was the crew friendly and accommodating?
Yes, the crew was very friendly and accommodating.

2. Was the yacht comfortable and clean?
Yacht is very comfortable and VERY clean. Jim takes a lot of pride in keeping everything clean and in great shape.

3. Was the yacht well ventilated?
Yes, we ran the airconditioning in the evenings, so the cabins were very comfortable for sleeping, during the day, ventilation was not a problem

4. Was the food good and well presented?
The food was excellent (and beautifully presented) Amanda did a fantastic job! We had one vegetarian and one gluten free person on the trip and Amanda was able to masterfully modify the dishes for these needs.

5. Did you like the area you sailed?
Yes, the crew was very knowlegable regarding our likes and dislikes and were able to change plans midstream when the weather didn't cooperate with some initial plans

6. Could we have helped you further in any way?
As we were first time visitors, more assistance with the best way to get to the BVI (either via St. Thomas, San Juan etc) Also, as we had a stop over in Tortola prior to the charter commencing some guidance regarding where to stay, or dine would have been helpful. But overall, you were very easy to deal with

7. May we post this review on our website?
Yes

8. Additional comments on your charter?
Amanda and Jim work hard at making this a true vacation. We didn't have to think about anything, from meals, to activities, to just plain fun and relaxation. I highly recommend them as crew and the boat Catsy is roomy, comfortable, and very well maintained. Excellent hot water!



April 3-9-12
Yacht: Catsy Charter Guests: Rhodes/Peckham
Jim & Amanda

Location: BVIs Date: April 3-9, 2012

How did you enjoy your cruising vacation?
It was amazing and better than we had hoped!


How would you describe your Captain and crew? Were they courteous? Attentive? Knowledgeable?

Jim and Amanda were awesome. Both very knowledgeable, fun to be around, attentive and very engaging. They were truly the perfect match for our group. Both went above and beyod to ensure a great experience for our group.


Tell me about your meals? Did the menus meet your groups expectations?
All the meals were incredible and better than we had expected.

.
How is the yacht? Is she clean and well maintained? Were your cabins comfortable?
Gorgeous, spacious and very well maintained!



How did you find the pace and the itinerary of your vacation?
Perfect!



Would you charter this yacht again? If not, please explain. If yes, what are the key reasons?
Definitely yes! Loved Jim and Amanda and the boat. Their energy, attentiveness and excellence in assessing and meeting our groups desires and needs was exceptional.


Additional comments:
Everything was perfect! We couldnt have asked for or expected anything better!

Was there anything that could have done to improve the process in chartering the yacht?
No, we had a great experience.

May we use you as a reference?
Yes
Signed:
Peckhams

Guests aboard Catsy in November, 2012
Yacht: CATSY with Jim & Amanda Grant
Area Cruised: Virgin Islands
We hope your charter lived up to your expectations. We would love to know some of your impressions about your yachting vacation. Please answer the following questions and add any comments you may have.

1. Was the crew friendly and accommodating?
Jim and Amanda where very friendly and accommodating. They customized the charter to all of our likes and wants.

2. Was the yacht comfortable and clean?
The yacht was immaculate and very comfortable.

3. Was the yacht well ventilated?
It was very nice having the sitting area up top which is where we spent most of our time.

4. Was the food good and well presented?
Amanda prepared excellent food and customized it to the tastes and likes off everyone in our group.

5. Did you like the area you sailed?
We totally enjoyed where we sailed.

6. Could we have helped you further in any way?
Letting us know that the boat couldn't sail at dark and your flight should get in early in the day would of been useful.

7. May we post this review on our website?
Yes

8. Additional comments on your charter?
We cant say enough how enjoyable this vacation was and the terrific job Jim and Amanda did. Jim and Amanda where wonderful hosts to all of us. They designed an itinerary that fit our group perfectly. Each day was something different and had activities for everyone. Amanda is a wonderful chef. She made great tasting meals for the adults while also making a kid friendly version. Jim and Amanda know the best places to go and when to be there. No matter where we went Jim was able to make it seem like we were the only ones there. On night we were the only boat anchored in a picture perfect bay. It will be very hard to surpass how wonderful this vacation was.