A Wonderful Full Circle
Roger and Linda,

You have brought full circle the journey that began thirty years ago when I came to the Virgin Island to work on charter sailboats. And this time I was able to receive the incredible gift of your hospitality and to be a guest! At a time in my life when I'm rediscovering the Spirit and inner joy, the two of your have brought my three month sabbatical to a brilliant conclusion. In addition to providing the excellent sailing, you two have been a gift in many ways.

Roger: A calm, sure presence in the midst of howling Christmas winds, a patient and wise teacher; the epitome of grace when sailing; provider of dozens of beverages; griller and ongoing dishwasher, guide to fabulous rock and rollers. And a man with kind eyes that see so much.

Linda: Consciously seeking to be a positive force in the world, creator of delicious and healthy food, a funster and a jokster with a contagious laugh and a giver and glower, beautiful from the inside out.

You do this work with so much heart and generosity. Thank you so much for giving me this week of sheer heaven.
-Carol-

I can't imagine a better way to take in God's glory as expressed in the Caribbean then sailing with Linda and Roger on The Dalliance.
-David-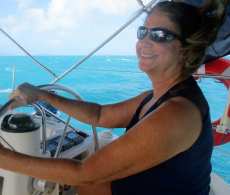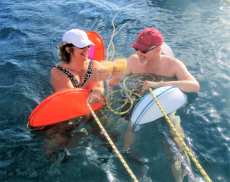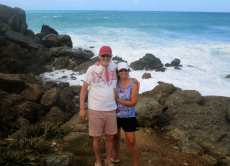 Magical week aboard Dalliance!!!
Roger and Linda,
What a magical week on your magical boat. This has been the BEST kind of dalliance! From the moment you warmly welcomed Maggie and me aboard, your lovely boat has felt like home for this week in paradise. Thank you for the delicious meals, the smooth sailing, the dinghy shuttles, the memorable music and the lively conversations. I will remember these peaceful, restorative and inspiring days with a smile on my face. Fondly, Deanna"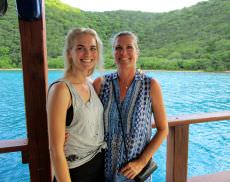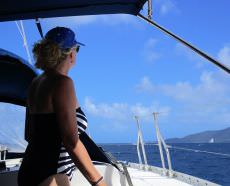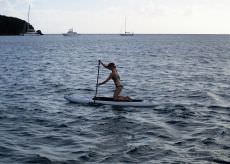 Amazing!!!
Amazing week with truly amazing people. Love you Linda and Roger! THANK YOU!! We have so many fantastic memories. It was such a pleasure spending time with you and getting to know you; I really hope we stay in touch. All the best, Michael and Karen." November 12-19, 2016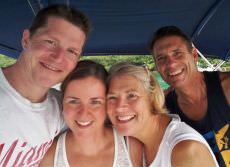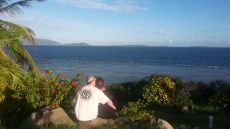 The Most Relaxing Trip!!!
Thank you for allowing Janet and I to escape to our home away from home and to do it on your beautiful Dalliance!! It was a most relaxing trip. Roger, thanks for giving me the opportunity to learn a little about sailing - you've probably planted a seed! Thank you Linda for allowing us to share your home and for being a spectacular host!! The food was "delish"!! Best wishes :-) Janet and Terry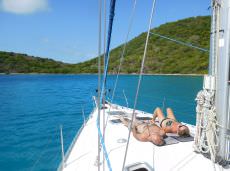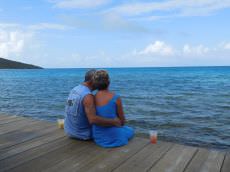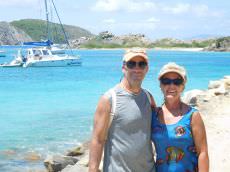 LOVED our short little July 4th weekend!!!
"Roger and Linda,
Absolutely LOVED our short little July 4th weekend sail with you guys! Thank you for welcoming us into your home and making us feel comfortable, at ease and WELL FED! You guys are a great team and our little baby Milania loved hanging out and playing with you guys! We just truly enjoyed this excursion. We will definitely be back and we will definitely refer our friends on ST Thomas to sail with you guys on Dalliance. Here's to good times, good drinks, great conversation, great food, great music (and the A to Z game!) and great sailing! Cheers, Peace and Love, Anthony, Jessica and Mila Jones."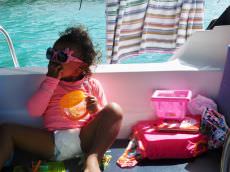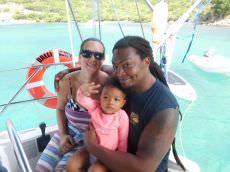 What a wonderful 10 days on the Dalliance!
"What a wonderful 10 days on the Dalliance!!! Everything was PERFECT! I got what I wanted which was total relaxation and Wade got what he wanted which was total engagement in the sailing experience. Wade loved learning how to sail & thanks you for all your lessons in how to sail and for answering all of his questions. :-). Thank you for making our honeymoon a very memorable vacation. Every place we stopped was a new experience. Linda - your food was delicious, Roger - your drinks were Amazing. What a TEAM. We will be back if you will have us. :-) Love Stephanie and Wade"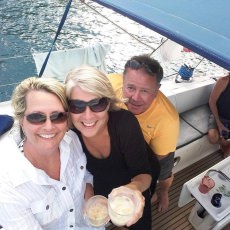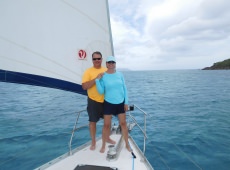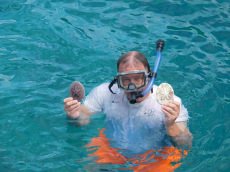 A Brief Love Affair
"Dalliance - "A Brief Love Affair"
Have you ever wondered what the perfect vacation is?
-A steaming cup of morning coffee while sitting on the bow of a beautiful sailboat, looking out at the tranquil waters, watching the blue,greaen colors as they lap at the side of the hull.
- An expertly prepared shrimp omelet with fresh breads and fruits of the islands.
- A sootihng 3 hour sail, while learning for the first time all of the intricacies of being a Captain on the Sir Francis Drake Channel.
-An amazing lunch, expertly prepared, filling the stomach so well that the eyes become heavy with the possibilty of a nap not far away.
-Snorkeling a reef where at times you felt as if you were the onely ones witnessing the colorful corals and vibrant species of fish.
-Afternoon cocktails of the day, refreshing the taste buds before cooling the body.
-An evening goumet meal of freshly grilled Mahi-Mahi.
-A perfectly balanced wine that chased away any fears or inhibitions opening the mind to stimulating conversations and laughs.
These words do not come close to explaining a beautiful week aboard Dalliance while Roger and Linda catered to our every want and need, always displaying genuine smiles! Thank you from the bottom of our hearts for everything Roger and Linda. Thank you for the new friendship and I hope our paths cross again. And when they do, the tears in our eyes will flow with beautiful memories from our "Brief Love Affair" aboard your amazing home in the Islands! ALL OUR LOVE, Deand and Tina"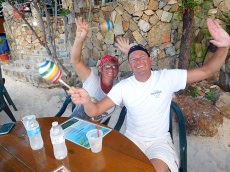 We were waited on hand and foot
Roger and Linda,
I have run out of adjectives to describe our charter. Roger and Linda are perfect host. They anticipated our every want or need. We were waited on hand and foot. The meals...oh the meals were WONDERFUL! Linda is so talented in the galley.
It is obvious from the condition of Dalliance that Roger and Linda are proud of their home. Everything on board was ship shape. Not a speck of dust or dirt anywhere. They were constantly cleaning everything.
Roger and Linda are a very competent Captain and First Mate. They both have years of experience on the water and we were confident in their abilities throughout the charter. On one of our sail days we had pretty stiff winds and 8 foot waves and we were very comfortable with Roger and Linda in control. Did I mention we had a wonderful trip??
We visited the Baths early and had the whole place to ourselves. Thanks Roger. Willy T's, Oh what can I say about our visit to Willy T's except it was as fun and we had heard. The snorkeling at the Indians was incredible.
All in all it was a trip of a lifetime thanks to Roger and Linda.
Bob and Pam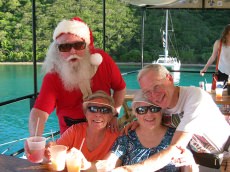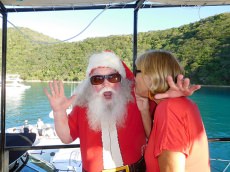 We loved so many things!
Dear Roger and Linda,
Thank you so much for an amazing sailing vacation! We loved so many things! Marty named sailng the boat, learning to paddle board, delicious drinks and grilled pork chops as some of his favorites. My (Donna) favorites are snorkeling, seeing the 2 giant puffer fish;, watching for turtles and watching the pelican diving! We both loved the "pirate show", watching the tarpin feeding on Saba Rock and of course our 2 favorite places, Peter Island and Bitter End beaches! We appreciate your gracious hospitality, wonderful meals and safe sailing! May God richly bless you both. Marty and Donna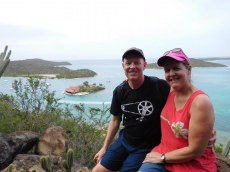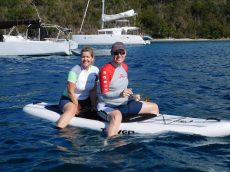 Dalliance was perfect for us
Roger and Linda, Thank you for making our island charter so wonderful. You kept us so at ease and well fed from dawn to dusk. Sam and I enjoyed the sailing lessons. Stef loved that you always found the best moorings and photo ops, Hannah loved the wifi. Dalliance was perfect for us. May 2016 bring you health, happiness and peace for you and all you hold dear. Best wishes, Hannan, Sam, Stef and Ofer."
Charter date 12/28 through 1/4
We had a wonderful cruise, well taken care of in every way
We see from those of you who came before that all was fine. Now, as the 10th charter finishes we wonder why no previous comment shows any evidence of problems overcome or lessons learned. But that must have happened because such excellence doesn't come easily or any other way. Roger knows every channel, every rock, every current. Linda has a vast array of menus, snacks, dishes, activities, etc. They communicate so pleasantly as they get so much done each knowing he/she can offer the other a chance to help. So we had a wonderful cruise, well taken care of in every way. Someday we hope to cruise west on the Dalliance - then north, then south. Or back east....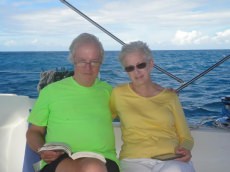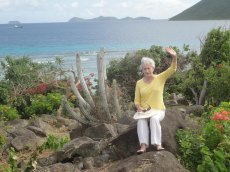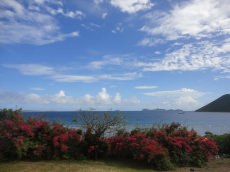 One word to sum up our trip -- AMAZING!!
"Dear Roger and Linda,
One word to sum up our trip -- AMAZING!! We couldn't have asked for a more enjoyable honeymoon. You both helped make it a great memory we'll always cherish. If we didn't say enough on our trip, the food you make Linda is delicious, great drinks Roger and loved learning about sailing/life on a boat. Thank you from the bottom of our hearts for the hospitality and showing us the "good life" even if it was ony for 8 days. You've always got a place to stay in NYC and looking forward to those instagram posts! Love Oliver and Jaclyn - July 2015"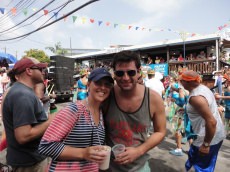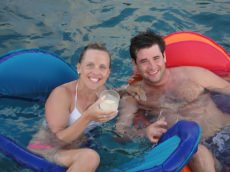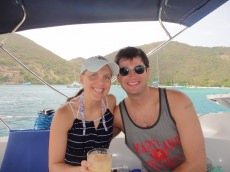 Thank you for an awesome vacation!
Thank you for an awesome vacation! Very relaxing, delicious food and drinks, beautiful scenery... the list goes on and on! Jim had a blast learning how to sail! Thanks for sharing Dalliance with us! Jim and Sue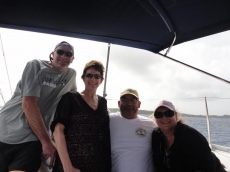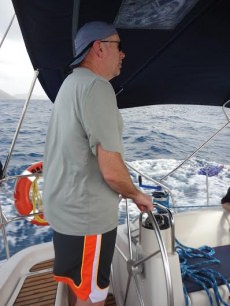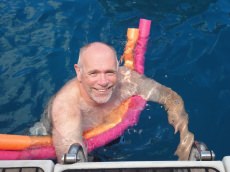 We really enjoyed life aboard the Dalliance
Our sailing trip with you was simply fantastic! We really enjoyed life aboard the Dalliance and especially liked learning about sailing and the hands on experience of sailing and navigating. Lindas meals were always great and we loved the variety of spices and presentation. As active people, we loved the variety of destinations and activities available, especially snorkeling, swimming, and exploring and the beach side beverage locations. Our time with you in this paradise called the Virgin Islands will be a lasting memory of relaxation and enjoyment. Thank you and please visit us next time you are in Portland.

Jerone and Laura
The trip was everything I hoped it would be
Roger and Linda
It's been such a pleasure to be in the BVI and to be on the Dalliance. The trip was everything I hoped it would be from the sights seen, the sailing, the food and your hospitality. Thanks for making Mike's birthday special. You both have been wonderful at teaching the ways of the water since it is all new to me. Good luck with all your future sailings and charters.
Barb and Mike

\"Epic\" vacation
If you want to experience warm, sapphire and aqua seas; white sand; sublime sunsets followed by brilliant star gazing then this adventure is for you. How about a scintillating sail to Anegada or Virgin Gorda, or snorkeling at Norman Island? We refer to the ten days on SV Dalliance as our "epic" vacation.
Jacky and Mike
The most wonderful trip
The most wonderful trip and experience not to mention best ever crew!!! Stephanie and Randy

The accommodations and food superb!
Dear Roger and Linda
What a joy to find you...the sailing was both invigorating and "gentlemanly." The accommodations and food superb! Love your attention to detail. Truly hope we can return and continue the Caribbean experience. Wishing you calm seas with fair winds. Cheers!"
Deb 2015
"Thank you both so much for a wonderful sailing experience. You are both so charming & so giving - the knowledge and experience you both portrayed - totally professional, yet friendly, kind and giving. Dan loved Roger sharing the helm with him and we both truly appreciated the companionship. Best wishes for many many more successful charters and for many more great sails with Dalliance.

She is a gorgeous boat and you two are wonderful people. Thank you for making my surprise for Dan a trip neither of us will ever forget.

Dan and Resi"

November Thanksgiving Charter - 2015
"To our wonderful hosts. Words cannot describe how wonderful my 60 birthday trip was - you are friends for life!

XXOO I'm verklempt!

Jo and Joe"

There are some things in this A to Z that you would "have to be there" to understand.

A - Awesome
B - Beautiful
C - "Covers music"
D - Dalliance
E - Extreme sailing (in the rain)
F - Fine wine
G - Gin & Tonic
H - Hall and Oats
I - Ice Manager
J - (For) Joe's
K - Keeling
L - Linda's dancing and singing
M - Music
N - Norman Island
O - Outhaul line (broke )
P - Pain Killers
Q - Quesadilla - Turkey
R - rrrrrr------gh!
S - Sausage feet
T - Tacos
U - Undersail
V - VI -mon!
W - Water
X - X-man
Y - Yes, Captain Roger
Z - Zepplin!