Guests aboard ENIGMA in late February, 2017, say:
We and three other couples recently returned home from a week aboard the Engima, with Eddie, Danielle and Lisa. I asked Eddie to give me your contact information, so I could tell you what a wonderful time we had.

The boat is simply lovely. Spacious, well maintained, clean and cared for. I can see Danielle's thoughtful care in so many ways -- the wonderful bedding and towels, the lovely accoutrements, the simple cleanliness. It's pretty, comfortable and well appointed for the comfort of the guests.

Our group might have been a food nightmare -- we had people who don't eat meat, people who are allergic to fish, people who are gluten free, dairy free and even one who dislikes chocolate! Lisa worked around our food needs and preferences with grace and without complaint. Every meal was perfectly presented and delicious. We were never hungry and always happy! Danielle made sure we were never thirsty, and made us feel cared for and cared about.

Eddie is a marvelous captain. He answered our endless questions, took us to new places, adapted when a few of us got sick, showed us the glory of the BVIs. He was friendly and thoughtful -- and took such good care of us and the boat. He taught us to paddle board, encouraged us to go to new places (I really wanted to see Anegada, so off we went) and was upbeat and fun to travel with.

Your boat, your crew and the BVIs made for a spectacular vacation for all of us. Thank you!
Betsy Stone
Guests aboard catamaran ENIGMA in mid-February, 2016 wrote:
Jalene,

Were back in STL, safe and sound but missing all of you. Lucys gets a little teary-eyed when she tells people about what an amazing trip it was. As for me, there are many parts of the trip that Ill never forget but the most memorable was when Evan took me out fishing that last morning... it was simply magical and certainly above and beyond his Captain duties.

Before time gets away from me, I wanted to share with you some of my thoughts about the Enigma charter that are more on a professional-to-professional level than something for the Guest Book.

From the first piece of correspondence, and throughout the trip, I was impressed with how thorough you were in helping us enjoy the experience. You are so good at communicating the details behind the cruise...what to wear, the pros and cons of our suggested itinerary, what Life on the Enigma is like, food/refreshments (types and quantities), weather/environment, etc. And you patiently responded to all our redundant questions, even though you had provided all of us with the answers in your Helpful Hints document. When we final arrived at Red Hook, met Evan, Lisa, and you and saw Enigma, boarding was stress-free for all of us due to your great instructions, careful pre-planning and friendly introductory attitude.

Of course, the ship is breathtaking but the graciousness in which all of you welcomed us made us feel like special guests in your home.

Evan has the prefect personality and disposition for a ships Captain. He is patient in answering all questions, and his knowledge and professionalism in stills confidence with passengers. As for Lisa, she is a true professional... always cooperative about the menu, explaining ingredients, taste profiles, and handling everyones likes and dislikes. I never imagined how complicated it would be to coordinate food for 8 until I saw her inaction... she is a master at that task and a chef extraordinaire!

I was so impressed with how the 3 of you worked together as a team. Each of you had a specific area of responsibility, which you managed quite successfully, but you supported each other in all areas. You and Evan sometimes preformed the role of sous chef or waiter to help Lisa... Lisa provided assistance to Evan when he brought the ship to port... and Evan and Lisa were always available to help out with one of the guests requests if you were busy.

Another thing that I couldnt get over was the level of respect you all shared towards Enigma, you treated the ship as it was yours. You were continually cleaning/straightening/adjusting things... making sure everything was in its proper place. As a business owner, Im sure the gentleman who owns Enigma would be equally impressed and thankful to have such a conscience team in his employ.

Jalene, I certainly hope our paths cross again soon. We had an incredible time, and it was made even more special because of Evan, Lisa and you.

Sincerely,

Bill Schmidt
Managing Partner

AND...

One of the guests aboard catamaran ENIGMA also penned this note to Chef Lisa Mead:

Greetings, Lisa,

I'm fantasizing about that grilled mahi mahi salad you made for lunch last week and would like to know if we can have that again today. I WISH!!! We are all in a sad state, missing our fun times with you and the others and the very special Enigma adventure we had. I am uninspired in the kitchen and could kick myself that I didn't stand in your kitchen, watching your every move with pen in hand. I don't want to cook because it just isn't tasting good and I am longing for the creativity, freshness and flavor of each and every bite last week.

I'm following you on FB (or rather your Galley Gourmet page) and will be happy to watch you as you do more shows and advance your career. If we somehow find you on a future charter, we will be delighted and I will beg (in advance) for daily cooking classes on top of all the other fun things. We hope to do the trip again with our children but, alas, the three of you have spoiled us and we don't want to do that unless we know we can have all of you with us. We know how very fortunate we were to have such a lovely, patient and fun crew and wouldn't want it any other way.

Wishing I knew what to cook for dinner tonight

All the best,
Lucy Schmidt

Early February, 2016, guests aboard ENiGMA reported:
Our clients Melissa and Jonathan Blau had a very special birthday celebration charter on Enigma last month. Since their return I have had a chance to speak with them and also with their guests who accompanied them on the charter.
I am pleased to report that Jonathan, Melissa and all their friends had an excellent time and were extremely pleased with the crew and Enigma. The feedback from this charter is quite valuable and enlightening because the charter party makeup included guests with varying degrees of charter experience that encompassed a broad array of yacht styles, diverse locations, and a wide budget range. We were able to get a range of viewpoints that extended from first-time charterers to those with dozens of charters all over the world.
While the consistent message was that the crew were extremely good at what they did in a very professional and fun manner (adjectives included but were not limited to: fantastic, extraordinary, great, solid, etc. etc.), the predominating theme was that Evan, Jalene and Lisa were super nice people and great to be around. They made the entire trip very special. The comments were delivered personally by people with whom we have very candid conversations. Their comments carry a great deal of weight. A most compelling indicator of their satisfaction is that Jonathan and Melissa and each of their guests would love to charter Enigma with Evan, Jalene and Lisa again and that they are already recommending Enigma to their friends.
From our perspective such comments on the crews professional performance and their personal attributes say it all. We are extremely pleased. The guests positive comments on every aspect from the immaculate fashion in which the yacht is kept, to the service, to Lisas amazing skills and especially to the crews good nature ensure that we will continue to recommend Enigma and her crew for future charters with these and other clients.
We have copied Evan, Jalene and Lisa on this letter. I would appreciate it if you would forward a copy to the Owner with our thanks for the entire Enigma teams efforts in making such a special time for Jonathan, Melissa and their friends.
Guests aboard ENIGMA in the Leeward Islands, January, 2015
The ENIGMA is a spectacular boat, but her real stars are the crew. Evan, Jalene, and Lisa are a fantastic crew. The service and the food were impeccable! Lunch and snorkeling on Sandy Isle, Anguilla, and evenings on the fly deck were some of the highlights, but every moment on ENIGMA was truly special. Thank you!
Kim & Rodney

We have chartered three times already and have some extraordinary experiences... None of them compare to ENIGMA. It goes without saying that the boat is beautiful, she has everything you could want. However, a charter is really made by her crew, and Evan, Jalene, and Lisa are superb, fun, smart, accommodating and Lisa is a whiz in the galley. A wonderful experience all around.
L & L Cortes

Everything about ENIGMA was wonderful, from Evans great captaining with a smile to Jalenes anticipating of all that would make our sail more fun and of course Lisas spectacular meals. Thus a great crew on an amazing boat! Thank you for all the memories.
Anita Corey

Evan, Jalene and Lisa,
Thank you so much for a truly super trip! Five countries in 5 days, not bad. This is our 4th excursion as a group and ENIGMA delivered in every way.
Lisa - That smells delicious!
Evan - Steady as she goes.
Jalene - like a busy bee.
And of course ENIGMA - We love you!
Tom & Amy Beaumont
Guests aboard ENIGMA in the Grenadines in September, 2014
Name: Maruizio & Melanie
Yacht: ENIGMA with Evan Kazbohm & Jalene Szuba
Charter Dates: August 12-19, 2014 - Area Cruised: Windward Islands
Overall Rating: 5 (5 being the highest 0 being the lowest)

We hope your charter lived up to your expectations. We would love to know some of your impressions about your yachting vacation. Please answer the following questions and add any comments you may have.

1. Was the crew friendly and accommodating?
Very MUCH. Great team very professional and friendly.

2. Was the yacht comfortable and clean?
Yes it was.

3. Was the yacht well ventilated?
Yes it was very comfortable.

4. Was the food good and well presented?
Cuisine very good and up to our expectations

5. Did you like the area you sailed?
Yes we knew it and we loved going back to it again.

6. Additional comments on your charter?
Evan & Jalene are a perfect Crew.
It Could Not Have Been Better!
Evan/Jalene,
Thank you for the best time ever. We loved every minute of it and absolutely hated to leave. The food was superb and you really looked after us. I am going through withdrawal symptoms and would double back in a minute. Thank you again. It could not have been better. All the very best, Richard

November 2013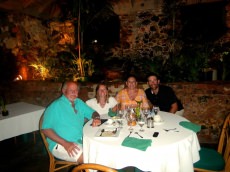 Magical Holiday w/ENIGMAs Evan & Jalene
Dear Evan & Jalene,
Everything about our holiday has been magicalconsistently because of the two of you. Your kind, easy natures, suggestions and cooking were all a joy. The Enigma is more than we expected. We loved everything about it. The comfort and style and luxury... Truly a dream to our usual lives and we would like to think that we will be back soon to enjoy her again. All the best and see you both soon! ~ Melly & Mauri
P.S. Miss the chocolate fairy already

April 4-14 BVI (2 families)
Enigma was an amazing experience!
Ellie
p.s. I loved the water sports!

March 22-29 BVI
Enigma she is fat lady! but a joy to spend time on relaxing and playing.
Feb 7-14, Virgin Islands 8 pax charter
Just a quick note to let you know that we thoroughly enjoyed our time aboard the Enigma. Patti
25 January - 6 February 2014 - BVI
Unbelievable on board Enigma and perfect on points. Amazing equipment.



Could not imagine a better crew for our family than Evan & Jalene
We had an incredible vacation and could not imagine a better crew for our family than Evan and Jalene. They were so gracious, fun, patient and the food was out of this world. They were so wonderful with our kids and catered to their every need from inner tubing to finding just the right snorkeling spot to righting their hobie cat after they capsized it. Jalene didn't hesitate to off the boat, swim out to them and them get it upright.

My mom's 70th birthday celebration will always be remembered with a lot of laughs and many good times thanks to Jalene and Evan.

January 2014 Charter was 8 guests (4 adults, 4 kids)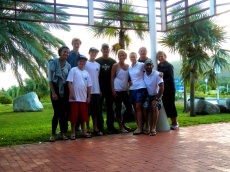 Xmas charter. Family of 7 (ages 15 to 86 ), Dec 20 27, 2013 (British Virgin Islands)
Our trip on Enigma was wonderful.

Enigma is a lovely catamaran and was very well suited for our needs. As you know we were very concerned about accessibility for my older parents and the grand "owner's suite" was perfect for them. The other cabins were very comfortable and the rest of the boat very nice as well. Having the extremely spacious fly bridge was a terrific bonus.

The boat is very well equipped with all sorts of toys (paddle boards, kayaks, wake boards, snorkel, Hookah, scuba equipment, an underwater jet gadget that we took to calling the "James Bond" etc) and they were all in good condition.

Altogether it was a delightful trip and I appreciate your efforts to get us there

Thanks again,
K.R.


December 2013 - ARC Race guests
We did really nice and enjoyable ocean passage. By the way - we won the first place (ARC race). Everything was pleasant. The yacht was wonderful.
Haydar
October 2013 Med
We loved our time aboard Enigma. - it was an excellent sailing experience. Sarah and Luc
France September 2013
I just want to thank you for the amazing days that I spent on board this big lady Enigma.
Jose Ville Franche sur Mer.

August 2013 - Mediterranean
We wanted to let you know how much we enjoyed our recent experience on the Enigma. The boat was fully loaded with all of the latest bells, whistles and toys and extremely exciting to be aboard. We found Enigma to be extraordinarily majestic on the water, sail like a dream, and incredibly spacious. Much to our delight, we could easily choose an area to gather and socialize, or a quiet place to relax and enjoy the calm serenity. The sleeping accommodations were excellent, luxurious and comfortable, and the only thing that could get us out of bed was the promise of seeing a beautiful sunrise from the spacious deck.

Overall, our trip on the Enigma was truly one-of-a-kind. We would highly recommend this charter to family and friends as it was a wonderful blend of luxury, excitement and relaxation. Our time on the Enigma was truly fantastic and an experience that we wont soon forget.

Kind Regards,
Mike and Blanche