Thank you for an absolutely incredible week of fun and sun
Thank you for an absolutely incredible week of fun and sun. We will never forget the hours spent sailing and snorkeling in these beautiful islands. Your knowledge of the best places to spot incredible sea life made our time so enjoyable and stress free. We loved visiting a new place each day. Thank you for welcoming us into your home and sharing so many stories and adventures with us.
Dani, your cooking is AMAZING. We enjoyed every meal and we will miss your delicious food when we go home.
Ryan, keep the dab alive!!! Thanks for sharing so much of your knowledge of this area with us and always keeping up with all of our questions.

J. Family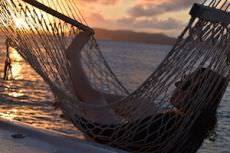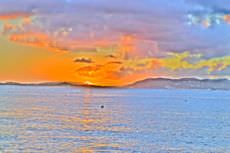 Thank you for an amazing week
Dear Dani and Ryan
Thank you for an amazing week. This was one of the best vacations I've ever been on. I really enjoyed the food, I have never eaten so much food in one week. I also loved Ryan's stories about the islands. I hope we didnt scar your eyes with our terrible dancing especially the wobble. I really like how you knew everything about the islands. My favorite part of the trip was Ryan's reaction to my beer cuzzie that said "Yes, I am a bitch, just not your bitch.".I am going to miss playing board games all the time, even at 7 am. I am also really going to miss asking really stupid questions and Ryan's amazing bar tending skills and Dani's Bushwackers. I loved tubing, I had not went in a long time. Thank you for putting up with me being a vegetarian and making me different meals. Make sure the dab stays dead. Sorry about leaving the shower running for three days, we were going to tell you but we kept forgetting. Also, i am sorry for playing the same playlist over and over, I was the only one with a good one.

P.S. Ryan, you look like my gym teacher.

J. Family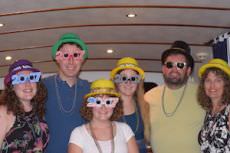 Your knowledge of the islands made it easy to never touch my phone
Dani and Ryan

Thank you somuch for an amazing week. Your knowledge of the islands made it easy to never touch my phone. You always knew the best snorkeling spots and bars to go to. Also, the drinks you made were probably the best I've ever had especially the bushwacker. One of my favorite parts was when Ryan told stories. I knew it was going to be a good story when you stopped talking for a second and laughed before continuing. Thanks for also putting up with my annoying questions and my awful dancing to the wobble. I cant thank you enough for not dabbing and keeping it dead. i hope it didnt bother you too much that we were playing board games every second of every day. Another amazing part of the vacation was the food. The toast was incredible and I'm really going to miss it. You did such a good job at making delicious food and everyone enjoyed it. I ate until I was so full that my stomach hurt. This vacation was my favorite one I've ever been on even if it wasn't with my family. You both were always happy to help us with whatever we wanted.

J. Family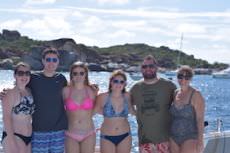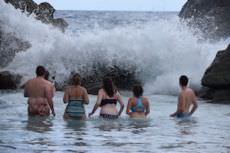 This trip will be a cherished memory for years to come
Thank you so much for our wonderful trip to the BVI's. Each day held new and wonderful adventures. We all had fun snorkeling, swimming, paddleboarding and sunning on the front of the boat. All of the meals were delicious!!! Thank you so much for the special christmas dinner you really out did yourself!!! We couldn't have asked for a more perfect week.

We loved playing cards and exploring/snorkeling the islands. You both were so accomodating and thanks again for taking Jake sailing. (He flipped me and him off of a hobie cat in the BEYC!!!!! LOL.). We wish we could stay for another week and have endless palomas.

Thank you for creating a wonderful atmosphere. You both go out of your way to serve. Ryan, your great knowledge of the islands combined with Dani's cooking talents equals a winning combination. This trip will be a cherrished memory for years to come. We will tell our friends to book a charter with Frangines!!!!

Thank you for taking us to the BEYC - our honeymoon spot. Everything from the lobster at Sidneys, the beautiful beaches on Anegada, the huge Barracuda that Makenna reeled in. the fun day at the soggy dollar, the comfy bean bags for lounging on the front of the boat, the breezy christmas winds, and too many other things we experianced. We thoroughly enjoyed ourselves and would recommendyou to anyone and everyone.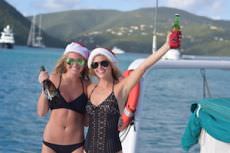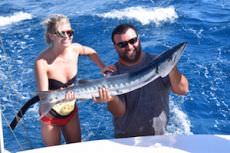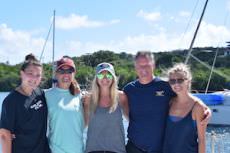 Thank you for the trip of a lifetime aboard Frangines
What a far ranging and complex set of talents you must both posses to make a week on the Frangines so enjoyable. Its a lovely boat, and made all the more so by your hosting style. In spite of Dani making adjustments to my dishes, Im sure I go home no less heavy than when I arrived (even with the 800 calorie scuba diving journeys!). How could I say no to each lovely dish that you made? Most impressive is the organization and timing that must go in to your meal plans. On top of that your no nonsense style is clearly a win. And Ryan, your scuba guidance was excellent. From safety meeting to pacing, it was such a pleasure to dive with you. Each person going at their own pace and none feeling bored or left behind. Ill be bragging about you guys. Hope you dont mind a few more cocktail loving, sun basking, shore going San Franciscans coming your way. You have an open invitation to my great room in SF when you make it that way (granted, the square footage is aboutlike your cabin and there is no chef, but I promise you wont be hauling scuba tanks)!
Yacht Rocking Smooth
Loretta

Thank you for the trip of a lifetime aborad Frangines. Everything was perfect. The food that Dani prepared was fantastic and the dives that Ryan took the group on were excellent. The dive on the RMS Rhone was the best dive I have ever been on. You made us feel welcome from the moment we arrived and I couldnt be happier that we chose to charter with you guys. All the best to you both and hope to meet up with you in the future. Feel free to contact me if you are ever on the west coast.
Jason G.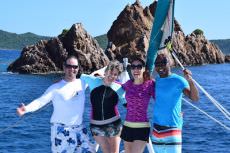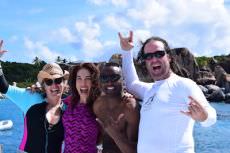 WE will cherish these memories forever!
Dear Ryan and Dani,
Thank you so much for making this sailing adventure aboard Frangines so absolutely memorable for us! We shall always remember it as our daughters first official dive trip, and what amazing dives weve had! Emma will learn soon enough how lucky she is to have seen some of the worlds most interesting dive sites including the Rhone (amazing)! With Ryan as our dive master, we always felt safe and secure. Ryan, thank you for your kindness and your patience. You made sure to keep our kids engaged and added so much to their enjoyment. One evening that will definitely stand out is when Ethan made it his mission to catch 16 minnows after he had made a deal with Ryan who promised to then catch a tarpon. Ryan followed through and Ethan could not have been happier!

Our enjoyment aboard Frangines was amplified with all the delectable dishes that were served! What a culinary experience, from presentation to variety to the wonderful flavors. Thank you, Dani, for putting so much thought and effort into every meal. Although you made it look so effortless, your organization and efficiency did not go unnoticed.

Our trip was the perfect combination of discovery and activity, and relaxation. We slept in in the mornings, we enjoyed snorkling, diving, paddle boarding, swimming, and of course the entertaining launches from the Dinghy!

We enjoyed every minute of our trip with both of you. You certainly made sure we were well taken care of. Every day you brought us to a new picturesque bay, which we enjoyed while sipping on your award winning Caribbean Mule or playing a game of Back gammon.

Thank you! Thank you! Thank you! WE will cherish these memories forever! Who knows we may be back next year when Ethan is old enough to complete his diving certification! It was wonderful getting to know both of you we wish you continued success in your future endeavors.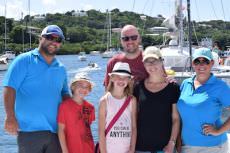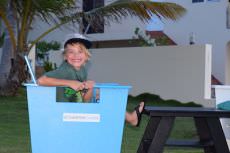 Our experience was amazing
Our journey to this boat was a crazy chain of events and were very fortunate to end up on Frangines with Ryan and Dani! We were lucky to have hit the jackpot with them! Our experience was amazing thanks to both of them. Captain and Divemaster Ryan kept the family (especially the diving boys) safe! Dani's cooking spoiled everyone! The hospitality was out of this world! I couldn't have asked for a better crew!

- Gina

Thank you so much for an amazing experience! Every day was an adventure, I couldn't have asked for a better time! The food was amazing every meal! I had so much fun getting to know both of you and learning about the culture of each island. My favorite day was riding the scooters in Anegada and visiting the different beaches! Thanks again for the amazing memories that I will cherish for a lifetime!

- Gianna

I don't think there is a better way to explore the BVI's than aboard Frangines with Ryan and Dani! The trip was relaxing with a very cool history lesson every once in a while as we sailed the Caribbean. Thank you for the awesome dives Ryan and the amazing 5 star meals Dani!!! Anegada was the highlight of our trip and we were honored to be considered adventurous enough to take on the scooters throughout the island! What a way to see that unique place. Again, the trip of a lifetime, thank you!!!

- Christopher

The comments of my family says it all but most importantly, confirm what I had hoped for in this trip! It was a trip of a lifetime, we shared, we joked, and we explored all of the best spots! We definitely look forward to joining you again soon! Divemaster Ryan, thank you for making our dives so safe and amazing! Your attention to safety was much appreciated and it allowed Gina to be reassured that her boys were in experienced hands. The shark was cool, the Rhone was the highlight! Truly hope to stay in contact you guys! Oh, and Dani, thank you for the incredible meals and cocktails! Awesome time!

- Chris
I don\'t know how you could be more accommodating
Thank you sooooo very much! One of the best vacations ever! Dani and Ryan, you guys worked so hard to make everything perfect! I don't know how you could be more accommodating. We will be back! Love you guys!

P.S. I still cannot find Mars ;)

Pat & Donna
7 days was not enough time to see everything!
Thank you so much for a great vacation! Our first vacation on a boat! Captain Ryan is so knowledgeable about the art of boating and sailing. Dani is the most amazing chef. We saw so many different islands and coves! The water and the weather were perfect! 7 days was not enough time to see everything! We had particular things we wanted to see and we got to see other amazing areas as well! There are not enough words to describe the food! Ryan was able to handle the boat with great ease. We enjoyed watching Ryan and Dani work together. We love you both and hope to stay in touch once we get home! You both catered to us and made our vacation unforgettable!

- Ray and Pat
Best vacation ever!!!
Thanks for the best vacation ever!!! First time for a boat vacation! The islands were very pretty but the trip would not have been the best without Ryan and Dani! They made this trip for us! Ryan is the best captain and Dani is an amazing chef! Our next boat vacation will be with Ryan and Dani! You could not find a better pair!

- Bernie and Dianna
It is unanimous that this has been the BEST!
What an amazing trip! Your hospitality and attention to detail was over the top! Our family travels to new places each year and it is unanimous that this has been the BEST! Planning out our activities, preparing our meals, to refilling our drinks, you were PERFECT! To get Ealon to eat more than a peanut butter sandwich is a feat and you did it every meal! Ryan - my daughter won the trip pick for next years vacation - we are going diving again! Thank you for taking such great care of us down below! You are both the perfect hosts - we will be back!

- Will, Shelley, Jannah, Ealon, and Riley


Thanks for all of the Pina Coladas and peanut butter sandwiches!

Ealon


Best vacation ever! Thank you all so much for catering to all of our needs! Dora, Diego, suitcase, wallet, and boots will miss you ;)!

Jannah


This was the best time I have ever had! Thank you both so much for everything! We will all (except for Beau) miss you and this trip!

Riley
We have never been so pampered
Wow! What a vacation! We have never been so pampered on a vacation! Dani and Ryan always made sure we had everything we needed and anticipated what we would like. My only problem is not being able to fit into my clothes after the incredible meals Dani made. Each dish seemed to match the last one! Not only were they delicious but the presentation was beautiful. I loved how she would come out and tell us exactly what ingredients we were having! Everything she made from scratch and was incredible! The 10lbs I gained was well worth it!

I loved the interaction between Ryan and Dani! So sweet! Not only are they a great team together, they made our trip fun. Ryan is really knowledgeable about the area, places to see, shop and eat. I always felt safe in his hands. Frangines is a beautiful boat, it felt so luxurious! As we cruised into the ports, it was obvious that we were on the best boat out there. It was fun to celebrate Dennis's birthday on board. This has been the most relaxing cruise we have ever taken! THE BEST!!!

- Art and Darlyeen
Best family vacation ever!
Absolutely amazing - the only words that can truly describe our vacation on Frangines! After bareboating 18 years ago and spending a week in the BVI's 12 years ago, our expectations were very high. Captain Ryan and Dani exceeded those expectations constantly and made this our best family vacation ever! We will be forever grateful to them for their kindness and the tremendous patience they showed to our children- answering each question, taking them on the next adventure and making sure they never missed their electronics or TV during the week we were aboard.

As the mother of these two wild 10 and 12 year old boys, I enjoyed watching them water ski, wakeboard, dinghy launch, and even had fun participating in the Willie T jump, snorkeling, boat jumping, and constant laughter!

The dinners also exceeded our expectations by far - with every meal being a fabulous surprise. The attention to detail with a beautifully set table and the presentation of the meals impressed us time and time again! As we spend our last morning aboard Frangines and reflect on the past week, we are reminded how blessed and lucky we are to have sailed on Frangines and found Ryan and Dani! Returning to our regular lives will certainly be a challenge but it will make planning our next trip back here even better as we will know the relaxation, excitement, adventure, laughter, and tremendous fun that awaits us!

P.S. The Easter baskets were awesome and SO thoughtful! You are the best!

-Natasha and Chris
Loved all the fun things I did
Best vacation ever!!!! I loved all of the fun things I did, including wakeboarding, tubing, eating, and even dinghy launching! Dani is the best cook ever. Cap'n Crunch did a great job of throwing me off the tube and helping me catch a fish. The maple bacon pancakes were my favorite food! See you next time Cap'n Crunch and Dani!

- Tate Age 12
I liked.....
This was one of the best trips I have ever had! I enjoyed everything I did. I liked how friendly Captain Ryan (Cap'n Crunch) and Dani were.

My favorite thing I did was dinghy launch.
My favorite food was the cheesecake.
I liked The Baths and the bubbly pools.
I liked skiing and wakeboarding.
I liked the cool surprises Cap'n Crunch had.
I made great memories.
I would love to come back.

- Chase Age 10
PERFECTION!
PERFECTION! Absolute perfection....our trip will be unforgettable for a thousand reasons. A gathering of friends became non-stop fun due to your attention to EVERY detail, every need/want/desire for food, drink, music, and anything else! WE LOVE YOU!!! Dani- your gourmet cooking talents, the best in the "Carib". Breakfast, lunch, and dinner beyond description. You are amazing in a kitchen the size of a phone booth! Ryan- "Captain MY Captian", a kind, loving, "Gentle Giant". Your smile is a beacon on the sea! You patience and calmness in ALL situations is off the charts. Our sailing experience was magnificent! Both of you will be forever held close to our hearts as beautiful people and very importantly, as fellow BUCKEYES! You are doing the Midwest proud here in the fun and sun! Loved "twerking" on the bow of Frangines at all times of the day! The continuous flow of Prosecco and the amazing Bushwackers! Be safe and it is a must that you will call us and get together when you come to OHIO! Thank you for the home made "29 times 2" birthday cake and celebration! The cake was beautiful and delicious!
- Bob and Linda
EPIC Adventure!
We cannot thank you both enough for the EPIC adventure on Frangines! You took such great care of us, meeting and exceeding all of our needs. Dani the food you brought out from the galley was so incredible! We will miss being spoiled so much having to go back to reality. You are a wonderful team and an adorable couple! Stay chill and love and care for each other always. Please, please come visit us when you visit Ohio! We will show you a good time!
- Ron and Carolyn
If it\'s possible to make the BVI more spectacular, you did it!
Ditto what the other two said on their pages! Plus, I am going to win the lottery and I am going to steal you away! Andy and I will pick out the boat of your dreams and you will live on the boat and we will come sail with you! If it is possible to make the BVI more spectacular, you did it! We love you both, you two are wonderful! Don't share whip cream with any other guests ;) Love you, love you, love you!
P.S. Thanks for allowing Andy to swabby the deck!
- Debbie and Andy
Trip of a lifetime!
What a fantastic, trip of a lifetime! Great food, beautiful vistas, tons of fun, and total pampering! Couldn't have been better! Expect calls next week involving our confusion about not being able to feed ourselves or make any plans without your help. Don't forget to send us those recipes!
- Brett

You two are amazing!!! I will dream about the food for months! You are both so fun and kind and really made us feel at home on your boat! We loved every moment and appreciate all that you did for us!
- Gina

The trip was absolutely unforgettable!
Loved our trip through the BVI's on Frangines! Outstanding food (especially the Key Lime Pie) and wonderful locations! We enjoyed our mix of relaxation and adventure. The dives were breathtaking! Thanks for making us feel calm and confident. Ryan and Dani, YOU made our trip! Thanks for all of your attention to detail and fun! We will never forget our time with you in the BVI. We only wish it were longer!
- Todd

Thank you for the time of our lives! The food, the pampering, the fun, and the dancing! It made me one happy lady! The trip was absolutely unforgettable! I felt like a queen instead of like a regular woman/mom. We hope to be back sooner rather than later. We love you!!! Please send recipes!
P.S. We loved the place settings and fancy napkin folding "the magic touch"!
- Christy

A fantastic adventure!
What hosts!!! The food!!! Dancing! We had a terrific time! We were in great hands. We really needed relaxing and we really got it! We hope to see you again. Thank you for a fantastic adventure!
- Terry and Susie
Colonna and Cronin 2/6 - 2/13 2016
Mike Cronin
Had a fantastic time! Went to a bunch of great places in the BVI and dove the Wreck of the Rhone twice!! Food was excellent and was the best 30 year anniversary ever!

Phuong Cronin
What a great way to experience the BVI! Everything was wonderful! We will certainly do it again!

Paul and Tracy Colonna
We had a wonderful trip in the BVI on Frangines! Food was great and you both are so welcoming and accommodating! When I get home, we will not know how to do anything for ourselves....
Stephanie, Josh, and Kristina, Jen and Chris - New Years 2016
Franny serves us well! Great in every aspect! Ryan saved my life while we dove. In all seriousness, Dani, wonderful and patient, great chef even for people from Southern California who don't like carbohydrates and love dark coffee. Captain Ryan , beyond a great captain who got my daughter to stop watching TV and using electronics to swing from the high rope. Thank you for wonderful memories! - Stephanie and Josh

We started out on day one... LA folk embarking on an adventure in a more simple and stunningly beautiful surrounding. We could not have known what awaited us or how amazing our guides would be in welcoming us into new settings with open arms and patient hearts. Poor Dani had her work cut out for her with two ultra healthy females who loved their hot showers. I hope they both witnessed that, at least by the end, we had it down. The way you were hosts made us feel like an extended version of our home. As teachers, guides, and amazing chefs, you exceeded our expectations beyond belief. I know it may be hard to be stuck at sea with the same 5 people for 7 days, but I hope we provided you entertainment and some good company along the way. I truly cannot imagine any other guides that would have been more perfect for our multi level needs, crazy group. It was a perfect fit and we will never forget it! - Jen
P.S. Especially thank you for our reheated coffee, attention to the bathroom, and any other quirks you may smile about in our absence.

Never been to the BVI'S but the beauty and people will make a must to come back! It's going to be hard to transition back to regular life again after this wonderful adventure! Our hosts, Captain Ryan and first mate/chef extraordinare made the trip even more special. They made us feel like royalty. Thanks for ensuring we had the great time that we were looking for! - Chris

Awesome time! My favorite part was the tubing. The whole trip was great! I had so much fun. My favorite dessert was the key lime pie! - Kristina, Age 11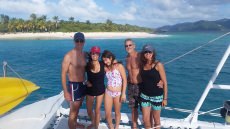 The Sternthal Family - Christmas 2015
What a great trip and week with my 3 teenagers and husband on Frangines! Dani and Ryan welcomed us to a spotlessly clean boat with wonderful fresh smelling towels and a starting lunch - exactly what we liked.

Dani had clearly paid close attention to our food, drink preferences, and each meal was well planned and enjoyed by all. She had been initially concerned about a completely vegetarian menu for an entire week but she came through with shining colors!!

Ryan commanded the boat with expertise and was always happy to go on another dive, snorkel, get out the paddleboards, and take my daughter wake boarding. On our dives, I felt completely safe and in competent hands - his review of important concepts and points before heading out for our 1st dive actually assessing our abilities.

As for the boat, accommodations were more than adequate with rooms spacious, well functioning heads, and tons of outdoor comfortable seating. She sailed beauty and even when under motor, the noise was not annoying, as on some other boats.

As for Dani and Ryan - they are a great team with comfortable banter between them always and each of them helping the other one out.

We could not have asked for a nicer crew or more comfortable boat for our week in the BVI's. Thank you Ryan and Dani!! - Jessica Sternthal

What's the best way to spend a week of winter vacation?! A WEEK ON THE FRANGINES WITH RYAN AND DANI!!!! Every day was filled with amazing activities and great food. Meals were incredible and everything seemed to be taken care of. Dani was up to make any meal and Ryan was up to take us on any dive and/or snorkel. Thanks so much for such an incredible trip and such find memories. Do we have to leave???? - Jonah Sternthal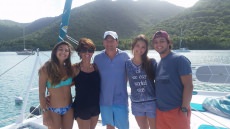 Rick and Sheila Nelson, Marin Nelson and Jeffrey Martin - 12/2 - 12/12
Words fail me! This cruise far exceeded my expectations, thanks to Dani's fabulous food, Ryan's professionalism and skill and the friendliness of both. Every anchorage was perfect and Frangines is a comfortable and spacious yacht. Thanks for a wonderful time! - Sheila

An incredibly grand experience...I doubt any other crew could have been better, S/Y Frangines is a lovely boat, with more amenities than expected. Days of lovely sailing, followed by shelters anchorages and mooring gs provide memories to be cherished. We'll highly recommend it to others at home! And the FOOD!!! - RICK

We had a fantastic time on Frangines with Ryan and Dani. They were awesome hosts and made our family cruise something we'll always treasure. Great food, great sailing, and great destinations! A perfect vacation! - Marin and Jeffrey

We had such a great time on Frangines!
10 Day Thanksgiving Sail 2015

This was a Huge event for us as it was the first family vacation and reunion with my husband's side of the family! We had such a great time on Frangines! It started off with Captain Ryan serving the signature Frangines cocktail! The beautiful remodel of the boat was completed just in time for our party⛵️!

Every meal on board was delicious and picture worthy in presentation! A Highlight for us personally was the opportunity to dive at The Bathes! Also Waterskiing on our own private beach at Iguana (Guana) Beach!

We loved all the space on the boat with the beanbags in front it was so comfortable to sail! The attention to detail with our meals, our drinks, and all of our daily activities we're very thoughtful.

Thank you for making our trip so special and comfortable. It will never be forgotten!