New Years 2018
Matt, Hillary, and Kate,

Thank you for such an amazing trip! This was our fourth catamaran trip and it was definitely the BEST! We've been trying to look for the perfect catamaran and the best crew and we found it in Lady Katlo! Matt and Hilary's amazing service and attention to details made this trip exceptional!! To tie it all up, we had the PERFECT chef! Kate, God bless you hands!! Even though we go back 10lbs heavier, we don't regret it at all! You definitely pleased us with everything we asked and even delighted us with delicious Venezuelan arepas! You surprised us with every plate you made, we still don't understand how you cooked all of these on a boat!

All of you exceeded our expectations and we can't wait to charter another boat with you guys:)

Thank you Matt for your patience and disposition. You were not only a great captain, but also a TOP photographer, marine instructor, and funny guy! You were always willing to please us.

Hillary, your details were absolutely amazing, you dinner decorations, your mind blowing pina coladas, painkillers, morning coffees, and your desire to keep everything clean and in order was very appreciated.
Cheers for Matt, a.k.a. The President, the pillar and First Lady, Hillary, and the British Queen of the Kitchen, Kate!
We will miss you all!

A BIG BIG thank you,
Silvana, Giancarlo, Angelo, Coralia, Giovanni, and Rosanna

P.S. If you ever go to the Galapagos Islands, don't hesitate to give us a call!!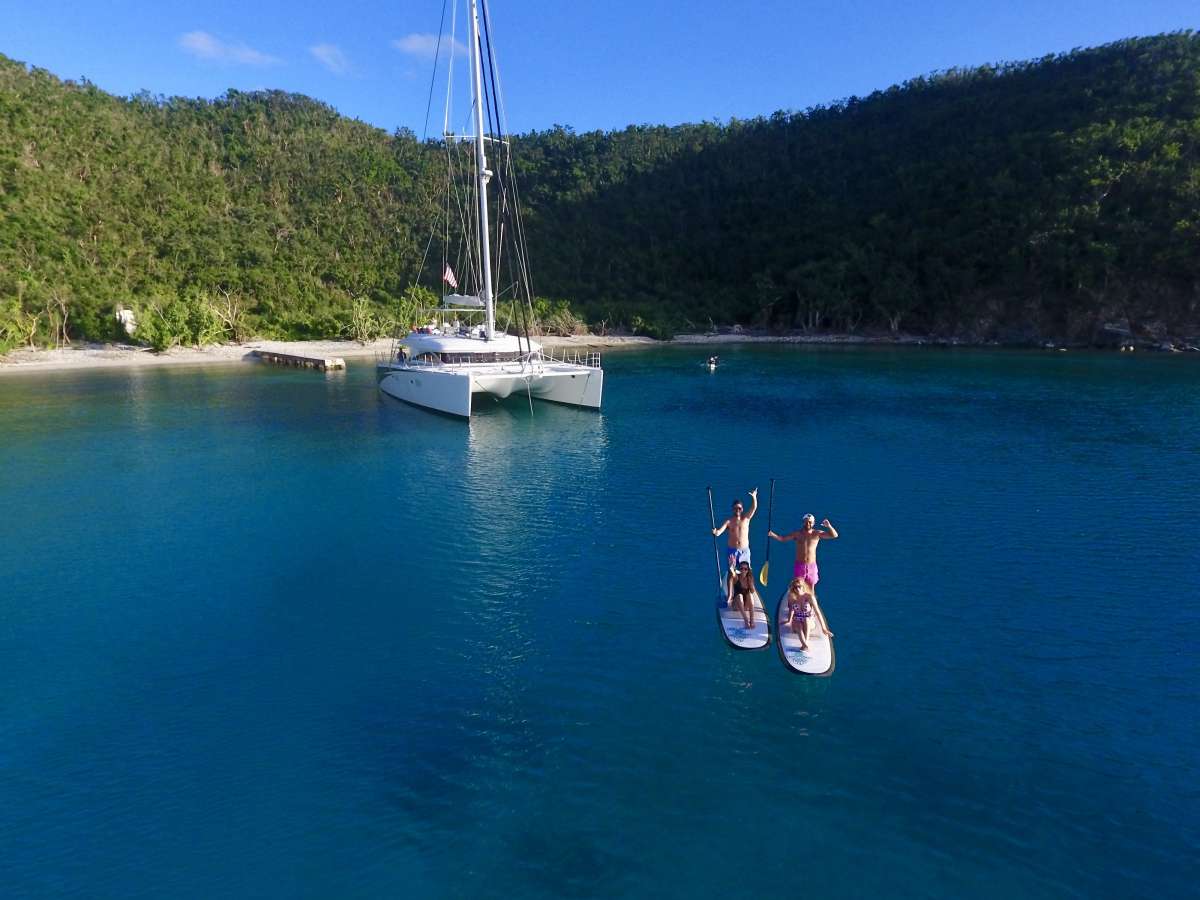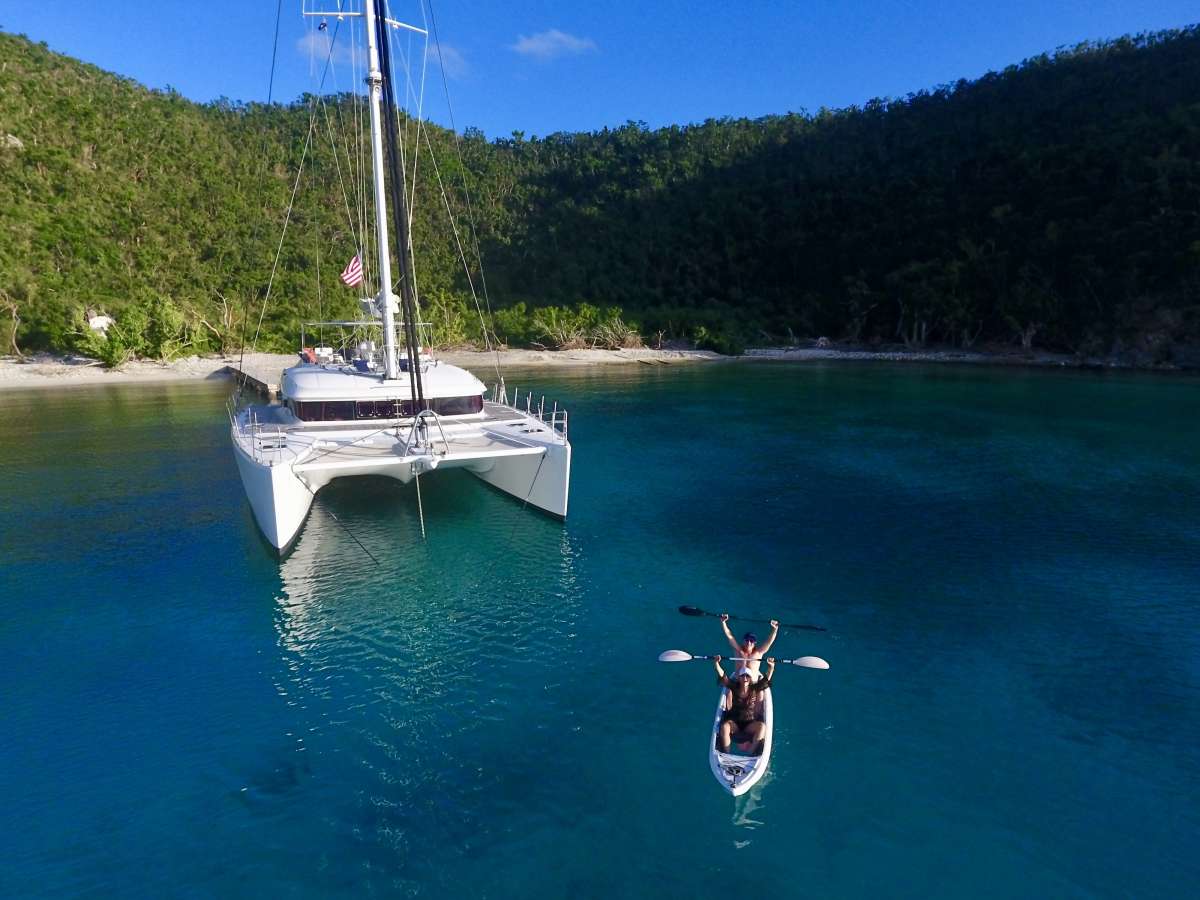 Exceeded our expectations...
Your Name: Frank S.
Skipper: 5/5
Comments...Very competent, friendly and fun to be around. He did everything he could to find calm harbors with the high winds we had. He was very attentive to making us very happy.

Rest of the crew: 5/5
Comments... Unbelievably NICE. Hiliary was always there to assist our needs. Richie is an GREAT chef and prepared gourmet meals (we are foodies and appreciated his efforts). We cannot say enough good things about this crew. They made the trip very enjoyable.

How would you qualify the yacht (comfort, features, general maintenance, etc) 5/5
Comments...Phenomenal yacht, kept in top condition by the crew.

How would you qualify the itinerary 5/5
Comments...The weather was not cooperating and we could not get to some of the anchorages we had hoped to, but that was because of the weather.

How would you qualify the sports and leisure activities/equipment on board 5/5

How would you qualify the food and drinks 5/5
Comments...As noted above....the BEST. I have chartered about 10 crewed charter boats, and this food was without question, the best.

How would you qualify the entire experience of your trip 5/5
Comments...It exceeded our high expectations.

Can we share this feedback on our website? Yes

Best 60th birthday two ever had...
Matt, Hillary and Richie,

Last year we planned this trip to celebrate Bob and John's 60th birthday. LADY KATLO was suggested by Jim after meeting you on the dock the year before. We came with some expectations to see the BVI and spend time with family. Little did we know what we were about to experience. att, you are the true Captain, you made us all feel safe and your sailing expertise was amazing. Hillary, you are adorable, your caring and kindness shows with everything you do - you put so much care into everything from dinner settings to our cabins. Both you and Matt are very special couple. You compliment each other and truly show how much you care about your charter, the boat and each other. Richie, what can we say? Breakfast, lunch, snacks and dinner with dessert - your "brilliant" (I love the British). We looked forward to each and every meal. You are a talent and so moddest with your craft. The food photos taken were just as important as the views. You are a gentleman and most professional and it shows with every pate served. To all 3 of you, we are truly blown away with your hard work. You are present and work with ease and unity, you made this trip on we will never forget. Please keep in touch and come visit us. (Richie, I promise I won't cook!). Warm wishes and smooth sailing. Holly, Bob, Linda, John and of course Jim!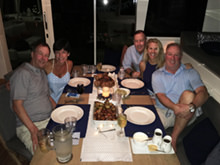 11th - 19th March 2016
A week in paradise - where days melted into each other and the moon shone fully and bright at night. Snorkeling, fishing, scuba diving, surfing, wake-boarding, tubing, hiking, collecting sea glass, night swimming and still we managed hours of games, reading & relaxing. Thank you Richie, Hillary & Matt for a fabulous week. The meals were masterful & creative - a feast for the eyes as well as the palate. Thank you Richie for such wonderful breakfasts, lunches, snacks, dinners & desserts & Happy 50th birthday to you! Hillary- you are a wonderful hostess- fun & joyful, attentive to our every need and you have a special talent for setting a shinning table! Love that! Matt - you are a fabulous captain and super fun. Thanks for taking us fishing, tubing, snorkeling, surfing and arranging scuba etc...We loved Lady Katlo and it is clear that you all lover her as well. Thank you for making our week in the BVI so memorable! We hope our paths will cross again on land or at sea.
Our Best, Kim, Bud, Lee, Kate, Will & Em

All of the above! Your ability to provide first class service in a relaxing "family" atmosphere was masterful and deeply enjoyable. Thank you! Bud

Thanks guys! I had an awesome time floating around with you! The food was awesome!
You guys are so cool!
-Will

Thank you so very much I had so much fun! I did so many new things thanks to you guys. Sunday snorkeling, Monday paddle-boarding, Tuesday tried Shrimp, Wednesday I drove the boat, Thursday hiking, Friday night swimming with Tarpon, Saturday I caught a fish with my hands and Sunday I saw an Eagle Ray! Thanks again I had a lot of fun and really enjoyed you guys and the food
-Emily

Hi this is Kate! Thank you for having us and allowing us to do so many new things. And thank you Richie for cooking vegetarian for me every meal. It was amazing!
- Kate & Lee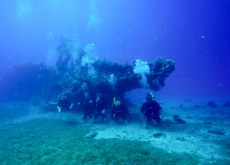 20th - 27th March 2016
Lady Katlo - the boat was stunning and the crew was fabulous. Matt, Hilary and Richie were fun, personable, and provided excellent service. Meals were delicious and beautifully presented - Richie is a true artist and master of his craft! Matt was a wonderfully skilled Captain and was always ready to take us snorkeling, arrange our scuba rendezvous with a great dive company, set up the paddle boards and kayak, pull out the fishing poles, pull us on the wakeboard, or take us to a beach. He even arranged a surf adventure for the boys and went along to catch a few waves himself. Hillary was fantastic - super nice and fun. She took great care of us and made sure we had everything we could dream of wanting. We were so spoiled! We had a wonderful week and did not want it to end. Matt, Hilary and Richie are a great crew! Kim & Bud
March 2016

"Great food, great fun, phenomenal service and fun sailing. Second time on Lady Katlo and each trip is better than the last! As always, Matt and Hillary are simply amazing. Not sure the owner of that boat has any idea what kind of gems he has on his hands, but he probably should. They are awesome. So accommodating, great with the kids, always up for anything with a smile and a wonderful attitude. So very sad to leave. We will be back!" -- Langley

"Our trip on Lady Katlo was nothing short of fantastic. We are most appreciative of Hillary, Matt and Richie - you are real pros at what you do. No complaints, we had a ton of fun and were REALLY Sad to leave." -- Hilary

January 2016
Thank you so much for a memorable and relaxing vacation!

Hillary, Richie and Matt are wonderful hosts. The food was fantastic and Matt and Hillary are the most pleasant people to be around..
Thank you! Connie and Mike

Thank you for such a wonderful sailing trip. Everything was wonderful!!
Enjoyed Lady Katlo! We had a wonderful crew and the food was outstanding!
Thank you all for a great experience!
Cheryl & David
New Years 2015/16
We could never have imagined this trip; how magnificent it was, the amount of fun we had, and meeting you wonderful people! Thank you for your incredible hospitality and for leaving us with so many life-long memories. Let us know if you are ever in New Jersey or New York City - we would LOVE to meet up! Keep in touch!! Have fun on all of your future adventures!
The O'Hagens

Everything about the trip was outstanding. The two crews absolutely made the trip Im sure there are other good boats and crews out there, but ours were over the top, crazy good. Obviously, the BVI is a special place, with lots of options for things to see and do - throw in large quantities of excellent food and drink and you have the recipe for a once in a lifetime trip.
The Goffhorns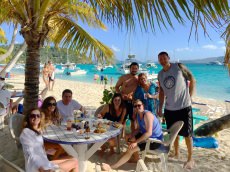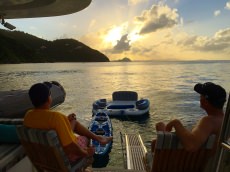 November 2015
What an amazing, relaxing, incredible ten days. Thank you Matt, Hillary, and Richie for spoiling us with a beautiful ship and surroundings. Everyday was a new adventure in eating with Rich's wonderful gourmet food. Matt and Hillary's hospitality was better than the Four Seasons. We saw incredible sealife thanks to Matt's knowledge of the island secrets of where to snorkel, fish, and coves to anchor in. We enjoyed all the boat's toys; kayak, wakeboard, paddle board, and waterskiing. Hillary was such an asset and she and Matt work as a wonderful team. Can't wait to come again next year.
The Perry and Eyster family from New York and Lancaster, PA."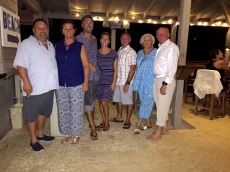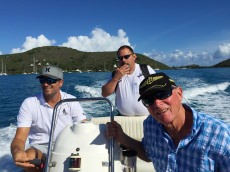 March 2015
Richie is DAH BOMB - great food!
The best food in the world!
Hilary is COOL
Matt knows how to turn a wheel
Thank you! Luke

Thank you guys so much for the past week! Richie's food was crazy good, possibly the best food I have ever had. Matt knows how to sail which is good, and thanks Hilary for cleaning our room when it smelled bad. Amazing trip!
Thank you! Nick

This was the most amazing trip I have ever been on! I had so much fun learning about sailing a big sailboat when my only experience was sailing a four foot long opti. Matt is an amazing sailor and Hilary is so nice and fun to hang out with! Richie is hilarious and an amazing cook! I will be craving his food every morning at home. I really hope to come back next year! Again, this was amazing and thank you so much!
(hopefully) See you next year! Lexie

Fantastic! Unforgettable! Amazing Thank you Matt, Hilary & Richie for giving our family and friends the most exciting and flawless Spring vacation. Your kindness and can do approach to everything was evident from the moment we climbed aboard. You all went above and beyond Richies gluten-free cooking absolutely the best. Hilarys cheerful manner and doing everything for us behind the scenes and also front and center down to doing Nicholas and Maxs laundry1 Her afternoon cookies & the Rice crispy treats, Matts expertise on the boat in all kinds of ways beyond sailing (which is of course unmatched).
We went to the best snorkeling spots ever. Saw Sea Turtles, bubbly pool, (Necker Island with champagne toasts), water-skiing, big dinners on the boat and so many more memories to last forever.
We thank you , we applaud you and we sincerely hope to do it again in 2016!
Until then all our best Hilary S.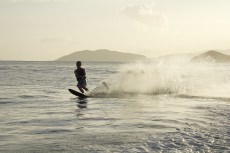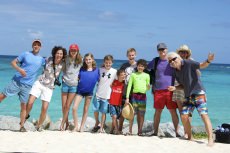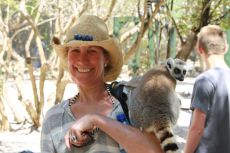 New Years 2014/15
Thank you so much to the wonderful Lady Katlo crew! We had such a great stay in the BVI - Ritchie's (Chef David) delicious meals (including accompanying umbrellas) were the best. Thank you to Matt & Hilliary for making us feel at home (including coffees and dance parties).
It will be hard to top this trip!!
~Caroline

Words can not begin to describe what a wonderful experience we have had with Matt, Hilliary & Ritchie on the Lady Katlo! The attention to every detail while aboard has been truly amazing. The anchorages, the cuisine and a host of other special touches have made this our best trip ever!
We hope that all or any of you contact us if you venture west so that we may show you some Canadian hospitality.
Fondest regards, Jill & Brian

This was the best week EVER! Every day was pure bliss. Waking up and enjoying our coffee looking out at the turquoise sea, snorkeling, eating Ritchie's delicious meals, the "Fireworks" on New Years. It was all just perfect. Matt and Hilliary were perfect hosts and were a delight to spend time with. If you ever find yourselves in any of our various cities, you are always welcome to give us a call and we can return the hospitality.
Sarah & Steve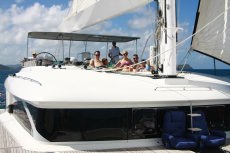 Christmas 2014
We very much enjoyed our stay on Lady Katlo. Hillary, Matt and David are excellent crew members. We enjoyed exploring all the islands, snorkeling, paddle boarding, kayaking and jumping off the boat. Charles loved the upper deck to jump from and all the beer. Cordelia liked paddle boarding and lounging on the blue float plus visiting Sandy Cay. Liz loved being with the family on a very welcoming boat in a beautiful setting. Virginia loved the internet and the wake-boarding. Bert enjoyed relaxing and the food. Parker enjoyed the weather.
Thank you for the best week!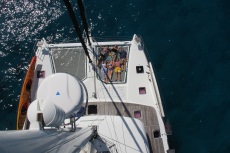 December 29, 2013-January 5, 2014 BVI
From the broker's follow-up form:

Comment on the comfort onboard Lady Katlo: LK was spacious and tastefully decoratedmore modern than overdone which was to our tasteso very comfortable. The photos were not misleading.

Comment on the condition of Lady Katlo: LK had just come from being redone in Fl Lauderdale and we were its first clients, so it was really like being on a brand new vessel.

Comment on the cleanliness of Lady Katlo: Perfectly spotlessour rooms were cleaned every day, sheets and towels changed mid-week, crew worked throughout to keep the common areas and the boat itself tip-top.

Comment on the congeniality of the Captain and crew: Captain Patrick is a doll and so were the crew. Super friendly.

Comment on the service of the Captain and crew: I thought we had a few ideas for our trip and had emailed them to the Captain earlier. But we soon realized that he had thought out a lovely tour of all the islands trying to make sure we got to see all the best spots the BVI had to offer in our limited time there. His organization was perfect!

Comment on the fun aspect of the Captain and crew: As a family of 5 we looked for fun mostly in our water sports, not really bars or restaurants, and The Captain and crew made sure we had access to anything we wanted to tryand we did a bunch of itso yes, loads of fun.

Comment on the expertise of the Captain and crew: I know nothing about sailing so It is hard for me to judge, but I would have to say the we felt in highly skilled and professional hands. I understand that the captain as well as Emily (I think she might be called the steward?) both had transatlantic crossings under their belts, as well as multiple solo sails on their own boats. Expertise: check!

Comment on the quality of your meals: OMG!! Chef David was AMAZINGwe ate so well we never wanted to leave the boat to go ashore, and so we never did! (The 2 times we did eat in a restaurant it was nowhere near the caliber of the food on LK) So accommodating too, since the kids like meat and the parents fish, but never felt like an effort to make everyone happy. OK, I admit it, took photos of the food, it was beautiful.

Comment on the presentation of your meals: See above. Oh and the table was beautiful without the food as well.

Would you charter this yacht again?
YES YES YES

One last thing

Initially I went along with my husbands desire to charter a boatnot against it, but thought it would be a one-off, great experience. The quality of the experience from our first conversations with the broker to being helped through customs by the Captain and getting back to St. Thomas was perfect. We are both hooked, and will be looking to
charter again. And again.

Sincerely,

Ris