Holiday Charter 2014
Boat was incredibly nice - exactly what we hoped for. Pictures are true to final form! Bruna is worthy of a Michelin star - and we hope to get her on Chopped or Iron Chef etc. Her food is healthy, flavorful and essentially perfection. Ken and Bruna have such command of the area - we were always move from one epic spot to another. They were both so good with our daughter and accommodated her every wish.
Anniversary Trio
Sanaa, thank you so much for recommending Lady Margaret for our 2014 anniversary trip. When we booked the trip 9 months ago Ken told me we would have the best vacation of our lives and he was absolutely correct. Lady Margaret is luxurious She is quiet, very comfortable, spacious and looks brand new. She was perfect. But what made the trip so remarkable was how we were treated by Ken and Bruna.
Before our trip we competed a preference sheet. Bruna made certain everything we mentioned was aboard and took it upon herself to ask such details as what type of coffee and sweetener we preferred. Ken arranged transportation from the airport to the boat. When we arrived and sat down with them we knew I was going to be treated like a captain without ever having to lift a finger and Amy was to be the Princess. Ken listened and took us to ideal locations. no matter how much effort it took. For example in a St Johns location they were not satisfied with the first and second mooring balls. They both kept an eye on boats on two other boats and as soon as one of them was preparing to leave they immediately jumped (as if there was a fire) and secured the perfect location. Amy loves beaches and Ken insisted we should go to Anegada which was a long distance from the other islands. Amy immediately fell in love with the island. At each location Ken would have great ideas for the best snorkeling, swimming, beaches and views. He would dingy us everywhere he thought we might enjoy again without regard to the time and effort which was required. For example in Anegada immediately after we completed the two and one half hour trip Ken initiated a 15 minute dingy trip to a remote beach on the other side of the island which was the prettiest beach we had ever seen. On Peter island they backed the boat and secured it with the anchor and two ropes Ken tied to rocks that were ashore so that we could enjoy a beautiful sunset in the calmest of waters.

I enjoy snorkeling but get a little skittish if I am by myself too far away from the boat. At every good snorkeling location Ken would swim with me. He would point out every interesting fish and wait for me to catch up with him to make certain I was comfortable.
Ken is a very skilled Captain and mechanic. We caused a problem aboard which required many hours of very hard work. Ken never made us feel bad about our mistake and gracious fixed the problem.

Now let me tell you about Bruna. First of all she is so friendly and sweet. She works seamlessly with Ken to make certain everything we might have wanted was available. She also happens to be a gourmet cook so you can imagine how nice that was for us. Fresh fruits and eggs benedict with smoked salmon, omelets, sausage, bacon, toast and jelly were fantastic breakfast offerings. At lunch we had dishes like shrimp quesadilla cooked to perfection, vegetable pitas, shrimp salad, butternut squash soup, tomato soup with goat cheese and pasta salad. All of these creations were divine. Dinner of course was to die for. The fish was cooked to perfection with her homemade sauces. I can still smell the chicken masala which was the best meal I have ever eaten. Filet, stir fried beef, and of course the salmon cakes with the creamy caper sauce were all fantastic.Oh I forgot about the appetizers. Prosciutto wraps with lettuce, Asian pear and drizzled with a soy like sauce. Wow.

The best thing about Ken and Bruna is their personalities. They are smart, wonderful people with class. We met two friends we will never forget. Nothing would make us happier than to see them anytime, anyplace and under any circumstance.

Oh I forgot about Chico. We loved having him aboard and want him to move in with us.

Thank you for helping us with everything Sanaa. Again it was the best vacation we have ever experienced.

Robert and Amy

17-24 November 2013 BVI
Our last Charter with Captain Ken and Bruna was a 10 out of 10. We connected with them both instantly. They gave us our space when we wanted it and we spent time with them for dinners etc when we invited them. Ken was very committed to making sure we had a great time by asking us what we wanted to do everyday. No two days or beaches were the same. From snorkeling, hiking, relaxing on a beach, great island bars, to the best chicken wings in the BVI Captain Ken made it happen.
The Yacht itself was a reflection of Captain Ken it was meticulous. The onboard food was spectacular! Bruna is an awesome cook and although we could be fussy eaters she really over delivered! Thank you for recommending Ken and Bruna. Have a great day! Armand
St Thomas, USVI
Lanny and I had a wonderful time on the Lady Margaret with Ken & Bruna. They were excellent hosts, coordinated a great itinerary, and Bruna is an excellent cook. Thanks again.
Honeymoon Charter, April 2013
Capt. Ken:

Your smiles are big
Your hearts are bigger

You made us laugh
And fixed us dinner

The stars above twinkled bright
As Chico lounged in sweet delight

Monkey noises bonded the boys
As us girls shopped for sparkling toys

A mongoose skull with octopus sprouting
Had us entertained and Kenny shouting

So many adventures we have shared
So glad we found you and so well prepared!

The tarpin jumped on Brian's hook
And we all stopped to take a look

We will be so sad to go,
Come to Nashville and see a country show!
Becca W.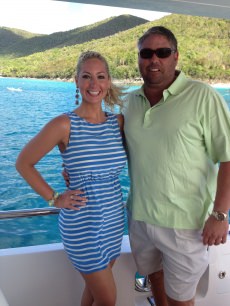 I can\'t recommend Lady Margaret and her lovely crew enough.
Patty,
We are not quite back, lounging on in Caneel Bay for a few more days.

What a great experience. We had a blast! All I can say is they are very lucky we didn't steal their incredible little Yorkie, Chico. He was an absolute bonus, a fearless, intelligent, hilarious character, much like Ken, his 'Dad'.

Ken must never ever have any truly wealthy or celebrity type guests because they will snatch up Bruna, offer her a million bucks a year or whatever to cook for them. She is one of the best cooks I have ever met. The food was so beautifully presented, it almost hurt to eat it. Every meal was flawless, imaginative, incredibly healthy. If we hadn't consumed a vat of red wine every night, we might have actually lost weight without realizing.

Ken was an expert Captain, he took us to so many unusual places- we had so much fun, remote beaches and anchorages, beautiful reefs, and remote but delicious restaurants. He whizzed us off in his little speedboat thingie to a bar that floated in the middle of the sea, encouraged us to be wild and crazy, but looked after us, and ensured we were perfectly safe at all times.

They were gracious in allowing us to sit alone and feel alone, but, frankly the more we knew them the more we wanted to hang out with them.

The boat was gleaming, a luxurious place from which to just stare into the immense blueness of the Islands. The bed was very comfortable, and we slept like logs, (could have been the aforementioned wine).

Our every whim was attended to, and usually anticipated for us, Ken was also brilliant at shaming us into going for a swim when we sat there being lazy, once we relented the pleasure was all ours.

I can't recommend Lady Margaret and her lovely crew enough.

Best wishes

Kim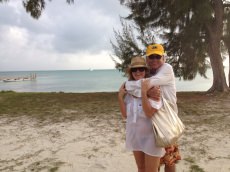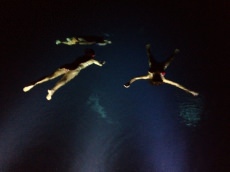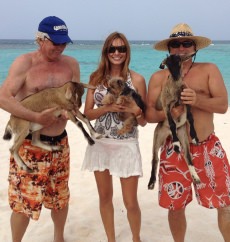 Linda from Atlanta
Well we've been home for a month now and I still really miss you both. Our trip was the very best ever. Everything was perfect. We will never stop talking about the food. We don't think there is a restaurant in Atlanta with better food.
Linda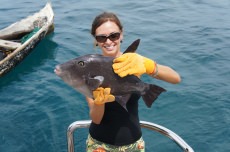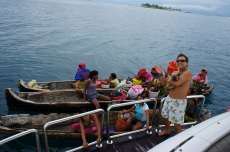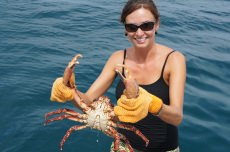 New Year\'s
Dear Ken
Thank you for the wonderful time you showed my clients over the New Year! It was a hurried, last minute booking and you pulled everything together beautifully. I spoke with Michael yesterday and the accolades he bestowed on you surpassed any I have ever received.
Michael reminded me he is used to dining in New York finest restaurants and knows gourmet cuisine. Your meals rivaled the best and went way beyond their expectations.
Sherry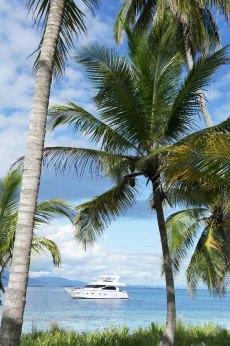 Honeymooners
The experience was wonderful. Our honeymoon will be a vacation to remember for a lifetime.
Michael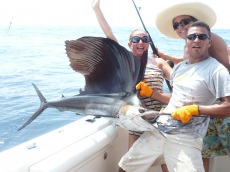 From David
Our cruising vacation was by far one of the most relaxing, unique and memorable vacation we have ever had. The yacht is extremely well maintained and manicured. Our pace was perfect, we saw a nice variety of the Virgin Islands. If the pace wasn't perfect, it would have been our own fault because Ken made a much appreciated effort to get our input each and every day.
David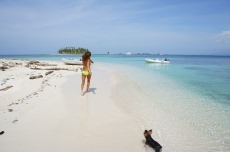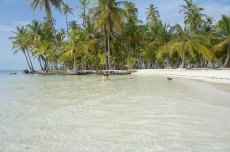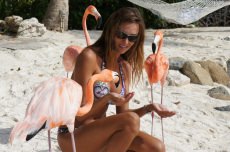 Desolation Sound, Canada
Dear Ken and Bruna
Thank you so much for the wonderful time we had in Desolation Sound, Canada. The trip was absolutely amazing, I will never forget watching the beautiful sunsets while sipping wine on the aft deck. Bruna's dishes were superb. Looking forward to booking another charter with you, but this time somewhere warmer!
Bill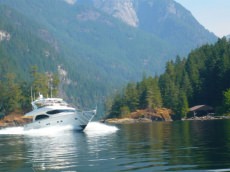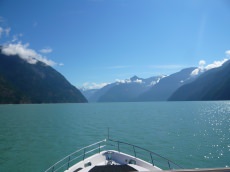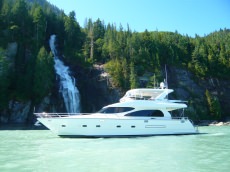 Fishing trip
Ken has a wonderful knack with people, knows what to say and when to say it. He was extra special to all four of us. Seeing the different islands from the yacht was breathtaking. Ken and crew made us feel like "big fish in the sea". Thanks again for your special hospitality.
Your friends,
Kim & Alan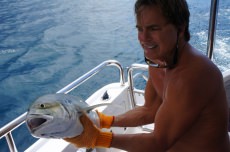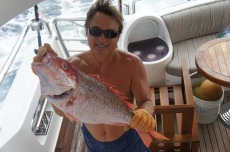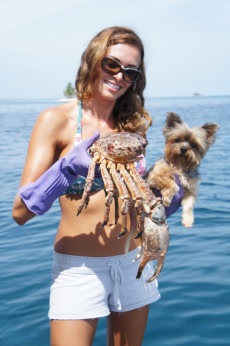 Summer 2011 in San Blas Islands
My husband, Luca and I, spent one week onboard with Captain Ken and Chef Bruna and we had the vacation of a lifetime. We were in Panama and met them on the boat at one of the islands of Kuna Yala (San blas), which resemble the Polynesian Islands. They arranged for pick up from a strip airport and the adventure began.

Captain Ken and Chef Bruna made sure that we felt like kings! In addition, they knew the most remote and pristine places to spend the day and snorkeling.

Their cordial and respectful demeanor with the local Indians and fisherman won them friendship and reliable supplies and fresh fish, lobster and crustaceous every day. We feasted daily and the beer and wine were always cool, perfect and appropriate with every food. Cocktails were exquisite (I think they have bar tending experience but never brag about it) and the dinners were always fresh and exquisite!

We sailed to a different island every day, and we were able to hang out with the locals, visit their huts, and have our souvenirs quilted and breaded before our eyes. Bruna just had a sweet way with the local women that they could not say not to her!

Ken kept us safe, tied up all of the mosquitos and made sure that we always had the snorkel gear and the camera ready. Even on rainy days, we were prepared to make the best of our boating experience.

We returned hope refreshed, energized, invigorated and with a few pounds added to our waste line, but it was all PERFECT!

Ken and Bruna really know how to travel, make you feel like youre on top of the world and we hope to go on Lady Margaret again sometime in the near future.

Its boating in class, elegance and comfort, but never losing sight of the opportunity to experience a different country and the richness of their culture.

ALL ABOARD!

Dr. SC
Great Trip
Just a quick note to let you know what a great time we had with Capt. Ken and his crew. The boat is awesome, Ken and his crew were very attentive to our every need. He did a great job of charting a course for us that met our objectives. He really knows the wind patterns down there! And on top of that, the food was gourmet!
Pete