February 4-11, 2018
Dear Capt Bill & Chrystal,
We have been planning this trip for so long, and you both have made it a dream come true!! From the moment we got on the boat, we knew we had the best crew ever!! All the food & drinks were amazing - Chrystal made everything look effortless. I loved watching the teamwork between Bill & Chrystal while sailing. You can tell they truly love what they do and they are so good at it!
We went to so many memorable places. We loved all the recommendation & fly by the seat of your pants changes dues to the weather. We'll have to come back for Anegada :) Sunsets, painkillers, AARGHH!!! and of course....Soggy Bottoms!!
Thank you for making this experience even better than we could have imagined. You two truly made this the best vacation of our lives!!

Until we see you again!!!
Krista and Clay Moore
Portland,OR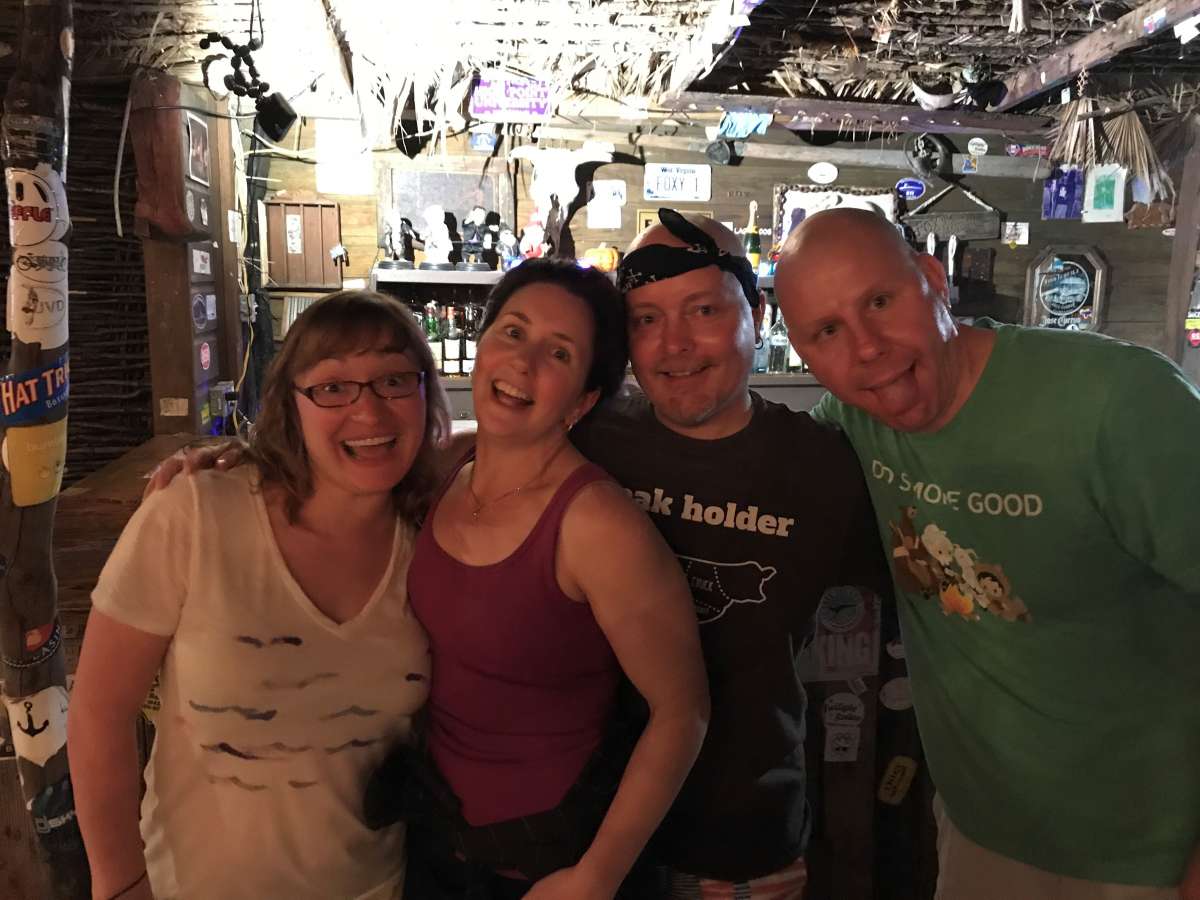 December 16-23, 2017
Captain Bill and Chef/First Mate Chrystal,

Thank you for opening up your home on Makai to us and showing us this beautiful part of the world. The sailing was spectacular -"you won't get wet on the trampoline-HA! HA"!! The run from Anegada to Christmas Cove was perfect. While the storms deposited sand on all the reefs, the snorkeling was great. The fish at Loblolly, The Dogs, the Caves and Christmas Cove was gorgeous. The Baths were picturesque. The paddle boarding and tubing was a blast!! Thank you for all the efforts in getting a kayak! It was enjoyed and appreciated. The food was delicious and plentiful. Thank you for the hard work you put in to the boat. I am sure there were challenges, but we did not see them. Your generosity and hospitality provide a great example of the USVI's/BVI life!

All the best!
Matt, Melanie and Katherine
With good people like you, these Islands will come back!

July 14-19, 2017
Bill and Chrystal,
Thank you for such and amazing vacation. We enjoyed everyday of our stay. The snorkeling, excursions, food and scenery were fantastic. Would love to do it all over again!!
Meredith, Hunter, Grace, Alexander, and Caroline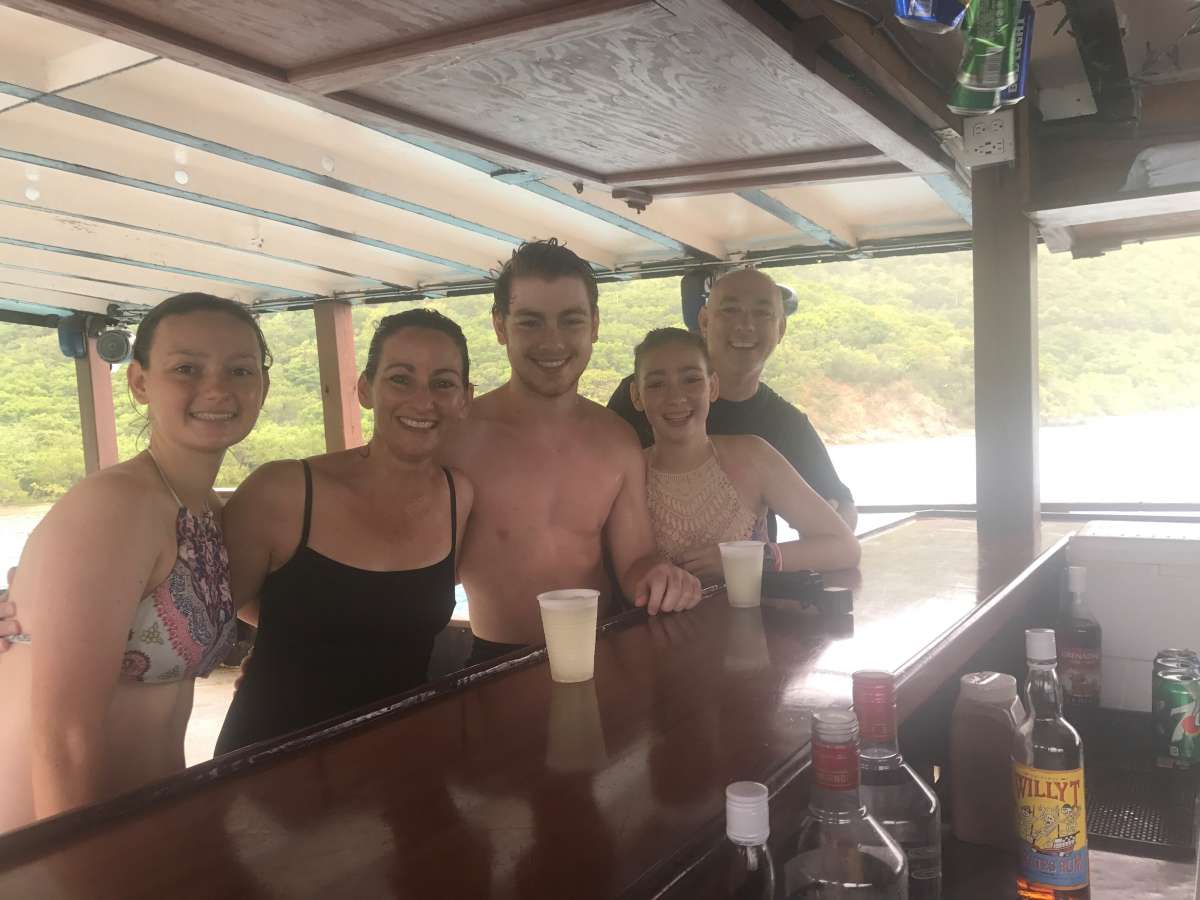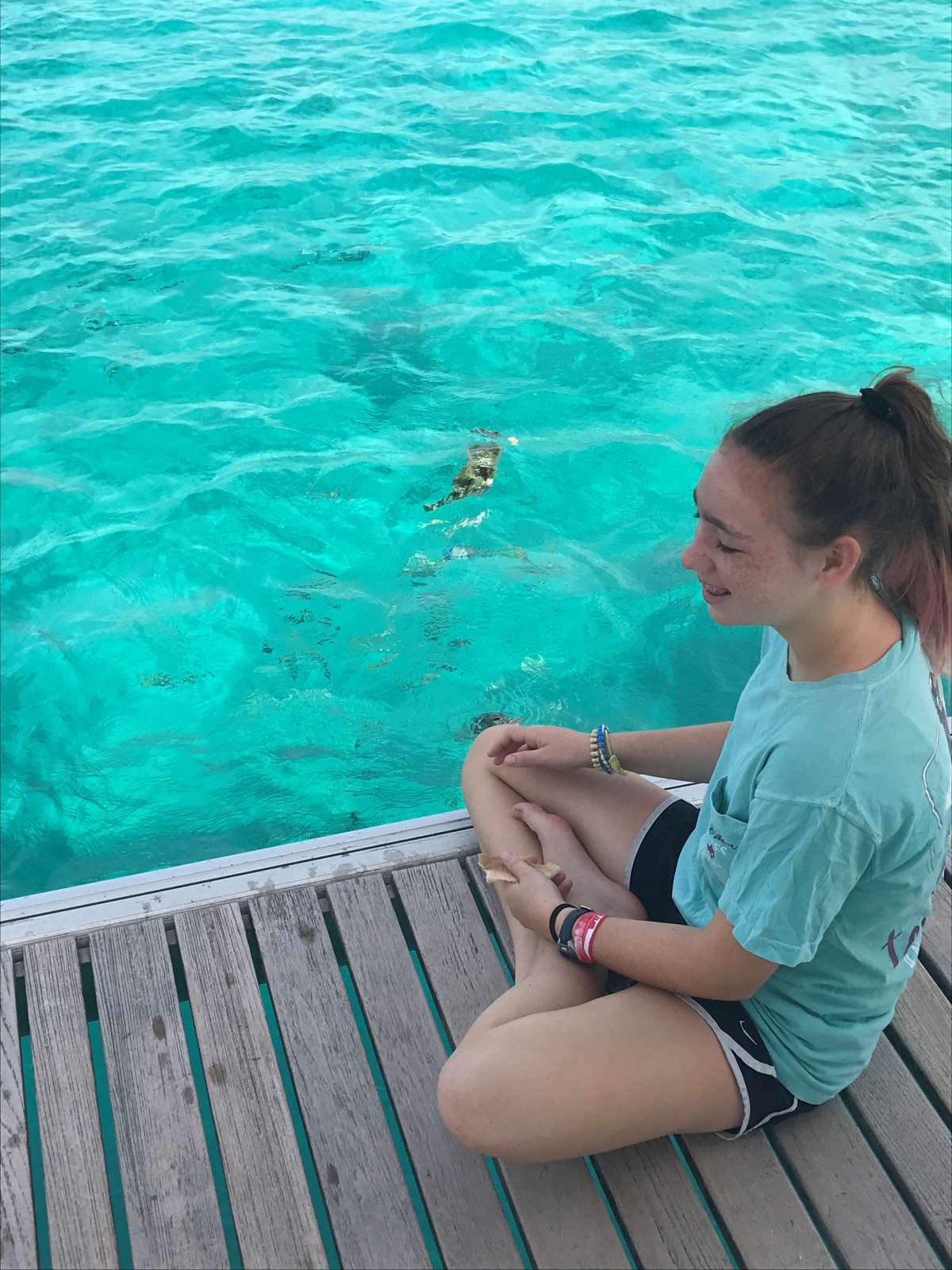 July 2-9, 2017
Bill and Chrystal,
The trip was the best vacation we have been on. We felt like we were all on vacation together. Food and hospitality were all great!! I'm sure we will meet again on another trip. It was more than expected.
Your friends,
Kevin, Debra, Benjamin, Nich, Zack, Caroline, and Kami

A 48" Hold King Mackerel!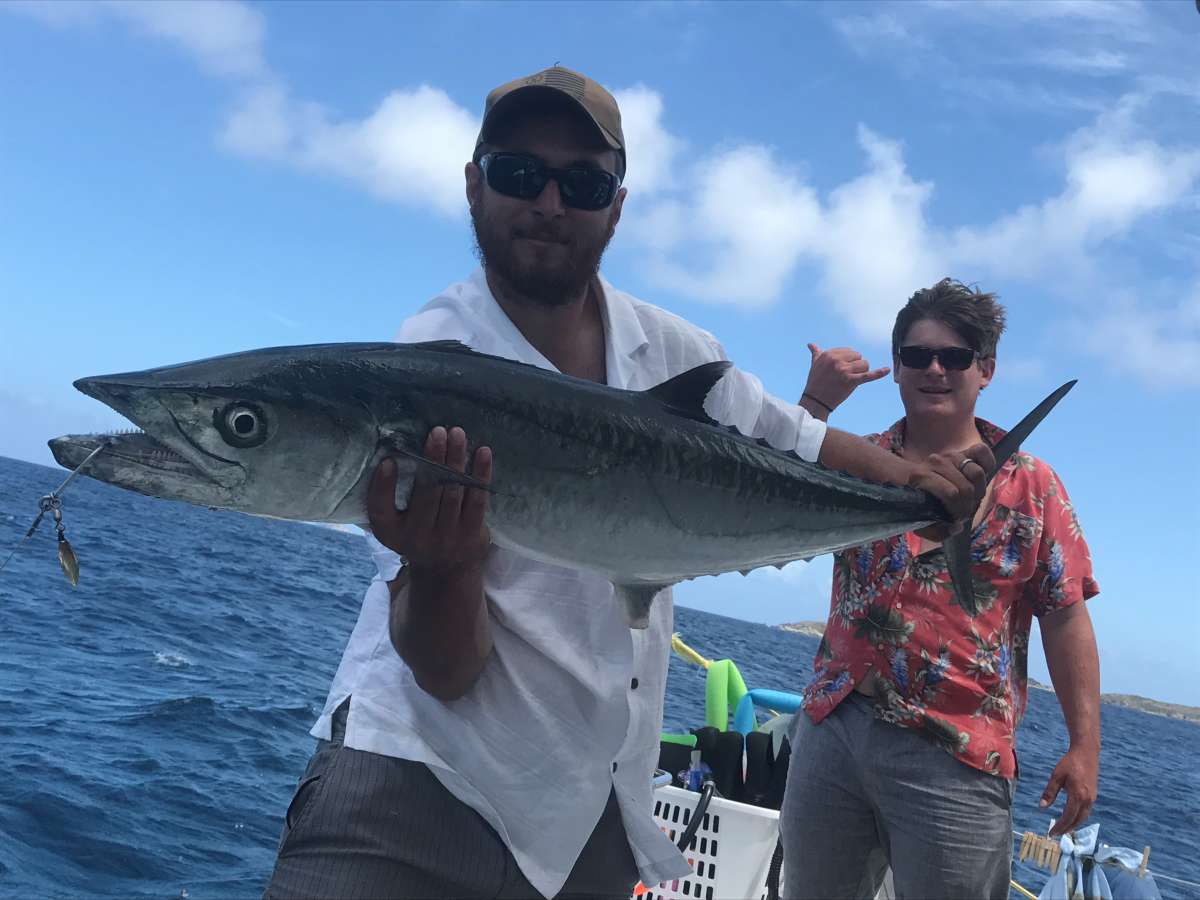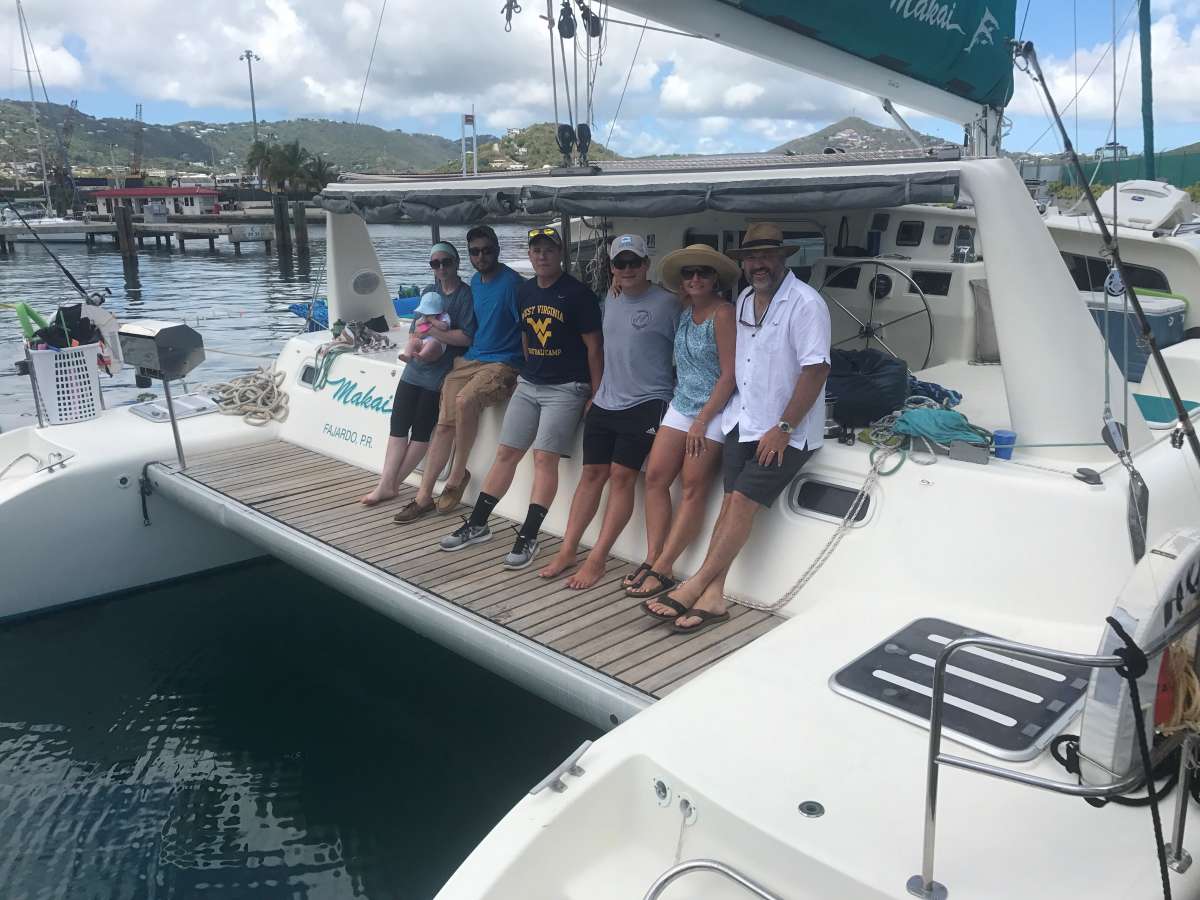 June 3-10, 2017
Yacht: MAKAI with Bill & Crystal West
Charter Dates: 6/03/2017 12:00pm to 06/10/2017 12:00pm
Area Cruised: Virgin Islands
Overall Rating: 5
5 being the highest 0 being the lowest

We hope your charter lived up to your expectations. We would love to know some of your impressions about your yachting vacation. Please answer the following questions and add any comments you may have.
1. Was the crew friendly and accommodating?
Extremely. Bill & Crystal did a terrific job of balancing the concerns of all three couples.
2. Was the yacht comfortable and clean?
on a scale of 1 - 10, a 10!
3. Was the yacht well ventilated?
The ventilation was outstanding...
4. Was the food good and well presented?
Chrystal was excellent and mixing menus, wants, etc. The variety and quality were outstanding.
5. Did you like the area you sailed?
They did an outstanding job of balancing the locations based on interests in order to make the trip enjoyable for everybody.
7. May we post this review on our website?
Yes
8. Additional comments on your charter?
I cannot express how impressed I was with Capt. Bill and Chrystal. As an avid offshore southern California boater with 30 years experience, I was extremely impressed with how well Capt. Bill and Crystal knew the BVI and worked the boat as a team to ensure a safe, enjoyable, and exceptional experience for all of us. They also interacted extremely well with all of us and made sure that everybody's needs were being addressed. Their exceptional knowledge of the BVIs made our sail a "trip of a lifetime." We look at other charters and recognized much less professionalism. We cannot imagine doing another BVI charter with a different crew - seriously! We also plan on doing this cruise again, but only if Capt. Bill and Chrystal are available as our hosts. Sincerely, John & Beth

April 9-17, 2017
Thank you so much for a well spent week in paradise. There was not a dull moment, even if we were just cruising along. or getting ready for dinner. The food, fishing, snorkeling and endless adventure were amazing. My personal favorite day was Anegada where we saw whales, caught a barracuda,pigged out on lobster and discovered Mom's limbo talents. Then we explored a spectacular reef on the edge of the earth. Both Chrystal and "Uncle Bill" were very personable and truly were the reason the trip was amazing. Thank you again.....Julia (Age 15) Manhattan, NY

To Uncle Bill and Camp Counselor Chrystal!! Thank you so much for such an amazing trip. As a city slicker with as much experience in "nature" as Bill has with subways & cities, I expected to be a wee bit lost. However, I was way completely wrong. Y'all made me feel right at home and always well fed (maybe a bit too well). Us city slickers may take too long showers and take at least 2 naps per day, but this city slicker had a seriously incredible time.

I now aspire to tell long stories like "Uncle Bill" and cook like Chrystal. I seriously enjoyed swimming on the end of the earth, jumping off Willy T's, long evening talks and riding the tramp on the first few days. I seriously learned to get on island time and drop the New York minute. Thank you so much!!
Love Alex (Age 15) Manhattan, NY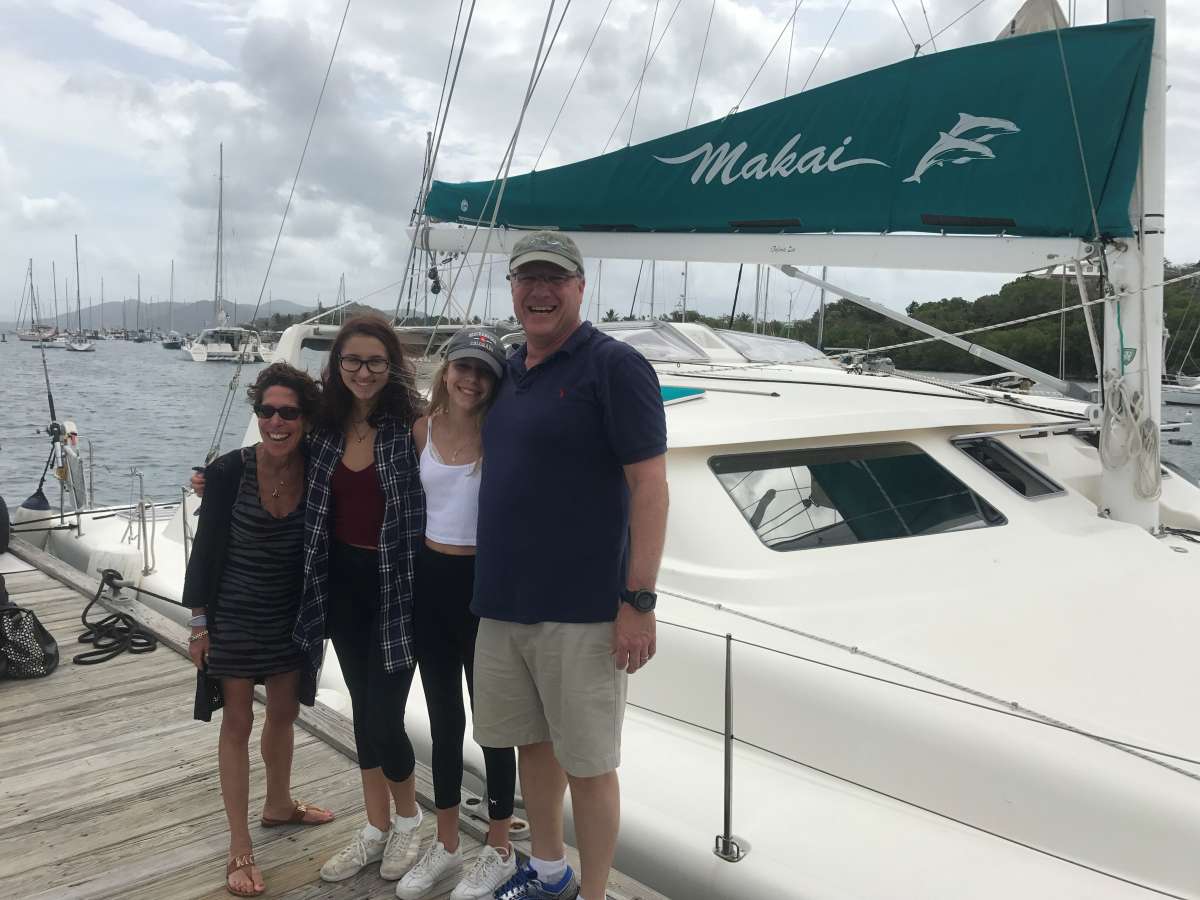 March 12-19, 2017
Thank you guys so much for the awesome trip. I couldn't have asked to sail with better people than you guys. The food was amazing and the places you showed me put me in awe. Ive always been cranky in the mornings, but you guys always put me back in a good mood, no matter how bad I'm doing. I've been a picky eater but the food was the best I've ever had. The most fun I've had was tubing. The highest jump I've done was 3 feet in the air and landing on both my knees. Thank you so much for the best sailing trip ever!!

Sincerely, Joshua Steward (Age 15)

March 2-8, 2017
Bill and Chrystal - Thanks for such a well done trip. You thought of everything for us and we could not think of a better way to spend a week. From the Pirate experience ;), to the cave snorkel on Norman Island....I think we experienced every detail of the BVI humanly possible!! We will be back for sure & we wish you all the best.

Jon, Jeff, Evan, Scott, Brandan & Brian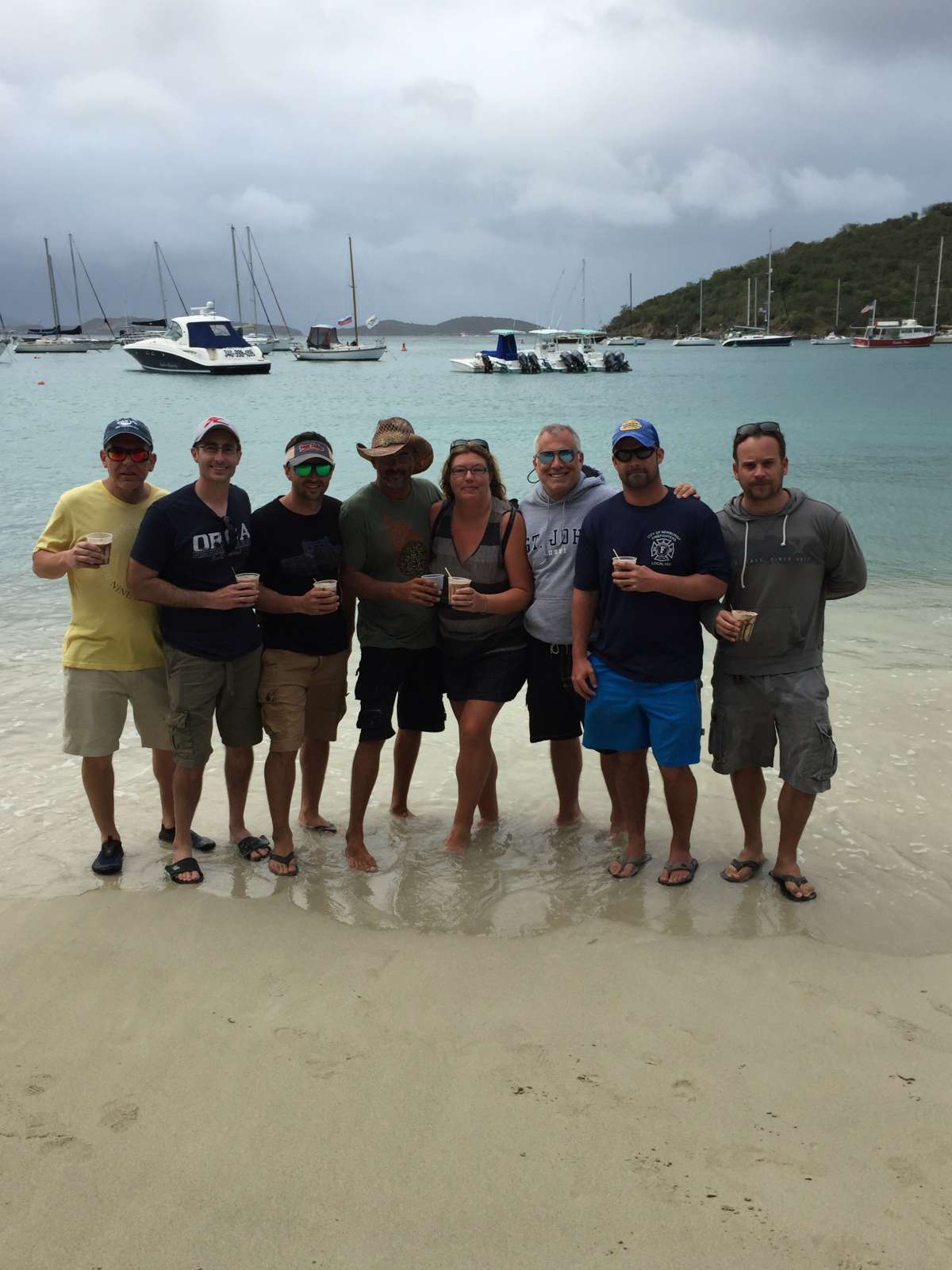 February 16-22, 2017
After I booked 6 nights I began to have questions. Could we spend 6 nights in tight quarters with these two strangers and all get along? Could just the five of us (including two teen boys) all get along?? Would we get seasick? All my fears and apprehensiveness melted away as soon as we stepped foot on Makai and met Bill and Chrystal. From start to finish, Bill and Chrystal couldn't have been more gracious or accommodating. I now know there is no better way to see the Virgin Islands. It is the best of all worlds. You can see so many places, many of which are only accessible by boat. In addition, you have your own, personal expert tour guides who know the islands so well. Finally, you have all that you need right on the boat; snorkel gear, paddle boards, fishing poles, towels, etc.
A day in the life on the boat goes like this.....wake up to a wonderful breakfast prepared by Chrystal, afterwards, Bill drops you off at some beautiful bay to snorkel and swim in. When you are finished, you climb back aboard and lunch is waiting for you, all lovingly prepared by Chrystal. You may decide to stay at your location or move on to another. After a wonderful day of snorkeling, swimming and playing you will anchor up for the night and have a delicious dinner created for you as you watch the glowing sunset.
Bill and Chrystal have a true gift of being able to read their guests. They truly want to please you and make this a trip of a lifetime. As I look to returning home, I know I will miss waking up on this amazing boat, staring out to the Caribbean Sea and being so well taken care of by Bill and Chrystal. We all had an amazing vacation. Thank you with all our hearts Bill and Chrystal!! Love from the Gray family, from CT.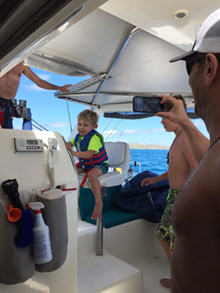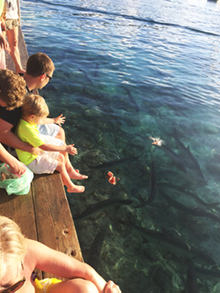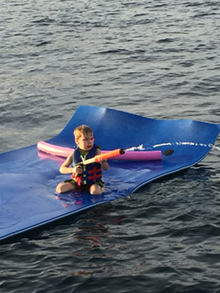 Dec. 26 - Jan 2, 2017
Bill and Chrystal....What a wonderful trip!! It was the adventure of a lifetime for the four of us. We loved everything about our week - from the amazing snorkeling to the hikes along beaches and ridges to the famous sails across the deep blue & turquoise Caribbean waters. Devin finally mustered the courage to jump off the boat in full snorkel gear by the time we reached the Caves, experiencing the gorgeous coral reefs & array of colorful fish in their full glory. Erich flailed the water in a valiant but ultimately not-quite-successful attempt to hook a Tarpon. Annika, our teenage intellectual finished "The Hidden Language of Coding" between swims and snorkels. The wildlife delighted us...Hawksbill Turtles, sting rays, tarpon, barracuda, osprey, eels, pelicans, frigate birds, lizards, iguanas, remora, butterflies and the stunning tropical fish of all colors & patterns (especially my favorite, those inquisitive little Sergeant Majors). Water-Lemon Bay, Prickley Pear Isand, the back side of the Baths past Devils Bay and the Caves were some favorite spots.
Chrystal's fantastic cooking kept us happy, full & marveling at how she could create such culinary deliciousness in such a tiny kitchen. Bill's masterful captaining kept us on-course and successfully finding secluded moorings even during the busiest week of the year. Although the Barracuda on the end of his line was an unwelcome surprise for Bill, his disentangled it without losing a finger, then happily hooked a beautiful yellowfin Tuna to vindicate his efforts!!!
Thank you Bill and Chrystal for taking such good care of us - for inviting us into your home with such warm hospitality and custom-tailoring our itinerary to perfection. You are a dynamite duo!!
With love and gratitude & best wishes for 2017. Cynthia, Erich, Devin and Annika. New York.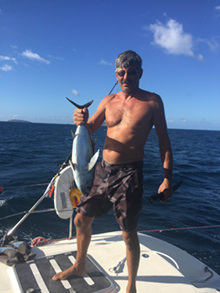 December 19-24, 2016
Thank you, Thank you, Thank you!!! Bill & Chrystal!!
What a wonderful trip! We covered an incredible amount of islands and waters. What fun we had....snorkeling, diving, swimming, eating like queens! You both made our trip so special. We could have asked for a better crew. This boat is so beautiful and it was absolutely perfect for our family. Our girls had a trip of a lifetime! Again, thank you, thank you, thank you!! We will miss you!!
Love, The Norwoods. Paul, Cissy, Emma & Hanna. Austin, TX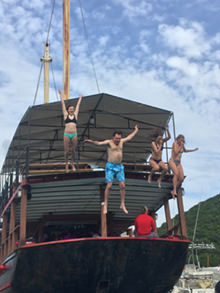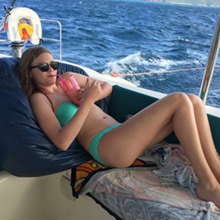 December 10-17, 2016
Bill and Chrystal,
THANK YOU so much for the delicious meals, the beautiful snorkeling and hospitality. We had a blast!! With much appreciation, John and Stacy Ellis. Athens, OH

other guests....

Bill and Chrystal......Thank you for making this "The Best Vacation Ever" on water. You anticipated our needs, knowing what we needed even before we did. Outstanding food, snorkeling, laughter and all around fun times. Can't wait until our paths cross again. Love you both!!
Zip & Dianne Athens, OH

December 10-17, 2016
Bill & Chrystal - Our friends!! Thank you for an amazing first time experience sailing. You opened up your home to us with generosity, kindness and joy. Your experience and insight allowed us to get the most out of our short week together. We wish you blue skies, smooth water, cold drinks, good tunes, belly laughs, large fish, unlimited Fireball & many new friends until we meet again!! Our home is always open to you!!
Love Steph & CB Kansas City, MO

November 2016
November 12-14, 2016

Ahoy Bill and Chrystal -

Thank you so much for helping to pull off the most epic 50th birthday surprise party. Your culinary-bartending-and navigation skills, and hospitality are unsurpassable. We so appreciate your extremely close attention to every detail, including your eagle eyes on us as we embarked on our snorkeling adventures. We're in unanimous consent -these have been three of the best days ever!! Your commitment to ensuring a charter exceeds expectations can be summed up by: Campbell's, Ordinary, Soup, Doesn't, Make, Peter, Puke!! ( Geological time scale for: Cambrian, Ordoviciary, Silurian, Devonian, Mississippian, Pennsylvanian, Permian) You got the birthday boy HOOK, LINE and SINKER!! XOXO Charlie & Jen Lawrence

The Most Amazing Vacation of Our Lives
Thank you so much for an amazing honeymoon trip through the BVIs. Amanda and I couldn't have dreamed how much fun this trip could be, and Chrystal and Bill were a huge resaon for making this trip the best of our lives.

Every day was a new adventurer and was better than the last. Bill and Chrystal made sure to take us to all the popular spots, and the knowledge they had about each location made it that much more enjoyable. They even took us on an all-day island tour of Anegada, taking us to the best snorkeling spots and showing us a different side of the island. They didnt just drop us off at each spot but were willing to spend time with us and make the experience more enjoyable. we really appreciated that.



Chef Chrystals cooking was amazing. And Captain Bill made sure I caught so many fish to the point where I couldnt reel them in anymore because my arms were so tired!

 Bill and Chrystal were so invested in ensuring this trip was memorable and filled with fun and laughter. We could not have asked for a better pair to spend our first week of marriage with.

All-in-all, this was the most amazing vacation of our lives. ~The Roepkes.
We Left Wanting to Come Back For More
This was our first time doing a vacation like this and Bill and Chrystal not only made us feel comfortable on a yacht, they showcased the boating lifestyle we never knew existed, opening our eyes to the fruits of the sea and the freedom that comes with sailing. We truly left the islands wanting to come back for more. Thank you so much for showing us this world! ~Neil and Diane Wilson

We Had Such a Blast!
Yum, Yum, Yum!!! The food was marvelous and Chrystal's bread making is sublime! Bill is a very knowledgeable fisherman. Who knew you could catch Tarpon? We had such a blast with Bill and Chrystal, we want to come back next year. Thank you for showing us a wonderful time you two! You're a great team. ~Deb and Andrew Fritz

A Seasoned Team That Balances Safety and Fun Perfectly
Conch blowing contest? Check. We did that and Chrystal trained us to make sure we'd win at that Micheal Bean show! What fun! Bill and Chrystal truly are a seasoned, professional team that balance safety and fun perfectly. It was very evident to us that Bill is a McGuyvor kind of guy who really knows his boats and fishing. We felt that we were in safe hands with Bill as our captain and Chrystal catering to our needs. We enjoyed every minute being aboard. ~Andrea & Greg Cracknell

A GREAT Weekend!
We absolutely loved our stay on the Makai! Chrystal and Bill are the best hosts. We could not have asked for a better trip. We had a wonderful weekend sailing with you. We hated to leave, but we will definitely do this again soon. Thanks for the great memories. ~Ashley, Mike and Amy