May 2016 - Thank you for a Wonderful Experience!
The boat is spacious, immaculately cared for, luxurious and comfortable. Pat and Aline are amazing hosts; expert captain and cook and delightful companions. They went out of their way to make our honeymoon happy; including witnessing our wedding!
We are so grateful!
Savannah Bay Beach was completely beautiful and private;. Snorkelling at Norman island and dinner at The Rock on Virgin Gorda were favourites.
Thanks you for your kindness and expert care. The food was gorgeous every single day.
Alex and Glen - USA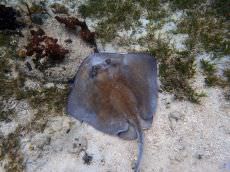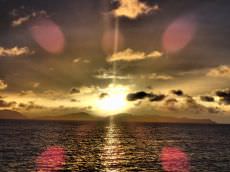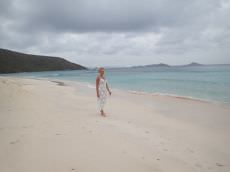 March 2016 - This is a perfect Vacation
The Captain and chef were so accommodating. We relaxed, ate well and had a great first experience sailing on Miss Kitty. Pat took us where we wanted to go. Snorkelling was awesome!
The area is the most wonderful place in the world. Most favorite activity was relaxing during our sails and spending time at the the Soggy Dollar Beach Bar.
We came to spend much needed time by ourselves. So bring friends or not, it is a perfect vacation!
Lawrence & Lisa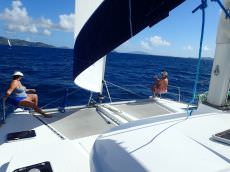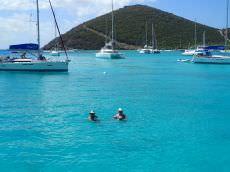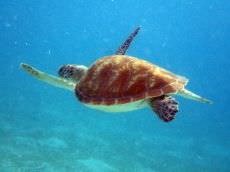 Feb. 2016 - Amazing!
AMAZING - all that we expected and much more :)
Captain Pat and Adriane were awesome! So accommodating and easy to relax with. Adriane's culinary skills were out of this world!! Miss Kitty was perfect - very clean and well maintained.
The Baths were amazing. All the areas we sailed were great - very worthwhile. Pat and Adriane were very informed and shared history and special info on everywhere we visited.
We would highly recommend this charter with Miss Kitty to everyone!!
Andy & Julie; Danny & Carla - NC USA

Jan 2016 - Crew was Fabulous!
The crew was fabulous and hospitable from meeting them at Compass Pt throughout the entire trip. Both very knowledgable re: area, history, local stories, snorkeling. Very easy people to spend a week with; sharing music and fun stories, to taking us snorkeling and pointing out all the underwater "members". The meals were fabulous and perfectly timed. Aline did an amazing job accommodating my food preferences; Capt. Pat had a well stocked bar and made sure we were well taken care of! We tried all the "island musts" This vacation was a well-needed break for us, and Pat and Aline made it one of the most special vacations we have taken.
The itinerary was perfect. Capt pat & Aline included us in all options and tailored it to activities we would most enjoy. Too many wonderful areas and activities to identify our favorites.
Will definitely plan another charter specifically on Miss Kitty and Capt. Pat and Aline!
Jeff & Kirsten - USA
Jan 2016 - Great Vacation - New years!
" What a great vacation! Great food, great drinks, great places that you took us. We loved all of our overnight anchorages" especially Cane Garden Bay and Marina Cay."
Getting Mexican Train Dominoes asap!
Randy and Jenn - USA
Dec 2015 Memorable BVI Vacation
We wanted to thank you again for making our BVI vacation a memorable and special experience and showing us sites that we could never have reached by paddle-board alone (on a side note, Capt Pat, please invest in multi-hull paddle-boards so I can stand up on them...). We have very fond memories of our trip--the solid seamanship, the wonderful and creative meals, the fantastic underwater life, interesting discussions/companionship, and the beautiful sea and marine life. This voyage and its memories are especially important for our children, who gained further appreciation for seamanship, the sea, and its beauty in a safe and supportive environment.

We wish you many happy voyages, and hope our paths may cross again in the future. (Capt Pat, I can't cook, but if you need a hand sailing to Spanish Wells please let me know..)
John & Tracy - USA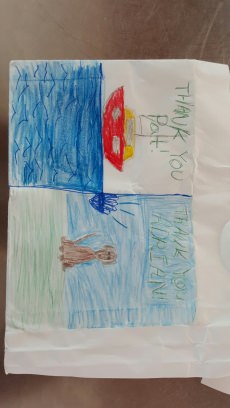 April 2015 - Amazing Trip!
Thank you for an amazing trip! You were great guides, chefs, bartenders and now great friends. The memories from this trip will last a lifetime. From Flip Flop "discussions" to a night that started with a fireball and ended on a Yacht, Thank You! The two of you helped to make this trip amazing. You are both wonderful people and we are already looking forward to our next trip on Miss Kitty!
We had a wonderful time sailing around the Virgin Islands and Captain Pat and mate made sure that our stay was nothing short of first class. We never laughed so much and after a week of sailing beautiful locations, we can say that we have great memories for life and new friends that we will never forget.
Loved it! only complaint... too short, needed a few more days, but I am sure everyone says that...
Gonzalo & Lisa - MA USA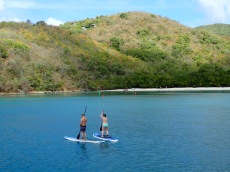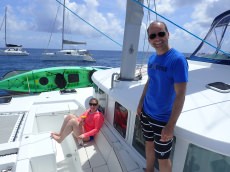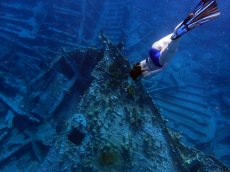 April 2015 - You Guys were Great!
You guys were great and far exceeded our expectations with you planning!
Favorite meals - Salmon and eggs benedict
Favorite drink - Captain "Ron's" painkiller
Yacht - exceeded expectations!
Very much liked the areas we sailed - turtles were great, Soggy Dollar Bar, Willy T's was a Riot!...still recovering...
Roy and Tracy - TX USA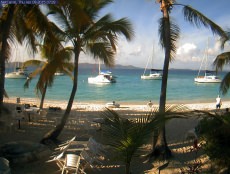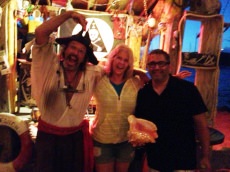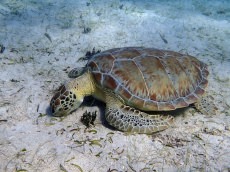 April 2015 - Spectacular Trip!
Captain Pat and Sarah helped to make this a spectacular trip! We loved getting up in the morning to fresh baked breads, delicious fruits and hot coffee. A quick dip in the water and then each day was an adventure. Pat suggested great spots for snorkeling and exploring and we visited many coves we hadn't seen before. Appetizers and drinks and dinners on board were a tasty end to a beautiful day.
We loved the Baths, Michael Beans show in Leverick Bay, and the Bubbly Pool on Jost.
We traveled this time with our 9 year old daughter. Pat and Sarah are so kid-friendly! They took extra care to be sure she had a great time, had kid-friendly food and were always ready to play games and joke around.
Drew & Shari - MD USA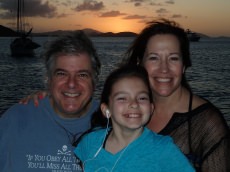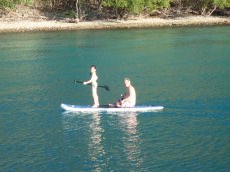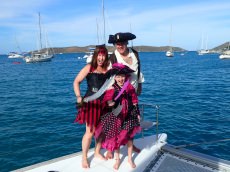 March 2015 - Thanks again for the Great Charter
Thanks again for the great charter. Everything was great.
Pat did an excellent job commandeering the boat, we knew we were in good hands and we all had a wonderful time, it exceeded our expectations (the perfect weather helped too). I have already recommended it to several people! Thank you very much.
Jayne & Joseph - USA
More than just skippering the boat and making sure we were comfortable, Pat led us on a snorkeling expedition and led us around the Baths at Virgin Gorda. Even in this short charter, we really became a party of 6, which added to the experience, although Pat and Patricia also knew when to leave us alone and we did not feel any guilt about not offering to help Patricia in the galley!
We were very happy with the boat.
Nate & Maxine - USA
Feb 2015 - It Was Great!!
Couldn't have asked for a better charter experience. The crew and yacht were 5 star. The crew was extremely personable and attentive to all guests needs and wants. The meals were great. Kudos tot he chef!
Much enjoyed the area sailed. Favorites were the snorkelling & the Baths.
I really can't think of anything to improve upon! It was great!!
Ray, Dottie & Melissa - NY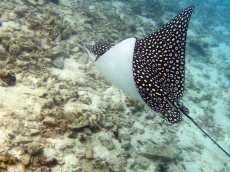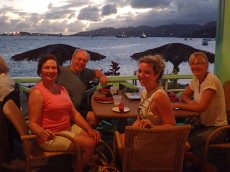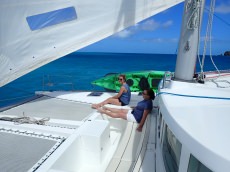 Feb 2015 - Great Sailing
Great experience, the boat is impeccable, very well kept, comfortable. The food was varied and well prepared. Favorite areas were the Baths and the bubbly pool. Great sailing too!
Tamas & Nilza - Miami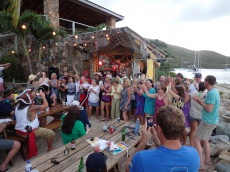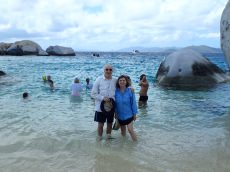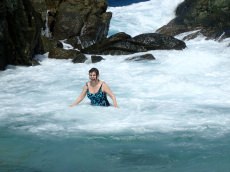 Jan 2015 - Vast knowledge & Flexibility!
Yacht is spotless & extremely well maintained. The food was excellent. Our favorite meal was the first night of steak & shrimp. We appreciated their vast knowledge of the islands & the great spots that not everyone gets to see, and their flexibility in changing the plan based on our desires was great. Liked the various sites to snorkel, diving the Rhone & the Baths. More wind next time please :)
Tom & Sussan, Jim & Karen - IN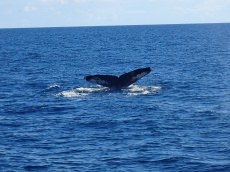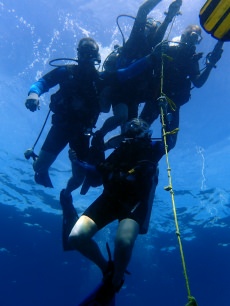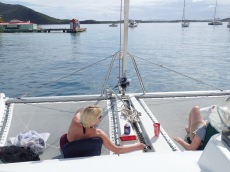 Dec 2014 - Best Birthday Trip anyone could ask for!
This trip exceeded our expectations in every way!
Pat & Aline maintain a super-clean boat, they always had our safety in mind throughout the trip. Aline was a fabulous chef and really planned our meals based on the preference sheet. At the end of the trip, we felt like we had been travelling with old friends!
Will definitely sail with these guys again.
Thank you for the best birthday trip anyone could ask for! Turning forty wasn't so bad after all!
Kent & Jessica - Louisiana USA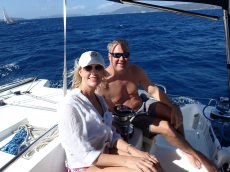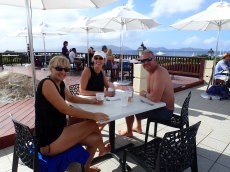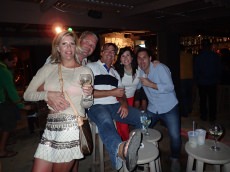 May 2014 - We had such a Blast!
Captain Pat & Aline were so friendly & inviting. Thank you for being such awesome hosts. The accommodations on Miss Kitty exceeded our expectations, and the food Aline is able to make onboard is impressive, everything was super.
Loved the options we always had; from relaxing to snorkelling to beach bars..... never a dull moment.
Thank you again, have a great summer off!
Overall, an absolutely amazing experience!
Chris & Tracy - Rhode Island -USA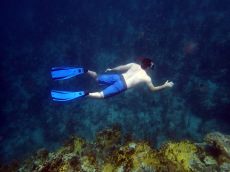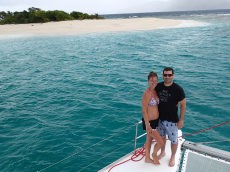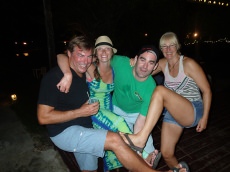 May 2014 - Love the Painkillers (Pat\'s are best)!
Crew are warm, inviting. Felt like we were travelling with friends / family. Very knowledgeable of area.
Miss Kitty is a comfortable and CLEAN yacht. Pat and Aline keep her in beautiful condition. You must love her very much!!!
Loved the painkillers (Pat's are best) and Dark & Stormy (yum)
Food was delicious. Amazes me how you can prepare such incredible meals on board - where do you tuck away all the food?
USVI & BVI are beautiful. Our anchorages were scenic and activities at each were perfect for our interests and abilities - snorkelling, the Baths, Island trip on Anegada.
We want to come back with our children!!!
We recommend Miss Kitty
Hope to see y'all again, eh!!!
Cathy & Dave; Rachel & Dave - Ontario-Canada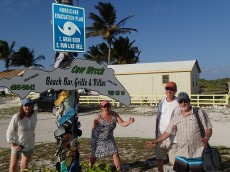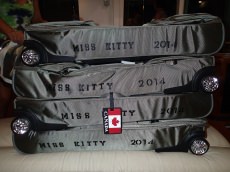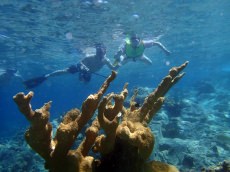 April 2014 - Happy with Everything!!
You made our Honeymoon very special for us!!
You guys were awesome. The boat was so clean and comfortable. Our trip was very memorable and we enjoyed your company.
Pat makes the best Painkillers
Aline is an awesome chef -"everything" was so tasty!
Loved the snorkelling at the Indians and Baths were fun!
All the pictures you took for us was wonderful and a "big thank you!!!
Joman & Kim - (Music Trivia - King and Queen) - Colorado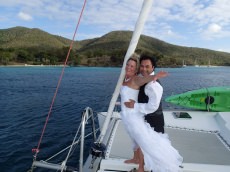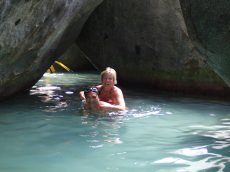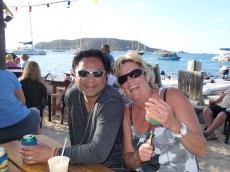 April 2014 - Best we\'ve ever Taken!
Thanks for everything. You guys made our vacation one of the best we've ever taken.
Mark & Cheryl - MN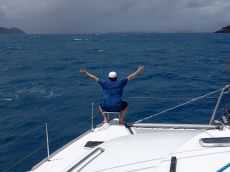 March 2014 - We are Forever Greateful!
Fav Meal - Anything Aline makes is awesome!
Fav Drink - Pain Killers are best made by Pat!
Ship is super clean
Each site we stopped, snorkelled, or slept at was amazingly perfect in every way.
Would recommend the exact route to anyone!
Thank you, thank you & a million more thank yous' for ALL of your efforts to make this week a trip of a lifetime! The constant catering to our every need will always be remembered along with so much more. We are forever grateful that you shared this amazing adventure & boat with us.
Randy & Jeri - Pat & Caryn - Maple Grove MN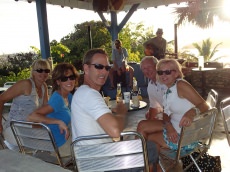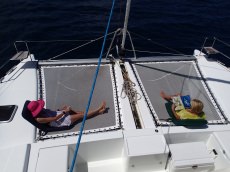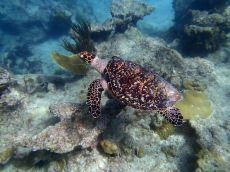 February 2014 - Excellent Snorkelling!
Pat & Aline were great hosts - nothing was too much trouble and we were looked after extremely well. Miss Kitty is a very comfortable yacht and immaculately kept.
John & Judy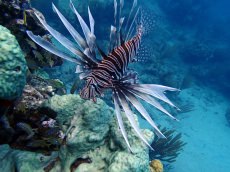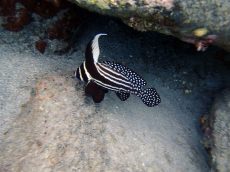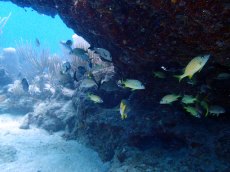 January 2014 - We Will Recommend Miss Kitty to all our Friends
The week was fantastic. The crew, the yacht, the quality of the food were above our expectations. Aline and Pat were great hosts and made the week unforgettable.
Very much liked the areas sailed. All activities were well planned.
Sylvain & Ninon - Pierre & Johanne; - Montreal Canada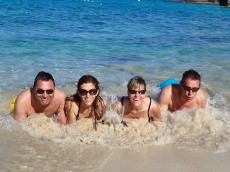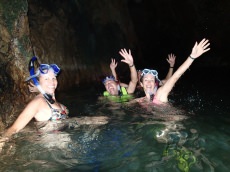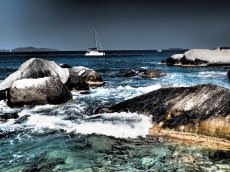 January 2014 - There Aren\'t Enough
There aren't enough "Thank You's" to tell you how wonderful you made our trip. You put your heart and soul into everything you do..everyday. We loved every minute of every day.
With love - Bernadette & Matt - New Jersey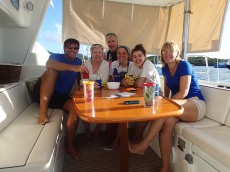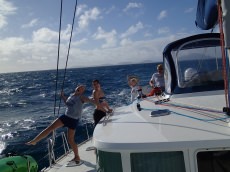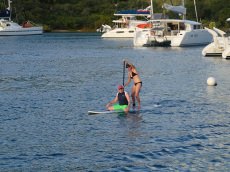 January 2014 - This was an Incredible Vacation!
Thanks you so much for such an amazing week and creating unforgettable memories with us. It was a blast getting to know you two. I'll make sure to up my guitar skills for the next time we are all back with you two. Thank you again!!
Much love - Sarah - Colorado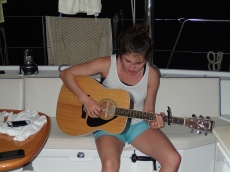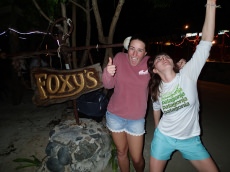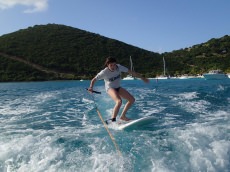 January 2014 - I will cherish forever the time aboard the Miss Kitty
Thank you guys so much for such an awesome vacation! I really had so much fun with you two over the last week. You both are two of the most sincere and fun people I've come across :) I'm sad to leave because you guys have become so close to me. Hopefully one day i'll be back so we can have some more fun on the boat! (Dark and Stormy's will be included). Thanks again for the memories.
Love Kaitlyn - Road Island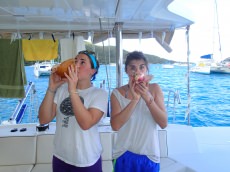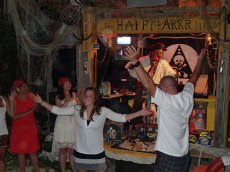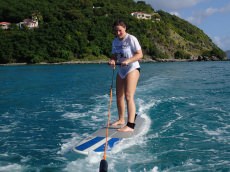 November 2013 - Wonderful Time from Beginning to End
We had a wonderful time from beginning to end. Pat and Aline were a wonderful crew and great hosts. The yacht was immaculate and very comfortable. We very much appreciated the excellent Thanksgiving dinner that Aline and Pat fixed. It was great!
Captain Pat and Aline do an outstanding job in accommodating their guests in every way. If was a great trip.
"Avast Mates, another day in paradise"
Andy & Aurelia - Houston Texas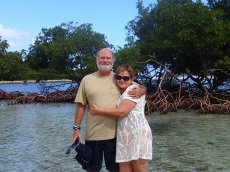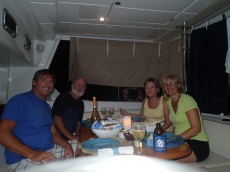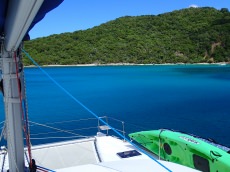 November 2013 - Great Areas
Capt Pat & Aline were very welcoming & entertaining hosts. Boat was immaculate. Meals & beverages great. Felt like we were sailing with friends. They had a sail plan that allowed us to see great sights, little bits of island life, as well as natural beauty. Dark'N Stormy & Rum punch were certainly favourites. Great Areas! we enjoyed all areas - secluded bay @ Peter Island and Foxy's and Soggy Dollar on Jost. Willy T's "what an experience!"
This would be a great activity for a group to charter a few boats and sail together.
Angie & Mike - Vancouver Canada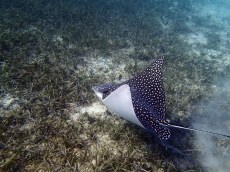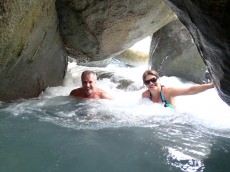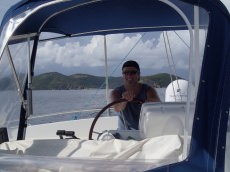 May 2013 What a Wonderful Week!
What a wonderful week we enjoyed aboard the Miss Kitty, Aline & Pat were awesome hosts that made us feel at home for our entire voyage. Their yacht is in impeccable condition and most comfortable. Aline did a fantastic job in the galley. Pat is a very knowledgeable captain and is willing to share his knowledge with us. An incredible week that we would highly recommend to any and all.
The Baths were beautiful. The sail to Anegada was so enjoyable and relaxing. Captain Pat and Admiral Aline made it look so easy!
Stephen & Gretchen - Jeff & Jenni North Carolina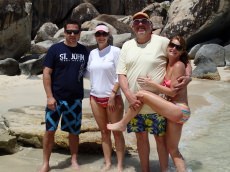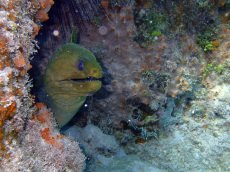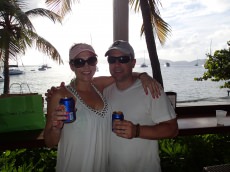 April 2013 We definitely would sail Miss Kitty again!
Pat & Aline were very hospitable & made us fell at home instantly. The yacht was immaculate and very organized. We liked how they showed us how to care for the yacht they take great pride in keeping it in tip top shape. We cant say we had a particular favorite meal it was all delicious & well presented. We ate much better on Miss Kitty than if we had booked a trip at a resort! Everything was fresh, healthy & fulfilling.
We truly enjoyed all the spots Pat & Aline took us! Each one was special for its own reason each area had something unique about it -Monkey Point was an exciting snorkel for us. We would recommend this charter to couples / families wanting adventure, great tour guides, comport mixed with relaxation aboard a yacht.
Chris & Rachel Virginia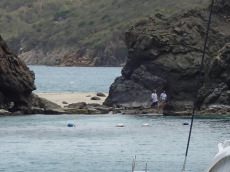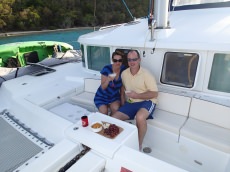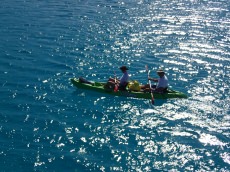 March 2013 - We will be Back!
Pat & Aline were absolutely delightful. There warm accommodating personalities meshed beautifully with ours. The Miss Kitty is an excellent Cat Nicely appointed & very comfortable. All our meals & beverages were superb. Aline is an excellent chef. Pats superior sailing expertise was very impressive, in addition to his overall knowledge in so many areas.
We loved the fishing (& catching!) Every stop was full of fun, adventure & scenic. Pat & Alines narratives and experience en route rounded out our fabulous time aboard & ashore.
Jim & Judy - Colorado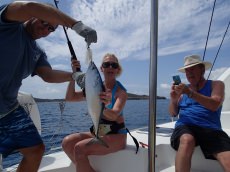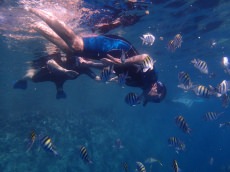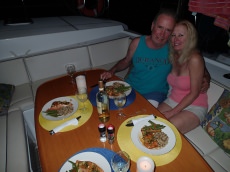 February 2013 I need to get my own Mexican Train Domino game!
The crew was wonderful and welcoming, also fun and good conservationists. The yacht was immaculate and comfortable, including sleeping accommodations. Pat makes a great Dark & Stormy! All the meals on board were terrific Steak, Salmon, burgers- but I think my favorites were the breakfasts (and desert-homemade apple crisp with vanilla ice-cream) Aline is a great cook & works magic in the tiny galley.
Although it was a bit crowded, my favorite snorkeling spot fish wise - was Norman Island Caves. But Cooper Island couldnt be beat for solitude and calm waters. Everywhere we went was stunningly beautiful, but the sailing journeys to get to those paces were spectacular.
Sue & Greg - Jan & Jeff -Boston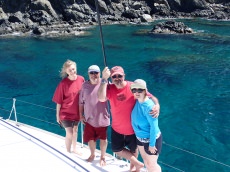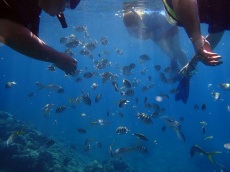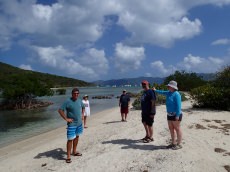 February 2013 Everything Was Really Great!
Pat & Aline were very friendly, educational, fun and the food was incredible. The areas, especially Virgin Gorda, were beautiful. Every place we went was a new, different and amazing experience.
Thank You! You made us feel really special on our honeymoon! Also - really appreciate learning to snorkel, paddle-board and paddle-board surf! We will miss you guys!
Amber & Michael - California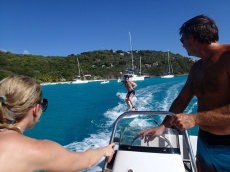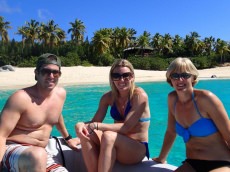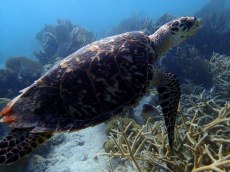 February 2013 - Love the Virgin Islands
Captain Pat goes out of his way to make sure you have a great experience. He led us on snorkeling trips, guided us by car, and he took super photos both on land and underwater, presenting us copies at trip end. If you book the Miss Kitty, you are assured of a wonderful sailing experience. Highly Recommended!
Pat and first mate Aline were warm and gracious hosts. The Miss Kitty was kept immaculately clean and was very comfortable. Captain Pat worked with our itinerary and put together a great sailing plan. Pat & Aline know the islands well and were terrific guide both onshore & off. Food and drink were very good and plentiful. We would highly recommend booking your next trip on the Miss Kitty!
Love the Virgin Islands, a new destination is always in sight. We enjoyed every island: snorkeling, eating and exploring.
Mark & Kathy CA USA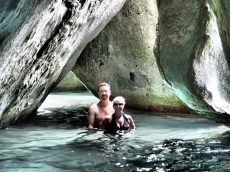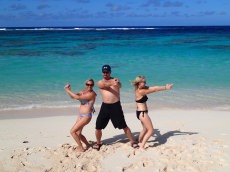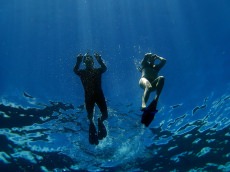 February 2013 - They made a great vacation Amazing
Very well kept boat, excellent crew, food good. Never done something like this and we are converts BEST way to see the islands. Cant think of ANYTHING bad to say. Bottomless supply of wine & rum punches as well ☺ Best area: Anegada, Cooper Island, The Baths (all of it). Pat is a great captain; Aline is a great cook. They made a great vacation Amazing. Simon & Ann CA USA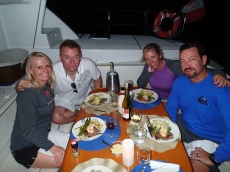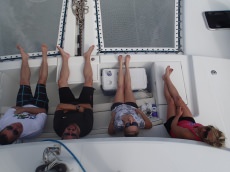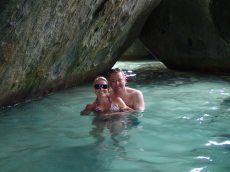 January 2013- Most enjoyable week sailing.
The crew was a pleasure to be with. Shared their experiences and knowledge of sailing/islands. The vessel was extremely clean and well maintained. The meals were excellent. Enjoyed all the areas, especially the Baths; favorite activity relaxing. Larry & Audrey Las Vegas USA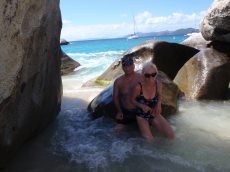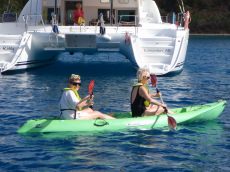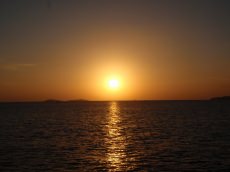 January 2013 Would do it again!
A very enjoyable, relaxing week. The yacht was spotless, very well equipped, and very comfortable. The crew made us fell at home and found a beautiful mooring each night. The food was delicious! The sailing was wonderful and the captain made every effort to put up the sail whenever the wind was good. We enjoyed learning about navigation and sailing while always being in sight of land. Favorite area: The Baths & snorkeling. Also enjoyed the kayak & watching my husband fall off the paddleboard. Joan & Paul Miami USA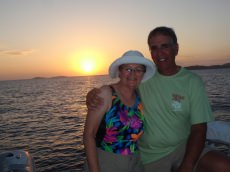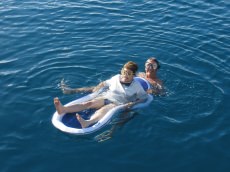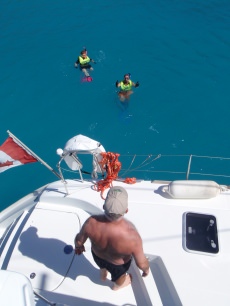 January 2013- Easy Review
Everything met or exceeded expectations. Pat & Aline were always accommodating & sincerely interested in us having a quality experience. Great knowledge of islands. Great menu / extremely clean cat. Patti & Doug, Dan & Melanie Canada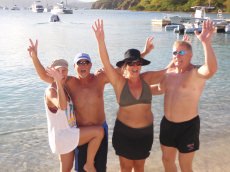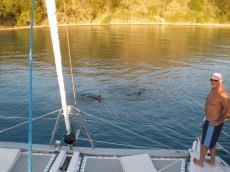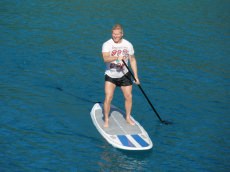 December 2012 We highly recommend this catamaran & crew!
Beautiful catamaran, well maintained and appointed, neat and clean as a pin. Food was phenomenal and drinks were plentiful. Pat & Aline were gracious & accommodating hosts. Our 2 teenage boys had a blast fishing, snorkeling, wake boarding, paddle boarding and bar hoping. Bob, Karen, Dan & Jos NH USA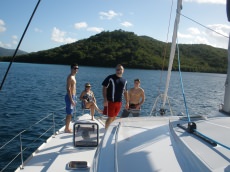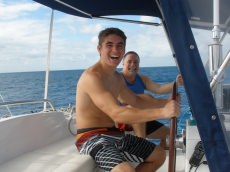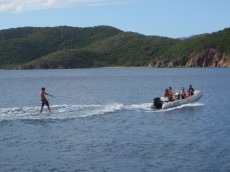 December 2012 - By far the best from all points of view.
This is my 4th charter and by far the best from all points of view. Pat & Aline were fun hosts and made us feel at home in their home. The sailing itinerary was flexible to account for wind and time. The boat is spotless and very comfortable. . Aline did a great job cooking what we like. A fabulous salmon dinner was our favorite. We had some great sails and great winds. Pat & Aline work together seamlessly 24/7 & that also made the time enjoyable. Claire & Michael USA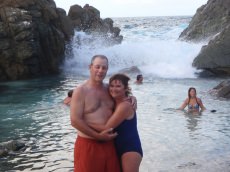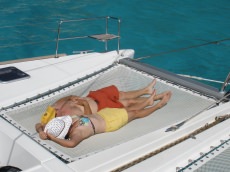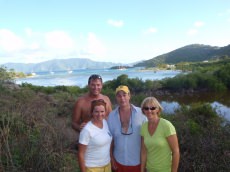 November 2012 We would just love to come back!
Thanks to the crew this was more than expected. The condition of the yacht was impeccable and I say this after having sailed 7-8 times previously bare-boating with friends that were meticulous. The captain was more than willing to share his experience and sailing knowledge. Alines equal participation contributed to a laid back and just truly family like venture. The extra options of kayaking, stand up paddleboard, wave surfing, snorkeling, diving and ground excursions were all equally appreciated. Janusz & Sylvie Vermont- USA & Montreal-CA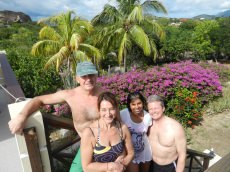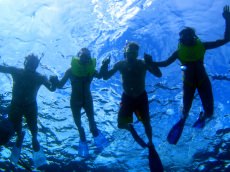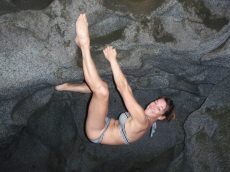 November 2012- Thank you for making my 50th birthday truly a Memorable Experience.
The week was fantastic. It went by so quickly, yet , we never felt like the day was being rushed. The meals, snacks and beverages were all great. Everything was more than what we had hoped for. Doug & Janice VA USA
June 2012 - We cannot recommend this Yacht and Crew Highly Enough.
They gave us the trip of a lifetime and one day, we sincerely hope to go back. We couldnt have asked for a better crew. The yacht was immaculate and very comfortable. Aline is an outstanding cook. The best food that we had on our trip was prepared by her. Our kids are huge fans. Captain Pat took all of our wished into account and created a fabulous itinerary. It was perfect. There aren't enough superlatives to adequately describe our experience on Miss Kitty (believe us, we've tried). Simply put, the trip was extraordinary. Pat and Aline did everything they could to make sure that we were comfortable and satisfied with our trip. They were warm, engaging, and together we had a lot of laughs. We felt welcome and at home. At first, we were concerned with how our kids (ages 12 and 14) would adapt on the trip. They were worried about being bored and the type of food that would be served. Pat developed an itinerary with their interests in mind and made sure that they had a great time. Aline served many of their favorites and if she cooked something out of the ordinary for the adults, she made sure to prepare something separate that was familiar to them. They quickly became huge fans of Pat and Aline (as did we all).Ralph & ChristinaUSA

May 2012We Loved our Boat and Crew and Ship Mates!
As we got to know Pat & Aline, we found them to be wonderful. Very knowledgeable of the area. Our boat the Miss Kitty, was great. Very clean. The food was good, we loved the meal of steak, shrimp & asparagus. As for drinkswe loved Pats Painkillers!! Both Aline & Pat were the best captain & 1st mate (although Aline was moredinghy captain, cook, you name it) Favorite area or ActivityLoved all the areas we sailed. I especially liked snorkeling the Indians and the Rhone.Will & Mary USA
May 2012Miss Kitty Rocks!!
Pat & Aline were fantastic crew mates. They make a wonderful team. Our yacht was impeccable. We loved the wood work. We both agreed we enjoyed all the meals. Our favorite was the steak dinner, presentation was beautiful. There was not a drink we didnt like :) Favorite Area or ActivityReally enjoyed the voyage. Indians nice kickoff, favorite snorkel was Anegada out a bit. I call that the Screen Saver Snorkel - Syann & TamiUSA
April 2012Improvements? Hard to think of!
We spent a week with our sons aged 12 and 15 with Pat and Aline on S/Y Miss Kitty. In short, we felt very much at home and had a vacation of our lifetime! Aline and Pat are wonderful hosts, having taken care of us all the time. The atmosphere was always very relaxed, with lots of good food, drinks and laughs while exploring the scenic Virgin Islands. The yacht is neatly kept, clean and very comfortable in all respects. Equally important, we felt very safe aboard, as Pat and Aline navigate with all due seamanship. The area we visited is abundant of superb places to see. Starting from St. Thomas, we ventured towards the British Virgin Islands that offer so much more than one can cover in just a week. We experienced excellent snorkeling between turtles and tropic fish, visited caves at The Baths and the sunk Rhone, and a couple of evenings we spent ashore in beautiful small local restaurants at the beach. Our boys were delighted riding the wakeboard, but also by just relaxing on the net spread between the catamarans bows. We were specially impressed by Aline who managed to serve so many tasty dishes - and especially the lots of fresh fruit! - Anja & MartinGermany
April 2012Wonderful Family Memories!
We had a great vacation on Miss Kitty. Sailing in the islands is wonderful and Pat & Aline made sure we did it the right way. They were terrific hosts and took us to the places you would not know to visit. Our kids loved being aboard and enjoyed Pat & Alines company and friendship as much as the adults. Favorite Area or ActivityThe Baths, Bubbling Pool, Sandy Cay, the Pirate show and watching the kids dance at Marina Cay. , The Zellers would highly recommend a vacation on board Miss Kitty with Pat & Aline.Zeller Family USA
Feb 2012Lots of Laughs, Sun, Fun and Beautiful Surroundings.
We had a great 7 days aboard Miss Kitty. This is a beautiful, comfortable, first class yacht, equipped with a kayak and a great dinghy. All the meals were delicious, We were served a wonderful chicken dish the first night aboard which was a favorite along with the steak dinner. We both gained weight! Pat & Aline are a great couple with a wonderful sense of humor. Our time with them enhanced our vacation. We loved the itineraryfelt like we saw all the spots we know about. Pat & Aline are very knowledgeable about the area.Richard & Leigh USA

Feb 2012It was our Trip of a Lifetime
Miss Kitty was the perfect choice for our trip. The yacht was immaculate and surprisingly roomy. The food was excellent and varied. Pat and Alines sailing experience inspired confidence and was fascinating to watch. Best of all, the general atmosphere on board was always friendly and fun. We had a varied itinerary to get a feel for the islands. Our pretrip requests were definitely met. We are thankful for our experiences with Captain Pat and Aline. Ron & SallyUSA
Unforgettable Memories!
Just wanted to say thanks so much; for the incredible food, your sailing instruction, the wonderful laughs & conversation, the great photos & the unforgettable memories! With all our hearts, Christopher & Kyle Grew - Victoria, BC
What a Lovely Sail
I've told lots of people what a lovely sail we had with you and how wonderful the Miss Kitty is. What I enjoyed most about sailing is the quiet - I'd never experienced this before on the water - no motor. It was like riding up in the northern pastures gathering cattle...it is so lovely and isolated and quiet. Pat & Duncan Vermilion, AB
Best Vacation Ever!
Back from a wonderful sailing charter in the British Virgin Islands - best vacation ever thanks to our wonderful hosts, Pat and Aline Little, on the Miss Kitty!! Marion Thompson Sylvan Lake, AB
an AMAZING trip with such Great People!
Thank you again for your wonderful hospitality, I couldnt have ever imagined such an AMAZING trip with such great people! There were so many experiences and great memories I will never forget! I hope you will keep us posted with your future travels and adventures on Miss Kitty too :-) Jessica Halifax, NS