March 2017 Honeymoon
Our honeymoon on Sandcastle was exceptional! Everything was on point from the start. Lloyd's knowledge of the islands and Jess's fantastic and delicious cuisine made for a memorable voyage. Thanks for making our honeymoon an adventure of a lifetime! We will be back!
Kurt & Hollie S.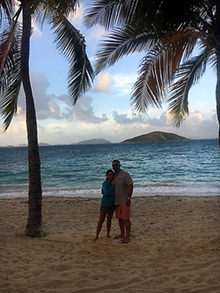 Beautiful sailing yacht...
Sandcastle is a beautiful sail yacht. Very clean with a lovely stateroom. From the first moment you step onto her you can tell she is very well taken care of.

Captain Lloyd has an air of confidence about him when sailing the yacht. His skills were on display as he guided us through some very rough seas, make safe passage seem effortless.

Jess is an exceptional cook, presenting creative meals with excellent favors. I came for the food and I must say it far exceeded my expectations. It was a joy to wait and see what the next creation was going to be.

We left it up to Captain Lloyd to guide our adventure and guide he did. Our vacation of a lifetime will live on in our memories.

Thank you for the memories,
Doug and CarolBeth
Seafood, DE

FEBRUARY 2017
Wow! This was an absolutely amazing adventure. The sailing was incredible, the food gourmet and healthful and the accommodations first class.

We have enjoyed every moment of this trip. Captain Lloyd is a totally impeccable and uber competent sailor. Everything went so smoothly. Jess is and incredible chef - world class! Each meal was a work of art.

Thank you for the amazing hospitality! We have felt welcome in your world of sailing from the moment we boarded the Sandcastle.

Thank you for your patience and assistance on every part of the trip. The snorkeling, kayaking, and swimming were delightful.

Thank you for everything!
Lola & Stuart, Sharon & Richard (Virginia Beach, VA)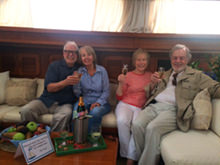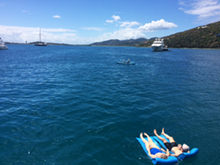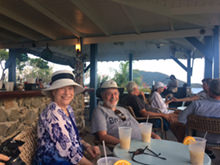 January 2017
We have had an amazing, relaxing week aboard Sandcastle, just the break we needed. It really begins the minute you step foot on the boat - relaxing scenery with a warm welcome from Lloyd and Jess. Lloyd - Thank you for accommadating our needs for a quiet and restful week while adding great places to snorkel and be in the water. Jess - Thank you for the FABULOUS week of meals. We enjoyed every dish, so beautiful presented.
Everything is better on the boat! Now we get ready for home, but we will miss this clear sun and bright stars. We've had a great week and hope to return.
With appreciation,
Davis & Christine K.
Raleigh, NC

WONDERFUL WEEK
Dear Jess & Lloyd,
What a fabulous week! So wonderful to be back on Sandcastle!! Everything (and we mean EVERYTHING!) was done to the nines. Sailing was a blast and the creative cuisine - so delicious! Nights of 99 and Olsen - so much fun!!
You both are such marvelous "host and hostess." The week was exactly what we were looking for... Relaxation!!
Thank you so much for a memorable week.
Fondly, Cindy & Ray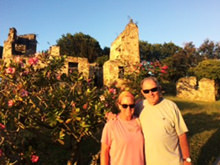 New Years 2016-2017
Captain Lloyd & Chef Jess,

What a perfect way to ring in the new year with the two of you! Our pirate parties and mermaid expeditions were a blast. Everything from the snorkeling, tender sunset rides, pirate parties, late night snacks, game nights, and NYE party were spot on! Once again, you have exceeded our expectations. The excursion around St. John was such a treat. All those snorkeling spots were each so unique and perfect. We could not imagined a better trip. Thank you for such a beautiful and relaxing vacation. Looking forward to our next adventures together.
Rob, Deanna, & Lisa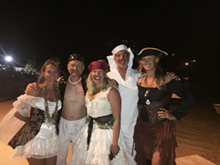 November 26-December 10, 2016 - two utterly relaxing weeks!
Dear Lloyd & Jess,
This has been the most utterly relaxing vacation we have taken. Your hospitality has been impeccable. Everyday has been delightful. We'd never been sailing for more than 3 hours before, so this was quite the plunge for us, and now we are hooked! We loved the sailing -- now Wes wants to take a sailing class! We both loved the snorkeling so much - and I had never been before - that we are already talking about next time! Perhaps most of all, we enjoyed being able to relax on the beautiful Sandcastle, drink a cocktail, and enjoy the sunset.
And Jess' cooking! If I had one concern about spending two weeks on board it was what if we don't like the food - boy was that not even a thought after our first meal. Everything was wonderful. Your cooking was so good that I happily enjoyed things I didn't think I cared for. The way you assemble a dish with such balance and blend of flavors is all the more remarkable considering the conditions you work under.
It's going to be hard to go back to the real world after these last two idyllic weeks! Thank you!
Christine & Wes
Reston, VA


Cheers,
Jess & Lloyd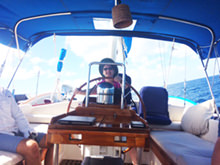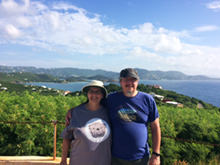 November 7-14, 2016
Lloyd & Jess,
This has been such an amazing experience! The VIrgin Islands are a great place to spend time because of the beauty of it all. What really made the trip special was you. It felt like we were spending time with friends on their boat. You both were so generous and fun to be with. Roland was really touched by his "birthday party". So cute! Thanks for making this a trip of a lifetime!
Tammy & Roland

Lloyd & Jess,
We have had such a wonderful and unforgettable trip with you. The food, the games, the sailing, and the accommodations were amazing. Thank you for introducing us to three new games that we will make a tradition! Jess's meals were pall completely perfect, delicious, and beautiful. Thank you so much for all your care of Roland and hospitality that made this trip so special.
Paul & Pam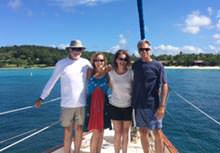 April 2016
Dear Lloyd & Jess,
I was looking for a special birthday gift for someone who had been through so much. I knew chartering in the BVI was perfect, but I didn't think you could top perfect, but you did just that. The boat, accommodations, sailing, and food all exceeded expectations! The professionalism all week long was something to behold. We will never forget the joy and comfort we experienced this week. Best of luck as you sail through life. Sharing time with Sandcastle and her amazing crew has been so special and delightful.
Besties forever, much love, Hugh & Paula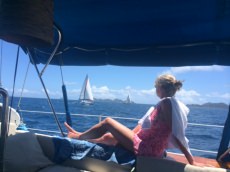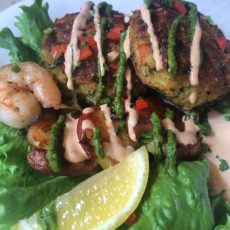 March 2016

What fun! Once again you have exceeded the high bar you set for yourselves. Our last morning on Sandcastle -- She rocks gently in Maho Bay. The sweet aromas and soft sounds of miracles being made in the galley. On our last morning... I'm not thinking of our return home. On our last morning... I'm thinking of our return to the Sandcastle. Love you both, Gabe & Lorenzo (Santa Fe, NM)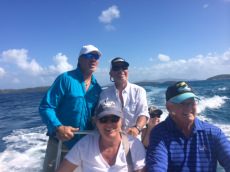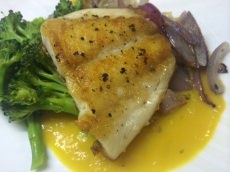 March 2016
Dear Lloyd & Jess,
I booked our charter without knowing what to expect. It was our first charter trip, my first trip to the Virgin Islands, and our first trip on a sailboat. It has exceeded all of our expectations by a tremendous amount. The personalized service was outstanding and the concern for our comfort, safety, and well-being was extraordinary. We were waited on and served the entire week. You asked us not to help you with anything. It was challenging but I don't think we lifted a finger to help either one of you all week. It was hard but it felt wonderful to rest and let you both take care of us. In fact, it was awesome. Finally, the food was incredible every meal. We like to go out and eat good food but sitting down and let someone serve us three outstanding meals per day was a very special experience. You are both intelligent, interesting, kind and caring human beings. We enjoyed our trip so much and getting to know both of you was a treat. I hope we can come and do it again soon. Per & Marla (Nashville, TN)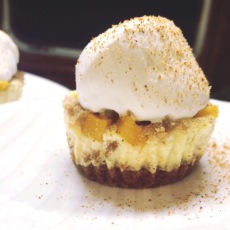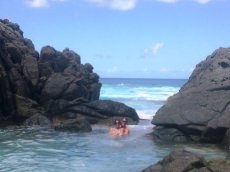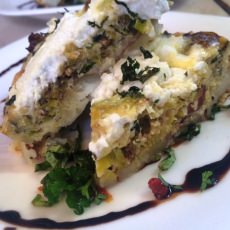 February 2016
You and Sandcastle have exceeded our expectations in every way. The pleasant surprises kept coming! You both combine experience and creativity in everything you do! Lloyd, your passion for sailing, your quiet confidence, even temperament, and willingness to share your knowledge has been a joy to witness. Jess, you are a culinary savant, and your love for food and novel ways to prepare it, amazed us all. You have simply and consistently enhanced the experience of our journey through the most extraordinarily beautiful Virgin Islands! With warmth and continued smooth sailing, Simmee, Rich, Ed & Ellen (Marblehead, MA)
February 2016

What a fantastic trip! From the moment we stepped aboard Sandcastle, we were taken care of and pampered beyond our expectations. From the wonderful and delicious meals and appetizers prepared by Jessica to the unique and out of the way places of beauty which Capt. Lloyd navigated this wonderful ship. Snorkeling with turtles... Hiking over the Bitter End... Playing in the bubble bath at Jost Van Dyke ... it was all fantastic.
When we got back to civilization, we all agreed that this was indeed the most relaxing and rejuvenating vacation we have had in a long time... We shall return!! All the best, Felix, Emma, & Maya (Marblehead, MA)

January 2016
We were in great hands from the start. Took us a little while to get used to the "let us do it, just relax" to eventually "helping, is not helping :) " The sailing was so much fun we (almost) regret our ownership of bower boats. Word cannot adequately describe the "JOY" of eating and drinking aboard Sandcastle. Jess' masterpieces from the kitchen delighted us at every meal. Every day was full of activities and opportunities to relax. I know Lloyd to be a competent sailor and systems guru... he and Sandcastle did not disappoint. Shooting the breeze, just hanging out with the Lloyd/Jess team made our week a lot of fun. We requested to rendezvous with friends on a bare-boat cat which was a twist for the week. Thank you for working so hard to make us so happy. Until we see you again, we wish you the very best. Clarks & Irwins (Danvers & Essex, MA)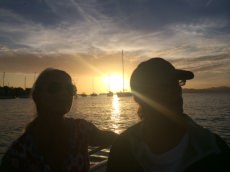 January 2016
From the moment we were picked up in St. Thomas, to the around in Virgin Gorda, to our final night in St. John; this has been the best vacation ever!! All the water sports, hikes, outstanding snorkeling, not to mention the best food! Every meal was an exciting taste fest! The drinks, the conversations, story telling, the nights were always a treat only bettered by the days that were non-stop FUN. Captain Lloyd and first mate Jess were the best. Next time we'll bring the family! Fred & Eric
January 2016
Lloyd & Jessica,
Oh my! Beautiful islands, calm seas, amazing food, gracious hosts, perfect weather -- you couldn't have made the trip more memorable. We'll be back as soon as we can! Thank you, thank you, thank you! Paul & Kristine D. -- Virginia Beach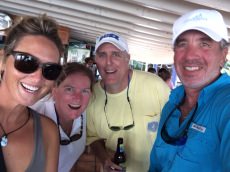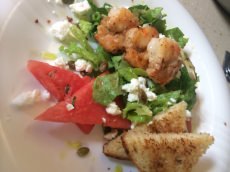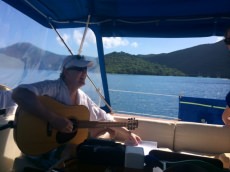 New Years 2015/16
Lloyd + Jess,
What an incredible week we had with you. Such memorable adventure for our family. Great service, amazing food, & the best crew we could have asked for. Thank you for exceeding our expectations. We can't wait to start planning our return visit with our new found friends. Cheers - The Piwowarczyks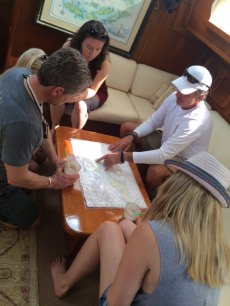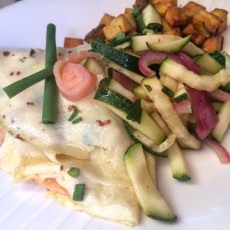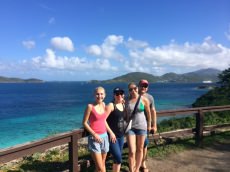 November 2015
Dear Captain Lloyd & Chef Jess,
What can we say, you sucked us right into your Sandcastle "Bug Light" Everything was wonderful from the service, the company, the sails, THE FOOD, and rum punches. You both are two amazing people with beautiful souls. We can't thank you enough for making our honeymoon such a success! We can't wait to return again. The best vessel we've ever been on!
Much Love xoxo
Alex & Charlie - San Antonio, TX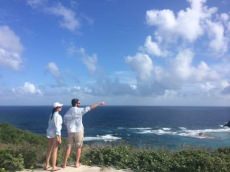 May 2015
What to say other than WOW!? Marsha and I have been around sailboats for most of our married lives (almost 49 years), owned sailboats, chartered in the BVI, sailed Nova Scotia to Antigua, and never have I ever had an experience like this.

Sandcastle is a beautiful, capable boat, and Lloyd has poured his heart and his considerable talent into her. It shows! The smartest thing he did was hire on Jessica. She is good company, a good hand, and an extraordinary cook!

Somehow, the wind was always right for the destinations of the day. The anchorages lived up to our expectations and the sailing was terrific. This was just a great trip. I'm not sure we can equal it. But, when we are ready to try, I'll be looking for Jessica, Lloyd and Sandcastle to do it again.

Skip O'Conner N.O.L.A

May 2105
A flawless week...
Truly an amazing experience -a perfect way to celebrate a milestone birthday. Great crew became great friends. We will definitely be repeat sailors!!

Barbaree & Jeff FL / NYC

May 2105
A flawless week...
Truly an amazing experience -a perfect way to celebrate a milestone birthday. Great crew became great friends. We will definitely be repeat sailors!!

Barbaree Nielson & Jeff Kanter FL / NYC

March 2015
The Happiness of your life
Depends on the quality of your friends!
A most excellent adventure,

Thank you so much

Dean & Tere, USA

Im doin this again!

Captain Lloyd & First Mate Jess are just awesome! Sail on!

Lorenzo & Gabe NM / St. Thomas, VI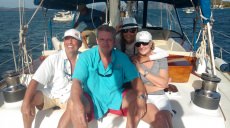 March 2015
Words can't begin to express our sense of sheer joy being aboard the Sandcastle. Thank you for sharing this revelatory slice of the BVI with us & for allowing us to "Dance On The Edge" with you for a week. Jess, your cuisine is extraordinary! Every meal was an experience "gastronomique"! Capt Lloyd, your hospitality, sailing knowledge, and sense of humor elevated our trip to another level. Sadly, we must sail back to reality -- with smiles and memories permanently etched into our minds -- weeeeeeeeee!!!!..... and rolling!
Susie & Bob, Sarasota, FL

Our trip with you both has been incredible - truly! You two are fantastic hosts and have made our first BVI experience amazing! Captain Lloyd, you are a great captain who is organized, thorough, and patient -- and fun! Jess, you are an outstanding chef! Every meal has been wonderful, creative, and so delicious! Together, you two are an outstanding team, undoubtedly the Best in the BVI! We cannot thank you enough for the BEST trip we've ever taken (and the BEST Birthday Ever!) Heather & Jon, Las Vegas, NV

March 2015
What a fabulous week we had! We showed up completely wound up, tight, and exhausted. Lloyd & Jessica made certain that would change! Great sailing, beautiful islands, snorkeling, white sandy beaches, a secluded cove for the full moon :) Yummy rum drinks, and very creative and delicious food! Thank you captain Lloyd for showing Steve how to sail, he loved it! From two people who's whole lives are hospitality, you two have it going on! Thank you for making our honeymoon unforgettable!
Steve & Julie, Ormond Bch, FL

February 2015
Delicious food, refreshing drinks (and more refreshing drinks), terrific sailing, fun side trips, exhilarating dinghy rides, deserted islands, undiscovered beach bars, bubbling baths, delightful dips, scintillating snorkeling, wonderful people, bad jokes, and SEA TURTLES! A great week in the Virgins. What more could possibly be better than this?
Mike & Melissa, Massachusetts

We had a great week sailing, steady winds and secluded island anchorages at night. Beautiful beaches and fun beach bars. The crew was fantastic. The food was outstanding. Jess is a terrific cook who came up with very creative ways to prepare and serve meals. Lloyd is a great captain who let you sail the boat as much as you like and came up with plenty of fun activities. Loved it!!
Bernie & Susan, Massachusetts

February 2015
Sandcastle provided the perfect platform for the total escape. Lloyd & Jess made everyday a joyous delight by demonstrating mastery of the sea and culinary arts. Exceeding all expectation with grace. We will forever have Sandcastle in our dreams. Thank you for all the professional detail in taking such good care of us. We have a wonderful time and life memory. Thank you. All the best, Greg & Jane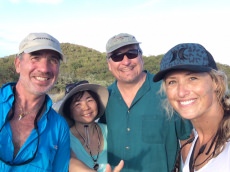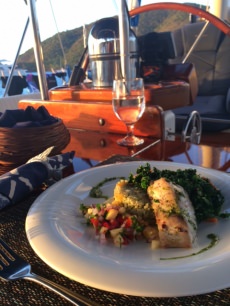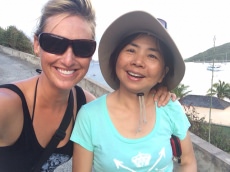 Jan 17-25, 2015
What a wonderful time! We will be back with our families! Had our batteries recharged so we can go back to battle to cold winds and snow of Wisconsin. Hopefully you will remember us --> your new friends!! Deb & Ren
The winds were calm, the sights were clear, the sunsets were pretty. Lloyd and Jess were the perfect crew. Good food, snorkeling, fish and just a great succession for Sandcastle!! :) Doc & Terri


January 2015
We started our journey where we had our first libation where Captain Lloyd and First mate Jess greeted us with big smiles and zipped our luggage away. And so it went for our entire trip. Lots of smiles, great food, and a super comfortable trip sailing, snorkeling, and visiting as many islands as we could fit in. We had a fantastic trip aboard Sandcastle. All the best -- Kim S & Denny O.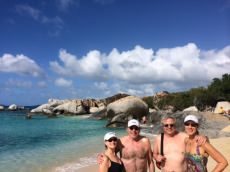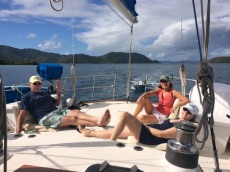 Christmas and New Years 2014/15
Disembarking from an amazing 10 day trip. Thank you Lloyd & Jessica for being such wonderful hosts. The food was above and beyond our expectations. The sailing was wonderful and exciting, the snorkeling was interesting and delightful, and we loved the bar always being open & well stocked. We certainly enjoyed meeting two new friends. Happy Sailing & wishing you many fun and successful voyages in the future.
Thank you -- Karen & Sam P

Sandcastle is an excellent sailboat to unwind on. The cabin was so perfect - a wonderful cross breeze, plenty of room and an easy to use head! The sailing was delightful and easy. An adventure in our book! The food was way above and beyond what one would expect from a galley. Absolutely delightful and delicious. And did we mention the snorkeling and having our every whim catered to? This was a custom made trip that we'll definitely take again. Thank you Captain Lloyd and Jess. Best to you both in everything! -- Lisa & Charles w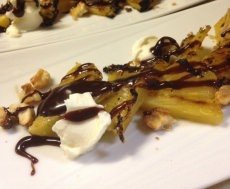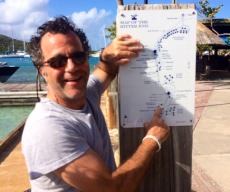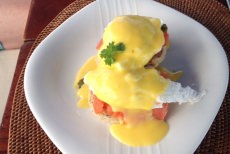 December 2014
Good is so inadequate - how about...Perfect? We have no doubt about your success. You have the perfect attitude and the perfect boat. We literally cannot wait to come back with friends. Thank you so much for being so accommodating, conscientious, and laid back. This was our best vacation ever.
Michelle & Dean L.

May Charter
This is so bittersweet. Trying to count all of our sailing adventures and they were all so different and all some of our best, most memorable vacations. You guys remain as enthusiastic as on our first trip 15 years ago....what a wonderful exhilarating final voyage this was, just perfect.

warmly,
Ann

AMAZING WEEK
Dear Ann & Rik,

It would be impossible for me to put in words how amazing the past week has been. I am sitting here drinking my morning coffee, the sun just topping the island, realizing that I am not ready to leave this wonderful place. Well I still have a few hours and will get in the water for a bit more snorkeling! The Sandcastle is so comfortable day and night, the weather has been perfect, and you have taken such good care of us. The food has been incredible- so many new flavours- I want all your recipes and I am certainly getting an immersion blender!

We really enjoyed our morninng hikes and the rocks at the bubbly pool were super- I'm glad we didn't read the sign on the way in! The sea life is so diverse- and we enjoyed having the ID books at hand- and also the binoculars. Thank you so much for sharing your knowledge of the area- that added so much to the experience! Can't wait to play more up and down the river [card game], so much fun! Janet and Dan

March 2014 Charter - Repeat Guests
Hi Ann and Rik- I can't imagine diving in the BVI without you both- please keep in touch!! This wonderful sail is a great reminder that life is short and we all need to slow down. You are both perfect examples for us to follow. Thank you so much for your hospitality, five star meals (& cocktails!), unbelievable patience and smiling faces. God knew what he was doing when he created the 2 of you!
Much love Cindy and Lance

Ann and Rik
I cannot possibly give you enough kudos. This trip has opened my eyes to "a whole new world". Thanks Rik for my gentle snorkeling encouragement.
You are both such gifts to your passengers I selfishly hope that your beautiful yacht Sandcastle will again be awaiting next summer although I do realize that you [are moving on to] your next big adventure...we enjoyed everything and ...hope to see you somewhere in the states. you know where we hang out!
Love to you both Ronna and Larry

March 2014 Charter
Dear Rik and Ann,

Still pinching ourselves! What great luck for us to be with you on your Sandcastle. Your hospitality is beyond the best. Thank you for every moment on board with you. If you ever visit the southwest...please call- mi casa es su casa...and thanks for the music...let the good times roll!
Gabe and Lorenzo

The Sandcastle is now a part of our family- love at first glance. Thanks so much for creating a haven for happiness for everyone who sets foot on board. It will live on in our memory forever. So much fun! We love you guys!
Christine and Doug

March 2014 Charter
Ann + Rik-
you have given my father and I a wonderful gift. I know that we will both remember this special time together forever. You are both amazing people, new great friends, and a part of our history as father and son.
We both wish you only the best of everything and hope we can keep in touch. All the best Robbie

What to me was a total unknown & new adventure turned into a once in a lifetime wonderful experience leaving me with so many special memories, thanks so much, Michael

March 2014 Charter

Rik and Ann-
What and amazing week! Couldn't have come up with a better way to celebrate the half century mark. The boat is truly a classic, the BVI is beautiful and the food-Ann you are the best!
We really enjoyed the sailing lessons...so many great sights diving and hiking the islands.I think Wendy would have stayed under water all week [if she could].
This has truly been one of the best trips we have been on and we feel we now have two great new friends...bon voyage! Mark and Wendy

February Charter 2014

Many thanks for a fabulous birthday sail! David has long dreamed of this trip and you made it exceed the dream. Even for land loving Suzanne, it was a delight-from the thoughtfully prepared meals to the "shore excursions" custom tailored to fit our needs. We will long remember the good conversation and good times had aboard the Sandcastle. Our only sadness is that it must end and that you are retiring from this fabulous yacht! Suzanne and David

Thank you so much for the wonderful week! We had a fantastic time.
Rik- thanks for taking it easy on this greenhorn and showing us the ropes.Luckily Elise is an old pro...Ann the snorkeling was amazing and your cooking was of course phenomenal. We wish you all the best in your future. although we are sad we won't be able to join you again on Sandcastle we hope to see you on land next year! Elise and Simon

JANUARY 26, 2014
We had an incredibly good time: powerful winds, great walks (top of the boulders [Spyglass Hill]),snorkeling, dancing and singing. It doesn't get much better than that. You two are wonderful hosts and Ann's cooking is unbelievable. The nightly competitive games kept us on our toes. this will go down in our books as one of the best vacations ever! Don and Diane
January 2014 Charter
Rik and Ann,
this has been one of the most relaxing trips we have taken! The Sandcastle is absolutely beautiful. We have so enjoyed you both taking us "beginners" snorkeling, our hiking trips have been incredible and the BBC's...my new favourite drink. Your hospitality,knowledge of the islands and people made it all so much more enjoyable. The food was as gourmet as it gets...And of course all the great laughs and fun games.
We are so fortunate to have had this wonderful opportunity and wish you
both much success and happiness in your new venture!
John and Elane, Dallas

Rik and Ann,
thanks you for another wonderful trip aboard the Sandcastle. It was such a great time with friends and we so enjoyed your company. Thanks for the great snorkels, walks...and gourmet meals. The games at night were a blast! Enjoy your new adventure next year, Life is good!
Mary and Jim, Tulsa

New Year Charter 2013/14
Dear Rik and Ann,

I can't think of a better way to bring in the New Year. We have so many wonderful memories on board Sandcastle All 9 trips have been amazingly different. The food, company and accommodations are all truly world class. We will miss you but wish you both the very best with your new adventure on land. thank you both for all the great memories! much love, Micheal, Jackie and Kiersten

November 2013

"Rik and Ann,

Another wonderful adventure together on the Sandcastle!! Everything was perfect- the weather, hiking, snorkeling meals, octopus sighting, [eagle] rays, sunsets...thank you! thank you! thank you! Hope to see you again soon...we are the lucky ones!
Jill and Bob"

November 2013
Ann and Rik,

it was our pleasure to meet both of you. You made our sail on the Sandcastle a memory we will always treasure. You are both such great hosts ... stay as nice and down to earth as you are. Hope to sail again with you, Brenda and Charlie"

JULY 2013
Rik and Ann,
thank you for a wonderful week aboard the Sandcastle. It was truly the ideal way to spend our honeymoon- the perfect mix of amazing locations, snorkeling lessons, great food and awesome company. we could not have dreamed of a more relaxing & fun week in the islands and continue to be impressed by your extensive knowledge, exotic stories & experiences, and ability to craft such lovely meals on board! You two are a blast and a joy to be with- thank you so much for everything. Best wishes for fair winds & happy sails, and hope to meet again- Lindsay and Rory P.S. and may every storm be as tasty as Chantal!

and ......

Thank you for a fantastic trip! Your local & biological knowledge surely can't be beat, but are second only to your wonderful hospitality, company, cooking and cocktails. We have truly enjoyed this glimpse of the islands and cannot imagine better guides to have had along the way. You will be a part of our lasting memories of our amazing honeymoon forever! thanks again, Lindsay and Rory
JULY 2013
A fabulous week! Thanks to Rik and ann for their generosity and warm friendship and knowlege of the islands. It was the perfect way to spend Steve's 50th Birthday. The two of you make it extra special! We will always remember such a great vacation and we owe it to you! We will miss you! We hope to be back soon! Way before ten years!
Kathy
Thank you for a fabulous 50th birthday. Great sailing, water & island adventures and meals. Most of all the friendship and conversations will be memories for life. We plan to be back and we wish you both love, health and happiness until we see you again...All the best, Steve
JUNE 2013
As always it has been a pleasure to share your home. We enjoyed the endless walks on Anegada and the associated pub crawls. Ann's enthusiasm for snorkeling was contagious and we felt lucky to have been able to see so many of her most favorite snorkel spots! And 50 tarpons!Thanks to Rik for entertaining the boys with [towing sports] sailing lessons, wind surfing adventures, card playing, movie watching and harbor/boatyard tours. Thanks also for the endless supply of nummy food tailored to each of our predilections. Bruce and Sandra
MAY 11-18, 2013
Ann and Rik

Thank you for a spectacular week of exploration, fun and learning! We could not have had a better experience for our honeymoon! Thank you for all the marine life lessons Ann, it is amazing how much you know about the water life here! rik thank you for all the sailing lessons, you are a true man of the sea. We felt very comfortable and confident the entire trip. Without a doubt, we'll be back! Until then we will .... dream of our return!

Your friends Rick and Sharie

APRIL 28-MAY 5, 2013
Rik and Ann,

Thank you so much for an absolutely amazing week. Your Sandcastle is a beautiful boat and you made us feel very welcome. the food was incredible. Ann you are an amazing chef. We've had truly the trip of a lifetime. Bret and Jen W.

March 30-April 7, 2013
to Ann (aka amazing cook) and Rik (aka Clint Eastwood),

What and amazing week, in so many ways. You are such beautiful people who have chosen to live a life of gratitude and respect for this sea, this sky, this planet. Truly inspirational...not to mention excellent euchre partners...

thank you for your patience, hospitality and warmth. For the sailing, the scuba and the sand. but most of all for making us feel like a part of your family.

Julie and Bill, Aspen and Sierra, Colorado

FEBRUARY 2013
Ann & Rik,

Thank you for a lovely and grand Caribbean adventure. The snorkeling, the food the drinks, the beaches, the fun- was all fantastic. You'll come highly recommended by us. thank you for everything, it was all too great for words. So Great!

Beth, Brian and Quinn

FEBRUARY 2013
Ann & Rik,
time and time again we arrive & leave in awe of your ability to welcome and serve with an evenness and comfort that soothes our souls. Thank you for treating us so kindly lovingly and like family in it's best way. We very much appreciate being on Sandcastle with you and thank you for everything you do to make that endeavor endearingly memorable.
as always, our love, Bob (and Jill)

I have so many thanks for so many reasons to each of you and to your ability to work together. Every meal and move were executed in a seemingly effortless and amicable manner. You are a testament to the concept that "the good life" is where ever you happen to be! Terry ( and
Don)

FEBRUARY 2013
Thank you once again for an amazing vacation. Truly memorable!! Great food, the ease with which you took care of us in every way, the time you spent with us everywhere and most importantly your friendship! You made
Garry's birthday all he could ever have wanted. happy sailing, Cheryl
and Garry

What a great time! Enjoyed it beyond our expectations! The food offerings left us speechless; you over delivered! Until we meet again,
Karen and Michael

JANUARY 2013
Thank you so very much for the most wonderful 4 days we have spent as a
family! I do apologize for our children adopting you so quickly- they
sure slid into your family easily! Thank you so much for all the
"extras", and the added effort and planning that you put into this trip!
You made a little boy's dream come true! We are sp blessed to have met
you both, such special people as you two will be remembered by our
family forever!

Oh and for other people lucky enough to spend time with Ann and Rik-
take all of their suggestions for fun. they are always right! Paddle
boards, kayayks, beaches, drink suggestions- always perfect!

we love you both, thank you so much for everything, Julie, Steve, Hannah
and Sam

PS when Ann gets around to writing that recipe book- we will take 10 copies!

December 20-27, 2012
Our 50th wedding anniversary was made special by Rik and Ann. Lots of new experiences, superb food and a "nothing is too much trouble"
approach. Sylvia cracked the snorkeling barrier with the support and encouragement of Ann and my uncertain helmsmanship was - I think - improved a little under the tutelage of Rik. What a great team you are!! Tim and Sylvia, UK

The Grahams wrote:
We were honoured and delighted to be invited to join the Whiteleys on their special celebration in the BVIs, and thanks to Rik and Ann and the Sandcastle we have enjoyed a trip of a lifetime. Every meal, so delicious and well presented, was enjoyed sitting at the best table with the best of ever changing views. Rik made sure that we were kept fit by leading daily constitutional walks on the islands whilst Ann beavered away below decks to make everything ship-shape. A great team and very good company. Bertie UK

What more can I say, everything was brilliant including my new foray into snorkeling, led by Ann who was very patient! Thank you so much. I will recommend it to everyone. Jan UK
December 20-27, 2012
Hi Rik and Ann
From our lack of suitable walking footwear, you probably deduced that I never picked up the email below - we were already on our way to Antigua.
Nevertheless we thoroughly enjoyed Rik's walks which all seemed to be carefully designed to get us back to Sandcastle clamouring for one of Rik's special cocktails ( with floaters of course). Sandcastle was a delight, as were the Skipper and Mate, with nothing too much trouble in pursuit of the pleasure and comfort of us guests. It was a perfect holiday and a perfect 50th anniversary for Sylvia and I - we particularly appreciated Rik's pertinent homily from The Prophet which just touched the spot.
Ann must, without doubt, be the best cook in the Caribbean and the superb meals were set off to perfection by Rik's presentations ( and choice of tableware).
I am sure we will never have a better holiday and we thank you sincerely for everything you did to make it thus.
We have just finished our New Year celebrations in the cold and wet of England and it is not easy to remember how perfect things were just one week ago but never mind, lets all wish each other a happy, healthy 2013 and move on !
We still prefer English Rules for Buggerit but it was an interesting and challenging experience to play Canadian Rules.
Best wishes and every future success to you both and to Sandcastle.
With regards and fond memories
Tim & Sylvia
June 2012
Dear Rik and Ann!

you are both amazing and we had a fabulous time on your boat! I will miss the wonderful food!! Please let me know if you decide to put out a cookbook- I would buy one for every person I know! Thank you for being with me on my first dives and holding my hand- it made the whole experience very enjoyable. I am grateful for your calm and hospitable manner. We will be back soon! Next time you see us- we'll be married! Thanks for everything!! Cindy and Lance R.

Rik and Ann, what a wonderful week! Our voyage on the Sandcastle was a wonderful trip of discovery and relaxation. The food was wonderful, the anchorages magnificent, the boat fantastic and the two of you incredible. Thank you for a most excellent week. Larry D.

Rik and Ann, you have created most special memories. I had a wonderful time! Hope to do this again someday! Ronna D.

APRIL 2012 - Fairon Family
Thanks for the great snorkeling and the sailing lessons. It was a joy to be on a sailboat that loves to sail. The food was excellent and endless. Thanks for making us feel at home in our new castle! Bruce and Sandra

Thank you for a wonderful trip. Thanks for taking me to the Baths. Thank you for teaching me cribbage. Max (age 12)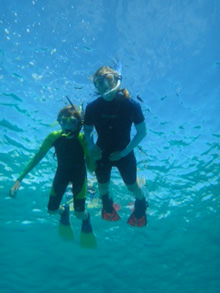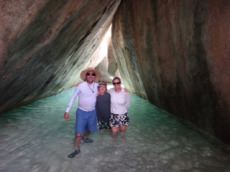 March 2012
Rik and Ann, Thank you for a fabulous week! The conversations, the meals, the sailing, the views, the games, the snorkeling cannot be topped. We'll be back for sure,
the Edwards family


Xmas 2011
Rik and Ann,
Thanks for a great week. The weather may have been a bit variable the experience was consistently great! The accommodations were perfect-just the right amount of space & comfort. The food - amazing!! The libations - ditto!!
This trip was exactly what we wanted thanks to your great service and hospitality! Many great memories for all of us and lots of laughs, including [this is from a game like charades] "toupee + fast cars = Burt Reynolds" and "sunrise Duck"! Thanks for everything!!

The Thomas'

Great way to turn the big 7-0!

Rita

December 27, 2011 NY\'s charter
Rik and Ann
This was a trip of a lifetime, the best ever! Fabulous salads, entrees and desserts...that Pad Thai salad woohoo! And the sailing, so perfectly timed. We all had a blast taking turns at the helm.You are marvelous hosts and we can't thank you enough for this wonderful trip through the BVIs!

we expected great sailing, magnificent food and first rate accommodations but found good friends. The best compliment I can offer is that we will return enthusiastically. thanks. Mark and Marsha

Rik and Ann,
For novice sailors we had the trip of a lifetime. Your hospitality and accommodations were beyond all expectations. We couldn't have had a better time - the food and drink were amazing and I'm glad we have pictures to keep the memories alive! And my heartfelt thanks for taking the time to teach me to snorkel as I'll continue to learn and next time I won't need a belt. We loved your stories and thanks for all the good ideas for future reading. So many memories...thanks and best regards, Barry and Paula

October 31, 2011 Halloween cruise
[for] our second voyage aboard Sandcastle there are no words that could ever express the peace, joy and tranquility that come from such a journey. Adventures are meant to be shared. It has been wonderful sharing our time with Captain Rik and first mate Ann! with love and great appreciation for all you do- Don and Diane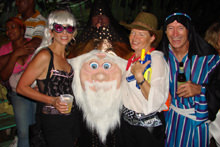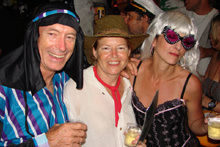 Our 12th wonderful vacation on Sandcastle 2011
Thank you for our 12th wonderful vacation aboard Sandcastle. We enjoyed seeing our favorite anchorages and exploring new ones. The new main sail is a great addition. We enjoyed all of the delights that come out of Ann's galley. Rik's creative mudslides are dynamite. Sandcastle looks beautiful with her new paint and as always, the varnish gleams. It is such a pleasure to be with you both on the ever-elegant Sandcastle.

Barb & Murray
June 2011 - 3rd charter on Sandcastle
Dear Rik and Ann-
Yet another spectacular voyage on the Sandcastle! The anchorages were absolutely perfect for your hermit-like guests. The meals were, well, bordering on decadent! The laughs and fun at night were amazing. I enjoyed Bananagrams, the Name Game, and Trivial Pursuit. The dives were incredible and I feel I am leaving the BVI a better place for our capture of all the lionfish!! The storm on Deep bay was an adventure and not to be forgotten!
You both as always are amazing! We are grateful for your tireless efforts on our behalf and your warm hospitality! We love you guys lots! and look forward to returning again- maybe with the kids, then again, maybe not! Thanks for everything! David and Joanie, TX

Rik and Ann,
What can I say?Once again you have provided us with a "perfect" vacation. The anchorages were ideal, the food to die for and the evening games were a blast! We'll never forget the lionfish hunts! What fun! It is hard to return to the real world after this week, but we'll be back...Thank you for everything. You are both such special, kind, patient people. Rik- you need to chill a bit - hee hee! We love you guys! See you again! Lisa and Jamie, TX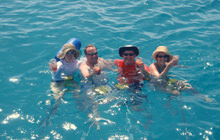 Duffy party - June 2011
Ann & Rik-
Thanks for an amazing week! It was the best vacation EVER!! You both are so gracious and made us so comfy. The food was out of this world delicious! We will forever remember your warm hospitality, and don't forget the heated games we played at night, they were so much fun! I will miss the smoothies and painkillers. We have made some everlasting friends!- Patti and Sam

It was truly an amazing week and more than we could ever dream of. [You] taught us a lot of things we need to know and how to do them safely. See you in the winter! What a great time, you are both so good at everything you do and you have made it a great trip. Thanks for everything!
-John and MJ, sailboat owners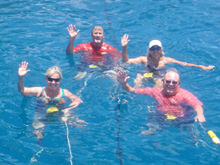 March 2011
Nothing like a last minute trip to paradise ... Thank you for accommodating us with your warm friendships, smiles, gourmet cooking, sailing, hiking, snorkeling and sharing or your time and talents.
With oceans of love,

Bob and Jill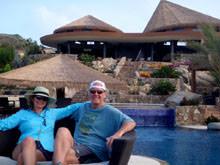 March 2011
I can't say I have ever had a more relaxing time in my life, At first you fall in love with the beatiful boat and islands. But that is not what makes it special for me, It's the two of you. I wish you nothing but beautiful sunsets and I know we can't wait to come back and share them with you.

Drew, Carol, Tom, Megan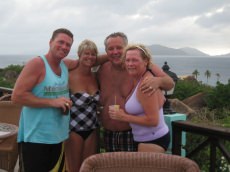 February 2011
Rik and Ann,
It was a picture perfect week. You were wonderful and we deeply appreciate all you did to make our vacation special,

Patrice and John, Melody and Marland

In our log book they wrote:

Dear Ann and Rik,
You - and mother nature - provided the perfect environment for four dear friends to enjoy each other's company again - great conversation, lots of laughter (often directed at each other - and aided by you Captain Wise Guy), beautiful vistas and hours of relaxation. It was a wonderful and memorable week. Thank you for your gracious hospitality.
The Sandcastle will always hold a special place in our collective memory (and we're supremely grateful that Marland, Patrice and Melody didn't put it on a rock...).We wish you well in your travels and look forward to another sunny winter week with Ann's delicious meals, Rik's gentle sailing tips (" to your left...a little more to your left...go left...") and more time together.

In friendship and with appreciation, Melody and Marland, Patrice and John

Chads 60th Birthday sail - 4 guys from St Louis 2011
They created the bucket list for a reason. The ranking went 1 to 10. You both made this a 12. Beyond expectations! Thank you both for the Captainship, stewardship and friendship which you provided both above and below the seas! Chad

Rik and Ann- thanks for a perfect getaway well beyond expectations. Everything was perfect, especially you two. Bob

This week way surpassed my wildest expectations. The memories will [last a lifetime]. Hope to see you soon.
Art

Perfect! Arrrrrgh! Terry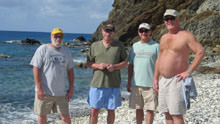 January 2011
We came to the BVI to sail.....and we made friends! Ann and Rik made a dream come true in the most lovely way. We learned basic sailing principles, the kids practiced sports and leaned English and we had a marvellous family time together.

Henry, Katia, Peter, Vivian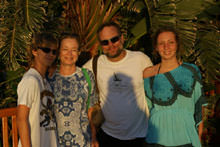 January 2011
What a great place to celebrate three birthdays, two of which were mile stones at 75 yrs. It doesn't seem possible that we've been on the Sandcastle 10 or more times. Each time has been a joy and especially with good friends Ann and Rik who are outstanding hosts. Thank you.

Lowery and MaryAnn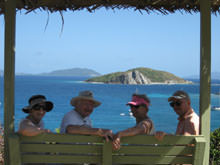 CHRISTMAS 2010
Rik and Ann were just fantastic. The food was great, they were both amazing with the children.
Ann always had ideas for what the kids could do next, which given their age was perfect.

We would be very happy to recommend Sandcastle and with a bit of luck we will have the chance to enjoy another trip sometime.

Best wishes,

Tonya (family from Ireland)"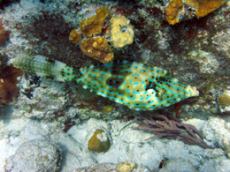 December 2010
Thanks for the pancakes and fresh air! Another wonderful sail!

Keiran and Marty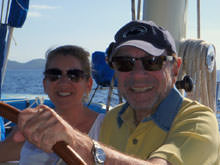 November 2010
Another wonderful adventure on the yacht Sandcastle. Our favorite parts were snorkeling, fire on the beach, the food and relaxation and our first moonbow.
We just want to say thank you and we can't wait to come back.

Micheal, Jackie, Kiersten, Alexa, Dion and Dianne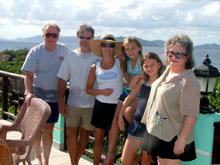 A fantastic week March 2010
Thank you so much for a fantastic week. The food and drinks were 4 star against a backdrop of sea and sun. Totally enjoyed it!

Debbie & Bill, Jackie & Mike
Hesney charter - 2 couples from New England
The perfect choice, we were so fortunate to have found Rik and Ann and their gorgeous sailboat. We have been in the BVI so many times but this was truly like seeing it for the first time. each anchorage was so special. Our captain Rik is a master at choosing just the right spot for the night with calm water. Our chef was superb and each dish was a savory delight and the presentation like a 5 star restaurant (special thanks to our napkin folding captain). Many thanks for a wonderful week and so many memories. Wishing you the best! Maureen and Dennis

What a great way to see the BVI. The captain knows the places to go for calm anchorages and Ann is a bottomless well of knowledge about the fish to see and where to see them. Not to mention that she's a wonderful chef and open to any whims of her guests. And we love the waiter! Many many thanks for a great week and some wonderful sailing - Bob can now go home to his powerboat with wonderful memories of wind and sails and his time at the helm. Thanks for sharing it! We'll remember you both with great fondness, Bob and Josie