11-19 April, 2017 ~ BVI ~ Unforgettable!
This trip absolutely surpassed all of my expectations! I told Joe that my new favorite way to travel is by catamaran! I think one of my favorite aspects of the whole trip was the time spent getting to each new port, being tossed around on the trampoline with my kids as we hit each swell, and laughing and screaming until our bellies hurt! It was such a blessing for me as a mom to watch my whole family enjoy God's incredible creation together and make memories that we will surely talk about for years to come! When it was time to end the trip and disembark, I felt a palpable sadness and it was because in that short but beautiful time, I became so fond of Peter, Colleen and David. Their hospitality and joie de vivre made this trip unforgettable. Honestly, I do not think that I could express with words the gratitude I feel for their gift to us. My children collectively, were only able to be cheered up once I promised them that we would come back soon to see Peter, Colleen and David and have another adventure on the cat! Thank you Patty, for all that you did to make this trip happen in the impeccable manner that it did!! I can't wait to plan our next trip!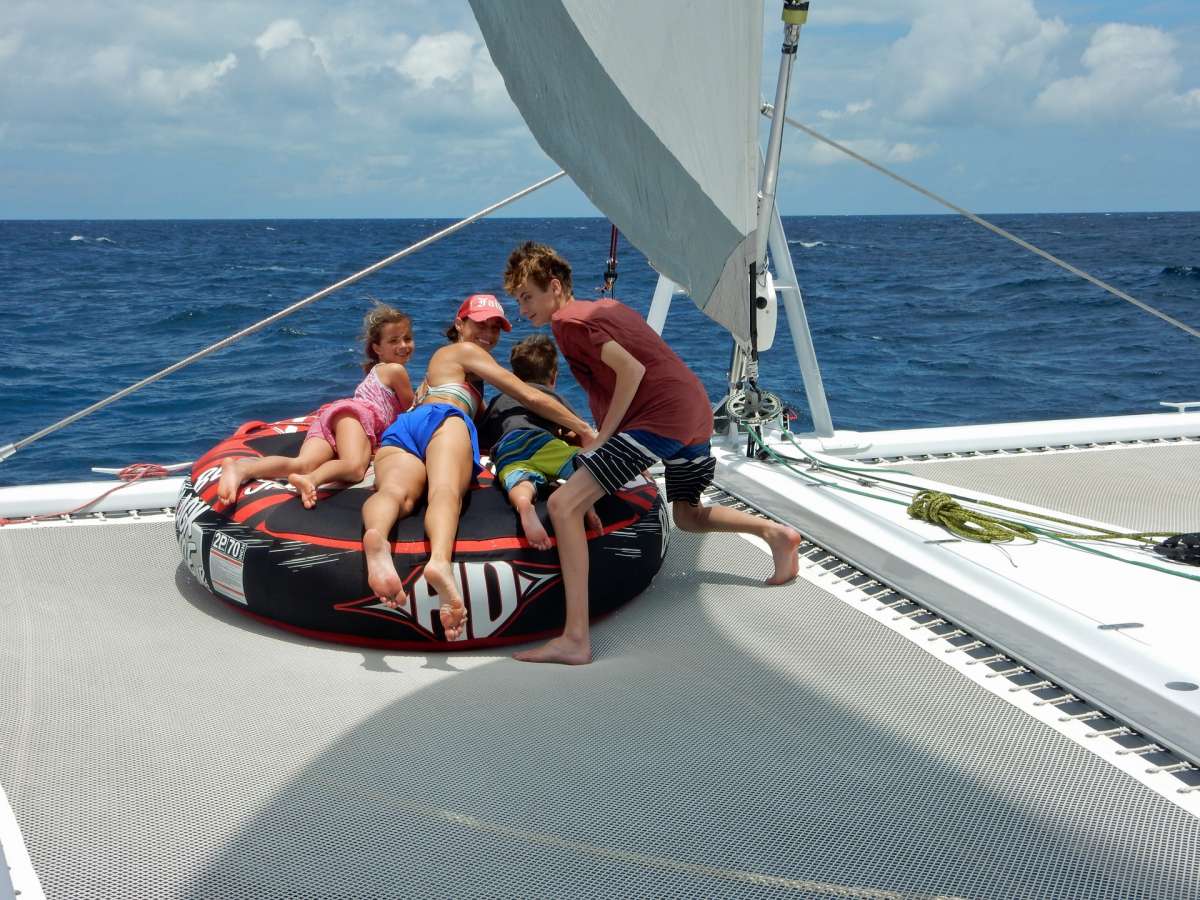 11-19 April, 2017 ~ BVI - Crew Comments
Here is our guests on Easter Sunday and the Dad teaching us Italian Frittata for breakfast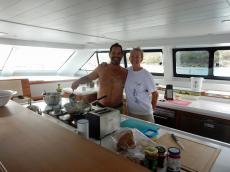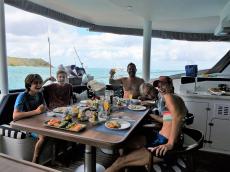 11-19 April, 2017 ~ BVI - Fantastic!!
The trip was amazing - sorry to have to come home!

The crew was fantastic. It was a general concern to be stuck on a boat with people we didn't know, but Peter, Colleen and David were all amazing! They were fun to hang out with but totally unobtrusive. The food was top notch, especially considering it must be tough to get 10 days worth of provisions. Colleen was an amazing chef. Her home made breads were such a nice surprise.

On a side note, the boat way surpassed our expectations from the brochure. The boat is simple, classic but beautiful. Thanks for setting this up, we couldn't be happier!

Joe

Easter 2017 in the BVIs
Easter Bunnies for the children for breakfast.

And our guests dressed up for Michael Beans pirate show!!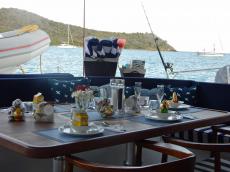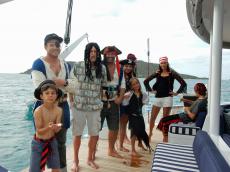 Exterior dining on Skimmer
Open Ocean Artist pictures of Skimmer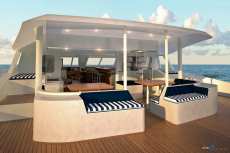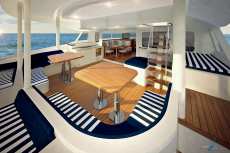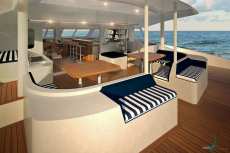 Cape Town 2 Rio Race ~ 1 Jan to 18 Jan, 2017
Enjoy these fabulous pics of Skimmer at the start of the CapeTown2Rio Race! They took Multihull Division 1 Line Honours!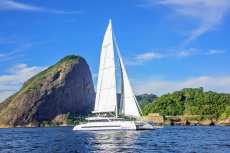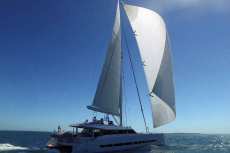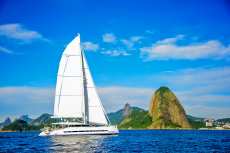 Skimmer
Showing the magnificence of Skimmer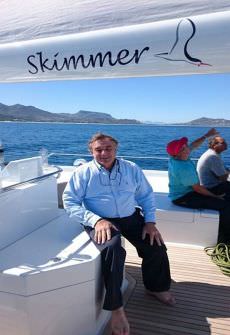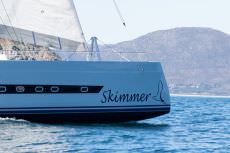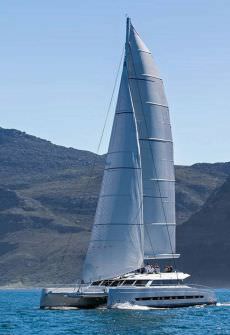 Please note:
All the comments below are from Peter and Colleen's previous yacht charter, Madiba.
Great Crew in the BVI\'s!
The crew, Peter & Colleen were great! Madiba was well maintained. Food was excellent, presentation was great. Very pleased with the trip.
Jeff W, aboard Catamaran Madiba sailing the British Virgin Islands

February 20-27, 2016 ~ Virgin Islands ~Superb!
The crew was friendly and accommodating. The yacht was clean, well ventilated and the food was superb! We also loved the areas we visited.
Peter and Colleen were amazing. It was a fabulous adventure.
Thanks from the G Family
February 21-28, 2015 ~ Virgin Islands ~ Excellent!
Both Peter and Colleen provided excellent very attentive service. They work very well as a team and were great hosts. Colleen is a superior chef. The quantity, quality and presentation were superior. Both are excellent very experienced sailors willing to accommodate any requests. Peter is an excellent diver and was very knowledgeable about all the sites. Overall I would highly rate this crew. Although the boat is not new all systems are meticulously maintained. It was always clean.
2014 Awesome BVI\'s
Thank you so much. It was awesome! The girls and I missed Colleens' cooking this week already. The meals were amazing . Presentation, taste, variety, everything was perfect! Meals were our topic of discussion every day. Peter was great too. Diving was wonderful. Great sites and really cool commentary from Peter who is a very well read historian . We couldn't have been with two more gracious hosts. I have already recommended this boat to many people. It was the best trip as a family I have ever taken!!
Thank you so much , Wade
June 10-17, 2014 ~ Virgin Islands ~ Simply Amazing!
Peter and Collen were fantastic in all respects. We were treated like royalty! The yacht was comfortable and clean. It was like 24 hour housekeeping despite my teenagers efforts to live like a dorm room. Every meal was an culinary adventure. Collen managed to satisfy my sons somewhat picky eating, plus inviting him to try new dishes , which we all thoroughly enjoyed. Peter was great on the grill too. Some of the finest food and exquisite presentations that one could imagine on a boat. The sites were wonderful. The snorkeling and diving was great.My family had a great time. Peter and Collen treated us like family, very special family ! The boat was in top notch shape and Peter is a wonderful Captain and sailor. It was very comfortable , relaxing yet adventurous. Peter can pour a nice cocktail regardless of the type of request (and there were many!). Collen is simply an amazing chef. The islands were beautiful and our every wish was fulfilled. I would definitely sail with these two wonderful people again. Thanks for the memories!
The Y Family
May 1-8, 2014 ~Virgin Islands ~ Best Holiday Ever!
Peter and Colleen were wonderful in every way. Their kindness, caring, good nature, humor, and friendship made our sailing experience truly the "best holiday" ever! All accommodations were more than we had imagined. The yacht was not only comfortable and spotless, it provided spaces for group gatherings, quiet moments, and relaxation. It was an amazing "home away from home"! We loved the hatches which provided a nightly view to the sky, as well as good ventilation.

The food was one of the many "best things" about our trip. Colleen is an expert chef who prepared everything with our wishes in mind. We felt as if we were in a 5 star restaurant every day. The variety, flavors, and lightness of the food, as well as the beautiful presentation made us exclaim in "awe" each day!

This was our first experience in the islands and Peter and Colleen took us to beautiful snorkeling areas, quiet places for swimming and island hiking, as well as their knowledge of the area provided us with the history and background of each area. We really loved it all!

Peter and Colleen were wonderful in every way. We loved our time with them and count them among our many friends. Their expertise as "Yacht hosts", chefs, and personal attendants made this a wonderful experience in every way. We all felt sad as we departed the Madiba and hope to return in the future. We have already recommended the trip to several friends and have encouraged them to request sailing with Peter and Colleen on the Madiba. Thank you for providing an "Adventure in Paradise" for us!