Mike & Jennifer's previous Yacht Charter
Below are guest comments from Mike & Jennifer's previous Yacht Charter
April 2017 - First Class Sailing!
Late April, 2017, guests aboard previous catamaran with Michael and Jennifer said:

Our trip was excellent, Jennifer and Michael are a wonderful team that provide a world class chef and a extremely capable and professional Captain. The boat is very well maintained and all systems were working during our trip. This yacht has a wonderful layout and the team makes all feel at home, increasing the enjoyment of the boat.
Jennifer's cooking is excellent at every meal, outstanding presentations, such creative dishes, and the quantity and quality provide more than enough for all to enjoy.
Mike is always eager to do anything to make the trip enjoyable, snorkel, boat, tender, move the vessel anywhere, just an excellent Captain to meet the needs and wants of his guests.
Also, the provisions were perfect, they obtained wines we asked for and all meals watched diet restrictions perfectly which took away any concerns.
Would be happy to recommend this team and boat to anyone that wants to enjoy first class sailing. Please feel free to share these comments with others and Jennifer and Mike, as we are very happy customers.
Thank You, God Bless
John

July 2017 - Beyond our Expectations!
Late July guests aboard catamaran with Michael & Jennifer said:

1. May I have your Overall Rating for your charter, with 10 being the highest, 0 being the lowest?
( 9.5 )
2. Were Michael and Jenn friendly, professional and accommodating? -
Yes, way beyond our expectations. They were both phenomenal. Michael went out of his way to be a full-time activities director for our family and personally provided hours and hours of fun (watersports and otherwise) for us and our kids. Jenn is literally crazy about cooking and spent multiple hours longer than we ever could have expected preparing meals for us. They were both dedicated to their roles in a way that I had trouble believing, and it's clear they truly love what they are doing. (And they have fun doing it!) They literally worked 18 hours a day (sometimes longer). I am so impressed with both of them that I hope to book our next charter with them again.
3. Was the yacht comfortable and clean? -
Yes, in every way. It is a fantastic boat, and Michael and Jenn go out of their way to keep it that way. They definitely act as if the boat is an extension of themselves.
4. Was the yacht well ventilated? -
Yes, even better than we expected. The AC on the boat was fantastic, especially since my family likes cold air to sleep.
5. How was the cuisine? -
Great. Jenn goes beyond a reasonable point with the amount of time she spends on preparing meals and the detail she applies to each one.
6. How was the BVI? -
Absolutely fantastic and perfect for a charter like this one. We definitely plan to back again to visit the places we didn't get to this time.
7. Any additional comments on your charter? -
It was better than I could have expected. The boat and the crew were perfect for our family.

July 2016 - Five-Star Chef and Top Notch Captain
Guests aboard previous yacht with Michael and Jennifer in July, 2016, said:

Where to start?
This was our first trip to the BVI's. In total, we had a group of 15, of which, 13 were first timers. This was a tandem trip or two yachts working together to accommodate our group. The two veterans in our group gave us a few pointers as to what to look for in regard to yacht selection but didn't offer a lot in the way of guidance when it comes to selecting a crew. Let me be the first to say, you need both and, wow, did we luck out on both!
Let me start with the yacht. She's beautiful! Again, being our first trip, we don't have a lot to go on but I can say without hesitation that we did not see a more beautiful yacht during our entire trip. She has a one of a kind paint scheme and she's beautifully appointed throughout. She has all of the water toys anyone could ask for and, with a bit of ingenuity, a unique toy our boys just loved (you'll have to ask Mike about that one). The yacht offers a spacious fly bridge which is an absolute must have if you're scouting yachts. The fly bridge allows you to sit up top shaded by the sun while enjoying the sail to your new destination. Down below, she has plenty of room to dine and lounge. The only negative thing I can say about her is the two forward cabins can be a challenge for a couple to find themselves comfortable overnight. I'm not saying you can't fit four couples but it would be a bit "snug" for those in the forward cabins. The aft cabins are spacious, well appointed and offer plenty of storage space. The salon offers top of the line finishes and plenty of space. This yacht is perfect for two couples and can easily accommodate two couples with a couple kids. While we were a group of 8 (2 couples, 4 kids) it was a challenge for the kids in the forward cabins.
The second part of the equation…CREW. Oh, where to begin with these two! Let's start with their best character traits.
First, Mike's ability to handle any situation with a calm resolve and humble approach is truly remarkable. This is an attribute we all wish we had more of or surrounded ourselves with others that exhibited these traits more often. As for Jen, her infectious smile accompanied by her bubbly personality will make anyone feel right at home. From the moment we first met and boarded the yacht, they put their best character traits in action. Jen welcomed us as though we were long time friends and Mike graciously gave us the ground rules while making us feel as though there really were no rules…this was our kingdom for a week. Before I go any further describing just how great these two are, there's something that should be understood. The yacht is one of the larger yachts in the BVI fleet. This is a crew of two that manages everything from docking, anchor setting, sailing, cooking, cleaning, entertaining and on and on. Somehow they make it all look easy (99% of the time anyway). These two are in constant motion but will always stop to answer a question, ask you if there's anything you need, or what you want to do for the day and they do it all with a smile. I could go on for pages but no one will read that much so I'll do my very best to scale this back.
The food, oh my gosh the food! Initially, we filled out our itinerary stating that we intended to eat several meals on the islands. After the first meal we realized that this was a huge mistake and changed the itinerary. Jen is an amazing cook and I'm not sure those words do it justice. Just one example, scrambled eggs. We've all had them, right? How do you make scrambled eggs any better than the next person? Well, try Jen's! Ribs…truly amazing. Every dish prepared was excellent - Jen pays attention to every detail and combines flavors to make the perfect gourmet meal. If you're lucky enough to book these two, I would highly recommend chef Jen over any meal we ate on one of the islands.
While Jen is preparing amazing meals, cleaning cabins and assisting wherever needed, there's "Mike the Butler". Just kidding, but someone has to serve Jen's cooking. Mike is an amazing captain and he got to know us well when it took all of 4 hours for one of our group to drop an iPhone to the bottom of the ocean. Without hesitation, Mike begins free diving and somehow finds the thing. This was just a precursor to Mike's incredible ability to entertain. On a side note, we bookended the trip with another free dive for a missing fishing pole..which Mike also found. As stated above, we had a large group with lots of kids and, every day, Mike found a way to entertain not only the kids but the entire group. And, again as stated above, doing all of this with a calm resolve, humble approach and "can do" attitude. While being an excellent captain on a 62' yacht, more impressively, the guy can make some serious drinks! He created concoctions that we had never heard of and they were all amazing. I had the opportunity to spend a few nights out back engaged in casual conversation with Mike and Jen and I can tell you that they are passionate about what they do. They are true entertainers!
If you want a true yacht experience with a five-star chef and top notch captain, look no further!
A truly memorable experience!
P & B Families

Previous Skimmer Crew Colleen, Peter & David's Guest Comments
Previous Skimmer Crew, Colleen, Peter & David's Guest Comments
11-19 April, 2017 ~ BVI ~ Unforgettable!
This trip absolutely surpassed all of my expectations! I told Joe that my new favorite way to travel is by catamaran! I think one of my favorite aspects of the whole trip was the time spent getting to each new port, being tossed around on the trampoline with my kids as we hit each swell, and laughing and screaming until our bellies hurt! It was such a blessing for me as a mom to watch my whole family enjoy God's incredible creation together and make memories that we will surely talk about for years to come! When it was time to end the trip and disembark, I felt a palpable sadness and it was because in that short but beautiful time, I became so fond of Peter, Colleen and David. Their hospitality and joie de vivre made this trip unforgettable. Honestly, I do not think that I could express with words the gratitude I feel for their gift to us. My children collectively, were only able to be cheered up once I promised them that we would come back soon to see Peter, Colleen and David and have another adventure on the cat! Thank you Patty, for all that you did to make this trip happen in the impeccable manner that it did!! I can't wait to plan our next trip!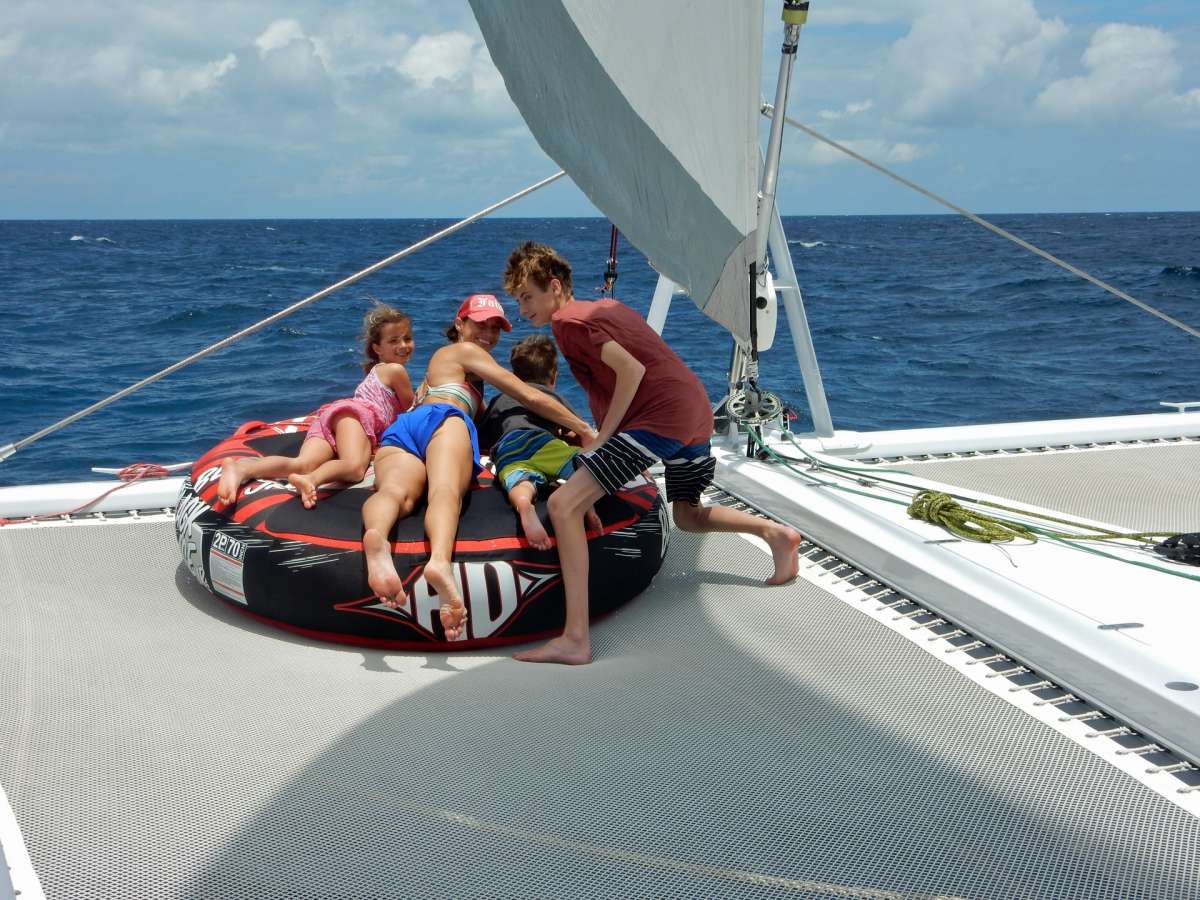 11-19 April, 2017 ~ BVI - Crew Comments
Here is our guests on Easter Sunday and the Dad teaching us Italian Frittata for breakfast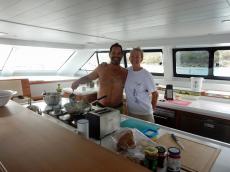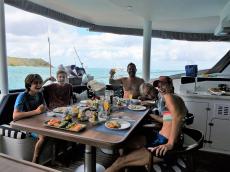 11-19 April, 2017 ~ BVI - Fantastic!!
The trip was amazing - sorry to have to come home!

The crew was fantastic. It was a general concern to be stuck on a boat with people we didn't know, but Peter, Colleen and David were all amazing! They were fun to hang out with but totally unobtrusive. The food was top notch, especially considering it must be tough to get 10 days worth of provisions. Colleen was an amazing chef. Her home made breads were such a nice surprise.

On a side note, the boat way surpassed our expectations from the brochure. The boat is simple, classic but beautiful. Thanks for setting this up, we couldn't be happier!

Joe

Easter 2017 in the BVIs
Easter Bunnies for the children for breakfast.

And our guests dressed up for Michael Bean's pirate show!!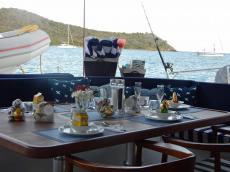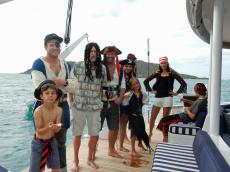 Exterior dining on Skimmer
Open Ocean Artist pictures of Skimmer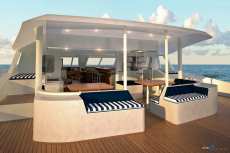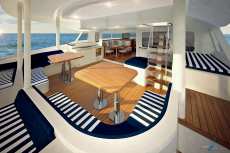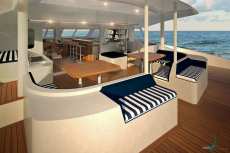 Cape Town 2 Rio Race ~ 1 Jan to 18 Jan, 2017
Enjoy these fabulous pics of Skimmer at the start of the CapeTown2Rio Race! They took Multihull Division 1 Line Honours!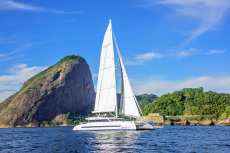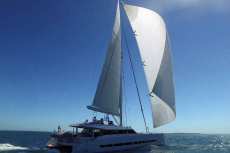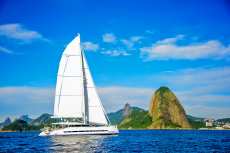 Skimmer
Showing the magnificence of Skimmer