April 24-29, 2016 Incredible Experience
From travel agent:
They had an AMAZING time and I think a few of their moments on the catamaran will be seared into their travel memory bank as such. They were so impressed with the captain and crews attention, the quality of the food, and especially the unique experience of eating conch for the first time).

It was an incredible experience for them. Please extend my personal thanks to the crew for attending to their needs and for showing them such a good time.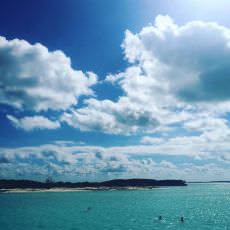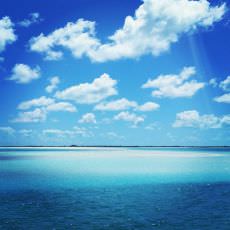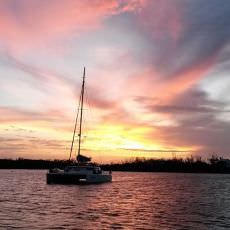 30th Wedding Anniversary Charter - Nov 2015 - Exumas
Overall, how would you describe your charter?
Very Good.
Was the crew professional, congenial, and accommodating? Absolutely. Warren was knowledgeable and focused on trying to accommodate. Louise was almost always cooking up first rate meals while also navigating the nuances of our personal likes and dis-likes.
Was the yacht clean and well maintained?
Yes, Swish was beautiful boat and the Staterooms, the Galley and the Saloon were all clean and ready for their new guests when we arrived.
How did you find the quality and presentation of the meals? Outstanding, the food and the presentation showed pride and skill.
Additional comments
The boat was very nice...Warren and Louise were great. Louise is a very good cook..No reason to be worried about her culinary skills. Her meals were excellent right down to the presentation of the food.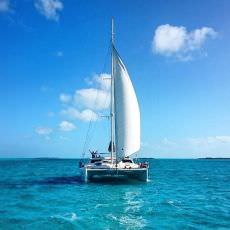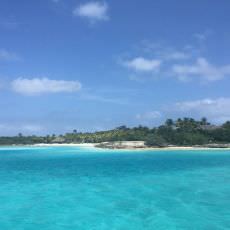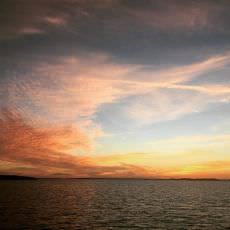 18-25 August 2015 Exumas
Warren, I'd like to share with you the fact that my client called me today gushing about his time with you guys on Swish.
He went on about how I had made the perfect match...that their time on board was the best EVER.
I so want to thank you for taking such good care of this very nice family
You are a credit to our industry as is the rest of your charming family
Thank you so very much. Broker M.R.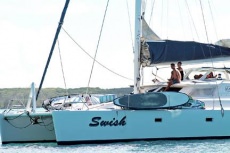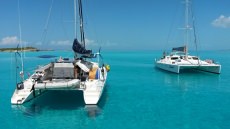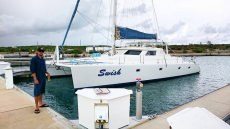 10-17 May family charter in Exumas
Note from broker:
Thank you so much for the update on the charter (they swam with a wild dolphin, hand fed a hawksbill turtle, caught 2 fish offshore under sail, engaged with 11 swimming pigs and 25 sharks at Staniel and dove the Thunderball Grotto).

I emailed Rosie half way through the charter to see how it was going and this was her reply "Amazing!!!!!!!!!"

We love to get those replies when our charter guests are onboard.
Thank you so much for taking care of them!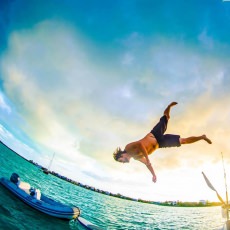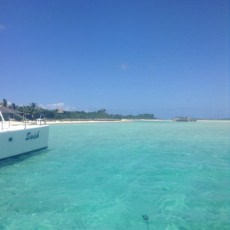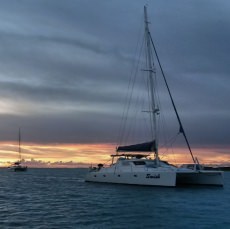 Swish is now in the Bahamas!!!
Captain Warren invites guests on board Swish for a great time in the Exumas!!