Amazing adventure aboard THREE MOONS!
Roy, Travis, & Biggi,

Thank you for so taking care of us on this amazing adventure!! To be with you all was such a privilege - your joy, your humor, your generosity, your lives, your stories- just each of you. How you each managed to become part of us but still be our stewards was so graceful. I know we've made great friends be virtue of sharing this lovely time, and I know that whether or not we meet again, each of you, and Three Moons, will always be a part of us. Thank you for everything and much love to you all,

xoxo,

Jill & Doug Hough

Napa, CA
THREE MOONS is making dreams a reality!!!
Roy, Travis, and Biggi!

What a great adventure! I have dreamed of sailing the Virgin Islands and you made that dream a reality- and I got to be with the love of my life, my cousin and his wife and made friends with two new couples. Everything g was impeccable! Thanks for a great week.

Janelle Prueter &

Chuck Cunningham

Chicago
It feels like family aboard THREE MOONS
Roy, Travis, and Biggi!!!

What a pleasure to sail with you! It feels like family with you all and the entire week was special! Thank you all for sharing a bit of your lives with us. You have created a special space and environment that nourishes the soul. I hope our paths cross again soon! Hugs!!!

Xavier Dulores, Boston &

Sean Aikier, San Francisco
An amazing adventure aboard THREE MOONS!
What an amazing adventure and a fantastic vacation. The time on the sea was peaceful and relaxing and the destinations were excellent. Thank you for taking us on the trip of a lifetime. Biggi- as you know, many of us are good people and you continued to impress and delight us with every meal. Our compliments to the chef-over and over again! Travis- is there anything you don't do? Thank you for your superb sailing skills, your diving knowledge, excellent cocktails, contribution to whichever Catch Phrase or Heads Up team you were on etc. etc. etc. Oh, and nice moved on the dance floor. Roy- you certainly are the host with the most! Thank you first and foremost for making your boat available for guests like us. Thank you for unending generosity and service. From having our rooms made up before we were finished with breakfast, to meeting each of us at the top of the ladder with a towel- your attention to detail and care of each one of us was totally appreciated. Thank you, thank you, thank you!

Kristen & Curt Hill, California
The perfect vacation
If you are looking for the perfect vacation youll find it aboard Three Moons with Biggi and Richard. We have never laughed so hard, played so hard and slept so well and most of all enjoyed the company of others- all while viewing the most beautiful scenery in the Caribbean. This vacation will become a new tradition. Words cannot express our gratitude for the hospitality and the graciousness we were shown on board.

Ron Grade & Tara Perino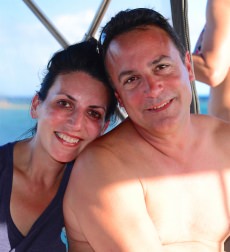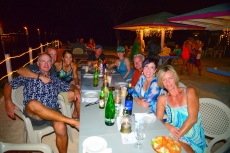 Best vacation EVER !!!
Best vacation EVER!!! Captain Richard and Biggi made this an unforgettable experience of a lifetime! Thank you for going above and beyond every single day! Biggi we are now eternally spoiled and no meal will ever measure up to your phenomenal cooking! Captain Richard thank you for keeping us safe & taking us to wonderful destinationsand your life tales are so fascinating & enjoyable! ! We hope to return & always hope to keep in touch! We will miss you all!

Best,
Diana Hassel & Dean Davis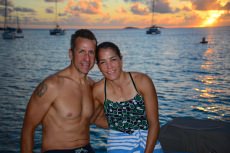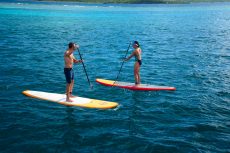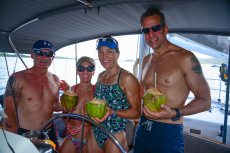 Memories we will cherish Forever

Exceeded every expectation! From start to finish we enjoyed every moment. Captain Richard was a true professional in every way and a charming story teller. Biggi- there just are no words! Chef of the Year maybe? Gold Medal? Best Ever?
A wonderful week, beautiful places and memories we will cherish forever.

Fair winds to all of you- we will miss you! Until the next time.

Mark Miller & Nicole Ehrhart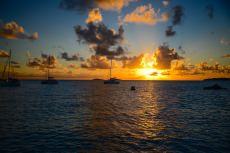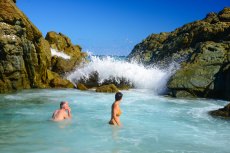 Three Moons surpasses anything
Three Moons Yacht Chartera vacation that left me wondering how on earth I could put into words how wonderful it was! I have vacationed on several cruise lines and would say that Three Moons surpasses anything a cruise has ever offered. The service was top notch in every way possible. If I had to come up with a complaint, it would be that the staff stayed so busy it made me feel bad that I was not.
Captain Richard is focused on safety of the guest, crew, vessel and sailing conditions at all times but engages the guests with his tales of the sea, islands and all his travels. Technology affords him many short cuts and conveniences yet he still relies on his instincts and previous experiences to guide the yacht. Through Captain Richards love of sailing, we all quickly developed a preference of days when the wind was high enough to set our course with all three sails and we could relax to the quiet of the sea.
Chef Biggi is a first class chef that makes ever meal on the yacht a true culinary experience. Each meal was seasoned, grilled, basted and/or presented in such a way that a food critic would be left speechless. Biggi is not limited to her culinary skills. She is a mixologist extraordinaire and is quick to make sure your cup or koozie is never empty. She too has such knowledge of sailing and island life that leaves you envying her lifestyle.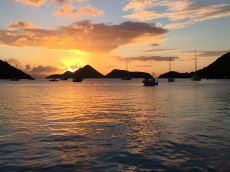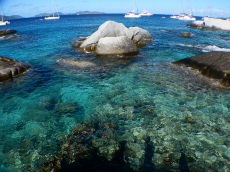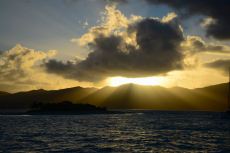 \"Once in a lifetime\" vacation
The best vacation. I've been on some really nice trips. Three Moons Yacht Charters was an experience that l will do again.
1. The location. The Virgin Islands are an amazing place to be. And to be able to experience it in our own private yacht was totally the best way to see the places we wanted to see.
2. The Yacht. Three Moons Yacht was a beautiful and comfortable place to stay as we sailed to the islands we wanted to see. Capitan Richard A. Gillette made our time at sail interesting, safe, and entertaining.
3. The food. To have our own Chef on board was the bomb! Biggi Dodson cooked such memorable, beautiful, and delicious dishes! Amazing!


I'm happy to recomend this experience and encourage you to consider this for your next "once in a lifetime" vacation. You will be tempted to make an annual tradition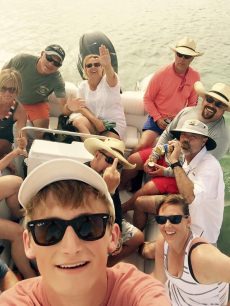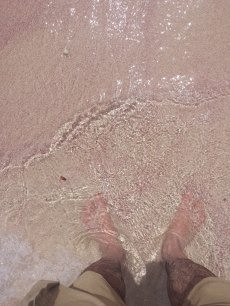 We will always remember you!
Thank you very much for a wonderful time. This trip in the BVI has given us a lot of memories; but the most important is that we received from you your kindness and our outlook towards life, sharing your accomplishments. Thanks for your smiles everyday! You will always be a part of us.
Raul Alejandra, Aileen, & Allen
We will always remember you and the fun times we spent with you!
Paulina & Carlos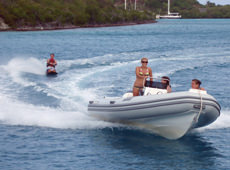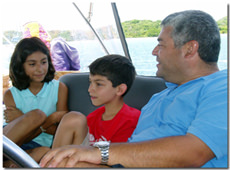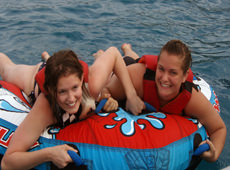 No one could have been better
For our third sailing cruise in the BVI, the Three Moons is the ultimate experience~ Best Captain, Best Chef (no one could have been better,
5-star food and presentation 7 nights in a row) and the Best Bartender! Randy, your love of music and dancing (and card playing) made this trip unique and very special. Keep showing what true Southern Hospitality really means. We hope to make #4 trip on Three Moons again in the future.
Thanks to Randy, Shelly & Meredith!
The Freemans
Raleigh , NC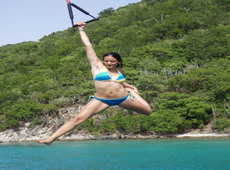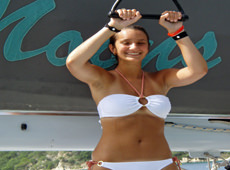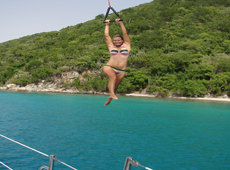 absolutely Perfect...a true sailing vacation
This week has been absolutely perfect! Captain Richard is one of the best Captains weve ever sailed with. We experienced some of the best sailing ever. If there was a possibility to put the sails up, Captain Richard sailed. We have experienced other charters where the Captain spent more time motoring than sailing. Not this charter. If you are looking for a true sailing vacation this is it. The food prepared by Biggi was incredible. Every meal was wonderful. Best food in the Caribbean. Biggi is such an asset to this boat. You can tell she loves what she does. She is the best! Perry (our first mate) was so fun to be around. He also is an excellent sailor. Our adult children bonded with Perry right away . He was always willing to chaperone them and made sure they were enjoying their vacation. I cant stress enough how special this crew is! We hope to see them again soon.
Rhonda, Bill, Tim, Ashley, Joe and Rob

Trip of a lifetime!
What a fantastic experience! Roy Pat, Gary & Biggi scheduled our week aboard Three Moons perfectly. We were on a different island every day, we had the right excursions on land at exactly the right time, we snorkeled every day. Biggi anticipated our every need - meals were all 5 star! Each meal and every snack was served at just the right time. Our cups were never empty. Rum Punch was the best I've ever had. On top of a wonderful vacation, this crew also pulled off two amazing weddings with only 4 days notice! After a week with Roy Pat, Gary & Biggi, we went from strangers to family! Can't wait to see them again!


David & Tracey Kilborn Amarillo Texas