.....to make decisions, eat someone else's food, sleep in a hot, lumpy hotel bed!
Dear Darcy and Peter,

What a wonderful time I had on Tobarths! Thank you both so much for your 24/7 attention to us and all the details; immaculate accommodation, amazing food, beautiful sights and even the music was top notch!

Whilst it's sometimes a challenge being New Girl I'm sure it's tougher for you getting adapted to the whims and personality of each new guest - thank you for figuring that out!

Hopefully all the little nab and block issues are being worked out as I write this and the ship will sail in fine form for your next charter!

All the best to you both, Tammy

Thank you once again for a fantastic trip! This our 8th trip with you both and it just gets better every year. Your friendship is the best part.

Richard

I really do think you both are wonderful and I do love you both,
Cassie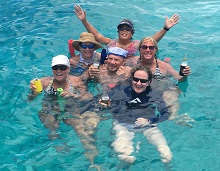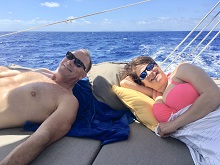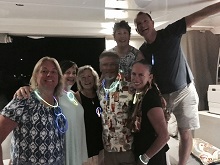 Easter week 2017
Dear Peter and Darcy,

Thank you for making this week a truly amazing experience. Darcy, your meals were a "highlight" of the vacation!! Captain peter, I loved hearing your stories on the "high seas". You both went out of your way to know each of us personally - Thanks Again! God bless you both! Hope to sail with you again - with my whole family. Love Melody, Rich, Lua, AiLi, Elena.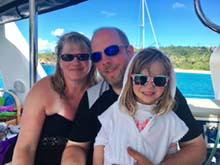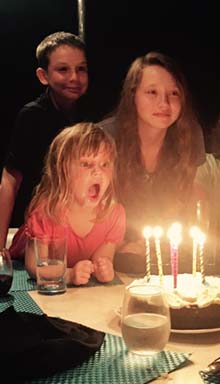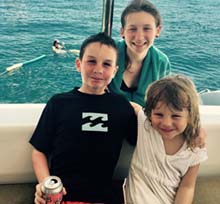 MARCH 2017
It is a beautiful morning here, the birds are chipping and the trees are budding, flowers on my ornamental peach tree, the sun is not up over the trees yet, Roger is sleeping and the house is quiet. (Plus, the 4th load of laundry is just about done!) A short night of sleep, but two nice planes and time for 10,000 steps in Miami. What am I missing ... morning quiet times on Tobarths with Darcy and Peter coming up with a sleepy face watching for rainbows, the sound on the water, sunrise, trying to get the best photo and one by one my favorite friends coming up and ready for a new day.

Peter, thank you for keeping us safe. Thanks for all the attention to details, for all the good wine you poured for us and for all the Cheerios you cooked for us.

Darcy, thank you for your sweet smile and for all your attention to the details that made our trip wonderful. You spoiled us and made us feel like family. Your food was even more amazing than last year and the presentation was a work of fine art. Thank you for the pink flamingos, squirt guns, silly games, the beautiful soaps and for all the things that you did to make our time together so very special!

To both of you THANK YOU!!! Two words that can't possibly say what I am feeling... Have a wonderful time in Mexico and enjoy your quiet time before the family arrives and may God bless that time.

Roger & Katie

New Years 2016-2017
Mr. Peter and Mrs. Darcy:

Thanks for an amazing trip! I had heard so much about you from the previous trip my friends took with you. You both lived up all of my expectations. Mrs. Darcy, your meals were delicious! You accommodated my pickiness perfectly and your smoothies were to die for. I enjoyed chatting with you and playing games. (We did pretty good together. In other words, we kicked butt). We were an awesome team. You were a huge part of what made this trip for me so great.

Mr. Peter: Most importantly, you got us to our destinations efficiently and you didnt crash once! Only kidding. Second, I enjoyed our little jokes between the two of us but your impersonations of the Big Bang Theory was hilarious! Ive not laughed so hard in a long time.

Thank you both for being so friendly and welcoming because you really made me feel at home. Lastly, thank you for your travel expertize because you picked some of the most beautiful locations to anchor Tobarths. I hope that I will see you both again soon.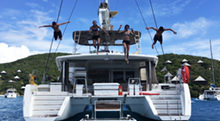 February/March 2016
We had another wonderful sail with you and Peter this year! We really like the new boat Tobarths but it is the crew that we charter, not the boat! The food was incredibly good as always, you never cease to amaze us with the variety and presentations. I told Peter that sailing with you both was like having two more of our best friends with us for a week. Peter makes us feel very safe sailing (and is a pretty darn good bar-b-quer!) and with you as chef, we can't imagine a better way to sail!! We are already looking forward to our next trip with you both. Thanks for everything you have done to make all our trips memorable.
Roger and Katie



Vacationing in the BVIs offers one of the most beautiful locations in the world. And sailing with Peter and Darcy Whitney will make your vacation perfect.

We have sailed with Peter and Darcy on four private charters, and look forward to many more. With years of experience, Peter is a trusted Captain. Darcy assists as First Mate and also delights us with gourmet cuisine at every meal. Together, they are a team extraordinaire. Their vigilance to insure safety, their attention to every little detail,
their willingness to accommodate any request, and their fun-loving personalities all combine to insure a most memorable experience.

Sailing with Peter and Darcy has certainly exceeded our expectations, which is why we have been and will be repeat guests on their charters.

Sail away, sail away, sail away ~ ~ ~ ~ ~
Jim & Diane
Chesterfield, Missouri


Not exactly sure where to begin and end as it seems this should be more about the experience and the crew and less about the boat. Being somewhat of an experienced sailor, I must begin by saying that Peter represents the ultimate in sailing knowledge and ability. We always seem perfectly safe and are never concerned about the situation at hand. We know that things will be handled smartly and safely. Between the Peter and Darcy, we know that things will be handled professionally. Darcys ability to prepare and serve five star meals is beyond compare. We have chartered 4 times with this wonderful crew and cant imagine sailing with anyone else. Well be back next year. Our feeling is that were simply sailing with friends.
Bob and Sharon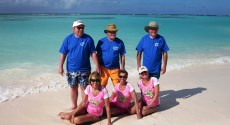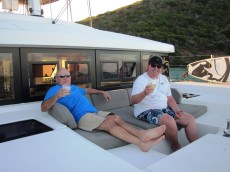 New Years 2015/16 on Tobarths
Tobarth's was a phenomenal boat with a phenomenal crew! What a wonderful family trip! Peter and Darcy, the professionals that they are, lead us on a week long adventure through the BVI's. Highlights for us included: snorkeling with the rays, the sail back from Anagada, the quiet coves of Peter Island, Foxy's New Years Eve, and of course Darcy's gourmet cooking! Peter, as our captain, gave us an exceptional sailing experience we will never forget. The team work of between Peter and Darcy is exceptional. We can't wait to go back to the BVI's!"


Barry, Barb, Matt, Carlee, Erika, Brad and Brian

Peter was great! Taught us a lot about the BVI, Sailing, etc.
Every meal was exceptional and Darcy was able to cater our family's different tastes.
Everything was perfect.
~Barry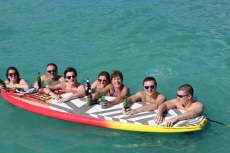 From Sea Leopard
Guest comments below from Sea Leopard with Peter and Darcy.
New Years 2014/2015
Darcy and Peter have made this one of the most memorable and specials trips we have ever had. This has been an amazing week with our family and one that we hope to do again in the future. Time flew by on the Sea Leopard. WOW! Mr. Peter and Mrs. Darcy made the whole trip and we now have so many stories and experiences to share with friends and family back home.
Amazing memories - The Stupfels
October 2013
10 October, 2013

Our Incredible Sea Leopard Experience

We have enjoyed two charted cruises aboard Sea Leopard, and can't imagine any other
charter cruise could be any better.

First of all, the vessel itself is very special. On both of our cruises we sailed with three other couples (8 guests in total, not counting our skipper and chef). The staterooms, each with en suite, were remarkably and unexpectedly more comfortable than we imagined, and topside there was also plenty room to socialize as a group or find a quiet nook to read a book or just feel the wind in your face. The layout is fantastic.

Another pleasant surprise -- especially after seeing other charter boats -- was the pristine condition of, well, everything. The boat and everything aboard was spotless and worked as it should, which is not the norm with most charter vessels.

But, while the boat itself is fantastic, the crew -- comprised of Peter and Darcy -- is
extraordinary. Peter is an excellent skipper, careful and completely capable in all aspects of sailing and boat handling, and will quickly earn the trust of guests, be they sailing novices or experienced "salts". He also has lots of local knowledge which is helpful in planning sailing itineraries and activities for charter guests.

Now to my favourite topic: The food! My wife and I think of ourselves as foodies, and we
were both blown away by the meals prepared by Chef Darcy. I still cannot understand
how one person, working in what appears to be a small galley, can create such fabulous
meals of extraordinary quality and exquisite restaurant-style presentation. You would have thought such dining elegance would require several chefs and several supporting kitchen minions. And what is truly miraculous is that Darcy consistently delivers this extraordinary level of quality, meal after meal, day after day. Many of the guests on both of our Sea Leopard charters we took said that the food alone was enough reason to charter again.

At the risk of perhaps sounding too effusive, the Sea Leopard delivered an experience that massively exceeded all expectations. Just amazing.

Jim and Debi M.
Kerikeri, New Zealand

August 2013
I have just heard that Sea Leopard will be going into private charter with another company. I would like to share with you our experience of chartering with Peter and Darcy Whitney on Sea Leopard. The most recent trip was in in April, 2013. Our first trip with the Sea Leopard was seven years ago.
My family and I have done many, many chartered trips to the Caribbean and other places over the years. We have done bare boat and crewed charters and have enjoyed each of them very much. Our favorite trips ever were with Peter and Darcy Whitney on Sea Leopard. Peter Whitney always captains the vessel with great skill and always with the guests safety as the number one priority. He is very knowledgeable in all aspects of sailing and the teamwork between Peter and Darcy is exemplary. Peter and Darcy Whitney sail like a beautiful dance on the ocean.
Our trip had many highlights that need to be recognized and the cuisine is on top of the list. Darcy Whitney, our magnificent chef with Peter as her assistant, provided the best culinary experience imaginable. Darcy Whitney, in my opinion, is comparable to the best chefs of the world. The meal selections are always well thought out, planned, and executed to match the guests diet needs and wishes. On our last cruise, we had six people all with special diets to be followed and not all were the same diet. There is only one word to describe how I feel about Darcy Whitneys talents as chefAMAZING.
Our cruises have been a minimum of ten days to two weeks. Our days are filled with snorkeling, playing, laughing, touring, and more snorkeling. Peter and Darcy Whitney make each day an enjoyable and exciting adventure. On our last cruise we had two members who had been dating for a while and we had a surprise wedding for them. Darcy was the wedding planner and of course Peter our Captain was the wedding officiate. Darcy had costumes for all of us and wedding attire for the bride and groom. My sister and her husband asked Peter and Darcy to set this up. Never could anyone have so much fun! Every night we enjoyed planned games that Darcy organized. On our last night the surprise was turned on my sister and her husband, Darcys idea that we jumped on with joy. With Darcy and Peters help we surprised them with a wedding vow renewal. Again, Peter and Darcy went way beyond with the event planning. Sea Leopard was decorated in a tropical theme with flowers everywhere, music to match the theme, food and drinks prepared specially for the occasion. The event looked like a scene in the movies. FABULOUS!
Did I mention one of the best parts of our cruising is our joy of snorkeling and water sports? Peter and Darcy Whitney have the best knowledge of the most wonderful locations to snorkel and are always ready to help us find new and interesting spots to snorkel. One other very important point I would like to share with you, is how careful Peter and Darcy are with watching out for our safety. While we are out snorkeling or frolicking in the water Peter is vigilant in keeping his eye on our safety and ready to react should he need to. We did have a novice on our last cruise and Peter made sure he had extra safety equipment ready for him at each entry.
The Sea Leopards condition from the first time we sailed with them seven years ago to this last cruise on it in April was remarkably as pristine as it was the first time. It is obvious that Peter and Darcy take great care and pride in the vessel. Preventive maintenance is very apparent, as well.
In closing, I wish to express to you that because of Peter and Darcys dedication to their profession and to their guests, our trips with them have filled our lives with wonderful memories to sustain us forever. If there was one thing I would like to change it would be that I would like to sail with them more often just saying!

Best regards,
Glenda Browning

JUNE 2013
I wanted to take a minute to express my humblest appreciation and thanks to you and the Sea Leopard Capitan, Peter and his delightful wife Darcy for the most wonderful trip(s) ever. I have been lucky enough to cruise on the Sea Leopard 3 times now thanks to my good friend Katie. When Katie asked if I wanted to go on a trip to BVI, I thought I was the luckiest person on earth, especially on a 62 catamaran. But then I experienced the trip itself. It just got better each and every time.

The first time I went, I was so impressed with our initial greeting on board, the food, the fun, the accommodations, the special touch Darcy added to everything, this made it a true adventure. She was so engaging and made everything so fun. I am still looking for those porcupine quills she used for our appetizer! Each day was a surprise what was on tap for this day? Where were we going to snorkel, what were we going to eat, what kind of cool place was Peter taking us to today. I personally collect sea shells and I was lucky to have retrieved and purchase some really cool ones that I dont usually see other places I have traveled. I did by mistake grab some tiny little ones that were alive and brought them aboard.OPS ..Darcy was so funny about how I am not supposed to do that and I never did it again  We had a special tour of one of the islands, went to a copper mine, local bars and eateriesyum yum. We all loved everything about our adventures.

The second year Darcy set us up with a theme night adventure..Ship Ahoy Mates!!!! We all got into getting dressed up and having more fun as we knew more about the islands, ports, fun places. We again went to Willies the floating pirate bar, dressed up as pirates (as well as Peter and Darcy) and took the ship hostage. So much fun! Peter always accommodated us when taking and picking us up no matter the time or place. He was always so gracious!!!! Hearing some stories and tales about his adventures was a special treat as well.

The third year was even better as my son got to go Now that was special and he seemed to fit right in Darcy took him under her wing. The professionalism and out-going personalities made the trip again, a true joy. I would and will highly recommend this opportunity to anyone who has thought about cruising the BVI sea to consider the Sea Leopard and its marvelous crew, Darcy and Peter. I could go on and on but I will save that for my book.

Best Regards and Thanks to all that made all these trips possible and such a joy!

Nancy and Errett S.

April 2013
To whom it May Concern:

In April 2013, my husband and I spent two fabulous weeks on the impeccable and beautiful Sea Leopard 62' catamaran, with the unbeatable and fantastic crew: Peter and Darcy!
This was our fourth vacation on a 62 and I just can't say enough about the Sea Leopard Crew and this catarmaran.

Being able to accommodate up to eight people has allowed us to enjoy these vacations
with lots of family and friends each time. Their feed back has always been positive, such as: 'vacation of a lifetime,' 'unbelievable experience,' 'unbeatable,' and 'absolutely incredible vacation,' which are just a few of the phrases we hear over and over.
We have been bare-boating and crew chartering on numerous types of catamarans for
over 17 years now, primarily in the British Virgin lslands, and sometimes up to five or six times a year. Bar none, Sea Leopard and her Crew is our favorite and always our FIRST choice. She sails like a dream, and compared to just about any cat out there, new or old, her layout, impeccable upkeep, and accommodations cannot be beat.

ln comparing crews, on various sizes and types of catamarans, no crew can come close
to Peter and Darcy. They are always at the top of our list. To have that combination of the most experienced, fantastic crew on one of our favorite cats is heaven to us and keeps us coming back to them ! From the most incredible fine dining, sailing, and marvelous pampering, this crew will take care of every detail, like no other team out there.

I am a business owner of five busy salons and my husband is a physician with a very
demanding practice. We have always worked hard and put in more than our fair share of long
hours in both of our professions. We cherish our time away from work and can't think of a
better way to spend it! Our time sailing, especially on Sea Leopard with her crew, is truly the
vacation of a lifetime for us each and evervtime...and for Darcy and Peter...they make our
vacations more than special, we love those guys, and we can't wait to get back!

Joe and Lorie

APRIL 2013 Mario Betali Letter
I would like to express my complete satisfaction about our recent trip aboard the Sea Leopard. I purchased this week-long voyage as a donation in a live auction in support of the Emeril Lagasse foundation and am always nervous about cashing in an auction lot. I had some worries about the kind of boat as we have never chartered a catamaran nor a sailboat. The boat was in perfect condition, the sailing and the leisure hours were brilliant and relaxing at the same time and the entire sail was as unplugged and perfect a vacation as I can imagine. Darcy and Peter Whitney were the perfect crew for us. Their suggestions regarding what to do and see and, as important, what to skip were spot on. The rhythm of life aboard was a perfect fit for my family and our guests and we were sad to depart our new family at the end of the week
An added bonus, and one I would consider marketing at a different price point, was the truly delicious food. Darcy hand made everything from scratch and curated a no repeat perfect week of magnificent comestibles. She is an asset that should demand a higher price than merely excellent cooking, it was truly remarkable and if I were on your team, I might suggest selling her special and unique culinary vision at a premium. I would be happy to represent this in a quote for use on your website if you are interested.
I rarely write fan letters as I always pay for, expect and most often receive the very best in lodging service and food and beverage, but this experience is in the top 5% of all of our travels and it merits this special letter. I got your email addresses from Darcy, but have not shown her this letter.
If there is anything I can do to help your excellent charter business please do not hesitate to let me know.

your fan

Mario Batali
March 2013
My wife Bonnie and I have had the privilege and pleasure of being guests on the Sea Leopard on 3 occasions over the last 9 years, the most recent trip being in March 2013. On each occasion Peter and Darcy have been our crew. These trips have been great! The boat is kept spotless and looks like new. Peter and Darcy create a safe and secure environment and have an outstanding knowledge of the islands and seas. And, what can we say about the food? Fantastic!! We don't know how Darcy does it but each meal is a work of art and delicious (we actually have taken several photos of the meals). And, we can count on one hand how many times we have eaten off the boat because we haven't wanted to miss any of Darcy's creations. Bonnie and I wholeheartedly recommend a trip on the Sea Leopard with Peter and Darcy.

Sincerely, Bruce L.

Team Peter & Darcy: 2012 holiday
Sea Leopard

Sailing with the Whitneys on the Sea Leopard is a world-class experience. Darcy and Peter are masters of catering to your groups individual needs while providing a fun-filled sailing experience for everyone onboard. The accommodations are lovely, the food is five star and the service is excellent. And the best part is that Peter and Darcy are great fun to be with! They know the BVIs like no other crew and they will take you to places that other boats wont go you will experience the best of the BVIs on board the Sea Leopard. This is by far the most magical vacation I have ever experienced, it is the one where I feel most relaxed, most pampered and most unplugged I look forward to returning to the Sea Leopard again and again.

Lauren Haarlow

Team Peter & Darcy: 2012 This vacation was TOO SHORT!
The time spent on Sea Leopard is simply TOO SHORT! We enjoyed our third trip in the past three years, and once again we left wanting more. We have already booked an 8 day trip for 2013. Peter and Darcy are an excellent team and make the boating experience memorable in many ways.
Peter is a highly competent captain and easily manages the boat in all ways. Darcys culinary expertise makes every meal a pleasure. Together they make a week on Sea Leopard a relaxing and fun vacation worth coming back to year after year.
Thanks again for another great time. We are counting the days until we return in 2013.
Cheers,
Richard Neustedter
Miami Beach, FL

Team Peter & Darcy: Gavin charter 2012
Spending a week on the Sea Leopard with Darcy and Peter Whitney is by far our most favorite vacation. Our first trip was in 2006 with three other couples. It was a reunion of four roommates who attended Princeton University, and we sailed around the BVIs for a fun-filled week. The boat itself is beautiful and has every amenity, but moreover it is was the expertise of the Captain and chef that truly made the vacation extraordinary. Peter is a superb captain - we felt we were in the best of hands navigating the islands, and he always knew the best places to explore and moor that were off the beaten path. How invaluable to have our own personal guide to the islands?! And we cannot say enough about Darcy Whitney, our amazing chef and hostess. Darcy spoiled us for a week with truly gourmet food and drink at every seating. Her attention to detail and also her ability to cater to some specific dietary restrictions was remarkable. Many in our group are 'foodies', and we look forward to a week with Darcy knowing we will be amazed by her innovative and delicious cuisine. Moreover, she really understands her guests, and can recommend excursions, activities, hikes and shopping along the way. It's like traveling with your own concierge. Spending a week on the Sea Leopard will set the bar for your future vacations - it did for us.
Can we recommend a vacation on the Sea Leopard with Darcy and Peter Whitney? Unequivocally YES! The truest testimony is the fact that we have sailed with them on this magnificent catamaran three times over the years - in 2006, 2008 and in 2012. Each trip has been better than the last. We truly feel there is no better way to see the islands, and no better way to truly unplug and relax. You will be spoiled by the attention to detail and the gourmet food, all while discovering the best of the BVIs.
Dr. and Mrs. Gavin Muir


Team Peter & Darcy: The perfect vacation 2012
It's hard to put in to words how amazing our vacation was with Peter and Darcy on the Sea Leopard! We had so much fun the first time that when we returned home we booked another trip specifically with Peter and Darcy on the Sea Leopard. We couldn't of asked for a better captain and crew! On our first trip, Peter and Darcy, shared their favorite locations with us as well as letting us choose some places that we had heard of and wanted to visit. On our second trip, they put together an itinerary that included our favorite places and some new locations. Peter and Darcy encouraged us to experience all of the things that we had imagined and more. Whatever we wished to do or places we wished to go, they made it happen. It seemed so effortless!

On the first trip they had us playing games one night before dinner, a rope game for the men and Twister for the women. On the second trip they planned a special theme night catered just for our group. Everyone had so much fun! Special attention was made to tailor our trips to our group and needs. If we wanted, Peter and Darcy were there for us without any effort, from handing us a towel as we stepped back on the boat after an exhilarating snorkel or preparing a special cocktail at our request.

Darcy is an exceptional host and chef. The meals were always over the top, five star dining every night. We looked forward to her amazing creations and presentations at every meal. As a matter of fact, we requested on both trips that Darcy provide us with a recipe book! Darcy had even prepared snacks for our group for in between meals (look for the box of chocolate bars in the fridge).

Peter is an awesome host and captain. He always catered to our requests, open ocean sailing, transport to the bars and shops, water skiing, wake boarding, knee boarding and kayaking.

Peter and Darcy maintained the boat as if it was their own home. Theyve kept it immaculate and well maintained. The boat was big enough so we could have our private time or close enough for everyone to enjoy each other's company. By the middle of the first trip, we felt as if the Sea Leopard was our own boat.

We hope for the opportunity to do this trip again, but we would never consider doing it with any other crew but Peter and Darcy on the Sea Leopard

Dean, Karen, Bob and Tammy

Repeat clients love of Sea Leopard experience
Although this letter may be long overdue, it is none-the-less an accurate recounting of our many memorable trips on Sea Leopard. Over the many years you have owned this beautiful yacht we have had the honor and privilege of sailing her many times including trips with both of you as well as voyages with guests of our own. In all those travels, the one thing has not changed is the quality of the total experience. We have always enjoyed each trip like it was our first and anxiously looked forward to our next return.

As you know, Karan and I have sailed the Caribbean for many years and up until our first trip on Sea Leopard the majority of those sails were as bare boaters. One trip on Sea Leopard changed that forever. We had no idea what we were missing and how comfortable and luxurious sailing could be. We realized that we really could live like the pictures in travel brochures and come home from a Sea Leopard vacation spoiled and totally relaxed.

As you already know, part of a successful sailing vacation comes from the boat and part from the crew. You absolutely have the best of both on Sea Leopard. The yacht itself is a work of art both inside and out and still look as good as it did on its maiden voyage. Your crew of Peter and Darcy Whitney are the perfect complement to a perfect boat as they take care of us like royalty each and every time. Peter is one of the most knowledgeable and safety conscious skippers I have ever encountered and Darcy's gourmet meals easily equal some of the finest five star restaurants in the world. How she can do this from the small galley is itself a testament to her and Peter's desire to provide each guest with long lasting memories of their time on Sea Leopard.

Karan and I feel extremely fortunate to have had the opportunity to share your luxurious yacht as both guests and as charters. No sailing or boating trips we have done since can compare with our time on Sea Leopard. As always, we dream of our next trip and hope to return for years to come.
Another worldly experience.
Here is my letter about out trip on Sea Leopard

I would like to convey the feeling one has in such an abundant environment with a combination of the beautiful area, the magic of being so close to the fish, the comfort of the boat, the good food and good company. The whole thing makes a complete package that is greater than any one of its parts.

A few years ago we spent 10 days on the Sea Leopard touring around the Caribbean. It was an other worldly experience! For one, the Caribbean is a natural aquarium, easily available to anyone who wants to don a pair of fins. And we did that, several times a day.

Life aboard the Sea Leopard is luxurious. Each en suite room has a large and comfortable bed and bath. The kitchen can (and does!) turn out wonderful meals. It sleeps eight which makes a comfortable crowd - not too big and not too small. There are plenty of options to sit outside, exercise and even dance (as we did one starlit night). I never felt confined or bored.

The boat is big enough and powerful enough to travel all over the area. Moreover, with a good captain, it can reach places a boat with a larger draw could not. Life was always varied and interesting.

I would happily recommend the Sea Leopard to anyone who wants such a sublime experience as the one we had.

All the best

Jennifer C

Perfect boat for charter
Are you looking for the perfect boat to charter in the Caribbean area? Well, look no further than the SEA LEOPARD. This boat is perfect for small groups or a large group of eight persons. I have sailed upon the Sea Leopard four times and it is my favorite of all boats in the Caribbean.

This boat is laid out so well as there is space for everyone to socialize and congregate as well as places for quiet and private time. The Sea Leopard has beautifully appointed cabins, each of about the same size and their own private head. There are multiple social areas on the boat, forward and aft. This boat is perfect for all sizes of groups.

Peter and Darcy add an exceptionally special note to the cruise. Darcy is a gourmet chef and it is truly amazing what she can create in the galley. Each passenger looks forward to each and every meal that Darcy prepares, as it is sure to please. Peter runs a clean and well-maintained boat. He is an excellent sailor and his mastery at sailing and handling the boat, makes you completely at ease upon your travels.

I highly recommend chartering the Sea Leopard. She has always provided me with a fantastic adventure and she definitely brings me back wanting more.