Sample 7-night itinerary for the Bahamas
7 Days from Nassau, Bahamas Cruising The Exuma Cays. Itineraries are also available to begin and/or end within the Exumas at Norman's Cay or Staniel Cay.
Day 1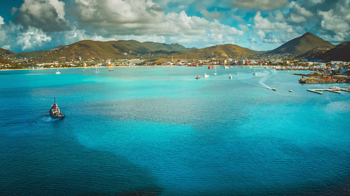 After flying into Nassau International Airport catch a taxi to the marina specified in your booking and board the yacht. We suggest the charter promptly for a 30 nautical mile sail across the Yellow Banks into the stunning Exuma waters and islands. Take a turn at the helm, try trimming the sails, or sit back and relax. Arrive at Allen's Cay by sunset and tuck into a calm and secluded anchorage. Visit the beach where wild Bahamian Iguanas scurry out to greet us. Swim and snorkel as dinner is prepared for you to enjoy under the stars.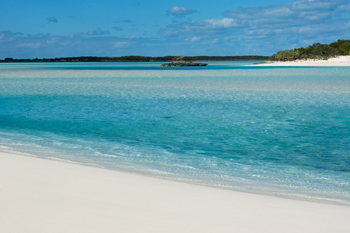 Day 2
Awake to a leisurely breakfast al fresco, and get ready to sail down island to Norman's Cay on the Exuma Sound, fishing along the way. Stop and snorkel or Scuba dive on sites such as 'The Octopus' Garden' or 'Hammerhead Gulch'. Anchor in the deserted northern end of Norman's Cay, where spectacular beaches, lagoons, flats and snorkeling await you. Sailing down Norman's a bit more, we anchor in a charming harbor with a sunken drug plane that makes a colorful and exciting snorkel. Visit "Twinkie Beach" for solitude and fantastic shelling, or dinghy to the Norman's Cay Beach Club Bar and Restaurant for a fun evening ashore with other cruisers.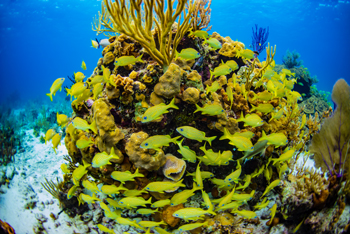 Day 3
Enjoy another invigorating sail South toward the Exuma Land and Sea Park. The Park's Headquarters, Warderick Wells, is a former pirate's hideaway, and the anchorage circles a giant sandbar at low tide. This island never ceases to thrill, with its miles of trails, beautiful snorkeling reefs, secluded beaches, and interesting wildlife including birds that eat sugar right out of your hand!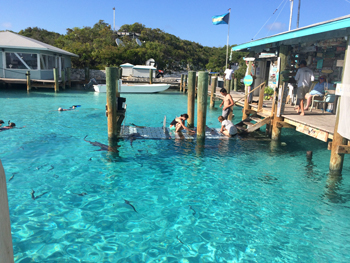 Day 4
Continue South to visit the ancient Lucayan burial grounds of Rocky Dundas, where several caves and grottos create beautiful snorkeling. Nearby Compass Cay is next for our exploration, with a natural whirlpool, 'Rachel's Bubble Bath' that changes dramatically with the tides. Anchor for the night in nearby Fowl Cay, which has a beautiful coral reef for you to enjoy, as well as a perfect, crescent shaped beach.
Day 5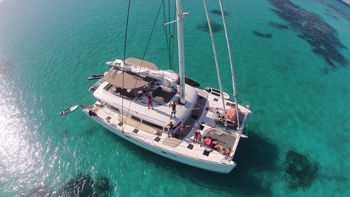 Begin our journey back North, stopping to visit the Sea Aquarium, a fantastic snorkel spot, along the way. Sailing through the protected, deserted cays in the Park offers incredible views you will never forget! Anchor off Hawksbill Cay and experience the sugar-sand beaches and a special trail across the island with ruins of a Loyalist plantation from the 1700's. The destination at the end of the trail is a spectacular beach where the only footprints will be your own. Enjoy kayaking, swimming, or just relaxing in this paradise.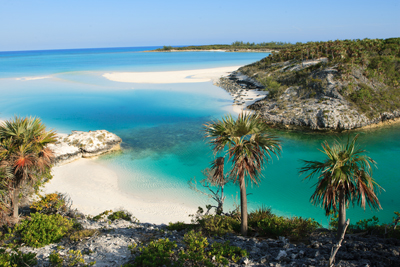 Day 6
Sail on to nearby Shroud Cay where you can explore the intricate mangrove rivers by dinghy or kayak. Winding through this incredible ecosystem, you will be rewarded by gorgeous beaches and lagoons when you reach the other side. Enjoy a picnic lunch and play in the gentle surf and unique currents which create a natural water park! Sleep soundly in this calm and protected anchorage after enjoying a wonderful sunset and dinner under the stars.
Day 7
Enjoy a full day sailing back across the Yellow Banks. We can spend the final night anchored out (weather dependent) or we can return to the dock in the canals of Coral Harbour, across the street from a long, quiet beach. Stroll back into the local nightlife or enjoy your evening onboard the yacht.
Itinerary disclaimer: Some places on this itinerary can be inaccessible due to closure, time constraints with your charter or weather.
How do I see crewed yachts that are available for my dates in the Bahamas?
You can run an availability search on our website to see a list of yachts that are currently available for your dates that accommodate your group size and budget.
Enter the Bahamas in the Destination drop down, add your Guest numbers, target Budget and Start Date you are looking for and hit Search to see available yachts that meet your specifications:
How can I get pricing, suggestions and make a reservation?
If you would like us to make some recommendations for your group or help you make a reservation please complete this form and one of our knowledgeable charter brokers will be in touch with more information and a selection of yachts for you to consider: