June 2018
We absolutely loved our stay on Dolphin Splash. From the second we stepped on board, we felt relaxed and welcome. The food was fabulous and we really enjoyed all of the incredible knowledge of sea life we learned from Andrew. Such an incredible family vacation and we can't wait to sail with Andrew and AJ again!

Love, The Shaws

June 2018

Dear Andy & AJ

A huge thank you from the Douglas Family for our wonderful journey this past week on the Dolphin Splash. Each leg of our journey showed us something new and many times magical. Other than the little mishap on the moped, which I am sure we will laugh about for years, every minute was pure fun and full of wonder and amazement for the beauty of the BVIs and the food and the drink (Including the "Dolphin Splash-Tail") were delicious. How Aj does all her magic in such a small kitchen, who knows?

You both were very flexible & kind throughout. Best of all, we feel we've made some new friends. We truly enjoyed getting to know you both and spending time with you. We hope you will stay in touch and share your journeys with us once in awhile.

Wishing all the best to both of you, now and always
Ali, Scott, Chris, Andrew

May 2018
Andrew – What a competent, Charming and thoughtful Captain! You must be the best in the BVI. So glad you were our Captain. (Tom – Great ride, FISH ON!)
AJ – What a Chef! First Class meals served with elegance and grace. Thank you Thank you! You two are an amazing Couple. Thanks again.
Barbara & Tom


Thanks from all of us for the adventure of a lifetime. We've never been so pampered.
AJ – Your meals, your smile, your personality added so much to our beautiful vacation, your constant attentiveness was amazing.
Andy - Your competence, calmness and concern as well as your smile and constant awareness of what we needed was truly treasured.
Cynthia & Jim

What can we say? Other than we had a great time and much of that is attributable to you both. And weather, cocktails, food, chat time etc. Best of luck from your great friends.
Susie & Don

Frank's Charter
Dear Broker
The crew on Dolphin Splash are wonderful, you were right I do like Andrew and Amanda very much the food was wonderful. Our grown up children liked them as well. I am so sorry we had to cancel the trip 5 days into our 10 day charter because of hurricane Harvey. When we get home we will set up a charter for 2018-2019 well out of hurricane season. The rest of our trip was at our hotel but that was not as exciting as one board. Thank you for making us take out trip insurance. J.K.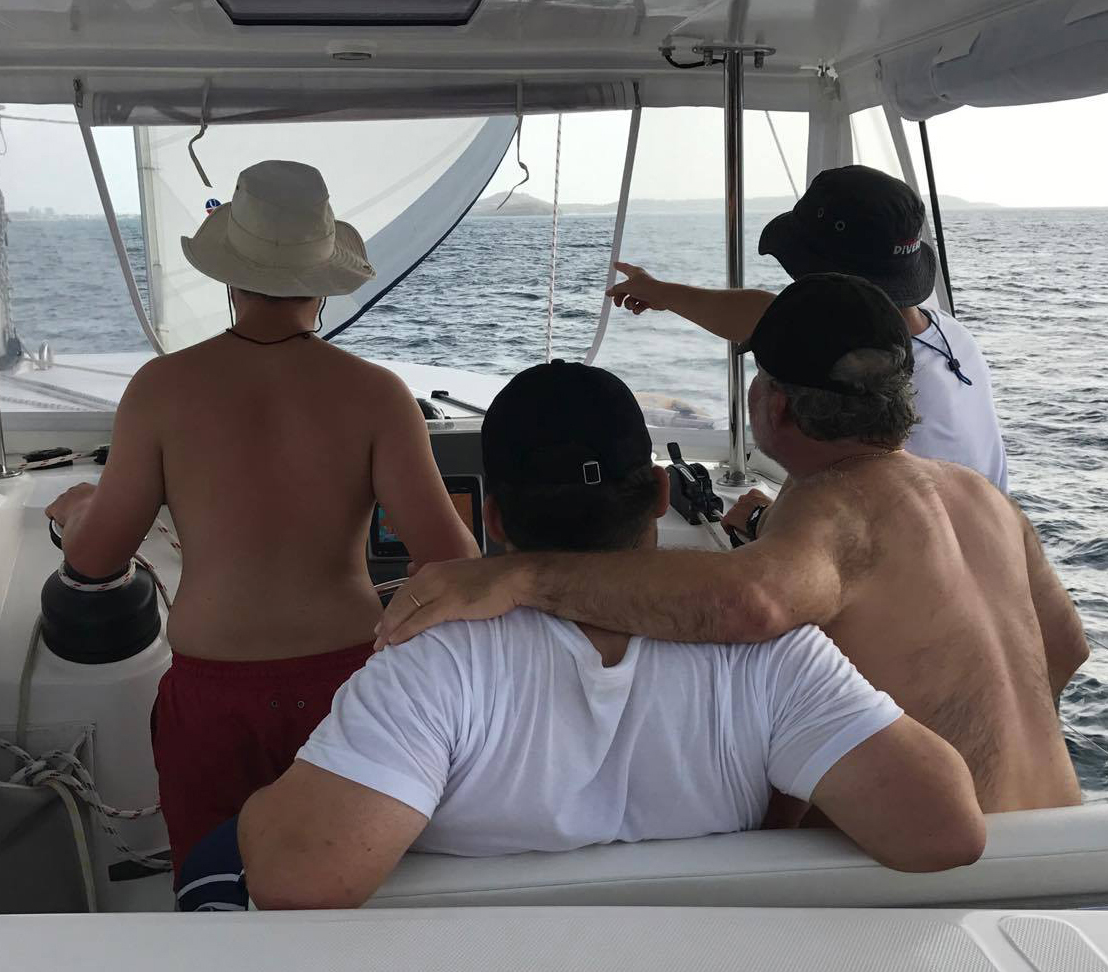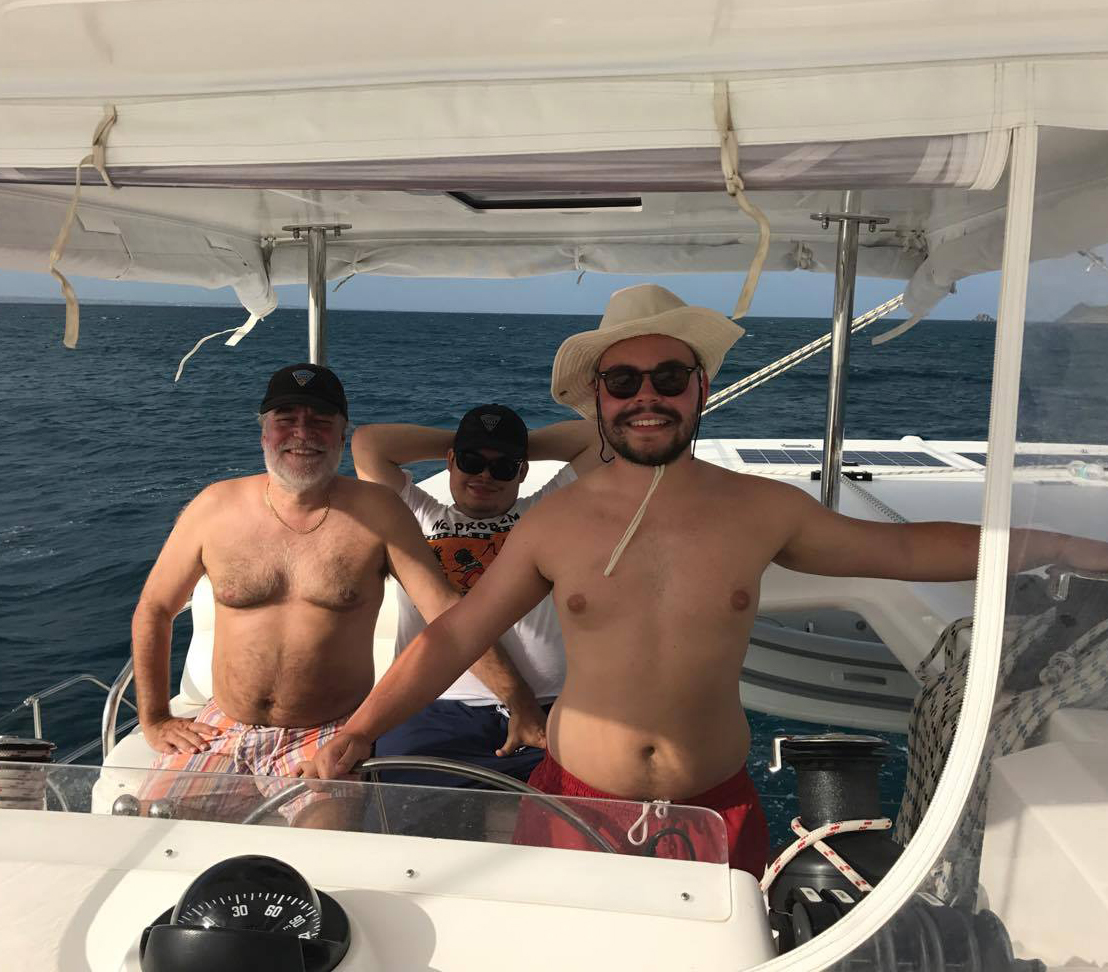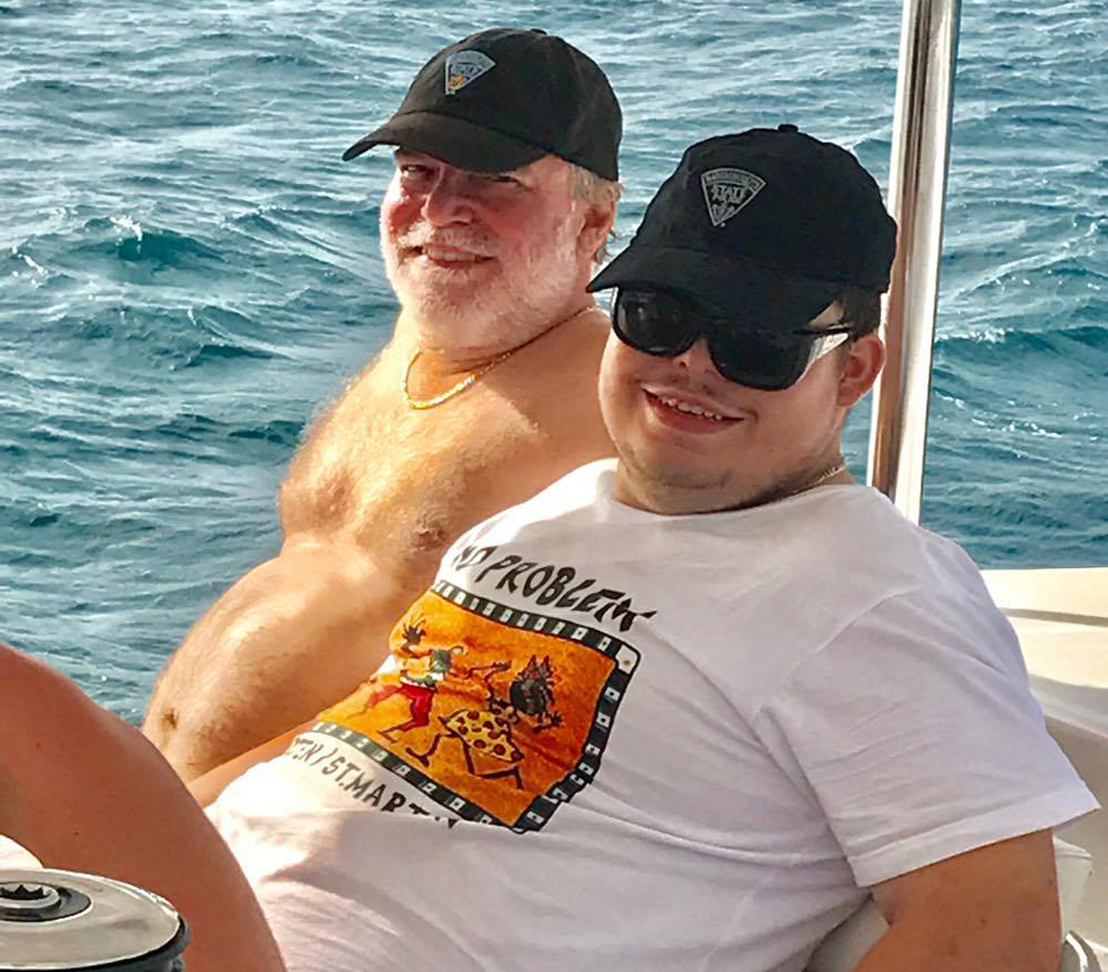 Beyond Perfect
Dear Broker,

Beyond perfect is all Wendy and myself can say, I do want to let you know that the crew are/were beyond perfect for us. Wonderfully congenial from the very moment we met them, we knew this vacation was going to be amazing. Fantastic service, we were never without anything and all meals were set around our schedule. All of us enjoyed their company from the moment we met them both. They attended to our every need. The food was absolutely fabulous.
They make a great crew complement together. Dolphin Splash is exceptionally comfortable, with plenty of space for 6 guests to socialize. Being brand new means she is beautiful, we were all most impressed. Dolphin Splash was kept spotlessly clean when we were on board and the crew seemed to be constantly cleaning & wiping surfaces to keep her in top condition.

This was the vacation of a lifetime and we would love to do this again. It will now be very difficult to have a normal vacation at a beach! Nothing will compare.

Wally and Wendy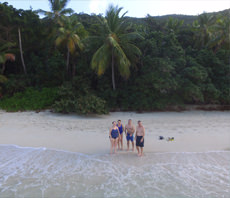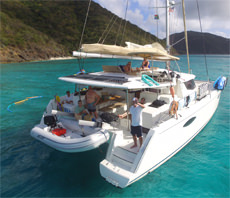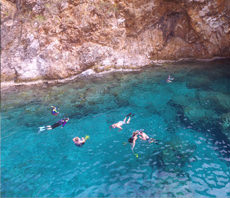 Holidays Charter
Dear Broker
I wanted to write and tell you what a great job the crew did on the DOLPHIN SPLASH. WOW, You made a great recommendation. Both were very professional and interacted with us and our kids well. I was a little concerned about the 44 ft. but the way it was constructed made it feel a lot bigger, we especially liked the sky deck.

Thanks for the great trip, I don't think it could have been any better!.
Hope to work with you again.
Happy New Year,

Pam and Bob
INDIANNA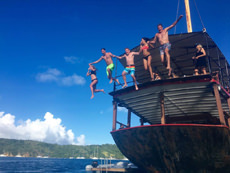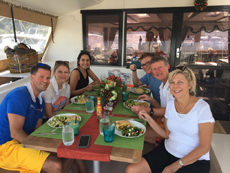 Best Vacation Ever
We enjoyed a terrific family vacation on Dolphin Splash! Actually, one of the "best" vacations we ever had.

Captain Alan and Amy were wonderful hosts! They showed us all the best of the British Virgin Islands. And along the way served us 5 Star meals, were focused on our enjoyment and worked very hard to make it one of our best family vacations.

We have been fortunate to experience wonderful locations and lodging in many great locations across the globe. However, I must admit this was simply one of the "best" vacations we have ever had. I attribute this to the quality of the crew and the boat.
They make a special team and as a result of their hard work they turned a very good holiday into a great one.

Well done!

William and Mary D.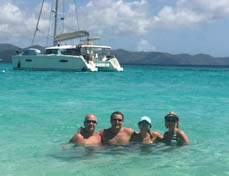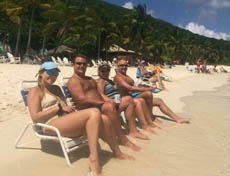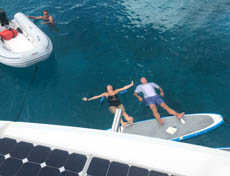 June 2016
Dear Broker:

Dolphin Splash is a beautifully designed boat. Air conditioning worked wonderfully. Dining area was fantastic. Front lounging area and top deck (sky lounge) were fantastic for taking in the views. The condition of the boat is flawless. The crew worked tirelessly in making sure it was immaculate.

I could write two pages on the Captain and crew. They are two of the nicest people Ive met in my life. In a matter of a couple of days, they felt like part of the our family. They were continually going above and beyond to suggest and provide anything and everything you would imagine. They were always smiling, , very witty, and had all kinds of ideas to make our trip a memorable one. Our kids adore both of them and did not want to leave Alan and Amy. I have to admit that I was surprised at their young age, when we arrived. It took no time at all to realize that they are both very capable of handling anything on that vessel. Their knowledge and skill were a joy to watch.

The meals were all fantastic. I have no idea how Amy was able to create all of those dishes in that kitchen. All of us ate things we never would have tried at home and absolutely loved them. Amy must have spent an inordinate amount of time planning all of the meals. She varied them tremendously, Alans grilling was stupendous, and the food was so good that we overate at very meal. It was as good as any fine restaurant in the world. She is no amateur.

Without a doubt, yes, we would charter this yacht again.


Darrin & Sandra K.
June 2016