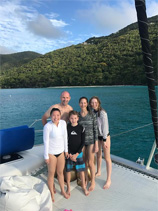 Matt & Casey could not have been better! They were amazingly welcoming from the moment we walked on the boat. We have 3 teenage kids and they knew how to relate to them perfectly. They gave us the perfect amount of history of the islands, let the kids participate in the sailing, made us very comfortable, provided amazing food, good music and gave us the perfect balance of private time and together time. Matt had us all jumping off the boat by the end of the trip! Would definitely book with them again!
The Island R&R was beautiful. It is maintained very nicely. All of the amenities were great - we had bean bags to really enjoy the cruising from place to place, great coffee in the morning, air conditioning for sleeping, everyone had their own bathroom, we all had our own cup, towel and snorkel gear. For fun in the water, we had the big blue mat to lay on and play on, Matt pulled us behind the dingy on a kneeboard, we had paddle boards - everything we needed.
The food was perfect. Casey can do some amazing things that should not be possible on a boat. She made things that I would find too difficult in my full sized kitchen. Her meals were well presented, delicious, creative, flavorful and more than enough food. She customized the food as needed (my semi-vegetarian daughter got a separate main dish for a couple of meals), the food choices fit perfectly with our family, we had snacks that we could grab during the day and drinks at any time we wanted. They really listened to our preferences and had everything we asked for or should have asked for.
Matt really listened to what we wanted out of our itinerary. We got a good balance of relaxing boat time, time in the water, snorkeling, beaches, 30 minutes hikes, luxurious stops and historical stops. We visited The Baths, the north sound, the RMS Rhone, the Indians, Foxy's, Willie T's and so many more.
John with Sailing Directions answered all of our questions quickly and thoroughly. Booking the trip was easy.
Best vacation ever!
Sara H, aboard Catamaran Island R&R March 2017 sailing the Virgin Islands
Every Day Was Totally Different!
We planned this vacation for our 20th anniversary. It is a trip my husband and I always wanted to do. We booked the island R&R for our active family of 5. First of all, there was plenty of room for my husband and I and our 3 kids. From the minute we got on the boat we knew we were going to love Matt and Dana! Matt planned our itinerary every day after asking what we were in the mood for. He is so active our crazy kids could barely keep up with him! I could not pick one favorite place or activity, since every day was totally different! It was the perfect blend of snorkeling, exploring, relaxing and learning. I can't imagine that there could be a more knowledgeable captain! Everyone knows and loves him! We loved getting to know Dana as well. Her meals were amazing and perfect and we enjoyed hanging out with her and getting to know her. We felt like we had 2 new family members at the end of the week!! We can't wait to do it again!!
It Just Doesn't Get any More Personalized and Customized Than That!
In early March of 2018 we boarded the Island R&R motor sailing catamaran. The boat is a comfortable 46 footer with 4 cabins in the hulls. The cabins are nicely appointed with a choice of putting on the air conditioning, or enjoying the air of the Virgin Islands. We were three couples joining the hospitable, kind and courteous crew of Matt and Casey. What an experience of a life time! Although you may have an idea of "what do do, where to go, what to see", Matt and Casey quickly put you into an exploring mindset. Much of your trip will depend on sea conditions, mooring ball availabilities or the mood that you are in for the adventure that you wish to undertake. We experienced local beach bars and boutiques and solitary bays and beaches where we were the lone vessel overnight. We snorkelled, swam, paddle boarded, lounged, hiked, ate on board (breakfast lunch and dinner), visited beach bars, toured islands, partied at the full moon party in Trellis Bay and explored the Conch mountains on Anegada Island. Each morning you awaken to Matt and Casey reviewing "what's possible" for your sailing journey. It just doesn't get any more personalized and customized than that! We even had the wonderful opportunity to explore Necker Island (Richard Branson's private island) with exclusive tour guide Gumption. Matt and Casey are simply the best. Flexible, helpful, safe, courteous and wow...prepare for some awesome culinary delights. 5 star, top notch. Thanks for the wonderful experience and hospitality provided. We'd gladly respond to any inquiries inquiring minds might have.
We are HOOKED on the Boat Life!
I just got back from a week on the Island R&R with Matt and Dana (filling in for Casey) and I am already ready to go BACK for MORE. I am not sure how this vacation could be topped. From the moment Matt met us at the dock until we left him at the dock he was on top of everything and make sure we didn't need for anything.
We let him plan our itinerary and he didn't disappoint - from Christmas Cove for some pizza from the Pizza Pie boat, to an afternoon in White Bay sipping Pain Killers from Soggy Dollar, a hike through the Baths on Virgin Gorda, the Bubbly Pool on Jost Van Dyke, Snorkeling at the Caves and Indians, an afternoon at the exclusive Oil Nut Bay, pirate songs in Leverick Bay, shopping eating and drinking in St John, and an afternoon on our own private secluded beach. The trip was a perfect combination of relaxation and activities and it was catered just for US. Matt knows the islands so well and I was always intrigued to listen to him share information.
Dana cooked some amazing meals in that tiny kitchen... every breakfast, lunch and dinner was fantastic. They were Delicious and with beautiful presentation. She has an infectious laugh and smile and such a sweet personality. The crew on this boat MADE the trip!!!

This kind of trip is a once in a lifetime experience (although I plan to repeat) that you MUST do. I don't know how a trip to a Caribbean island at an all inclusive resort will ever fit the bill for us again. We are HOOKED on the Boat Life!
Thanks Matt and Dana - you are forever in our hearts - thanks for the time of our life!- Monica
The Crew Knew the BVI Like the Back of Their Hand
Matt and Casey are the perfect crew!! 6 of us enjoyed an amazing vacation and felt completely safe with them and their judgement at every turn. We ate every meal on the boat and loved the chef inspired cuisine. I truly cannot thank them enough for being so helpful and skillful!! They knew the BVI's like the back of their hand and guided us as we snorkeled, hiked, swam, paddle boarded and kayaked when we weren't sunning on the fore deck. One of the women on the trip was originally a bit apprehensive about a sailing vacation, but by the third day she said 'I will never do a cruise ship vacation again when I have such a great option with Matt and Casey. There is no comparison to a sailing charter and a cruise ship because the sailboat takes our experience to another level. Thank you very much for making our vacation a memorable one!
Jerry
The Boat Has Everything, The Food Was Unbelievable, Matt and Casey Are the BEST!
We just got back from 6-person/6-day trip aboard the Island R&R with Matt & Casey. None of us had sailed on a 46' catamaran and everyone had a fantastic time. The islands are great on their own but having a local captain and chef added so much to our trip and allowed us to see & learn more than you get from travel books.

Matt and Casey are so experienced, they can help with anything related to the trip (such as less experienced snorkelers). I have provisioned and captained a few times in the past, but this was much more safe, fun, and relaxing. The boat has everything, the food was unbelievable, and Matt and Casey are the best. They took care of everything and we are planning next year's trip already! ~J. Wilmes
The Crews\' Knowledge of the Islands is Very Impressive. An Amazing Family Trip!
Our family of four spent an amazing week in the USVI and BVI with Captain Matt and first mate Casey aboard the Island R&R. The beauty of this trip is that you can be as lazy or active as you want - and Matt, Casey and the boat can accommodate any and all desires. We were fairly active so we snorkeled, hiked, sailed a Hobie Cat, knee boarded, paddle boarded, and kayaked.

The boat is fully equipped with all the water toys you could imagine - including a dinghy with a 40hp motor that can take you knee-boarding or wake-boarding. Packing for the trip is so easy as the boat is perfectly provisioned based on your favorites and things such as snorkel equipment, towels, sunblock, and linens are provided

We all know the islands are beautiful and a treat to sail, but a trip such as this can only be as good as the company you keep. Matt and Casey are so pleasant to be around and acted as our guides on some snorkels and hikes but were also willing to pull back and allow family time.

The meals were absolutely incredible - using many native fruits and vegetables and locally caught fish (Matt was able to get a newly caught Tuna on the day we arrived so we had fresh sashimi for the first couple days of the trip). The crew's knowledge of the islands is very impressive so you can get a great history lesson if you are interested. And if you want to learn about sailing or tying knots, that can be done as well. Captain Matt also captures many photos throughout the trip and was good enough to send all the photos electronically a few days after the trip ended.

Overall, you can't go wrong on the Island R&R. It was truly relaxing because everything is taken care of and you know that the family is in safe hands. Go sailing with Matt and Casey - you won't regret it! ~The Thompson family


I Cannot Say Enough About This Trip!
This was the best family vacation - I cannot say enough about this trip! Captain Matt and Casey gave us the most wonderful experience! It was the perfect balance of activity (snorkel, hikes, water sports, jumping from Willy T's) and relaxation (sailing, sunsets, fabulous cocktails and food). Our meals were top restaurant quality - healthy, delicious and beautifully plated.

My children 11 and 14 enjoyed every bit of it of this trip too. There are so many other highlights but the biggest take away was that my husband and I were able to relax and not have a care in the world because Matt and Casey took care of everything. ~ JLT

You Made Every Day The BEST DAY EVER!
From the flexibility to the recommendations for snorkeling to the tasty cuisine to the hospitality to the breadth of knowledge about the beautiful islands to the phenomenal playlist, we could go on and on! Thank you for the most amazing time! You guys made every day of this trip the Best Day Ever! We areIsland R&Red
!
Mitch, Judy, Bob, Natalie, Keith and Todd -AKA the Aquaholics!

I Couldn\'t Have Picked a Better Team
Thank you for making my first out of country vacation an amazing adventure. Every single place we went was beautiful and an experience I could not find anywhere else. Both of you made sure me and my family were as comfortable as possible, and we all appreciate it extremely. Thank you for making my last Christmas as a high school senior the best trip Ive ever been on. ~Chloe

I couldnt have picked a better team. Wow! You guys Rock! No experience can replace an Amazing Chef (Casey) or Captain (Matt). You guys made my last family trip with my girls the best it could possible be. Gary
We Loved Everything About the Trip
Thanks so much for opening your boat home to us. We loved everything about the trip especially the inflatable unicorn and its babies!

We were looking for a way to get away and you guys provided must that. We all had lead very busy lives, and we loved being able to disconnect for a little bit. We loved hiking Salt Island, the Indians and the Baths!

Thanks for everything,. We hope we can do this again in the future!

Shannon, Thomas, Sara, Jake, Kurt and Kate