Feb 2018
Charter start date: Feb 2-8, 2018
Upon arrival the boat was clean: Yes
The boat was tastefully presented and decorated: Yes
The boat was ready to board at the agreed time: Yes
Comments-Overall condition:
Was the boat kept clean during the charter? Yes
Was all advertised equipment on board? Yes
Comments about equipment on boat:
Any toys particularly enjoyed: Paddle boards
Comments-was the boat comfortable: Yes
The captain was outgoing: Yes
The captain was professional: Yes
The captain was friendly: Yes
Comments-captain: Darren was awesome
Did you feel free to choose each day's activities? Yes
Please describe the meals: Julia prepared fantastic meals.
Were specifically requested drinks on board? Yes
Did the meals reflect your requested preferences? Yes
The cook was outgoing: Yes
The cook was professional: Yes
The cook was friendly: Yes
May we use you as a reference for this yacht? Yes

WOW - AWESOME!
WOW Awesome This was the trip we waited years for and it not only met but exceeded all of our expectations. Captain Darrin and Chef Desire` performed as experienced and seasoned (pun intended) veterans of the sea. The Mimzy comfortably accommodated the three couples with each having our own attractively appointed cabins with queen beds and private head and shower. Our days were fun filled with all of the activities we requested plus those Darrin knew would add to the adventure. Darrin has a remarkably extensive knowledge of sailing; the region and its history and folklore. On one occasion the moorings where we intended to go were unavailable and with barely a pause Darrin found another cove nearby that was equally as exciting. Desire` prepared delicious meals all individually plated; served with a beautiful presentation and frequently included homemade desserts. She was most attentive to all of our needs and preferences. Darrin and Desire` set the tone with their warm and engaging manner. We appreciate their vigilance for our safety; maintaining the Mimzy ; and making our home on the sea clean; comfortable and welcoming. Most of all Desire` and Darrin's warmth and attention to all things us and the running of the Mimzy made this a wonderful experience. We thank them for showing us their part of the world and enabling us to make incredible memories.
Sharon and Len
The Noodle Gang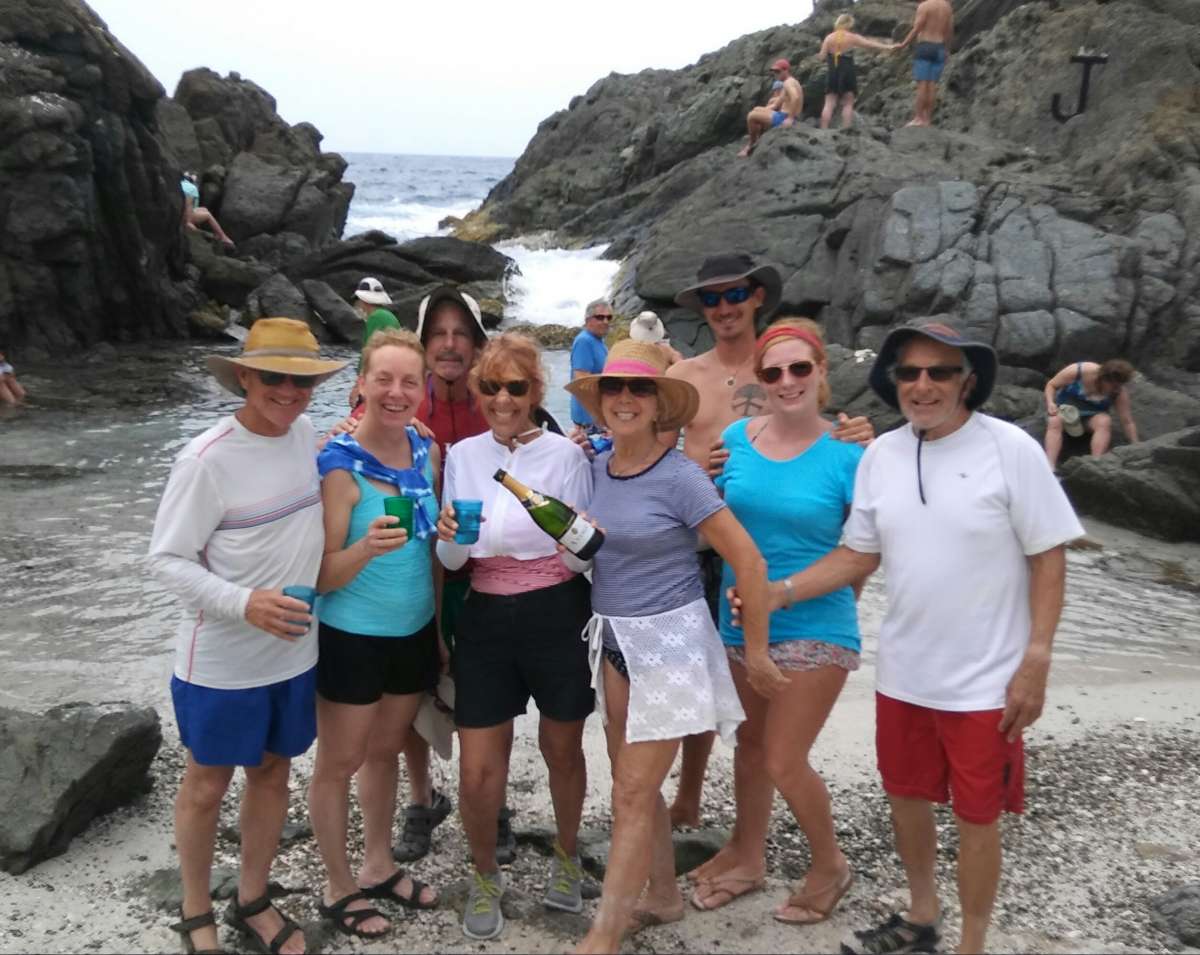 APRIL 2017
I am writing to let you know how fantastic my vacation was. I spent last week on Mimzy with Darrin and Desire. I have been to the Caribbean a few times, but have never had such an amazing time. Darrin is a terrific tour guide. He happily shared his knowledge and entertained our group with his stories. He was completely accommodating to our activity demands and made sure each of us had fun, stayed safe and had the best experience. Desire is an awesome chef and lovely hostess. We had major dietary restrictions (one vegetarian, one dairy free pescatarian and two enthusiastic foodies) and she made it look easy to accommodate and please each of us. They added to our fun, they made us comfortable 100% of the time. The boat was beautiful, spacious and comfortable. The itinerary and activities were interesting and exciting. We got to see and do enough and had plenty of time for relaxing and enjoying the beauty of the Caribbean. The crew made our trip unforgettable. I could not recommend them enough.
Thank you!


Truly a vacation of a lifetime
Yacht: MIMZY with Darrin Jackson and Desire Gudmundson
Charter Dates: 4/29/2017 04:00pm to 05/06/2017 12:00pm
Area Cruised: Virgin Islands
Overall Rating: 5
5 being the highest 0 being the lowest

We hope your charter lived up to your expectations. We would love to know some of your impressions about your yachting vacation. Please answer the following questions and add any comments you may have.
1. Was the crew friendly and accommodating? Yes. Darrin and Desire were fantastic.
2. Was the yacht comfortable and clean? Yes. Beautiful vessel and comfortable.
3. Was the yacht well ventilated? Yes. Loved sleeping with the hatches open.
4. Was the food good and well presented? The food was amazing. If there is a better chef in the Virgin Islands than Desire I would be amazed. I sincerely hope I get to have some of her cooking again in my life. Every member of our charter would say the same.
5. Did you like the area you sailed? The British Virgin Islands sell themselves. We loved it. And St. John is a treasure for the US. Cannot wait to go back.
6. May we post this review on our website? Yes
8. Additional comments on your charter?
This was truly a vacation of a lifetime and yet one we hope to replicate again. We would love to do so aboard Mimzy and particularly with Darrin & Desire as our crew. Every moment of this vacation was a treasure and we cannot thank them enough for making that happen. One of the reasons that we picked Mimzy was the description of the food the crew provided, including using locally sourced and organic produce. On our charter of four we had one vegetarian and others that had other likes & dislikes & allergies. Desire put together a truly wonderful dining experience and handled these challenges effortlessly. We loved every morsel and enjoyed talking with her about the preparations (and amazing presentations) of the food. If you are a foodie book with Mimzy & Desire today. I should also give a strong recommendation to Darrin as well. He is a fantastic captain and worked tirelessly to make sure our charter went off without a hitch. He defers to Desire in all things cooking but he knows the islands and he will make sure you are always doing exactly what you want to do. It is a great crew.

January 2017
Thank you so much for an making trip !!
Desire, you make the absolute BEST means that rival any 4-star chef!! You have a natural talent for cooking and creating great meals!
Darrin, your knowledge of the islands and the ocean added so much to our experience! I hope that everyone who travels with you has a chance to snorkel with you!
From sleeping under the stars to hiking to the top of Norman island, this is an experience we will never forget and will be back to see both of you again!
Thanks !

January 2017
"Thank you so much for such an amazing trip. You are a great team and we appreciate all your hard work and the wonderful food. This was our first charter and a voyage we will never forget! We wish you both smooth sailing in 2017. If you are ever in D.C or want to come to Delaware let us know!
All the best
Diane and John
P.s. can you adopt us ? :) "

" thank you so much for am amazing week! We had so much fun exploring around the islands, and I loved relaxing on board as well ( I will miss that hammock!) Thanks again !
-Colette"

"Thanks for taking us around the Virgin Islands for a week! It was an incredible experience that I will never forget. Since this was the first time I've been on a charter, I thought the limited space would be an issue. However, I loved how you always kept us active with activity a after activity. Also the food was amazing!! Thanks again!
-Austin

"Thank you so much for all the work you have put into making this week unforgettable. These memories will last a lifetime!
-luke "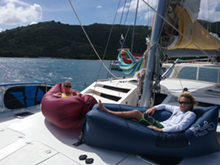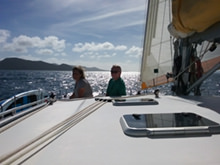 December 31, 2016
What a wonderful way to start out 2017! We had a fantastic week aboard the Mimzy. It was the first time ever for the 6 of us living on a boat.
Besides the natural beauty of the BVI'S, Darrin and Desire made the trip! Thanks to both of you! You are a great team and very capable in your means of expertise. We all felt safe, comfortable, and well cared for. Wishing you success aboard the Mimzy! Bonus voyage
The Gells

Darrin and Desire-
Thank you for such and incredible trip - you two know what you're doing and make a great Team (pretty cute couple too :) ) thank you for taking such great care of us and Desire, I really appreciate your adjusting the meals given my situation. Please do keep in touch and if you ever find yourself in NYC you've got a place to call home.
Olivia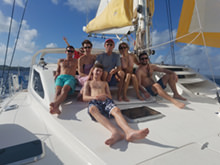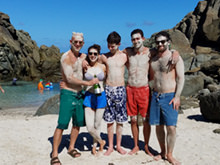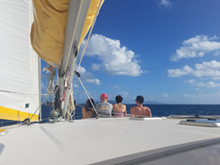 December 17-23, 2016
We had a great week on Mimzy, this was the first charter for most of us and the experience was great. Captain Darrin was very knowledgeable of the area and Desire cooked some wonderful meals for us.
We visited many of the BVI'S and the US Virgin Islands. The area is beautiful.

The crew captain Darrin and Desire were very accommodating. Drinks and snacks were always available. and again the food was great!! We never left the table hungry.

Robert and Sherry H.

Had a great week on the Mimzy! For a first time sailor, I learned to trust the captain- erythromycin capable and knowledgeable of all the waters and things to do.
Desire is a wonderful chef and willing to meet your dietary needs- just let her know.
They are two of the sweetest people out there.
Thanks for your care and consideration!
Pat

November 2016
Just wanted you and Kim to know how much I enjoyed the charter on Mimzy. Having never been on a charter and never to the Virgin Islands, this trip was fantastic. The boat was so much more than I could have expected. I had heard the both of you talking about the charter's you have been on in the Virgin Islands, but this was something that I was not expecting. From the moment that we met both Darrin and Desire, I felt comfortable and knew it was going to be an enjoyable week. With Darrin's knowledge of the islands and sailing, and the food that Desire prepared (every meal was "Unbelievable"),
I was ready to stay longer. I have to say that Darrin and Desire as the crew of the S/V Mimzy, and the sailboat itself, make the charter experience one that I am expecting to happen again soon.

Robert H.