1-8 May, 2018 ~ A Memorable Experience!
The cruise was wonderful. The weather was very variable. A lot of squalls with rain, choppy waters and two nights of lightning, thunder, winds and rain. Most of the days had combi­nation of sun and clouds which worked out fine.

Captain and chef were very courteous, knowledgeable and attentive to any request. The captain, Adam Dreffin was extremely knowledgeable about the area. He was able to plan the days according to the weather, currents and times of tourist boats coming to the different sites. Because of this we were able to avoid crowds and enjoy each spot. We hit all the tourist places and more. Because of the planning we were also able to make the most of the sunshine when available.

Our chef, Jen, was enthusiastically health conscious. There was plenty of food and it was flavorful and filling and varied. Adam was very relaxed, friendly and knowledgeable.

The yacht was comfortable, and clean. The itinerary was more than we expected. Adam was able to fit two or three destinations into one day (without seeming rushed). We were able to fit snorkeling into most days. Adam kindly agreed to let Michelle and Mike scuba off the boat and got four tanks for them. They were able to scuba three times while the rest of us snorkeled.

The "L" Family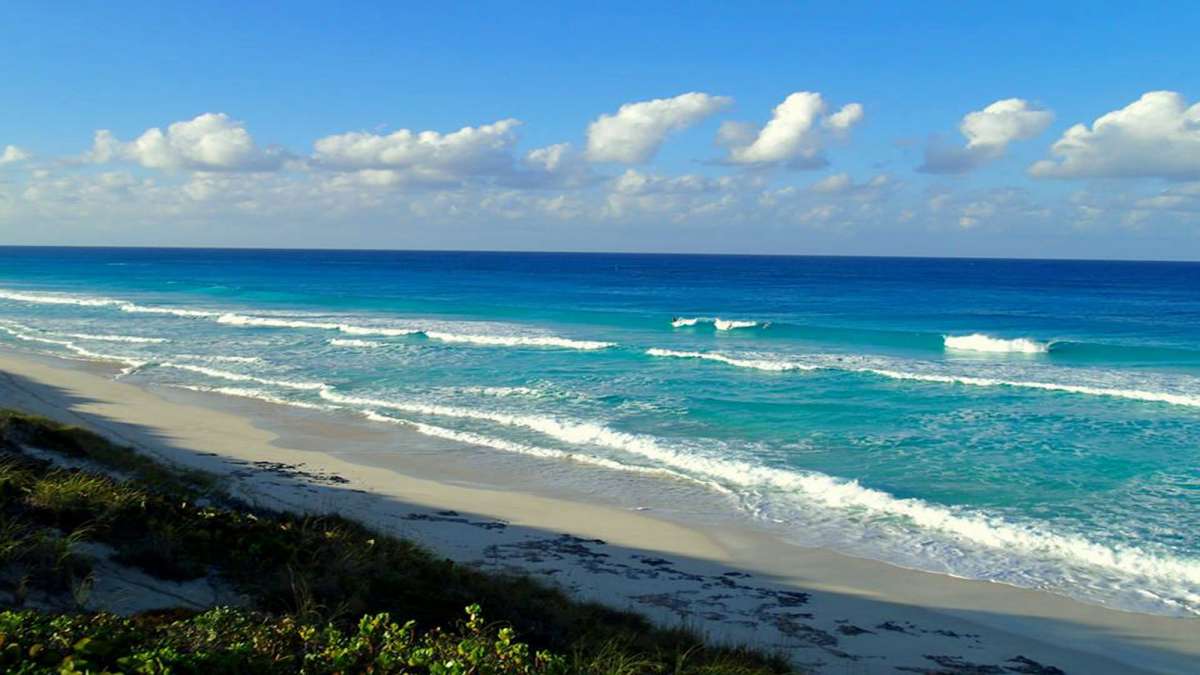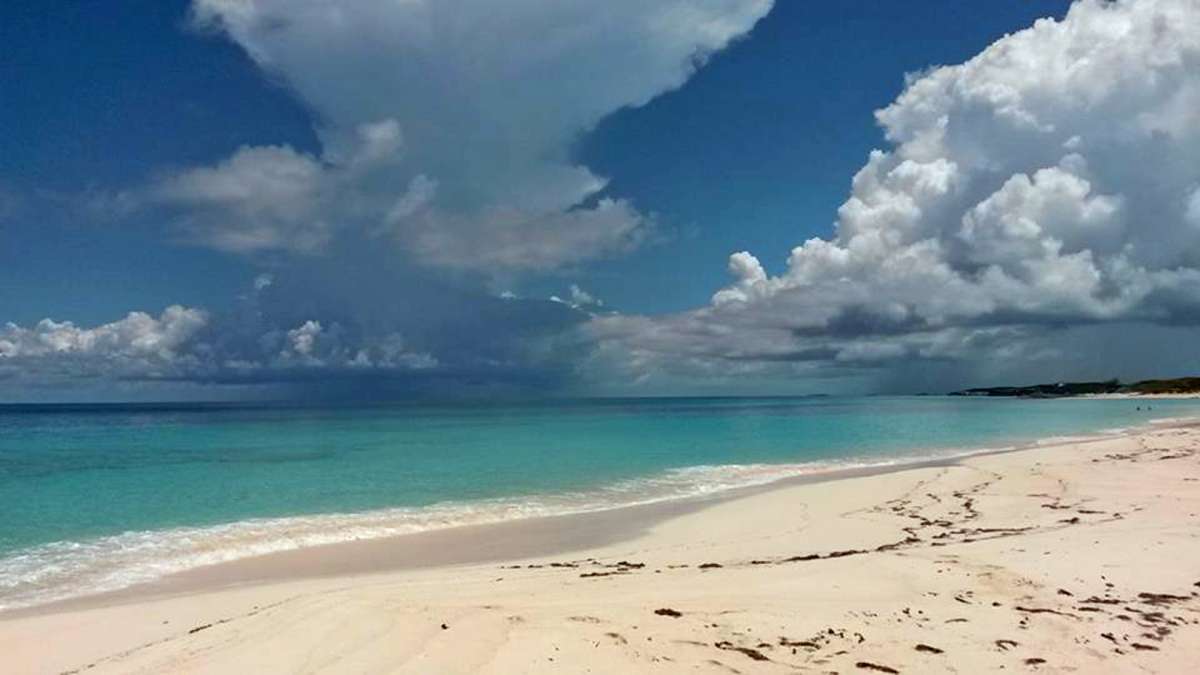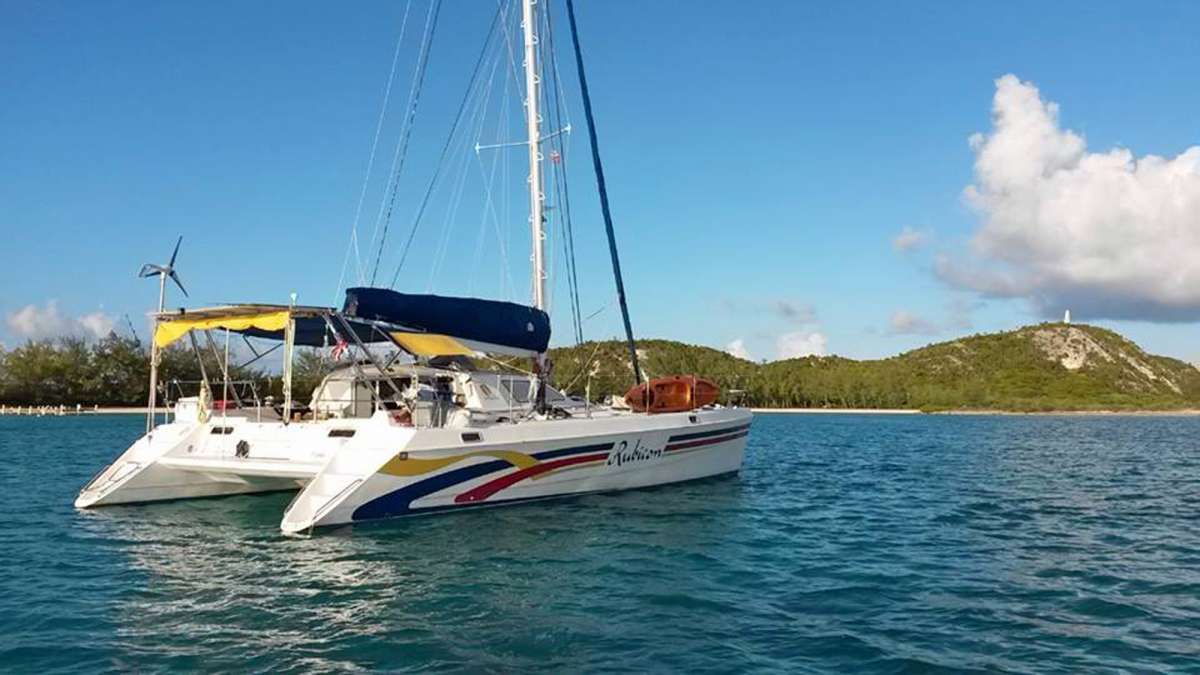 19 - 23 March, 2018 ~ Nice Time!
My clients had a very nice time aboard Rubicon :)
JL Broker

November 21, 2017 ~ Hooked on Sail Chartering!
Adam was terrific. Very accommodating and friendly. Quite knowledgeable about
the area and secluded spots to go. Jen was awesome. Gifted at creating unique food combinations using common ingredients. Crew was 5 Star!

Yacht: Older boat, but very comfortable and functional.
Itinerary: A great combination of remote, secluded spots and a couple of stops in 'civilization'.
Sports & Leisure: Kayak and paddle boards were excellent. Snorkel and spearfish gear fine as well.
Loved being able to troll for fish off the stern while under sail (caught four fish, one was delicious!).
Food & Drinks: Adam makes a great gombay smash. Jen's appetizers were fantastic.

We are now officially hooked on sail chartering!

D.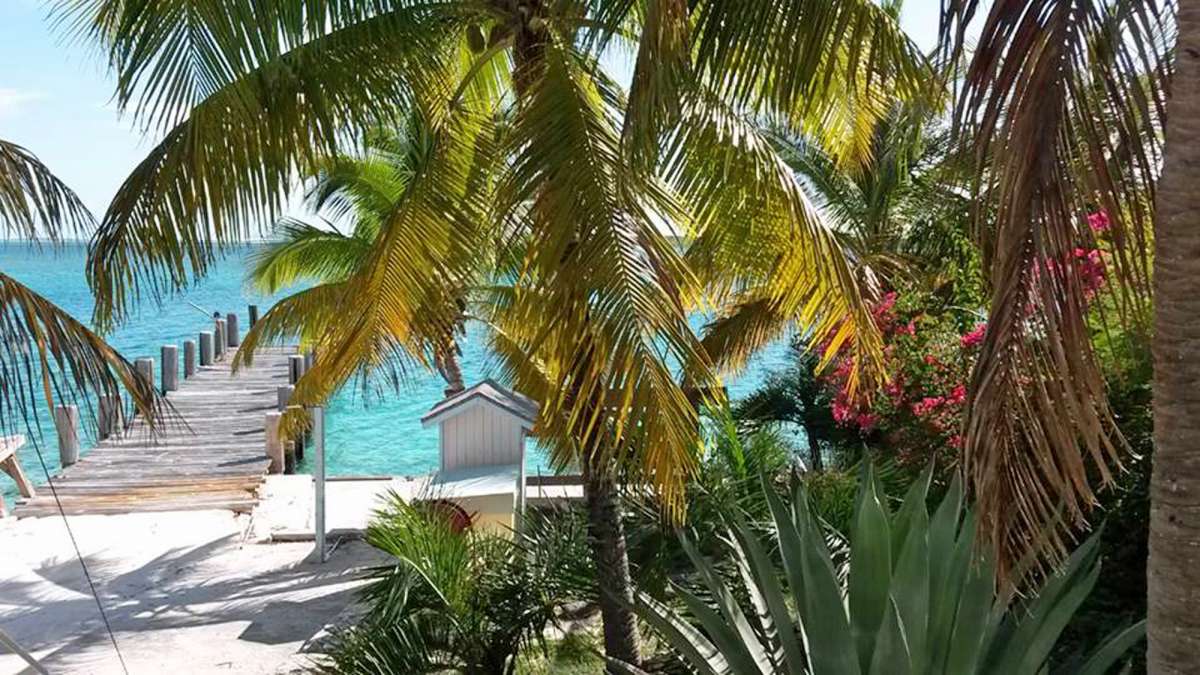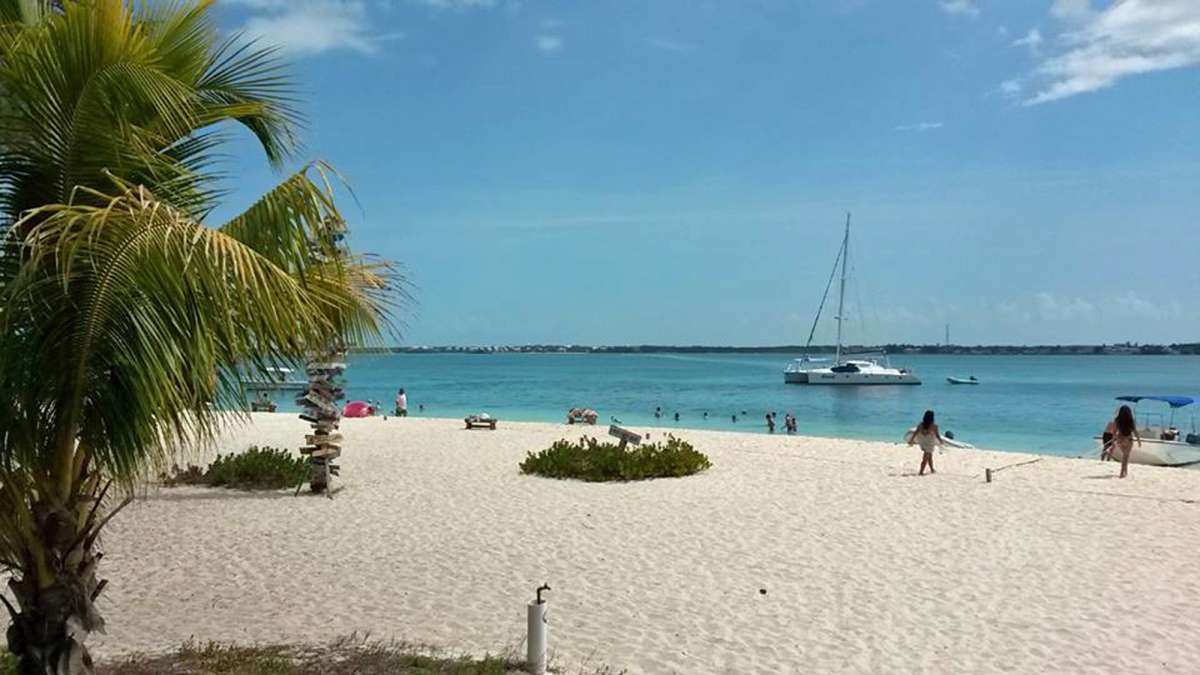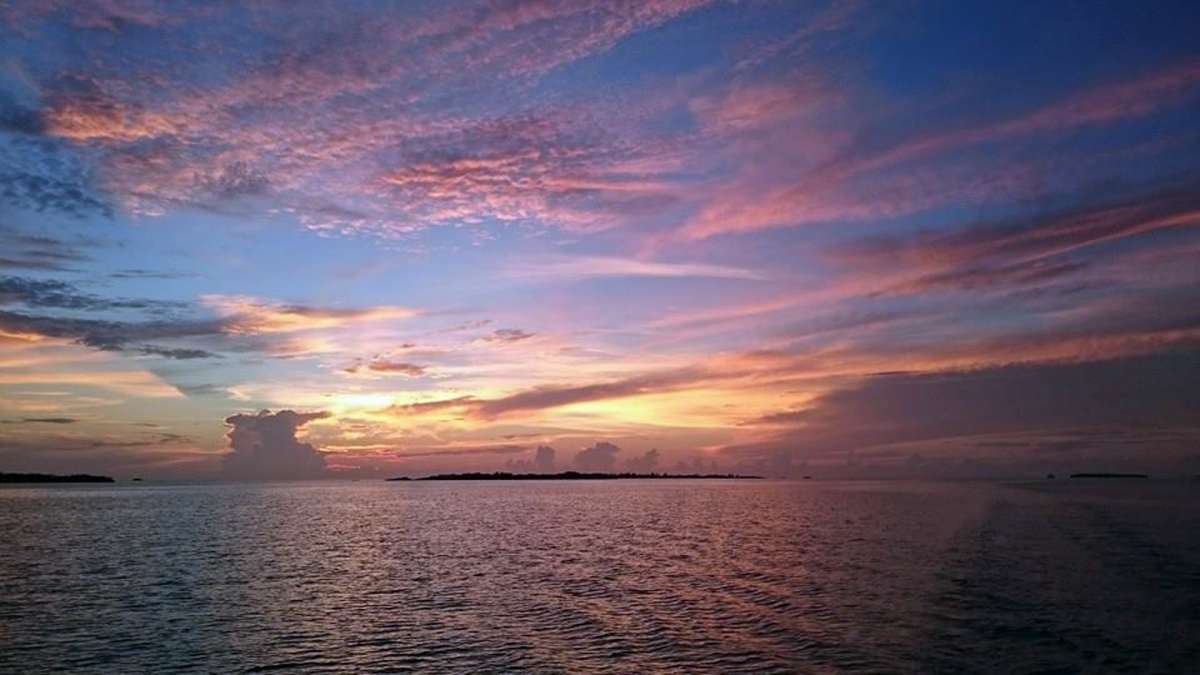 14-20 October 2017 - Great Trip!!
Great trip.
Adam and Jen are such nice people. Scenery unmatched!
Thanks for arranging.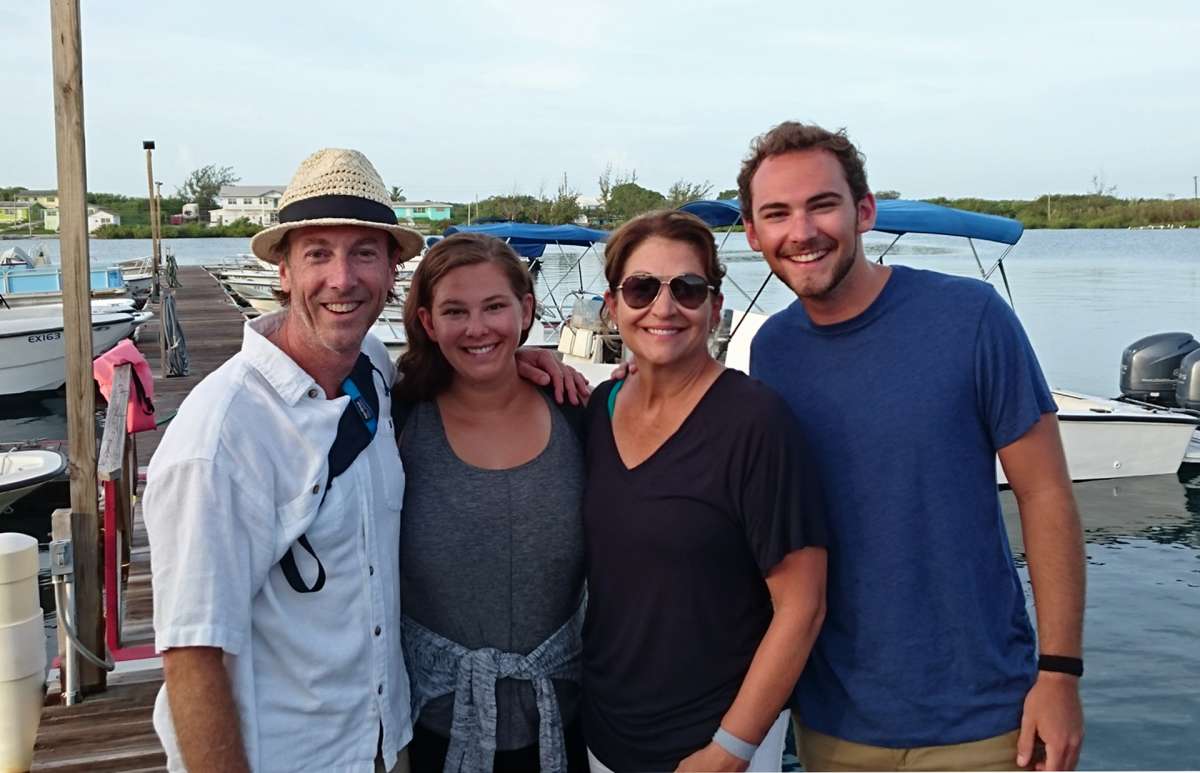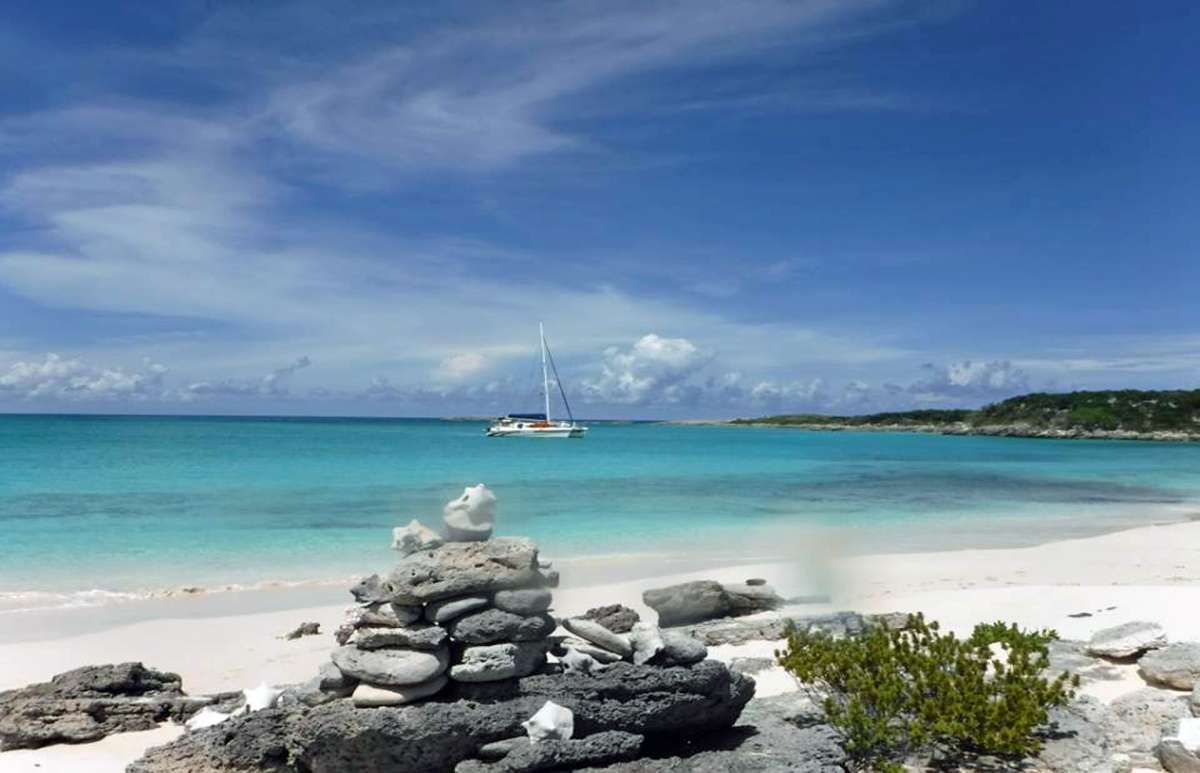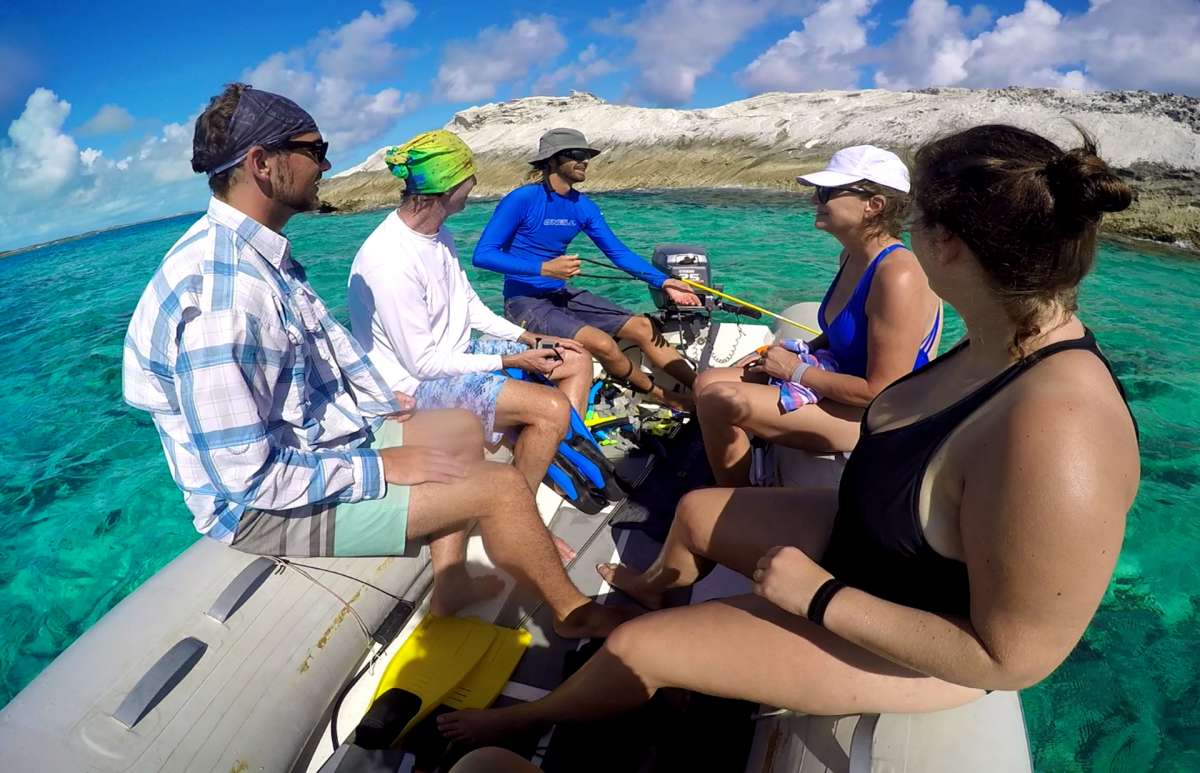 5-12 August, 2017 ~ Fantastic!!
How was your overall experience? Fantastic. Would love to go back.

Did the crew live up to your expectations? I really had no expectations but Adam and Jen were unbelievably welcoming and accommodating. We all made new friends

How would you describe the food and drinks? Fish is good but not at every meal.

Were you involved in planning the itinerary? We just went with the flow, it was great.

What did you like most about your charter? Blue water everywhere and the crew.

Would you recommend this yacht and crew to your friends? Absolutely

Can you give me any hints as to how I can provide my clients with an even better experience? Good sun lotion is a must and a long sleeve shirt is a good idea too. Don't bring half the clothes you think you need.

Is there anything in particular you wish you had known in advance? August is off season in the Bahamas so restaurants are not well stocked. Georgetown is a rather impoverished area (Friendly people but not much to do)

Is there anything else I should know? Adam was raised on the water and grew up in the Exumas, his knowledge of the area is outstanding.

Would you recommend chartering a yacht or boat to others, now that you have done it yourself? Yes

Brian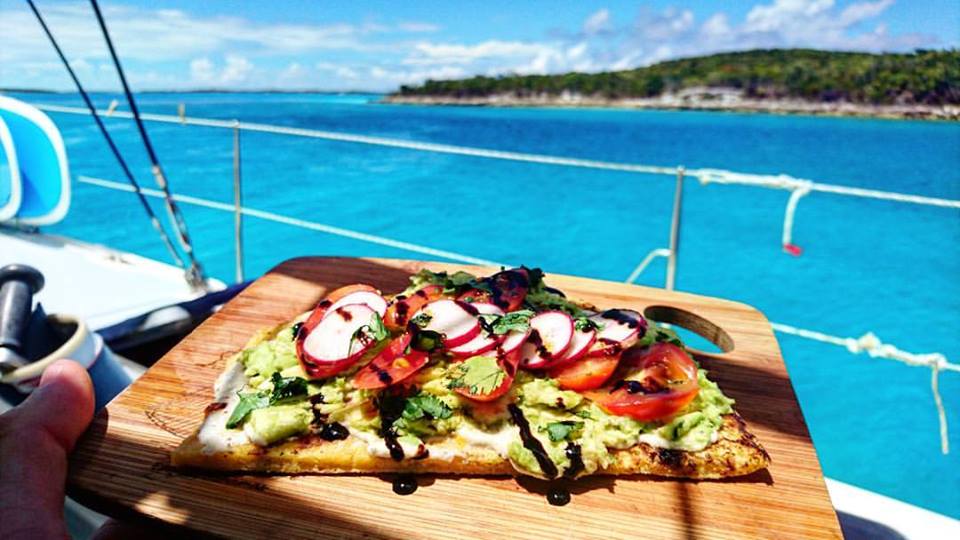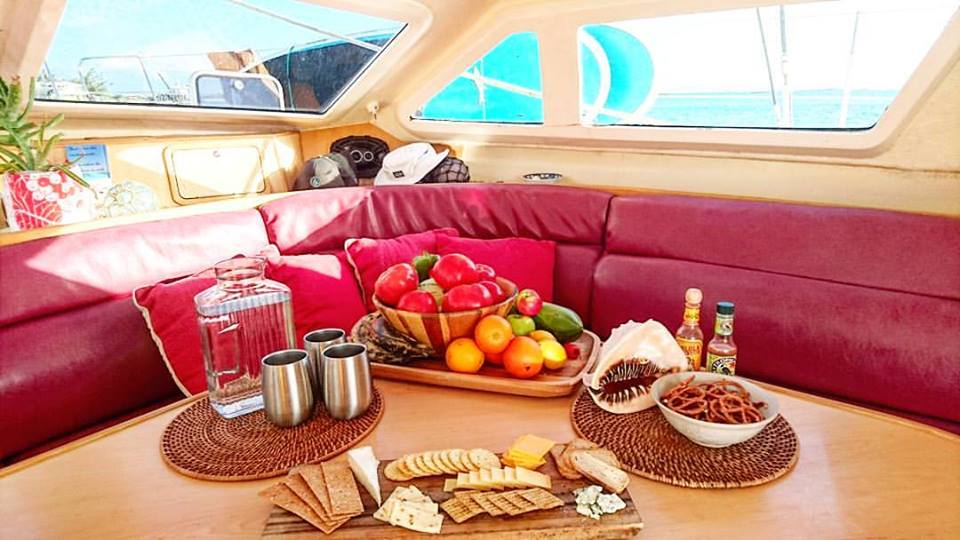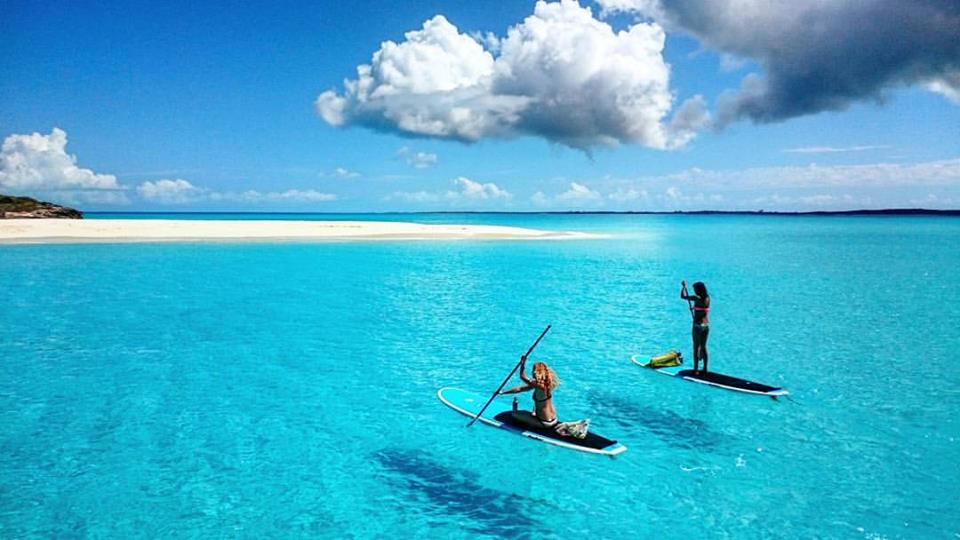 5-11 August, 2017 – Life Changing!
My dearest Adam,

To say this trip was AMAZING would be an understatement! It was life changing! Every part of my being has been touched and my life is altered forever. Thank you is not enough. I am forever grateful that we made this trip. You hold a place in my heart forever!

God Bless you always, with love,
Nancy Z
P.S. Thank you for Jennifer.

Dear Adam,
Words can't express our gratitude for all you did to make this an unforgettable 50th birthday for me. It is on that will be fondly remembered for the rest of my life.

We enjoyed talking, laughing, and learning with and from you. Your knowledge is appreciated as well as your kind demeanor. We are so fortunate to have been able to meet such a wonderful and kind soul.

Sincerely your friends,
Dale & Ed
Bristol, CT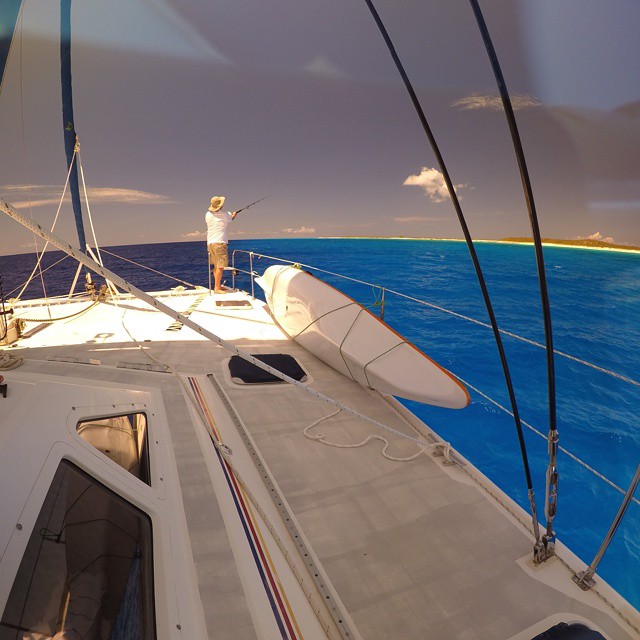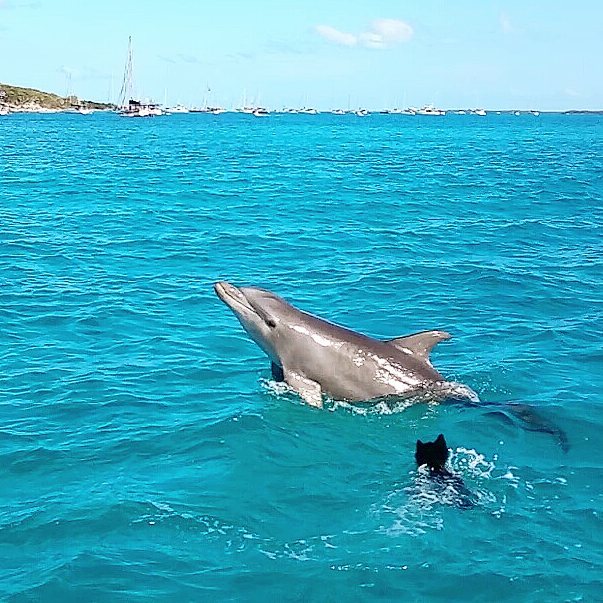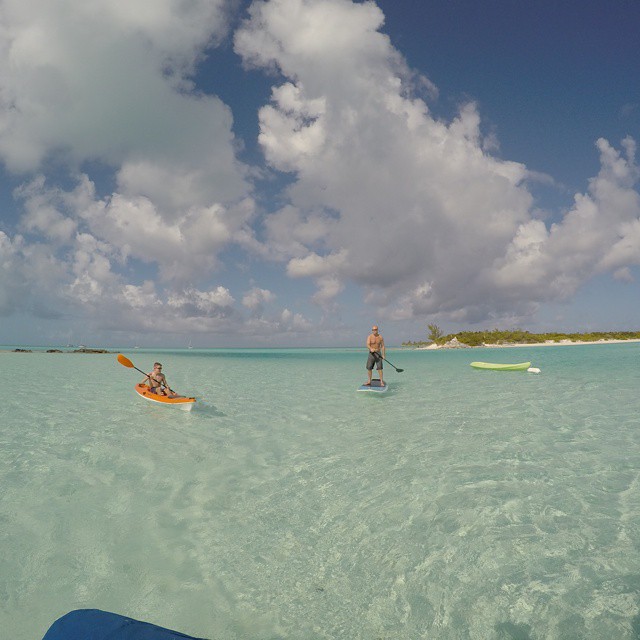 5-11 August, 2017 - Exumas Happy Hour
Guests having fun in Exumas!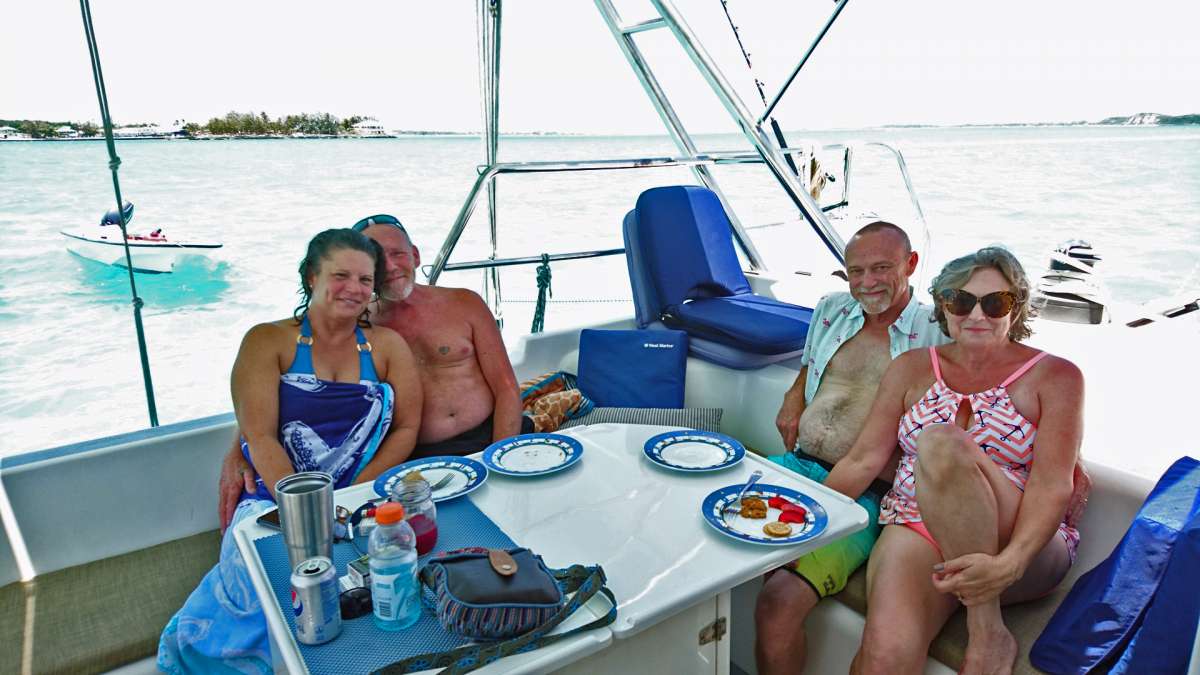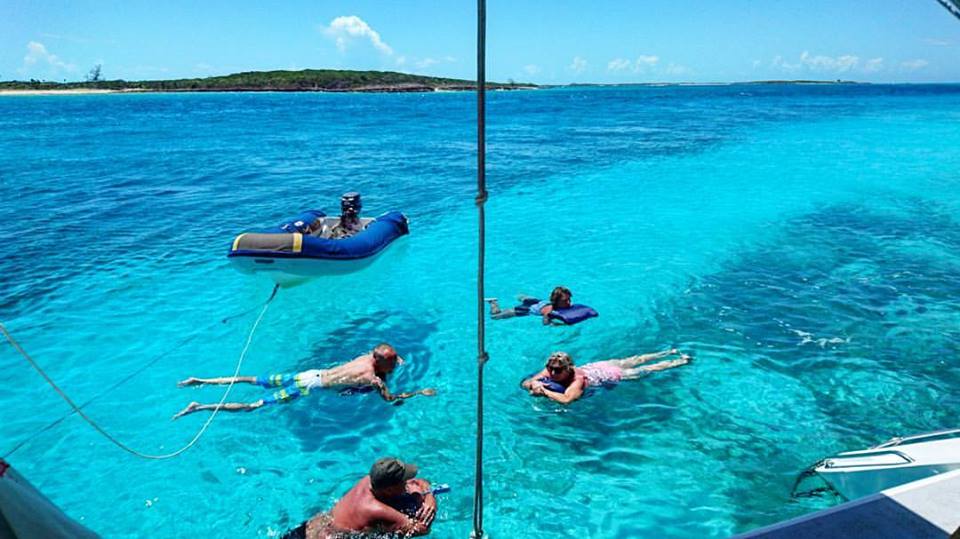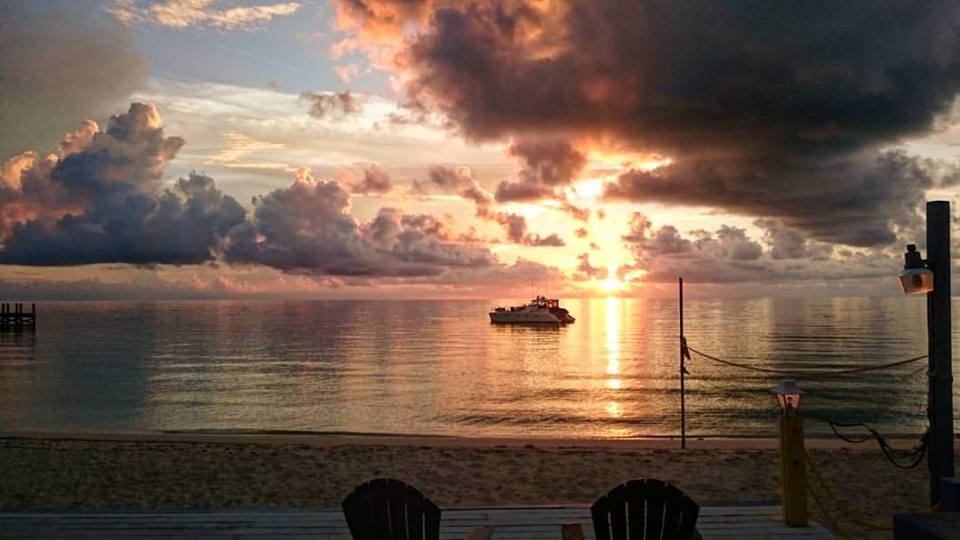 Tori\'s creations 2017 on Rubicon
A few of Tori's delicious culinary dishes on Rubicon.
Breakfast on Rubicon in the Bahamas
Gluten free chick pea pizza crust
Fruit delight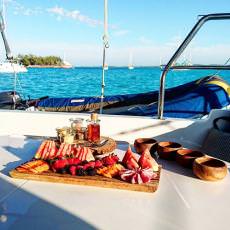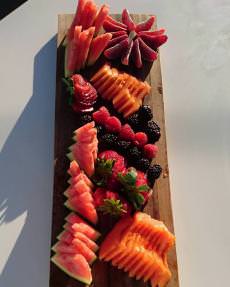 23-29 January, 2017 ~ Fun Times!
Photo from lovely Compass Cay. Guests happy with all the exploring in the Bahamas, catching a Mahi, lobster and eating all their favorite seafood.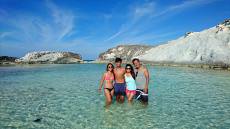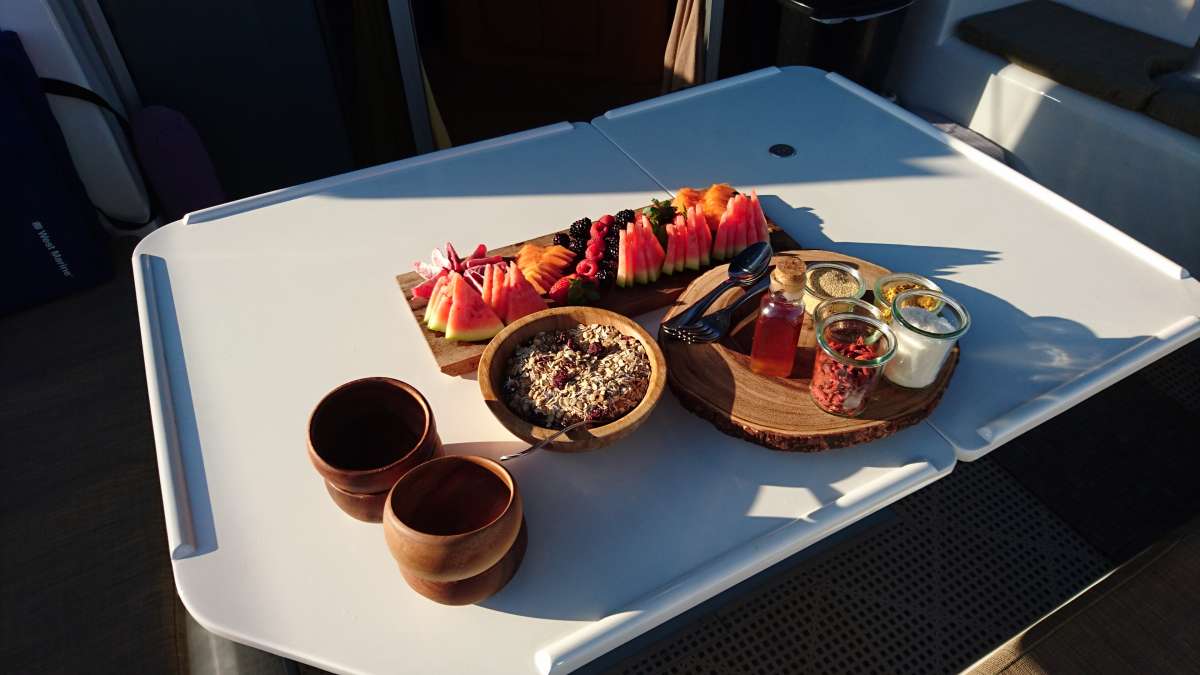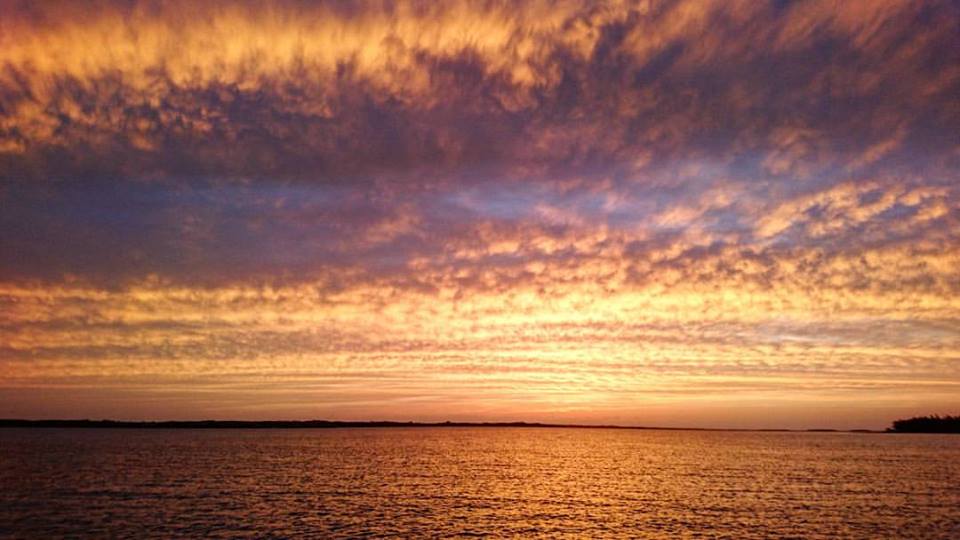 July 24 - 31, 2016 ~ Extraordinary Adventure!
Guestbook entry: Many thanks to Adam and Tina for a fabulous week in paradise!! The food was extraordinary as was the snorkeling, sailing, adventures, and the weather! We loved hearing their stories of sailing the world and getting to know their whole wonderful family! Their adventures may leave a small footprint behind, but they left a large footprint on our hearts! Happy sailing! Love, Jill and Ernie❤️

Feedback to Broker: The crew was friendly, knowledgeable, attentive and accommodating. I cannot sing my praises high enough for Adam and Tina. Adam was a highly skilled captain with excellent knowledge of the area we cruised. He knew when and where to go for drift snorkeling, and as a result our snorkeling experience was better than any previous trip. Tina was a friendly and joyful host.

The Rubicon was comfortable, clean and well ventilated. I liked the fact that each cabin had its own head. The Rubicon was the perfect mix of performance and comfort.

Tina was a great hostess and cook. I ate better on the boat than I eat at home. Tina manages the difficult mix of preparing food the tastes, great but is healthy as well. I usually put on weight during vacation and did not on this one, but I ate like a king. Fresh baked bread,muffins and much more.

The Exumas this time of year is just amazing. I have traveled the Caribbean for many years and the best beaches and water is in the Exumas. The crew has cruised these waters for many years and they have extensive knowledge of where to go and what to do. Adams was well connected with the local people and this made for a great experience. A real bonus of going this time of year (July) is that no one is there. We had all the beaches and anchorages to ourselves.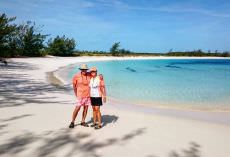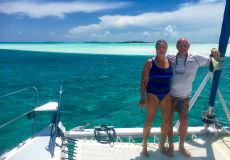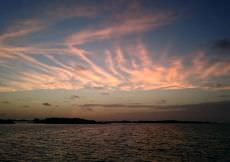 July 15 - 19, 2016- Bahamas ~ Amazing & Wonderful!
Bahamas Days at Rubicon: It was amazing and wonderful because we felt the nature experience. We loved swimming and exploring the islands.
Adam was a wonderful captain and Tina...oh, Tina!!!! Super Tina. We loved her. She cooks so well and made us feel comfortable. She was so sweet with us, and funny too. Both made us remember this trip...

This was the best vacation we had all year! Thanks for all!
Josephina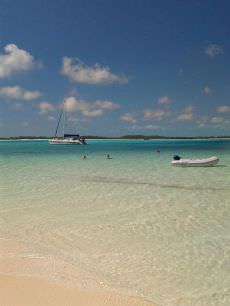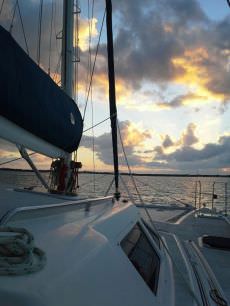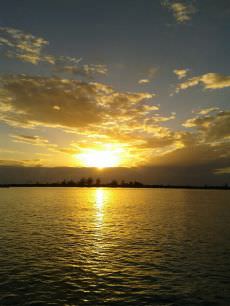 May 1-9 2016, Exumas - A Great Time!
We had a great time. Adam's great local knowledge is a major advantage in finding snorkeling spots. I'm happy to say that we have never had a bad snorkel on Rubicon. His mate, Val, is lovely and a very good cook. They were very accommodating with our desire for a late dinner hour.

Overall a great week in the Exumas. Adam was even able to procure some additional Conch for us so we had several opportunities to enjoy it during the cruise.
Mike and Kathy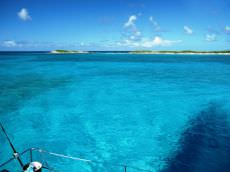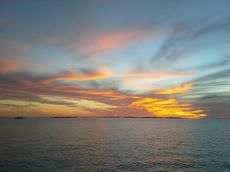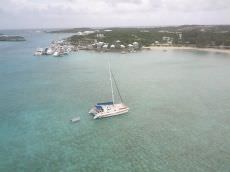 April 10-17, 2016 Best Ever
Best ever Bahama boat trip. Thanks for so many memories (and sand dollars). Jackie

This was such a blast, couldn't have been a better time. Thanks for making it into one of my top vacations! Fun drinks, fun yoga, fun everything. K

I can't really put into words how enjoyable this trip has been. Thank you for making it so special (and for all the delicious food, especially the fish! Stan

A perfect trip for us, thank you both for putting together an outstanding experience for our family. Bryan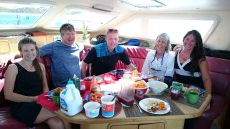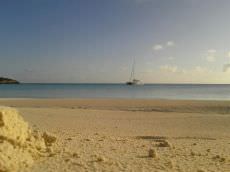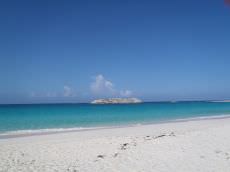 New Year charter 2015
Great start to the New Year on Rubicon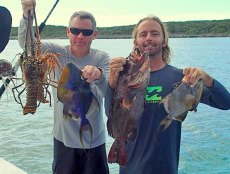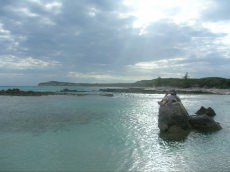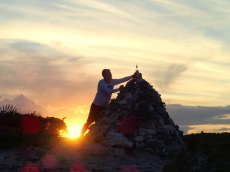 Xmas charter 2014
Chilling out on Rubicon over Xmas 2014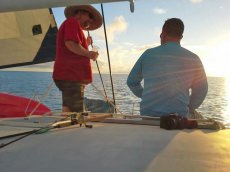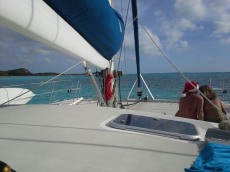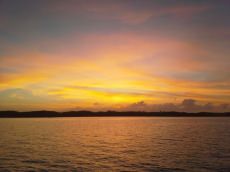 12-19 December 2014 Staniel Cay
Was the yacht ready at the appointed time & place? YES
Was the yacht clean and well maintained throughout your stay? YES
Were the cabins comfortable & well stocked with linens/bedding? YES
Were the crew friendly & personable hosts? YES, EXTRA
How would you rate the meals/beverages? VERY GOOD
Were the listed watersport toys in good condition & available? YES
Did you enjoy the area you cruised? VERY MUCH
What ONE THING stands out as the most memorable part of your charter? ADAM KNOWS THE BEST SPOTS WHETHER ON OR OFF SHORE. PERIOD. ONE OF THE BEST CAPTAINS I HAVE SAILED WITH.
How would you rate your crew? VERY GOOD
Would you charter this boat again or recommend it to friends? YES
Any suggestions on how to improve your charter experience? NONE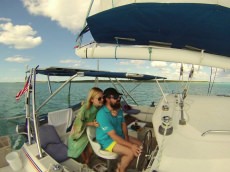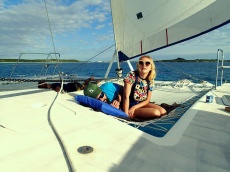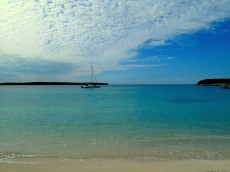 12-19 December 2014 Staniel Cay
The beach with the swimming pigs was an amazing experience.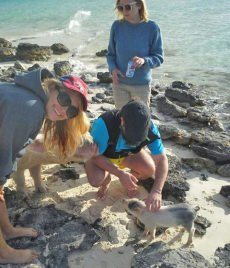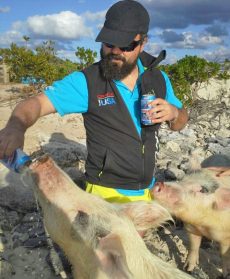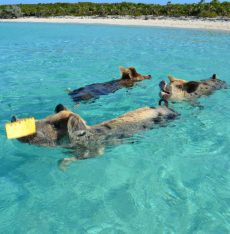 November 2014 in the Exumas
A great time with Captain Adam on Rubicon in the Bahamas.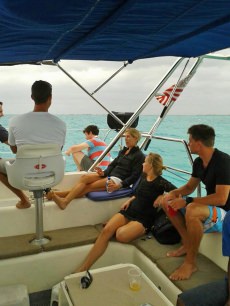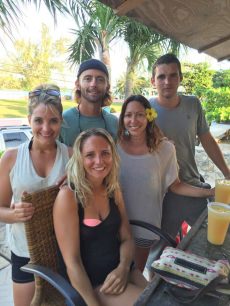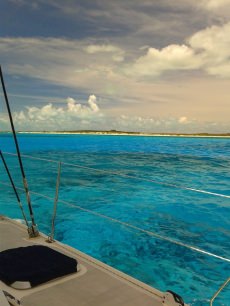 12 November 2014
Awesome time in Stocking Island on Rubicon and beach.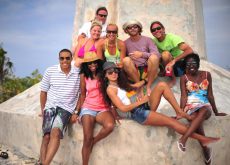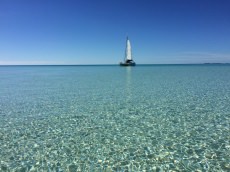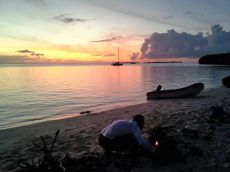 May, 2013
We had never been to the Bahamas before, so we were astounded at the abundant sealife and beauty of the Exumas. The remote anchorages were calm and scenic, and nature walks ashore introduced us to the incredible bird life. Our favorite adventure was taking the dinghy ride through the mangrove creeks. I never knew there could be so many turtles up there. The clarity of the water was just amazing. The best part was feeling the enthusiasm and love that Captain Adam had for the Exumas. We loved hearing island stories over some fantastic meals in the cockpit at night. Everything was wonderful, clean and more than we expected. Thanks for sharing your world with us!
Ed, UK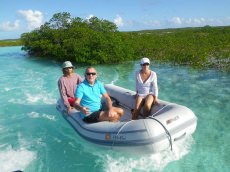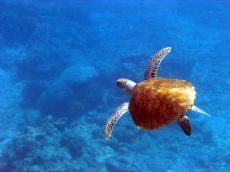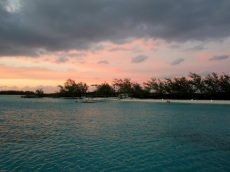 April, 2013
When you said we might be able to swim with dolphins, turtles, sharks and rays, I wasnt sure you could pull it off. But wo! Watch out what you ask for! Good thing I have the photos you took with your underwater camera to show jy family and friends back home. They didnt believe me until I pulled out the one with the big turtle. What a wild day that was! The snorkeling was our favorite part of the trip, next to excellent meals on Rubicon. The reefs were colorful, fish were in good numbers and the anchorages pristine. When they say Bahamians are some of the friendliest people in the world, its true! We really liked the bar and food at Staniel and Chat n Chill.
Greg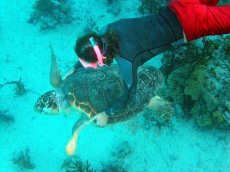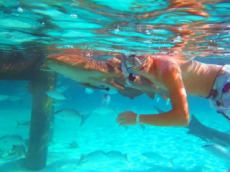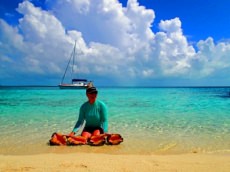 Feb. 2012
The crew on Rubicon were engaging & interesting. Adam's life experience aboard boats was impressive. Everything on the boat worked perfectly. Though we arrived with no particular agenda, we appreciated the suggestions of Capt. Adam. We hadn't taken much time to research the endless possibilities of destinations in the Exumas and Out Islands. We were lucky to come upon Rubicon. The opportunity really feel the islands seemed personal and passionate to Capt. Adam. His knowledge and kindness was especially appreciated. The crew's good sense of humor was grand in all ways too! Overall, such a fantastic week! Thanks for the fun times!
J.&D.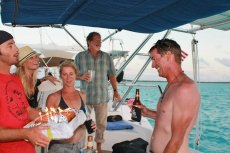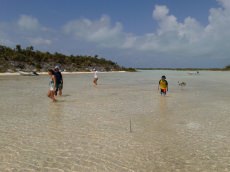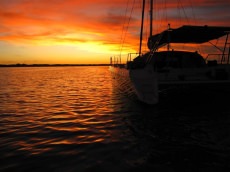 Nov. 2011
My wife petting a shark. Thought Id never see the day for that to happen! So, thanks for all the wild and fun adventures aboard Rubicon. Capt. Adams knowledge of the Exumas made our charter week very special. His enthusiasm was evident. We liked his flexibility and sweet disposition. The crew kept us laughing at our hesitation to get out there and really play with sharks, stingrays. Were pasting the photo in our office cubicle at work. Just to remind us where we want to go next year. Take us to another Out Island! We want to see more of the Bahamas!
Cheers, A.J.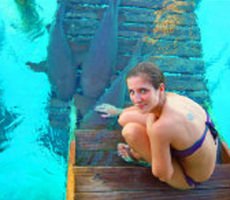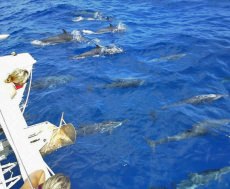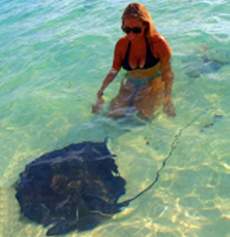 Beach Volleyball
Beach Volleyball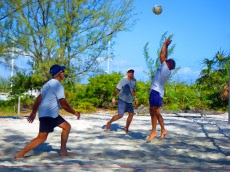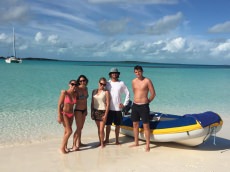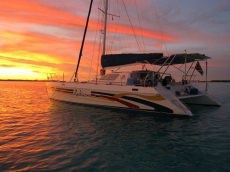 Twin Lobsters
Twin Lobsters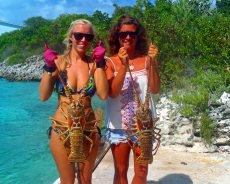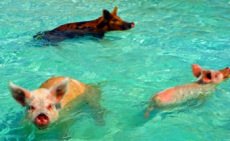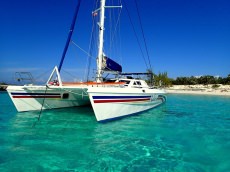 April 2014
Great vacation on Rubicon!!!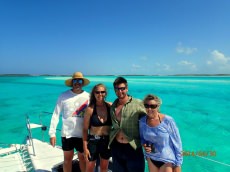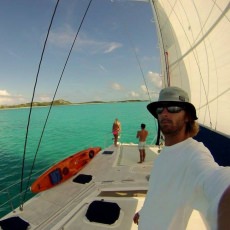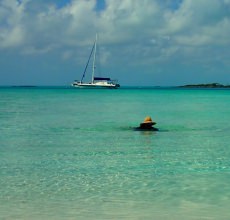 Twin Kiting
Twin Kiting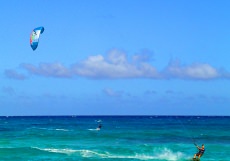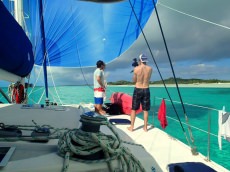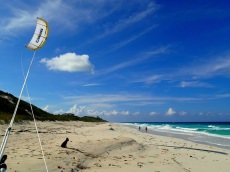 Beach Bonfire
Beach Bonfire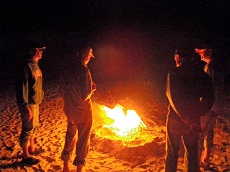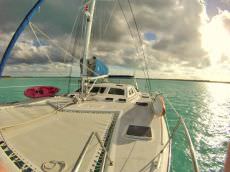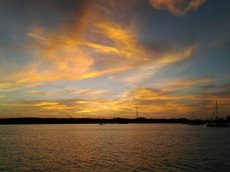 Glorious Sunsets
On charter on Rubicon you will experience some amazing sunsets..time for a chilled beer or cocktail.