July 2017
Definitely one of the coolest vacations I've ever been on! In the words of our captain, "it's our own personal resort, we're the only ones here, and we control where it goes!" Matt was a wonderful captain, was always ready to take us wherever we wanted to go! Each day was action packed and I feel he really helped us make the most of our time here.

We saw lots of cool places and this is definitely a week I will never forget.

Morgan

July 2017
This was a dream vacation that we've been wanting to take with our family for a long time, and it met our expectations and more! We had a hard time choosing our favorite spot that Captain Matt took us to, because they were all unique and cool!

The meals that Matt prepared for us were delicious and we rarely had anything leftover. Matt was more than willing to step in and guide us whenever we asked, but also staying in the background so we could do our family thing.

This was a vacation we will never forget!

Carol

A dream vacation turned into reality!
What a week!

First - the accommodations are wonderful. 4 ample-sized room with air conditioning and a shower. Plenty of space in the general area with great dining on the back deck. And then riding a the front of the boat with the trampoline and bean bags -fantastic!

Then the activities - wow! Snorkeling on coral reef after reef; jumping off the top of the boat and the rocks at the Baths; tubing, paddle boarding; all great fun! All of the different bays are beautiful and unique to themselves. Some great trails and beaches everywhere.

Finally, the food. We ate like kings and queens and received the same service. Never had to prepare a thing! Cocktail hour came without warning, and every meal was delicious! Overall, every portion of the trip was fantastic. Captain Matt took care of every detail and made us feel like the most special guests. I'd strongly recommend this dream vacation to everyone!

Paul

Guests aboard Two if by Sea in April, 2017
We came to the Caribbean for an adventure – and what a fantastic time we've had. We've all love the sailing and all the activities. Everyone has tried something they hadn't done before.

Matt, we've loved your good humored company, your patience and of course the delicious food (and cocktails!) Just want to do it all again!

Lots of love,

Linda, Marcus, George and Kieran

Late March, 2017 guests on TIBS said:
What a wonderful week. We are so sad to be leaving today. We have had such a fun, memorable time seeing the islands, learning some history, snorkeling, eating, eating, eating (Yummy!) and so many other great memories. The kids will remember this vacation forever – in fact, the highest compliment is to be a destination to return to since we always do a different vacation every year!! Danny told us yesterday that we could come back next year because technically we see different islands every day!! That is the highest compliment especially from a 14 year old boy who is hard to impress!! You have rocked his world.

We have so many wonderful memories from our trip with you. Thank you for sharing the yacht with us and for sharing your knowledge and love of the region.

The dives/snorkeling was AWESOME! Thanks also for the "off road" tour of the Baths. Next time I will do the jump! I think Kelly's "ski" down the wall will be tough to beat! ☺

Your cooking and hospitality was awesome! Fantastic food – a true epicurean delight. Thank you, thank you, thank you!

David, Kerry, Danny, Kelly and Sean

Mid March, 2017, guests aboard TIBS said:
What a delight! You are the consummate host who clearly enjoys your work and your guests. Your knowledge of the area helped make each day new and different. You managed to show us all the best sites – under and over the water. And in between you served delightful meals and snacks – not to mention the locally famous adult beverages… All in all, you wove a wonderful tapestry of memories for our first visit to the BVI. Once we look forward to expanding with you again!

Mark, Diane, Molly and Abby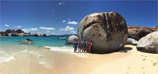 We cannot rave enough about how amazing our vacation was!
Tyler and Kelsey were amazing! They were incredibly knowledgeable about the islands and were always willing to teach us about where we were. Tyler was an amazing dive master and helped us complete our open water certification. We always felt 100% safe with him and he was very patient and professional.
Kelsey was an incredible tour guide especially at the Baths where she took us into nooks and crannies we never would have found on our own. She was also a great photographer and took so many amazing pictures of our group. They were always attentive to our needs and we never had a need or a want left unmet.
The boat was perfect. We had concerns that it would not be big enough for our group of 5 before we left however we couldn't have been more wrong. The cabins were totally adequate and the commons areas were plenty big enough. The air conditioning in the cabins are night worked wonderfully. Our favorite aspects of the boat were the fresh water spigot on the back of the boat, the bean bags and chairs on the front of the boat and the video screen to watch movies or play video games on at night.
The food was absolutely incredible. We had previously wanted to dine ashore one night but after eating the amazing food we changed our minds and decided we would rather eat on board. Every meal was impeccably presented and tasted like gourmet restaurant quality. Every dessert was better than the night before. The menu was customized to our preferences and everyone was beyond satisfied at every meal even though we have different dietary preferences. Our food and alcohol preferences were met to complete satisfaction.
We loved the itinerary we sailed. We told Tyler and Kelsey the first day the few places that were a must to visit and then we told them to take us to their favorite spots, we were not disappointed. They showed us so many beautiful places and took us to amazing diving and snorkeling spots.
Sailing directions was always fast to respond to emails and they helped to recommend this boat for our group and we were not disappointed. We would defiantly use Sailing Directions again, John did an amazing job for us this time and I'm sure he would again!
We cannot say enough about how much we enjoyed our vacation. Sailing in the Virgin Islands is such an incredible and amazingly beautiful experience, doing it on a catamaran with Tyler and Kelsey as the crew makes it a world class vacation. There is nothing better than rolling over in bed in the morning to look out your porthole at the gorgeous turquoise waters then going to eat a deliciously prepared breakfast and spend the day exploring the islands!
Meredith M, aboard Catamaran Two If By Sea April 2016 sailing the Virgin Islands