John review - Bequia to Grenada February 2017
Just wanted to let you know that we left Zylkene yesterday after a wonderful week. the boat was superb and very comfortable for the eight of us. Julien and Rebecca were outstanding crew and fun to be with at all times. Rebeccas food was an absolute delight. We would highly recommend boat and crew. Many thanks for your help in helping us find the boat.
Francisco review 25 Mar 2016 11:12


Hi, For your records, we had a wonderful experience with Julien and Rebecca. Of course, the catamaran was in excellent conditions, only it had a minor malfunctioning of one of the electrical control panels which was by-passed by Julien, and it was sent to repair. Julien and Rebecca make an outstanding team and they both master their respective areas. Julien at the helm, all technical facts, itinerary, and tender services such as wakeboarding pilot. Rebecca, in turn, is an excellent cooking chef. Every single day, we enjoyed gourmet quality dishes and desserts. She paid very close attention to details fulfilling all what we have said in the preference list and even more. Both of them were very flexible and it took them less than 48 hours to know our preferences in every aspect. So all in all, no doubt you will find in Zylkene, thanks to Julien and Rebecca, a catamaran that will not disappoint the toughest of your customers.

One week in Guadeloupe, familly trip Feb 2015 8 pax
We have undertaken many trips with "Windward-islands Yachting company " and we have always been very satisfied with their services. Our last experience on the catamaran Lagoon 56 named Zylkene was great and everyone aboard agreed that it was an amazing & pleasant cruise.This being mainly due to the crew, who behaved in a very professional way and made our trip a whole lot better. Noel and Patricia who were our skippers were extremely devoted, helpful, happy and likeable. The food cooked by Patricia was exquisite, and Noels meticulous nature gave everyone a feeling of security and cleanliness. Along the way, we became friends and shared more than good laughs ; it was sad to have to say goodbye. The boat itself was very cozy, there was good fishing gear aboard and we had many good catches which were transformed into great dinners. Apart from that, our communicative relationship with the crew was excellent and all our concerns and complaints were addressed immediately and in a most professional matter.
Thank you all very much for this pleasant trip, until next time!



Bob & friends
Exumas trip
One week special trip to the Jumanji Islands for a 8 pax Birthday party along side a fishing powerboat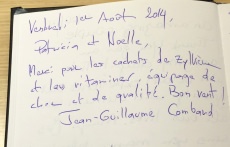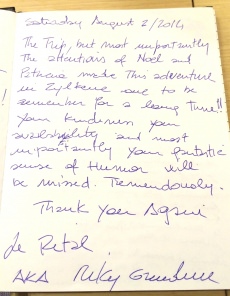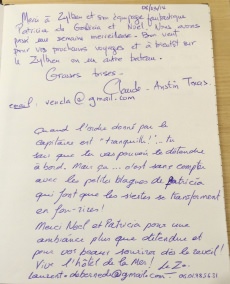 Nassau June 2014
Day charter Familly Nassau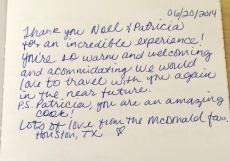 Long Charter Grenadines avril 2014
From Martinique kite surfing trip to the Grenadines and back
8 passengers 12-20 april 2014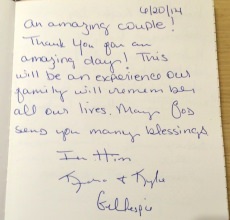 Grenadines December 26th 2013 to January 6th 2014
Dear Patricia and Noel,

We very enjoyed our cruise in the Grenadines on the Zylkene from December 26th 2013 to January 6th 2014.

We highly appreciated the first-rate professional service and the attention to the detail on board. The cuisine was excellent; every meal was an absolute pleasure!

We hope we can soon repeat this unforgettable cruising experience with you.

Kind regards,

Ricardo Bofill Marta de Vilallonga

marta de vilallonga - interiors
taller design
One week Cruise Turks & Caicos April 2015
Cher Laurent,

Tout s'est bien pass globalement. Nous en garderons un bon souvenir
Un catamaran qui permet grce son tirant d'eau faible de bien passer dans ces lagons absolument sublimes
Cabines trs confortables
Couple de skippers trs bien
Lui Noel au top tant sur les plans technique, esprit de service et diplomatique
Patricia s'engage bien. Un temprament espagnol affirm...mais qui passe bien au final.
Nourriture satisfaisante surtout les petits djeuners et les cuissons poisson et viande.
Avons fait le tour de ces iles que nous ne connaissions pas. Plus de 200 miles.
C'est nous qui avons demand un grand programme par rapport a sa proposition initiale qui ne faisait pas le tour et prvoyait des trop petites nav d'une dizaine de miles par jour.

Merci pour cette prestation de qualit

Bien vous


Eric& Justine

One week Bahamas July 2015
Familly charter Nassau - Exuma Islands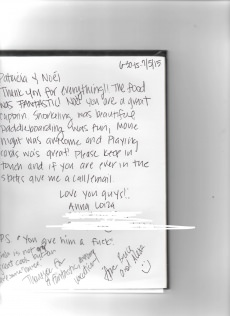 One week charter Bahamas May 2015
Honeymoon in Exumas Islands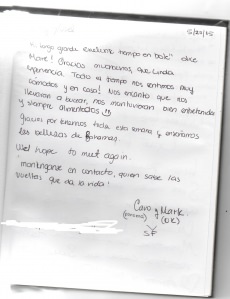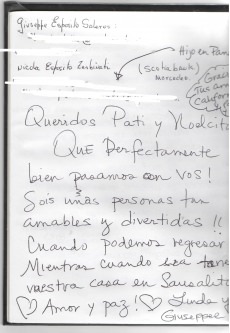 One week Exumas May 2016

Zylkene 1 was extremely comfortable!!!! And in excellent condition!!!! It was extremely clean and well kept. They even changed the linen when it got dirty!!!!

The captain and crew were amazing. They attended every whim of the passengers. Rebecca went out of her way to make cakes, brownies, cookies and popcorn for the kids and incredible drinks for the adults. She helped us with everything. Even showed us how to make pigs drink water!!! The captain and crew delivered exceptional service!!!! Captain Julian was incredible, He took us on dinghy excursions and helped rescue the kinds on his limo-dinghy when they went too far away!!! He fed the sharks and helped us pet them. Also gave us lessons on fishes and how to treat nature. They know everything about the boat and its surroundings. They are incredible people and made our trip even more special. Thanks to them we all had an amazing time aboard Zylkene 1.

Our meals were high end quality and delicious. All natural ingredients and made right in front of us. The presentation was impeccable, almost a drawing.

We would charter this yacht again, YES, YES, YES.

We loved every minute aboard the Zylkene 1. We had the most amazing vacation. The crew is fantastic and the catamaran is impeccable. It really suited our party well.

Thank you so much for making this dream come true!!!

I already have friends that are interested in chartering the Zylkene for their vacation.

Hope to talk to you soon again.



Priscila Pastro
May 2016