It is time to experience the vacation of a lifetime aboard a luxury, all-inclusive, professionally crewed catamaran, sailing or power charter yacht in the Caribbean.
Escape from the icy winter to white sandy beaches, consistently light Caribbean trade winds, clear blue water, gourmet dining and fresh cocktails, islands close enough for day sailing, outstanding game fishing, world-class dive sites and sunshine every day of the year.
Sailing Directions® helps you find and reserve a crewed yacht charter in the Caribbean. We can find you a charter yacht that best fits your budget and needs; from an all inclusive family sailing vacation to a corporate group or an unforgettable honeymoon. We provide a wealth of information and support throughout!
When you book a private crewed yacht through us you get all of our services as well as peace of mind that our advice is unbiased and your payments are held in a secure 3rd-party escrow account until the charter date.
Sailing Directions® is an independent yacht charter broker with an extensive range of crewed yachts and a depth of expertise. Let the experts match you with the perfect crew and yacht for your needs. We know all of the boats and have extensive knowledge of the local cruising areas. Start your search now using our live online availability search form or contact us now for your unforgettable Caribbean crewed yacht charter vacation!
Specials and last minute Discounts:
See all of the current crewed yacht charter Specials and Discounts
Save $500 through 27 July 2015
Save $500 on 7-night charters aboard the beautiful Lagoon 560 catamaran Blue Moon sailing the Virgin Islands through the end of July.

Available for charters starting now through 27 July 2015
Reservations need to be confirmed before 2 July 2015
5% discount in May 2015
Save 5% on crewed charters sailing in May 2015 sailing the Virgin Islands aboard Miss Kirsty.

Available for charters starting 1 May 2015 through 31 May 2015
Reservations need to be confirmed before 10 May 2015
10% Discount for charters confirmed by 15 March 2015
Save 10% on Something Wonderful's rates in 2015 for reservations confirmed by 15 March 2015 sailing the British Virgin Islands, Leeward Islands in the winter and spring or Bahamas later this summer.

Available for charters starting now through 16 December 2015
Reservations need to be confirmed before 15 March 2015
These crewed catamaran specials are available for new reservations sailing from Tortola or St Thomas in the Virgin Islands or elsewhere in the Caribbean. Contact us now for further information and a no-obligation quote.
> See all of the current crewed yacht charter Specials and Discounts!
Latest crewed yacht charter Reviews
See all of our crewed yacht charter Reviews
Power Yacht Island Girl


"Our entire group had an incredible time and really enjoyed Dustin, Olivia, and Isla. Dustin was a great captain and he always had our wellbeing and safety first, most importantly he was a great tour guide especially as the weather and wind threw us a couple curve balls. Olivia was an incredible cook and her Bloody Mary's were second to none. Everyone had to stay active to work off all the calories. Isla did an amazing job of making sure everyone was happy and taking great care that our expectations were always met. Last but not least, we loved the Island Girl and the way she was appointed. I would say our only regret was coming home to 9 inches of snow. Thank you for all your help and please pass on to the owners how pleased we were with the entire crew and yacht, they have a great combo. We look forward sailing with them again. "

Rick K, sailing the US Virgin Islands

Power Yacht Island Girl, US Virgin Islands crewed Power Yacht charter, February 2015
Catamaran Azuria


"Donné and Stewart were the model of friendly, attentive and accommodating (add GRACIOUS). They are superb hosts, entertaining and lovely to be with. We were totally impressed by our trip and all future sailing trips will be measured by a trip on Azuria.

On our day of departure, I recall walking up to Azuria where it was docked and commenting to my friends that it was the cleanest boat I had ever seen. You can eat off any surface of this vessel. Donné and Stewart take incredibly good care of their boat (as well as they take care of you!). The main saloon is very well ventilated and the cabins have a good breeze blowing through the hatch if it's breezy or there is air conditioning available if not (rarely used). The level of service provided by Donné and Stewart was superb.

Donné is a superb chef and she takes great pains to present each meal beautifully. We couldn't wait until the next meal as they were so delicious. I highly recommend Captain Stewart's petit rum as well (well, actually, all of the Captain's Cocktails!).

We threw them for a loop as one of our party had to leave early. They accommodated our needs and we still had a fantastic itinerary. We were lucky to have a fantastic sail from Tortola to the Baths due to an unusual wind. We had a tremendous time!

Sailing Directions was very easy to deal with. We would definitely do another charter."

Brett L, sailing the US Virgin Islands

Catamaran Azuria, US Virgin Islands crewed Catamaran charter, February 2015
Catamaran The Cure


"Our charter was fabulous on every level. Mark and Kristin were superb, loved by each of us and now friends for life. Nothing could have been better, from food to port, the very best."

Pamela S, sailing the US Virgin Islands

Catamaran The Cure, US Virgin Islands crewed Catamaran charter, February 2015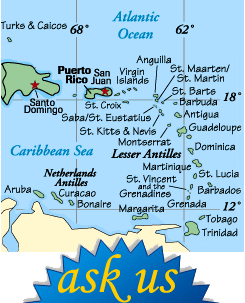 Crewed yacht charter vacations in the Caribbean
A crewed Caribbean yacht charter offers you freedom to explore paradise at your own pace, choose your itinerary, activities and have a personalized menu unlike any cruise ship, resort or beach side hotel.
With accommodation, a professional captain and a personal chef with all meals, cocktails, wine, beer, snacks, fuel, equipment and water toys included few other vacations offer such an unforgettable experience and value for money.
We offer a large selection of Caribbean charter yacht rentals including a fleet of luxury crewed catamarans based from St Thomas & Tortola, as well as full range of crewed power yachts, monohulls and catamarans based throughout the Caribbean to suit every budget.
Unlimited options include sailing the many and varied US and British Virgin Islands, sailing and diving in the undeveloped Grenadines or chartering a luxury power yacht in Antigua, St Martin & fabulous St Barts. See more information about the team at Sailing Directions.
See crewed charter yachts available for your dates: